Last updated on August 25th, 2022
How much does it cost to repair a car scratch?
As a car owner, noticing a scratch on your paintwork or feeling the scraping of a bollard against your car are awful moments. Keep reading to find out more about how much it will cost to repair the scratches on your car.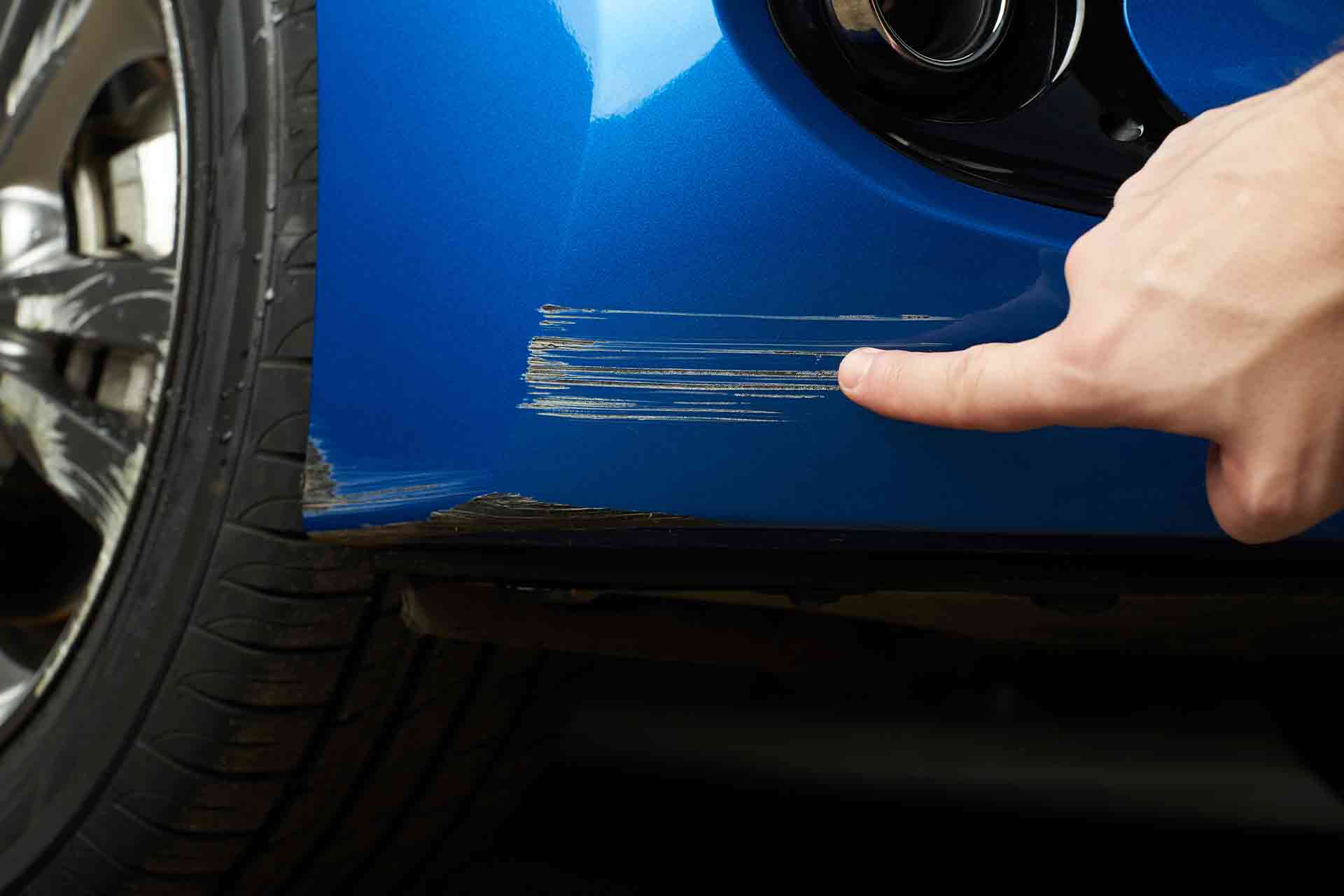 Left untreated, scratches can lead to worse damage and rust down the line, so it's worth getting them sorted sooner rather than later to avoid additional costs in the future.
The good news is that car scratches are generally quick and easy to repair. So, you can have your car looking as good as new in no time.
What's the average cost to repair a car scratch?
The average car scratch repair cost varies depending on a number of factors, the two main main ones being the extent of the damage and the type of repair.
| Cost provided item | Price range - Low | Price range - High | Average UK cost |
| --- | --- | --- | --- |
| Light surface scratch repair | £70 | £110 | £90 |
| Paintwork damage scratch repair | £120 | £180 | £150 |
| Deep paintwork scratch repair | £270 | £330 | £300 |
| Alloy wheel scratch repair | £54 | £126 | £90 |
To repair a minor surface layer car scratch the cost will be £90 on average. If it's a deeper scratch that's gone down to the base layer so you can see exposed metal of the car, you're probably looking at a cost of around £300 to repair the scratch.
Factors affecting the cost of car scratch repair
Here are some of the common factors that will affect the price you pay to repair your car scratch:
Size and extent of damage
Location of the scratch on car
Type of repair treatment
Type and quality of paint used
Any prep work needed
Where you live
Professional car scratch repair
For very small, light scratches you may be able to fix them with a DIY scratch repair kit, but we'd always recommend checking with a car scratch repair expert first. Large or deep scratches need professional repairs to ensure you get a good result.
Speak to your local car repair centre for their professional advice and to get an accurate price quoted for the scratch repair work.
Mobile scratch repair cost
Nowadays you don't necessarily have to take your car to a garage to get scratches repaired. Mobile scratch repair services are available and, for a reasonable cost, the professionals can come to you with their equipment. The average mobile scratch repair ranges from £90 to £300 depending on the severity.
Stone chip repair cost
Stone chip damage is a common problem for car owners, but one that's easy to get fixed. The cost for professional stone chip repair, like other scratches, will depend on the extent of the damage and the number of the chips.
Typically, paint layer damage can cost in the region of £150 on average per job.
Deep car scratch repair cost
Deep car scratches are the most expensive type to repair, but also the ones that are most important to get fixed. With the base metal of the car exposed, deep scratches can quickly lead to rusting. On average the cost to repair a deep car scratch is around £300.
Alloy wheel scratch repair costs
If you have damage to your alloy wheel that you need to repair, the average cost for a single wheel is around £90. To find out more check out our alloy wheel refurbishment cost guide.
Similar to the cost of repairing scratches on car paintwork, the price of alloy wheel repair will depend on the extent of the damage and what part of the alloy wheel is damaged.
SMART scratch repair costs
When researching car scratch repairs you'll probably come across SMART (Small to Medium Area Repair Technology). This is basically the process of repairing a localised area of a car without needing to repaint the whole panel (or vehicle) by using specialised tools.
SMART repairs can start from as little as £50.
Thanks to technology, it's now quicker and easier than ever to repair small-scale paint damage to your car. It is also cheaper than going to your local bodyshop to get the car scratch repairs, as it's a lot quicker and only focuses on a small area.
Professional colour matching as part of this service means you'll have a high quality finish and a result that means you won't be able to tell where the scratch was.
Even better, you can use a mobile SMART repair service, so you don't even have to leave your home or workplace to get your paintwork sorted.
Useful car scratch repair checklist
Check the extent of the damage to see if it's broken through just the clear coat or the paintwork as well.
If you have very light scratches on your car, you might want to consider a DIY scratch repair kit.
Speak to your local car repair shop for their professional advice.
Shop around for fair and competitive car scratch repair costs.
Always hire a tradesperson or car repair centre with relevant experience and appropriate qualifications/accreditations.
See the tradespeople we've checked and recommend for your job