Last updated on March 31st, 2022
Carpet burn repair cost
In this cost guide, you will see how a carpet repair on a burned carpet is possible. Even better, it won't set you back as much as a full carpet replacement.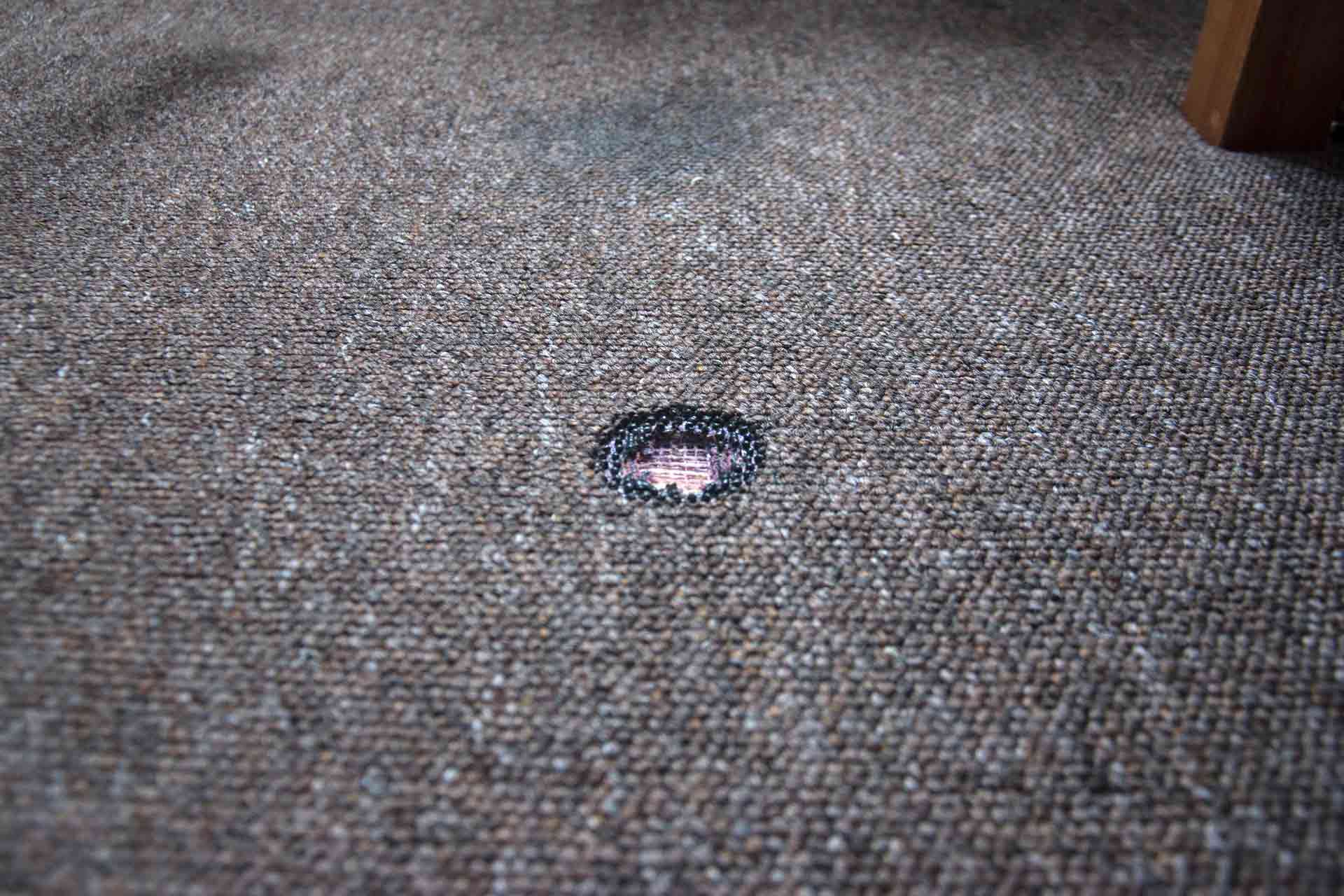 Carpet is a top choice of flooring when it comes to our homes, it's much comfier underfoot and is certainly the cosier flooring option.
The only real negative about carpet is it can be damaged quite easily, especially when it comes into contact with heat. Read on to find out how much carpet burn repair costs.
How much does it cost to repair a carpet burn?
| Solution | Ballpark cost |
| --- | --- |
| Carpet stretch/re-stretch | £65+ |
| Carpet patching | £150 |
| Carpet stretch/repairs in London | £110+ |
A glowing ember, coal, iron, cigarette, or a hair straightener, whatever the culprit, your carpet burn repair cost will vary depending on the size and depth of your carpet burn.
Many people are under the illusion that a burn in your carpet means farewell to your carpet. It's not the case at all, in most cases, your chargrilled carpet fibres can be salvaged, or at least your carpet can be repaired. Repairs make it look as though your carpet is as good as new. In fact, a repair is the most cost-effective option over replacing your carpet; extending the life of your existing carpet.
The cost to repair your carpet burn depends on a number of factors; severity of the burn, the size of the burn and the method of repair.
Some carpet repairers may look to stretch your carpet. Prices for this start from £65.
Carpet patches is another method, where the professional will carefully cut out the damaged area and replace it with a patch of a similar carpet (known as a donor carpet) of the same size. Prices for this start from £150.
Your location will also affect the cost of your carpet. The average cost of a carpet repair/stretch in London is thought to be at the £110 mark.
In case you're wondering, a carpet replacement for a single room will, on average, set you back around £1,605 (labour and material).
See the tradespeople we've checked and recommend for your job
Carpet iron burn repair cost
One of the most common carpet issues in many UK households is the dreaded iron burn marks. That triangular hot device has a habit of leaping from the board and leaving its mark.
The cost of this job will be anything from £65 – £150+. It depends on how deep your iron has burned into your carpet and the size of the damage.
Can you fix your own burned carpet?
Many have tried and failed. We always recommend using a professional to fix your carpet burn.
There are 'tips' online on how to DIY, which suggest finely cutting off the burned fibres of the carpet with scissors or with a razor shaver (that's right, shave your carpet!). These methods may remove some unwanted clags of burned carpet fibres, but the pattern of your iron will still be staring back at you. Or worse, you may make the burn more predominant, or even pull the surrounding material of your carpet.
See the tradespeople we've checked and recommend for your job