Need to access the roof, or to prune the higher branches of a tree? To access otherwise unreachable heights for DIY or decorating, building or gardening work, you can hire a cherry picker.
There are a couple of different ways to hire a cherry picker. You can hire one by the hour for small jobs, or by the day or week for larger projects. In many cases, a qualified, trained operator or crew is included in the cost of the hire.
In this guide, we'll look at the average cherry picker hire cost per hour and per day, so you can work out the best option for you.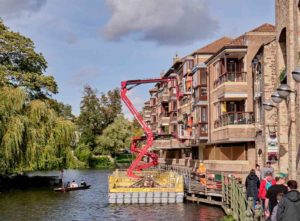 Cost of cherry picker hire by the hour
One of the most popular ways to hire a cherry picker is by the hour with a crew. It typically costs between £25 and £50, depending on the size of the crew. For smaller tasks such as minor roof repairs or tree pruning, this can be the most cost-effective option. When you don't need the machinery for the whole day, you can just pay for the time you use.
| | Lowest cost: (per hour) | Highest cost: (per hour) | Average cost: (per hour) |
| --- | --- | --- | --- |
| One-man crew | £25 | £30 | £27.50 |
| Two-man crew | £35 | £50 | £47.50 |
Cherry picker hire cost per day
Another way to hire a cherry picker is by the day. This can cost anywhere between £225 and £595, depending on cherry picker type. You may do this for larger projects, where work takes longer than a couple of hours. The cost can vary depending on the size or type of vehicle you need – i.e. a scissor platform or a truck-mounted cherry picker.
| Type of cherry picker | Lowest cost (per day) | Highest cost (per day) | Average cost (per day) |
| --- | --- | --- | --- |
| Scissor platform | £225 | £395 | £310 |
| Truck-mounted | £375 | £595 | £485 |
Other factors to consider with cherry picker hire
Cherry picker hire is pretty straightforward, but there may be a handful of other costs to consider. For example:
VAT – unless already included in the price
Vehicle size – larger cherry pickers with hydraulic systems are likely to cost more
Transport costs – if the cherry picker crew has to travel far to get to you, it could cost more. This is why it could be worth looking for a local company first.
FAQs
Can I drive the cherry picker myself and do I need a special licence?

If you're hiring a cherry picker which weighs under 3.5 tonnes, you can legally operate it as long as you have a valid UK driving licence. You will need to hire a trained operator (or undergo training) to drive larger or more specialised cherry pickers. For safety purposes, it is recommended to use a trained operator regardless.
Is hiring a cherry picker cheaper than installing scaffolding?
In most cases, hiring a cherry picker when you need it works out much more affordable than hiring scaffolding – especially when hired by the hour.
Are cherry pickers suitable for work on all types of terrain?
It's important to check in advance that your cherry picker will be able to handle the surface it will be driven on, as well as any slopes and inclines. You should also check that the cherry picker can handle the weight of any equipment it will carry.
Find a cherry picker hire service near you
Tell us what you think
What others think of this cost guide:
Need More Information?
Related posts