There are many different materials you can choose for your driveway, but cobblestones offer an attractive, hand-crafted and traditional look. You can also customise a cobblestone driveway easily, by designing your own unique pattern.
If installed properly, your cobblestone driveway should also last you for a good many years. They're durable, resistant to stains and easy to look after.
In this guide, we'll look at typical cobblestone driveway costs, so you can start planning your project.
Cost of cobblestone driveway
| Cost item | Low cost | High cost | Average cost |
| --- | --- | --- | --- |
| Cobblestones (per sq.m) | £20 | £50 | £35 |
| Cobblestone driveway per sq.m, including installation) | £70 | £130 | £100 |
| Foundations (mini digger and skip hire) | £150 | £240 | £195 |
A cobblestone driveway can vary in cost depending on the type and quality of paver you choose. It also depends on how large your driveway is.
When looking at installation costs, remember that cobblestone driveways tend to take longer to lay than other driveways. This can sometimes make them more expensive.
Overall, including installation by an experienced tradesperson, you can expect to pay roughly £70 to £130 a square metre for your new cobblestone driveway.
Cobblestone driveway pavers cost
There are a few different types of block pavers you can choose from, including traditional stones and standard driveway blocks. Cobblestone driveway pavers vary in cost, from around £20 to £50 per square metre.
The pavers you choose can affect the installation cost too. This is because standard blocks can be installed by any competent professional, while cobblestones usually require a specialist to get the best finish.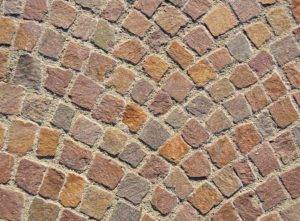 Foundations, patterns and other cost considerations
When working out how much it'll cost to install a cobblestone driveway, you need to think about foundations. Digging out a proper foundation comes with its own expenses, such as around £145 for mini digger hire and £50 for a skip.
You may also need a base layer, a way to compact it down and a weed mat to stop plants growing through your cobbles.
And if you'd like your cobblestone driveway laid in a particular pattern (which can look lovely), this can add to the expense. This is because it will usually take the installer longer to complete, as each stone needs to be fitted by hand.
Find specialist driveway installers near you
FAQs
How long does it take to install a cobblestone driveway?
It should take around two to four days to lay a small cobblestone driveway. Larger projects can take anywhere between seven and 14 days to complete.
How are cobblestones laid?
Cobblestone driveways are installed in a similar way to concrete or brick pavers. Once the base layer is complete, edging stones are laid first. Then, the cobblestone pavers are set into the sand or mortar by hand, before being tamped down to flatten the surface. Lastly, the joints are filled and the surface sealed.
Can I install a cobblestone driveway myself?
You can lay your own cobblestone driveway, but bear in mind that it can be extremely labour intensive. It could be quicker to use a skilled professional, especially if you have a particular laying pattern in mind for your cobblestones.
Find specialist driveway installers near you
Tell us what you think
What others think of this cost guide:
Need More Information?
Related posts