Convert van into living space cost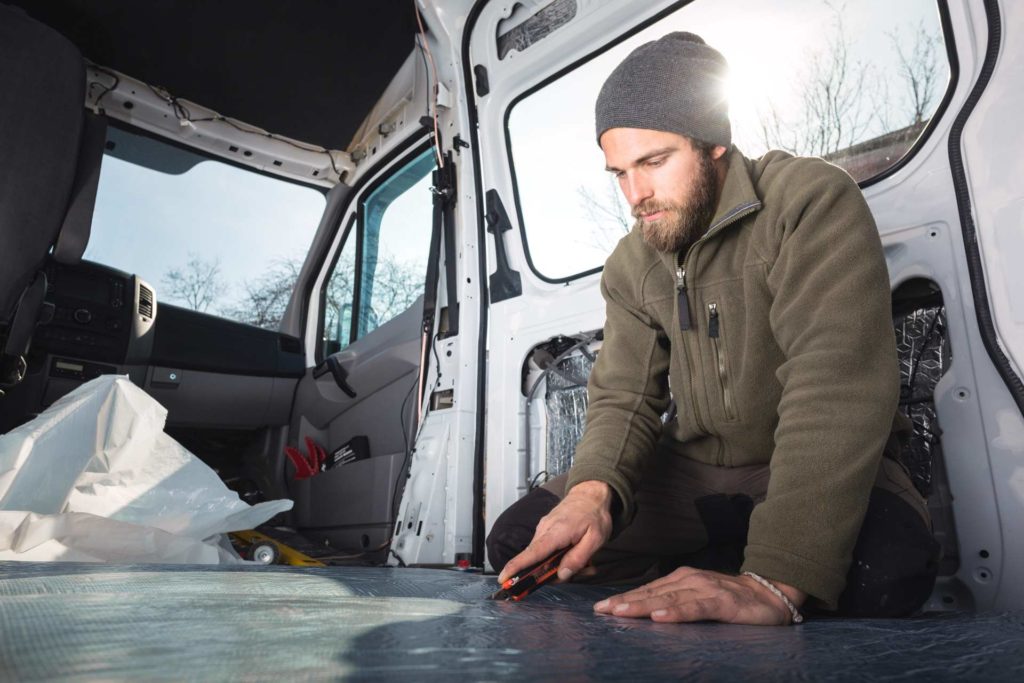 In this article, we'll cover:
Whether it's on the TV or browsing the internet, we've all seen those amazing transformations where a tired and worn-out van becomes the coolest living space imaginable. But how much does converting a van into a living space actually cost?
You might be hoping to live mortgage-free or you may simply want to make yourself the most luxurious space to go off adventuring in. Either way, we've taken a look at how much you can expect to pay.
How much does it cost to convert a van into a living space?
| Item | Unit | Cost - low | Cost - high | Average cost |
| --- | --- | --- | --- | --- |
| Cost to buy a mechanically reliable van | Per van | £8,000 | £15,000 | £11,500 |
| Ventilation | Per vent | £100 | £200 | £150 |
| Windows and skylights | Materials and installation | - | - | £300 |
| Insulation | Materials | - | - | £300 |
| Handyman | Per hour | £20 | £30 | £25 |
| Electrician | Per hour | £40 | £60 | £50 |
| Heating system | Per DIY system | £700 | - | - |
| Kitchen fitting | Per day | £150 | £250 | £200 |
| Shower and toilet system | Per system | £250 | - | - |
| Painter and decorator | Per day | - | - | £200 |
You may think that a van wouldn't offer enough room to cram in all the standard furnishings and gadgets that you'd expect to see in a standard home. But you'd surprised to see how much you could fit in.
Just look at this slick and modern transformation. It has a bed, a shower, a kitchen and even a dining table!
To get a specialist company to achieve something like this for you, you'd be looking at upwards of £40,000, including the van itself. But by taking on the project management yourself, and utilising a number of specialist tradespeople rather than a 'one-stop-shop,' you could get the whole thing done for a lot less. We'll take a look at some of the individual costs below.
Cost to buy the van
To start with, you'll need to get hold of the van itself. The cost of the van will depend on a number of factors, including:
Whether you want to be able to drive around in it or have it static.
How big you want the van to be.
How much work you're willing to do to it.
If you're planning on using it to drive a fair distance and you want a van that's already mechanically reliable, you'll need to budget somewhere between £8,000 and £12,000.
Ventilation
The last thing you want is a living space that's dripping with condensation! So, don't skimp on the ventilation. You can expect to pay around £150 per vent.
Windows
Most vans won't have windows in the storage area when you buy them. And we can't imagine wanting to live in a space that has no natural light! So, you'll probably want to insert some.
We'd recommend speaking to your local plant glazing company. As well as replacing glass for diggers and JCBs, they'll often be able to help you glaze your van. You can buy windows for around £100, but you'll probably need to pay a further £200 or so to get one installed. Why not let in even more natural light by adding a skylight too?
Kitchen fitting
Due to the lack of space, you'll probably need a bespoke kitchen created rather than buying and installing off-the-shelf units. You're likely to pay around £200 per day for the help of a kitchen fitter.
Electrics
If you're hoping to have the use of electricity in your van, you'll need to get some installed. This is likely to be a little more complex than getting a house wired, but at least it's a small space so you won't need tons of lights and plug sockets!
The average hourly rate for an electrician to do this kind of work will be around £50.
Find a van conversion specialist near you
Heating system
Think about where you're going to get your heating source. You could get a log burner installed, or if you really want to make it luxurious, you could consider adding a boiler so that you can have central heating and hot water.
For a DIY heating system, you'll be looking at a starting cost of around £700.
Toilet and shower system
When it comes to adding a toilet and shower to your van, there are lots of different options. You could go for a chemical toilet, a compost solution or you could even opt for proper plumbing if your van is going to be static.
You'll be looking at spending a minimum of £250 on a toilet and shower system.
Decorating
No renovation project would be complete without the all-important decorating phase. To get a painter and decorator in to add those finishing touches, you can expect to pay around £200 per day.
If you're looking for living room ideas, check these out for your new van!
Key takeaways
Consider whether or not you will need a mechanically reliable van.
Add windows and skylights to let in natural light.
Get an electrician in to wire your van.
Consider adding a boiler for central heating.
Find a van conversion specialist near you
Good jobs, guaranteed
Get covered when you book with Checkatrade.