No one wants to kick back in chaos or relax in a room that doesn't look right. Whether you've just moved house or want to refresh your living space, we've pulled together a collection of stylish living room ideas to inspire your next renovation.
Often, a little decoration can go a long way. In some cases, a full make-over may be necessary to bring your living room design into the modern era. Be it a space you use for relaxation, entertainment or a bit of both, there's no reason why your living room can't be both stylish and comfortable at the same time.
From side-tables and storage, furniture and lighting, colour schemes and accessories, there's plenty to consider before you fill up your shopping basket. Are you going to refresh your decor or are you looking to redesign your interiors? Either way, our guide features some of the hottest living room design ideas of 2020.
Living room design trends
This year, it's all about the bold and beautiful. 2020 wants to see living rooms bursting with colour and class. Think stylish schemes such as Scandinavian or Japandi, or bold colour pairings like teal and bronze. Then add in texture with clashing materials like metal and wool, velour and wood, and linen and leather.
The trick is to draw the eye and create excitement within your four walls. It's about making a statement and letting your chosen aesthetic speak for you. You deserve a little luxury, and it doesn't need to cost you the earth. With 2020 forcing us to stay at home and make the most of our space, now is the perfect time to update it.
Check out our carousel below for some visual inspiration.
Like what you've read? We've got more where this came from. Our blog has all the tips, tricks, ideas, and how-tos you could ever ask for!
Living room ideas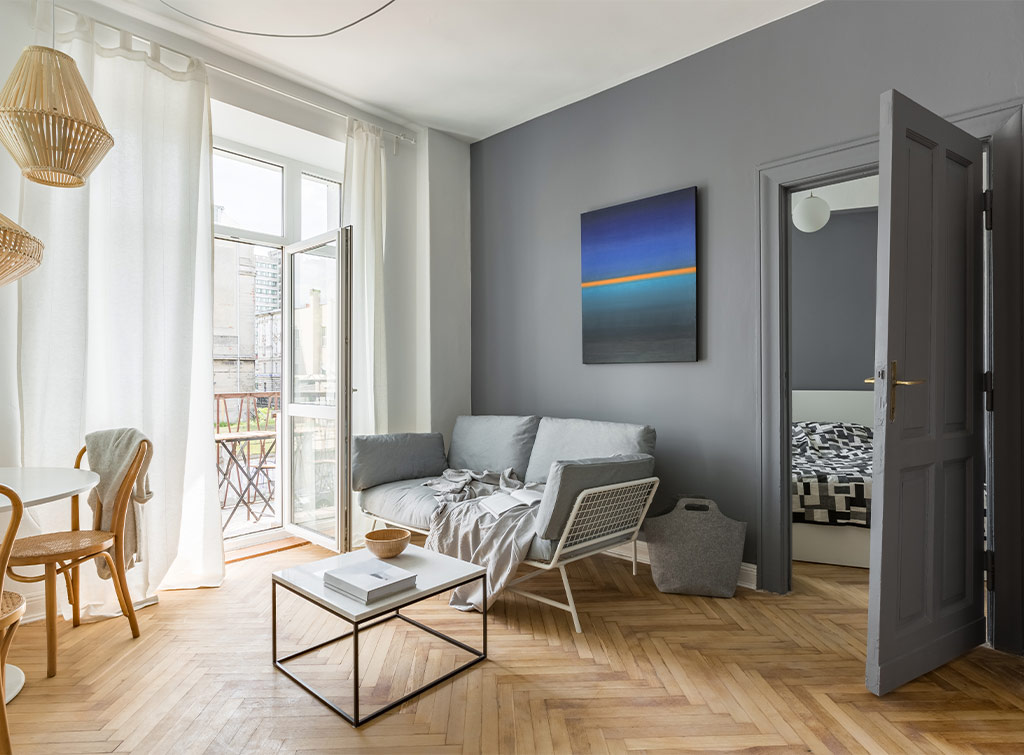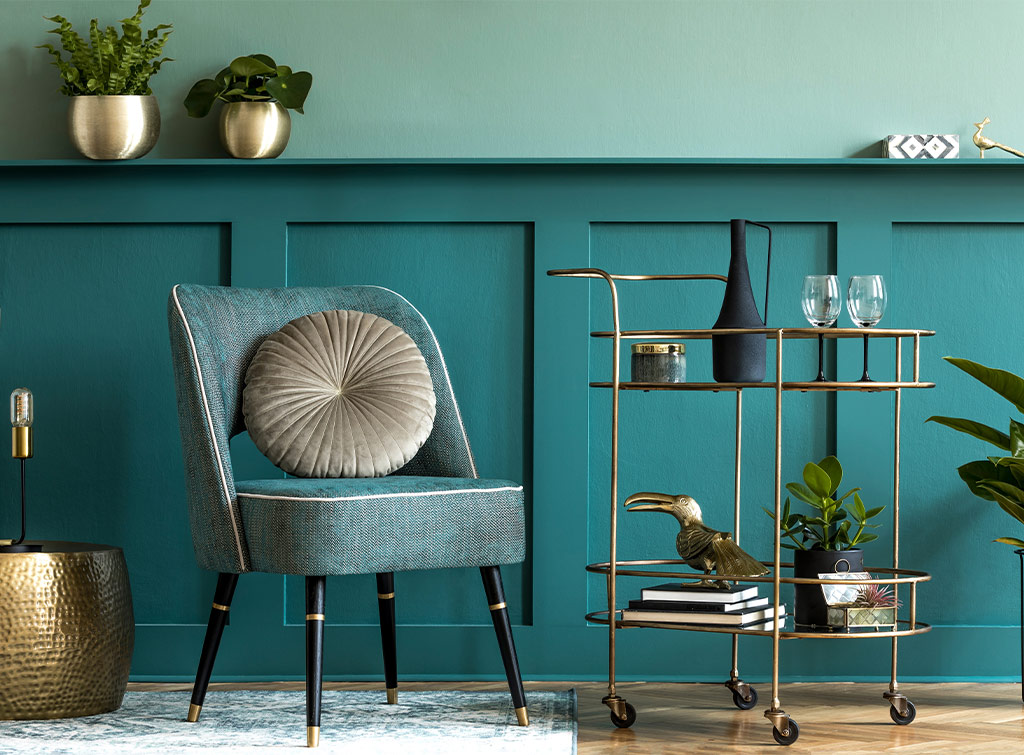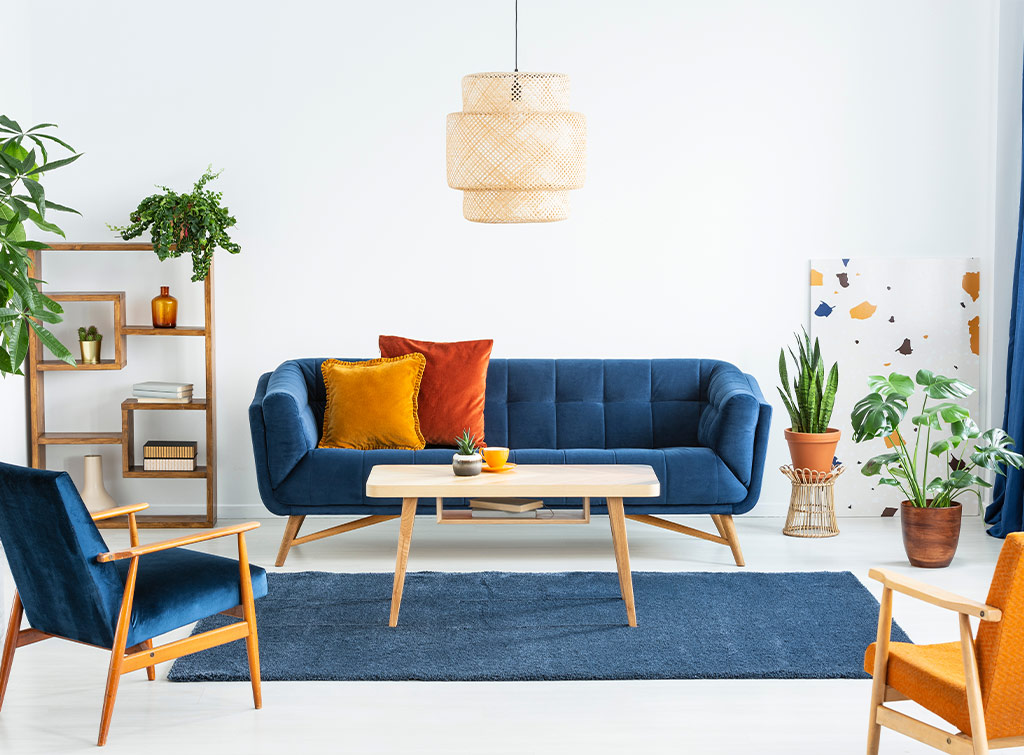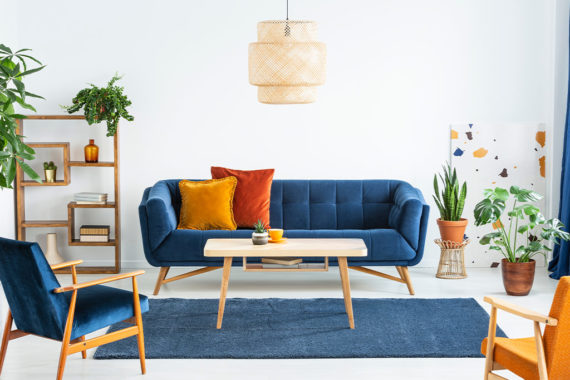 Grey living room ideas
Grey is a classy and versatile colour that works well in any room. Paired with a transitional vibe and chromatic accessories, the shade transforms any room from drab to fab.
Bold and bright colours also pair well with grey. Used sparingly, they can lift a space and add character.
Consider geometric furniture such as glass tables and mirrors, while patterned rugs and fabric sofas finish the room with style and balance.
Blue living room ideas
Blue is both cool and warm depending on your chosen shade. This living room evokes the rusticity of Jane Austen and the modernity of Scandinavia. By combining these two design elements, you get a or a mid-century modern aesthetic that welcomes you home with poise and grace.
Green living room ideas
Retro and french country elements make this green living room a total mood. Green is a fresh and relaxing colour that immediately transcends you out of the house and into a sunlit forest. Paired with wooden furniture and bronze accessories, you can introduce a slice of nature into your living room.
White living room ideas
Gold, white and black is a Hollywood retro and monochromatic dream.
This minimalist living room isn't just modern, it's luxurious. Clashing curves and parallel lines create interest without overpowering the room, while touches of flora and hanging plants inject some life into this crisp and clean aesthetic.
Teal living room ideas
Teal is the perfect colour if you're looking for a traditional ambience sure to wow all your guests. It's also a top 2020 colour trend.
Dark or light woods work well with teal, as do bronze or gold accessories for an opulent vibe. Elaborate furnishings such as accent chairs with round pleated cushions offer classic design elements that offset their more modern counterparts.
Brown living room ideas
Brown doesn't have to be boring or retro in a bad way. In fact, brown includes wooden parquet floors, feature walls, distressed leather sofas and resin-filled accessories.
Although we'd recommend keeping to the lighter tones and more purple hues, brown makes an excellent companion to traditional and industrial living room designs.
Pink living room ideas
On a scale of kawaii to synthwave (yes, they're real aesthetics), pink is a versatile colour that works well with others.
This pastel example, which leans more towards the kawaii scale, is fresh and homely. The dusty blue sofa and accent chair, along with the blush pouffes complement each other – as does the twisted metal coffee table and matching contemporary artwork.
We love the wooden floors and simple cream rug, which brings the space together and offsets the powder pink walls for a room that doesn't overpower you.
Colourful living room ideas
Bohemian charm coupled with Scandinavian design equals bold colours without the busyness. It creates a strong statement that lets you play with textures and furniture choices that would usually be off limits.
Neutral living room ideas
Fresh, neutral, tranquil and modern, incorporating a neutral palette into your living room gives you lots of options when it comes to patterns, artwork, accessories and lighting.
Wave striped rugs, industrial hanging lights, clashing wood and plastic chairs, soft fabric curtains and glass panelled shelving prove that neutral decor means endless possibilities.
Cream living room ideas
Just like neutral decor, cream is a colour that instantly refreshes and opens a space, allowing for colour splashes and texture clashes. It's perfect for small rooms that would benefit from an airer feel.
House plants instantly lift a space and create a bohemian and botanical vibe. Add them to your cream living room to bring nature indoors. They also complement Scandinavian and minimalist aesthetics, which makes cream a durable and versatile hue.
See the tradespeople we've checked and recommend for your job
Tell us what you think
What others think of this article:
Need More Information?
Related posts