Last updated on March 31st, 2022
How much will it cost to baby proof my home?
Babies generally crawl at around eight months, but some may be mobile much earlier. Before this happens, you'll need to make sure your home is fully baby-proofed. In this guide, we'll look at how much it can cost to baby proof your home.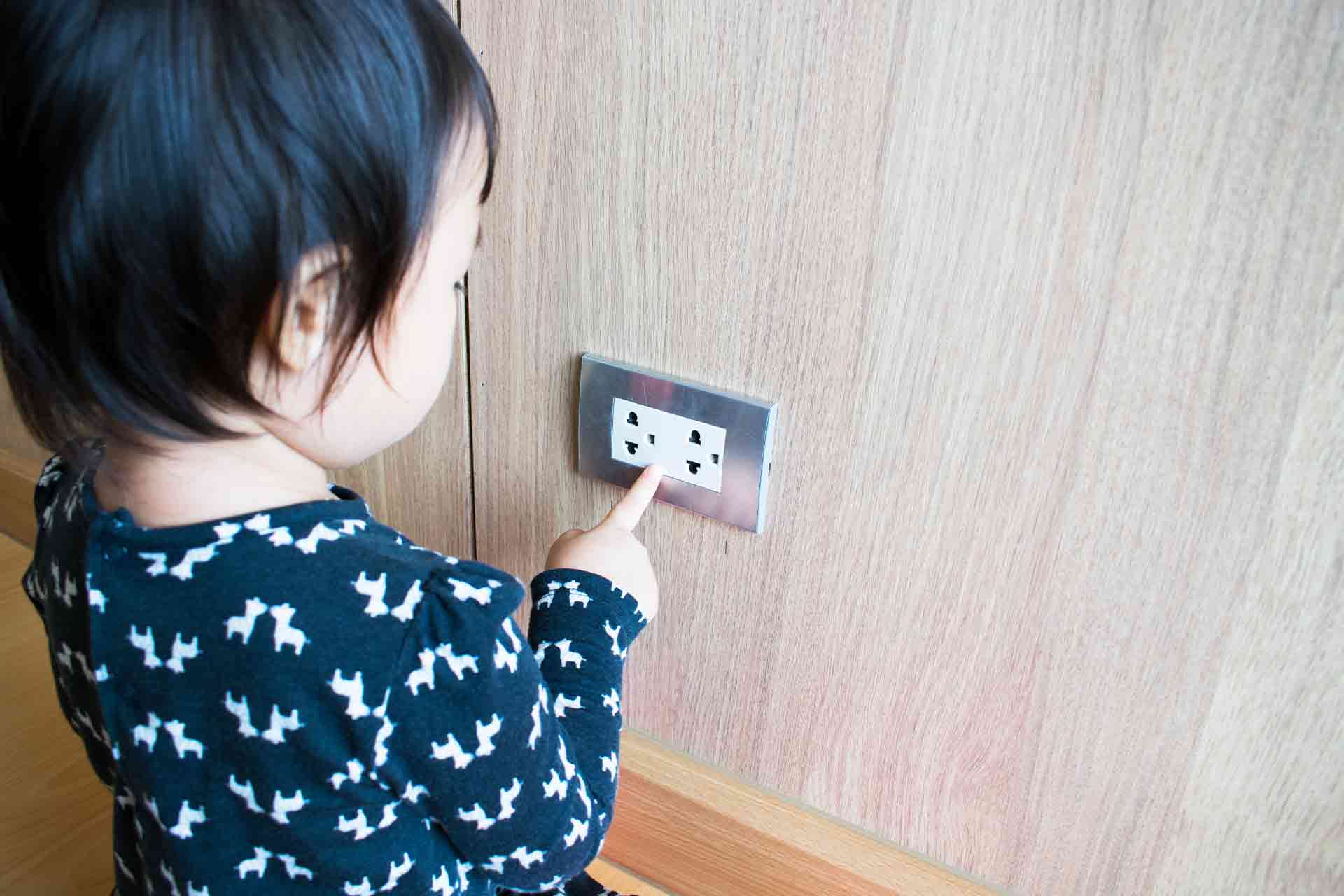 Babies generally crawl at around eight months, but some may be mobile much earlier. Before this happens, you'll need to make sure your home is fully baby-proofed. And remember that many crawling babies can also pull themselves up, so this means chairs, tables, and other surfaces are within reach too.
What does it cost to baby proof your home?
A good starting point for baby proofing your home is to do an assessment of potential risks. With your checklist of likely hazards and problem areas to hand, you can formulate a plan for whipping your home into shape. Some of the simpler jobs you can undertake yourself, but it's also a good idea to factor professional help into your costs for baby proofing your home.
| Task to be completed | Average time taken | Cost + VAT (low -high) | Average cost +VAT |
| --- | --- | --- | --- |
| Handyman call out fee | | £40 - £50 | £45 |
| Cupboard and drawer lock fitting | 1 hour | £20 - £65 | £43 |
| Adapting and fitting stair gates to top and bottom of stairs | 1 - 2 hours | £20 - £65 | £85 |
| Secure bookcase or chest of drawer to walls | 0.5 hour | £20 - £65 | £21 |
| Securing all blind chords with retrofit safety devices | 1 - 2 hours | £20 - £65 | £85 |
| Plumber to fit thermostatic mixing valves on taps and showers | 1 hour per set | £75 - £150 | £113 |
| Build secure custom storage near fireplace for tools, matches and gas fire lock keys | 4 hours | £20 - £65 | £170 |
The total cost to baby proof your home will depend on which tasks you need to do. We've covered most of these below, so you can start your planning.
Minimising poisoning risks
To ensure your baby is kept well away from toxic or potentially poisonous substances, do the following:
Move cleaning agents, medicines, vitamins, toiletries, mothballs and other potentially toxic items out of reach or lock them up.
Remember that yours or a visitor's handbag can hold medicines, toiletries and other toxic substances, so keep them out of reach.
Get rid of toxic houseplants such as philodendron, or move them out of reach.
Never put household chemicals into unmarked containers or old food containers.
Obviously, the bathroom and kitchen are key areas to focus on, but you should do a full sweep of the whole house.
Securing your kitchen
The kitchen can be a dangerous place if your little one is newly mobile. Follow these kitchen baby-proofing steps:
Keep knives, breakables, heavy pans, and other dangerous items locked up or out of reach.
Use a professional handy person to fit locks or latches on cupboards and drawers that contain unsafe items. This can cost between £20 and £65, but it should take only an hour or less.
Use rubbish bins with childproof lids.
Secure your fridge and freezer with an appliance latch.
Avoid using tablecloths or placemats, as your baby will pull them down (along with anything on top)
Distract your baby from forbidden places by keeping one cupboard unlocked and filled with lightweight, baby-safe items.
See the tradespeople we've checked and recommend for your job
Preventing falling accidents by securing your stairways
All you really need to do to baby proof your stairs is to block access. You can do this by installing safety gates at the bottom and top of the staircase. This can cost between £20 and £65.
Preventing drowning and water-related risks in the bathroom
We've covered the kitchen, so now it's time to focus on the bathroom. Here are the key steps to remember:
Get a professional plumber to fit thermostatic mixing valves (TMVs) on taps and showers. This can help to prevent burns and scalds. TMVs control the temperature of the hot tap, meaning you can still have a nice hot bath but they stop the risk of children being scalded. This should cost between £75 and £150 per set of TMVs.
Ensure you have a lockable medicine cabinet, one that is out of reach and fully secure. And place your tablets in childproof containers, just in case.
Secure bathroom bleaches and cleaning products in a lockable cupboard.
Install a toilet seat lock.
Ensuring your baby sleeps safely
You and baby have made it through the day safely. So, now it's time to baby proof the bedroom ready for a comfortable and safe sleep. Consider the following:
Install a video monitoring system so you can listen and watch your baby, from any room. You may want to consider bringing in an expert if you need help configuring this kind of technology with your smartphone.
Keep your child's cot and all furniture away from the windows.
Cover your babies cot with a cat-proof net if you have cats in your home.
Check that your blind cords and chains are out of reach. Safety regulations for blinds changed in February 2014. All blinds sold in the UK should either be cordless or have tensioned cords or concealed cords. Any hanging cords or chains should be secured.
Spotting the dangers in the living room
Here's what you need to do to identify and eliminate risks for your crawling baby in the living room:
Block any unused electrical outlets using approved plastic plug covers.
Ensure phone chargers are put of reach, taken out of sockets, always left turned off and once used safely put away. An important reminder that a charger can cause serious electrical burns
Never run leads or cables under carpets or rugs, as you won't be able to see if they become damaged.
Keep an eye out for signs of loose wiring, faulty plugs or sockets. Scorch marks or flickering lights are all warning signs. Always replace worn, damaged or taped up leads and cables.
Attach corner and edge guards to prevent falls onto sharp furniture edges.
Secure furniture that can topple (bookcases, chests of drawers) to the walls. This should only cost around £21.
Keep televisions on low furniture, pushed back as far as possible.
Place tall, unstable lamps behind furniture.
Cover or block access to hot radiators and floor heaters.
Mark sliding doors and other expanses of glass with colourful stickers.
Keep your baby and your furniture away from open windows.
Fix safety clips to blind mechanisms to prevent strangulation risks. This can cost around £85.
Securing your fireplace
A roaring fire can be lovely and cosy in the wintertime. However, without the right safety measures in place, it can be one of the most dangerous places for your baby. Here's how to secure your fireplace:
Create a custom storage area near the fire to safely store gas fireplace keys, matches and fireplace tools. You can expect to spend around £170 on this.
Install a fireguard and keep it in place whenever a fire is burning.
It's also a good idea to keep a fire extinguisher in the house.
Fit and regularly test smoke alarms to keep you and your family safe. It's a good idea to get a professional to fit them correctly and ideally have them wired into the mains.
Eliminating dangers in the garden and outdoor spaces
Your baby will love being outside, but you'll need to baby proof all outdoor spaces first. Here's how:
If railings have openings wider than 6.5cm, block them with plastic garden fencing, Plexiglas or another material. You can do this yourself, or use a handyperson for installation.
If you have an outdoor stove, use a stove guard that prevents pans being pulled over.
See the tradespeople we've checked and recommend for your job
FAQs
What do you need to baby proof your house?
It all depends on your home, and the risks you identify when you do a baby-proofing assessment. Key items include stair gates, door locks and cupboard latches, corner and edge protectors and electrical safety accessories – but the list can be quite long.
When should you start baby proofing your house?
A good time to start baby proofing your home is around three months before your due date. Don't leave it too late, as it can take some time to tick absolutely everything off your list. And when your baby starts to crawl at around 6-10 months, you'll need to do a second bout of baby proofing.
How do you childproof a room?
The best way to approach baby proofing a room is to try and put yourselves in your little one's shoes. Get down to their level, and go through the room item-by-item to make a note of potential hazards. It's always best to take a worst-case-scenario view of baby proofing – putting in extra safety measures just in case.
See the tradespeople we've checked and recommend for your job