Last updated on September 7th, 2022
Cost of custom built in shelves
Whether you're a DIY enthusiast or need help from a carpenter, we've put together a practical price guide to help you budget for the cost of customer built shelves.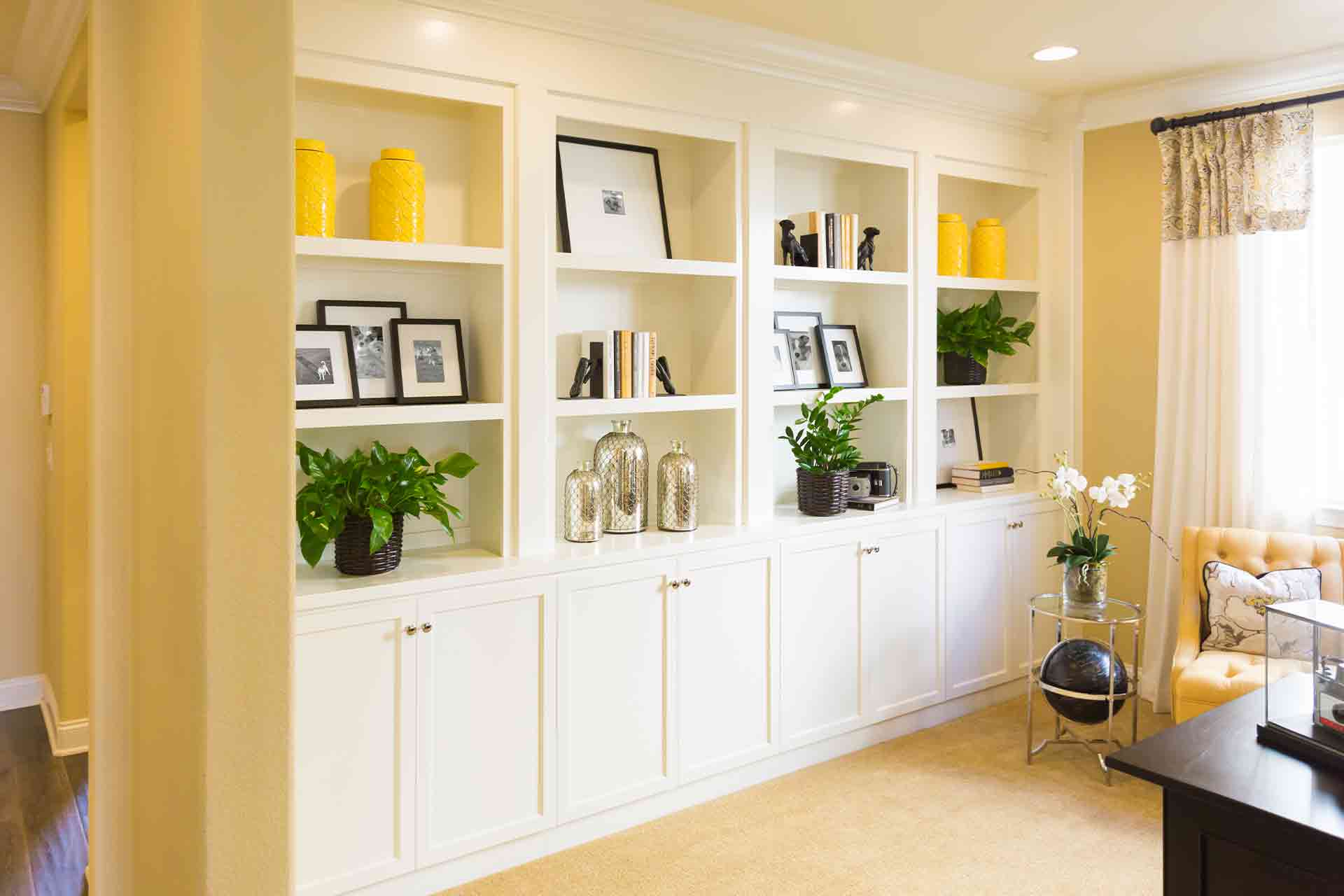 Built-in shelves are all the rage in interior design – and with good reason. They're practical, space-saving and add character to any room.
Whether it's for books in the living room or clothes in the bedroom, this trend is here to stay. So, what is the cost of custom built in shelves?
Ready to get some quotes? Use our free search tool to connect with professionals in the local area. 
Average cost of custom built-in shelves
| Shelf material | Unit | Average UK cost |
| --- | --- | --- |
| MDF or plywood | Per metre | £36 |
| Hardwood | Per metre | £230 |
| Glass | Per metre | £126 |
Bespoke shelves are a popular choice as they make a room work harder to maximise the space and minimise the mess. Naturally, the cost of custom shelves can vary depending on the material used.
The price typically starts at around £36 per metre for MDF or plywood, rising to £230 per metre for hardwood and £126 per metre for glass shelving. This is for materials only.
If you're looking to hire a professional to create your custom built shelves, then you'll need to factor in labour costs too. These are typically £250 per day for a carpenter and £220 per day for a decorator.
Key considerations for built-in shelves cost
Built in bookshelves and cabinets are stylish storage solutions that allow you to reclaim your floor space. They come in a range of styles, sizes and materials, with prices ranging from the affordable options like MDF and more expensive alternatives, such as elegant woods and metal/glass combinations.
The type of material, the size of the project and the existing infrastructure of your house/business are all contributory to your final bill.
| Cost provided item | Unit | Average UK cost |
| --- | --- | --- |
| Carpenter | Per day | £250 |
| Painter / Decorator | Per day | £220 |
| Debris removal | Per job | £120 |
As well as a carpenter, you should factor in the cost of a painter / decorator to get the space looking sleek and in line with the rest of the room. Depending on your budget, it may be worth repainting the entire room.
When installing custom built in shelves, some tradespeople will factor in the cost of debris removal – however, this isn't a guarantee, so always ask up front if you require this to be included in your quote. Expect to pay around £120 per job.
FAQs
Do custom built in shelves add value?
Built in bookshelves are brilliant for personalisation, and offer creative storage for homeowners. In a living room, they provide a way to display your collections of books, art, candles, sculptures and more.
Drawers can also provide a hidden space to store extra blankets, accessories, magazines.
With this in mind, custom cabinetry is always a positive asset for a home that will add to the sale price when you're ready to move on.
How deep should built-in shelves be?
Most custom built-in shelves are between 11 and 14 inches deep. Of course, the depth will ultimately depend on your own specifications.
If you're hiring a carpenter to design your storage solution, they will be able to advise on what is achievable and appealing based on the layout of the room.
Can I install custom built in shelves myself?
If you're skilled in interior design and woodwork, this job will be relatively straightforward – albeit time-consuming. If carpentry isn't your forté, it's best to call in the professionals.
To speed up the process, use our free search tool below to find carpenters, decorators and debris removal teams in your local area.
See the tradespeople we've checked and recommend for your job