Hiring an interior designer can often be overlooked when people are renovating their homes because of the potential expense. But the benefits of using an interior designer often outweigh the costs.
An interior designer can work to any budget size you may have and can be key to finding the best parts of your property that you might not have previously noticed. Whether you need help with your first flat, would like to update a room for a special occasion, or are even renovating a house to sell or live in, an interior designer can help.
Interior designer cost
| Service | Range - low | Range - high | Average cost |
| --- | --- | --- | --- |
| Interior designer per hour | £50 | £150 | £100 |
Interior designers usually charge an hourly rate. Depending on the company, some designers will charge per room, while others will set out a fixed price after an initial consultation. It's worth contacting a Checkatrade vetted professional to find the best service for you.
On average, the cost of an interior designer per hour is between £50-£150 depending on their expertise and pricing structures.
It's worth considering any extra costs involved, such as any work undertaken by professional tradespeople or the cost of new furniture and materials. It's also worth planning out your potential costs before you contact an interior designer, so you can decide what it is that you would like to splurge and save on.
Find an interior designer near you
How much does an interior designer cost if they are newly-qualified?
Interior designers who are starting to build their portfolio can sometimes charge lower fees. As they gain experience and build a reputation for their designs, they usually increase their prices accordingly. Hiring a junior interior designer could be a perfect choice if you have a small project.
Hiring an interior designer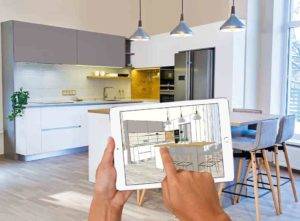 Interior designers can offer a wide range of services. As well as designing rooms, interior designers can source furniture (often at trade prices), and undertake project management, taking away any pressure from you.
It's up to you how involved your interior designer is in your project. You could have a basic consultation or you could hire a designer for a fully-fledged project where they manage the full process from the initial concept to the final delivery.
At the lower scale of services, you could book an online consultation. Here, a designer can provide you with digital plans, mood boards and a shopping list suggesting the best materials and furniture for your space.
Another package to consider is a personal consultation. An interior designer can measure and assess your home before pulling together a more detailed plan, including elevations, lighting positions and sketches of the final result. A designer will often also provide you with a mood board with samples of materials from their list of professional suppliers.
The next package to consider is the interior designer taking complete control of the project. You'll often receive the services outlined above, but in addition, the interior designer can supervise the whole project including coordinating tradespeople and locating new furniture.
Benefits of hiring an interior designer
Fully-qualified interior designers have usually studied for a minimum of three years. They have a wealth of knowledge of innovative design techniques, making the most out of your space, access to unusual materials and are often on the ball with new furnishing trends.
An interior designer has the skills and ability to uncover the true potential of a house and fully utilise it to make the best use of its style and space.
Key takeaways
You can choose an interior designer to suit your specific needs, whether it's just a room, an online consultation or a full house renovation.
Interior designers often have access to exclusive trade supplies.
Investing in an interior designer is a great way to increase a property's value.
Find an interior designer near you
Tell us what you think
What others think of this cost guide:
Need More Information?
Related posts