Last updated on March 31st, 2022
Interior designer cost and charges guide
Hiring an interior designer can often be overlooked when people are renovating their homes because of the potential expense. But the benefits of using an interior designer often outweigh the cost.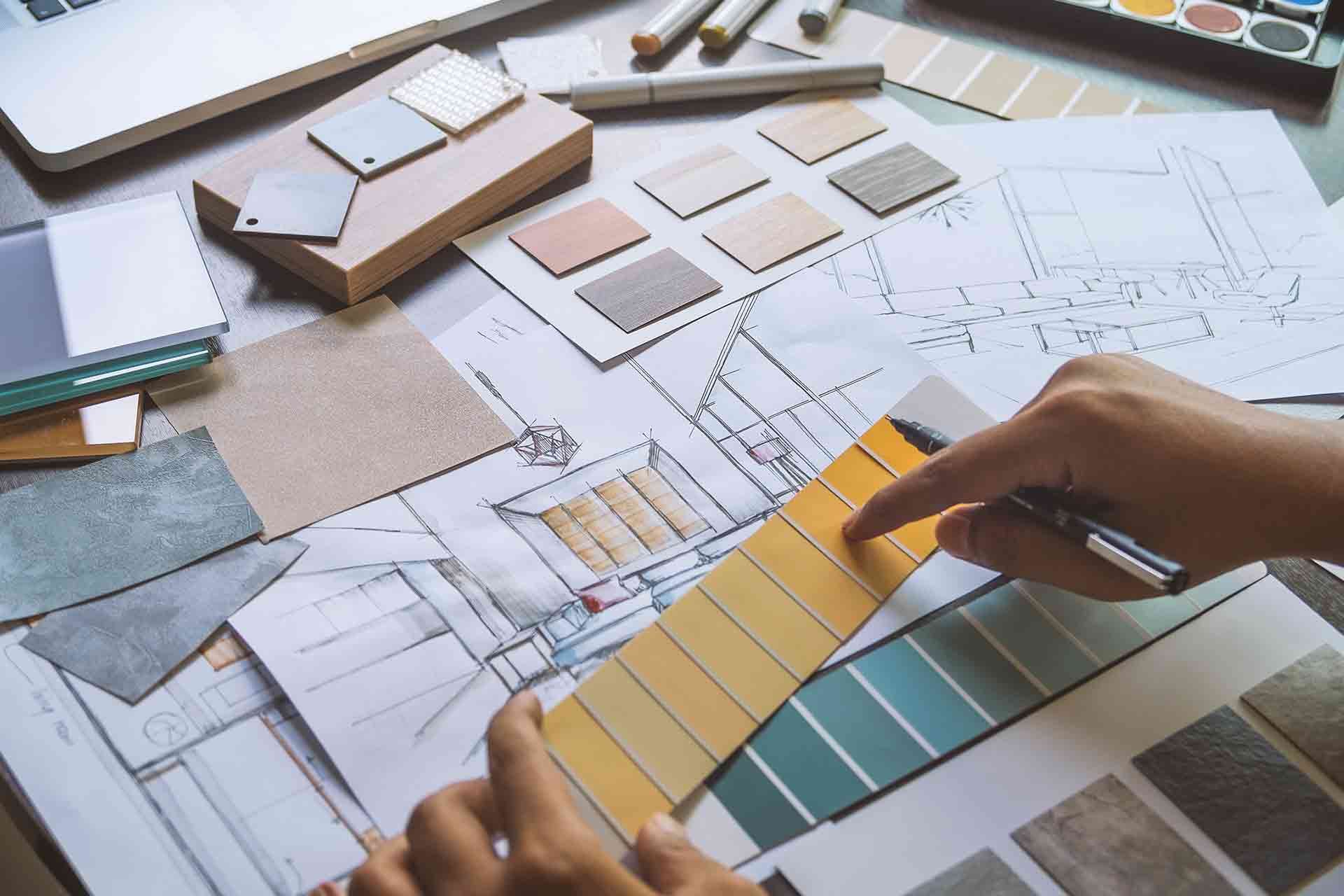 Hiring an interior designer can often be overlooked when people are renovating their homes because of the potential expense. But the benefits of using an interior designer often outweigh the costs, with an interior design charge usually being well worth it.
An interior designer can adapt their interior design fees to any budget size you may have and can be key to finding the best parts of your property that you might not have previously noticed.
Whether you need help with your first flat, would like to update a room for a special occasion, or are renovating a house to sell or live in, an interior designer can help. Understanding interior design costs is useful before hiring one.
Interior designer cost – per hour
| Service | Range - low | Range - high | Average cost |
| --- | --- | --- | --- |
| Interior designer per hour | £50 | £150 | £100 |
Interior designers usually charge an hourly rate. Depending on the company, some designers will charge per room, while others will set out a fixed price after an initial consultation. It's worth contacting a Checkatrade member to find the best service for you.
On average, the cost of an interior designer per hour is between £50 – £150 depending on their expertise and pricing structures.
It's worth considering any extra costs involved, such as any work undertaken by professional tradespeople or the cost of new furniture and materials.
It's also worth planning out your potential costs before you contact an interior designer, so you can decide what it is that you would like to splurge and save on.
See the tradespeople we've checked and recommend for your job
Interior designer fees per project
Entry-level interior design fee
An interior design charge is usually established based on the level of service you need, as well as what kind of project you're planning.
For example, a basic interior design service will cover design concepts, the placement of furniture and a list of options for that furniture. This can cost on average around £5,000 and usually includes a consultation.
Design plus documents price
The next step up is usually a design. This includes a consultation along with a more detailed furniture plan, as well as options for lighting and drawings of the finished project to help you visualise.
The interior design fee at this level can be between £5,000 and £20,000 on average, and might also include technical documents.
End-to-end project management
Finally, the full interior design package is as above plus the supply of items and their installation.
Interior design prices at this level usually start at £20,000 on average, with your interior designer typically project managing all of the traders and purchasing.
Choosing an interior designer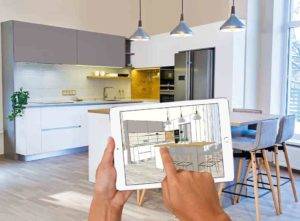 Interior designers can offer a wide range of services. As well as designing rooms, interior designers can source furniture (often at trade prices), and undertake project management. It's great as it takes away any pressure from you.
It's up to you how involved your interior designer is in your project. You could have a basic consultation or you could hire a designer for a fully-fledged project where they manage the full process from the initial concept to the final delivery.
At the lower scale of services, you could book an online consultation. Here, a designer can provide you with digital plans, mood boards and a shopping list suggesting the best materials and furniture for your space.
Another package to consider is a personal consultation. An interior designer can measure and assess your home before pulling together a more detailed plan, including elevations, lighting positions and sketches of the final result. A designer will often also provide you with a mood board with samples of materials from their list of professional suppliers.
The next package to consider is the interior designer taking complete control of the project. You'll often receive the services outlined above, but in addition, the interior designer can supervise the whole project including coordinating tradespeople and locating new furniture.
Benefits of hiring a high-end interior designer
There are several benefits that come with hiring a high-end interior designer to help you with your home decorating goals. These benefits may not always be obvious from the outset, but they can make the additional charge for an experienced designer well worthwhile.
Benefits of hiring a high-end interior designer
They'll have a better eye for design than you do. Even if this might not always be true, high-end interior designers are trained to notice details that homeowners might miss. Paying high-end interior designer fees will usually guarantee that even the most minute details will be on-point and aesthetically pleasing.
They have better access to higher quality materials. High-end interior designers will often have connections with industry suppliers and other unreachable individuals, which gives you access to higher quality, and more unique, products than you could source yourself.
They are trained to maximise your home's potential. High-end interior designers are usually qualified in their trade, with professional education in making homes look their absolute best. Whatever your home's shape, size or limitations, an experienced interior designer will have the expertise and ability to realise your vision.
They usually offer free consultations. Ranging from an hour up to several hours depending on your needs, this free time together allows you to assess the designer without risk. It also gives you a chance to get your entire picture together and ask the high-end interior designer any questions.
Downsides of hiring a high-end interior designer
While there are several benefits to paying high-end interior design prices, there are several costs too.
They will charge by the hour rather than a flat rate. This means that even if they give you a quote on how much it will cost to have your home or business redesigned, they might end up charging more if it ends up taking longer than expected.
They often have a minimum number of hours. For example, a high-end interior designer might have a minimum of 10 hours they will work on your project. This means that if the actual amount of time it ends up taking to decorate is less than 10 hours, you could end up paying them for more hours than necessary.
Expertise varies. Not every high-end interior designer out there will be able to meet your specific needs. It's important to understand what kind of experience a designer has before agreeing to hire them, and the best way to do this is to seek quotes and consultations from multiple interior designers.
See the tradespeople we've checked and recommend for your job
Benefits of hiring a budget interior designer
If you want to transform your home but don't want to break the bank in order to get professional services, hiring a budget friendly interior designer might be the solution for you.
Although they may not have as many years of experience as a more established company, they can still provide you with beautiful design options that fit your budget. However, a question that frequently comes up is whether or not hiring a low-cost designer is a better option than going with an established name.
More time to focus on your project. Unlike a big name interior design studio, a budget interior designer will typically only have a handful of clients to think about. This means your project can get more attention from start to finish.
A more personable experience. Budget interior designer services tend to be focused on small-scale projects so they can spend the time getting to know their clients on a personal level and taking the time to recommend specific products based on budget, style and lifestyle preferences.
More flexibility. It's much easier for a budget interior designer to make changes and adjustments throughout your project. This is because they are usually the main decision-maker, with fewer cogs to turn and people impacted by any adjustments to design or timeframes.
Downsides of hiring a budget interior designer
Although the pros of hiring a budget design service are apparent, there may be some downsides to consider.
Larger projects may be too much for them. For example, if you have an extremely large space that needs refurbished, it might be better to hire a designer with more comprehensive experience and additional skills.
They may not have the contacts needed. Budget interior designers can lack the contacts of a more established company, so finding certain products that are non-negotiable for you might be more challenging.
Refunds and grievances. It's important to note that if you do decide to hire a budget interior designer and you do not like the final results, it's possible there won't be any refund option or formal process for making a complaint.
5 things to know about the cost of interior designers
Interior design cost can sometimes make or break a project, so it's worth knowing ahead of time what to expect and what can impact the price you're being quoted:
There are fixed and hourly charges for interior designers. An interior designer's services can either be on a purely fixed fee basis or an hourly rate basis, the decision as to which way to go is based on a number of factors by both you and the interior designer, these include: scope of work, location, size of the project, time frame and type of project.
There are different types of interior designer cost. As well as hourly and fixed, interior design fees can also encompass a percentage of construction costs and percentage markup on furniture used in the project.
The task determines the final cost for interior design. The tasks that an interior designer is asked to perform will determine what price he/she should be paid. These can include: creating plans, designing interior spaces, sourcing furniture and fabric, ordering materials and project management.
Interior designer cost varies by location. An interior design charge in London or the South East will be more expensive than elsewhere in the UK, due to labour, material and hire costs.
Prepare for a higher cost. If you've never engaged an interior designer before, the charge can be higher than you may have thought. Of course, your interior designer cost will vary depending on the location, size, type and complexity of the project.
Interior designers are vital to the success of any interior design project, and understanding the factors that go into determining their fees will help you make better decisions when planning your next home renovation project.
Enter your postcode in our free search tool to find trusted interior designers your neighbours recommend.
See the tradespeople we've checked and recommend for your job