Last updated on March 31st, 2022
Dehumidifier hire prices in 2023
Hire a dehumidifier to rapidly dry damp rooms and eliminate musty odours. Our dehumidifier hire cost guide covers considerations, prices and tips.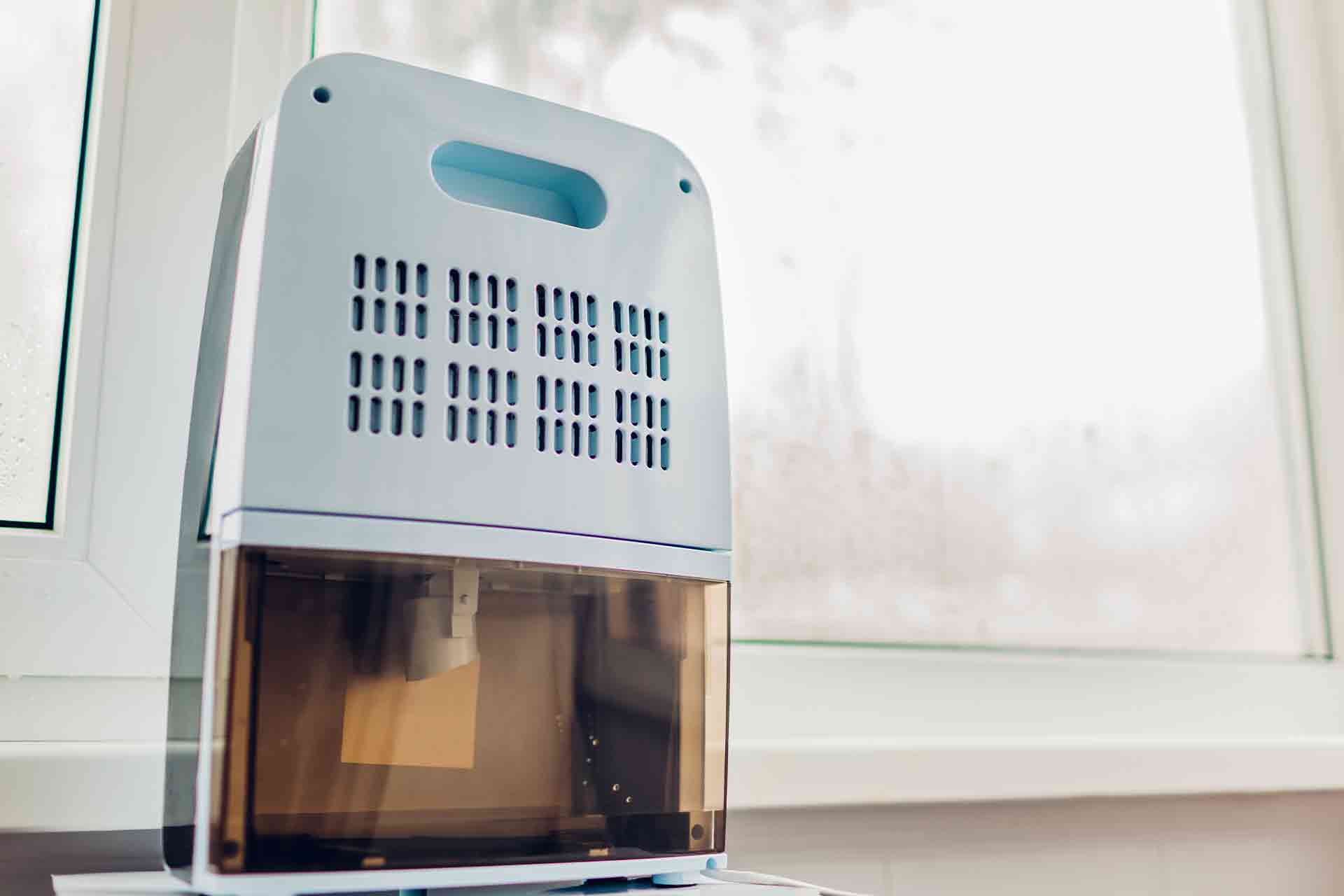 Why should I hire a dehumidifier?
Dehumidifiers are used to remove unwanted moisture from homes and businesses. They can make a huge difference in terms of air quality in any given space. Dehumidifiers can even be used following a flood, although you would need a larger unit for this level of moisture.
If you are unable to afford a dehumidifier, hiring one can be a great solution. This way once you have finished with the machine, you will no longer have to pay for it. Even better, the rental company will remain responsible for servicing and repairing the dehumidifier, saving you potential headaches.
These handy units can even be used to prevent future water damage and mould by sucking any moisture from the air in bathrooms and kitchens. Plus, they also help to eliminate odours. Keep reading to learn more about their many great benefits and the average dehumidifier hire cost.
How much does it cost to hire a dehumidifier for a week?
Type of hire
Cost + VAT
(Range low - high)
Average cost
Dehumidifier hire cost (per week)
£35 - £133
£84
Dehumidifier hire cost (per day)
From £18
Cost of dehumidifier to run
£0.48 - £1.56 per week
£1.02
Depending on how often you plan to use a dehumidifier, short term hiring of a unit can be a very cost-effective solution. With no maintenance or repair costs to worry about, you will simply pay a weekly amount to a rental company that will deliver the dehumidifier to your address.
The average weekly dehumidifier hire cost is £84 per week, although can be as low as £35 per week.
Benefits of dehumidifiers
Dehumidifiers have a number of excellent benefits, making them perfect for keeping your family healthy and your home in great shape. Below are the best advantages of hiring a dehumidifier:
They are great for drying out your home after floods or burst pipes.
They can quickly get rid of musty odours.
Any humidity in the air will be reduced and stay that way with the continued use of a dehumidifier.
You will see vast improvements in air quality.
Dehumidifiers can even help to reduce damp and mould.
For long term damp problems, see our damp proofing cost guide.
See the tradespeople we've checked and recommend for your job
Factors affecting dehumidifier rental costs
Large and small, dehumidifiers come in many different shapes and sizes. Industrial units are perfect following floods or burst pipes, whereas daily home use will need a much smaller dehumidifier. The size of the machine as well as the following factors will all impact the cost to hire a dehumidifier:
Capacity: Larger or higher capacity dehumidifiers will be more expensive to hire than smaller versions.
Type of dehumidifier: There are two types of dehumidifier: refrigerant and desiccant. The type you choose will alter the cost you pay, with refrigerant dehumidifiers being the least expensive.
Use of dehumidifier: Whether you need a dehumidifier to dry out a room after a flood, to reduce moisture in damp areas, or to eliminate odours, will affect the size and type you need. This will therefore impact the cost to hire a dehumidifier.
Time: As you are hiring the dehumidifier the longer you need it for, the more money you will pay.
Frequency of charge: Paying weekly, daily or monthly can affect the price you pay. This is particularly true if you sign up for a longer period of time as the rental company may give you a discount.
Rental and running costs
Dehumidifier rental cost per day
Instead of paying weekly or monthly, some hire companies will charge a daily rate. This may work in your favour if you want to hire the unit for less than a week. In this case, you would only need to pay for the days you actually have the dehumidifier for.
Dehumidifier rental costs start from £18 per day.
Dehumidifier running cost
The amount it will cost you to run a dehumidifier will change depending on the size and type of unit plus whether you are running it 24/7. Having said this, running a dehumidifier is not expensive and if you are hiring it short term, you may not even notice the running costs.
The average dehumidifier running cost is £1.02 per week.
Dehumidifier hire quotes
There are many rental companies throughout the country, each with different units available. To find a local, reputable, hire company in your area and get a personalised dehumidifier hire quote use our free search feature.
Useful dehumidifier hire checklist
Dehumidifiers can help dry out rooms after floods or burst pipes and eliminate musty odours.
The dehumidifier hire cost you pay may be on a weekly or even daily rate.
The type and capacity of dehumidifier you choose will affect the cost to hire a dehumidifier.
Dehumidifiers are not too expensive to run, especially if you only need one short term.