Last updated on July 5th, 2022
How much does it cost to repair a dishwasher?
When a dishwasher breaks it can feel like a living nightmare. We've put together this dishwasher repair cost guide to help you get your dishwasher up and running again, and save you from hours of washing up.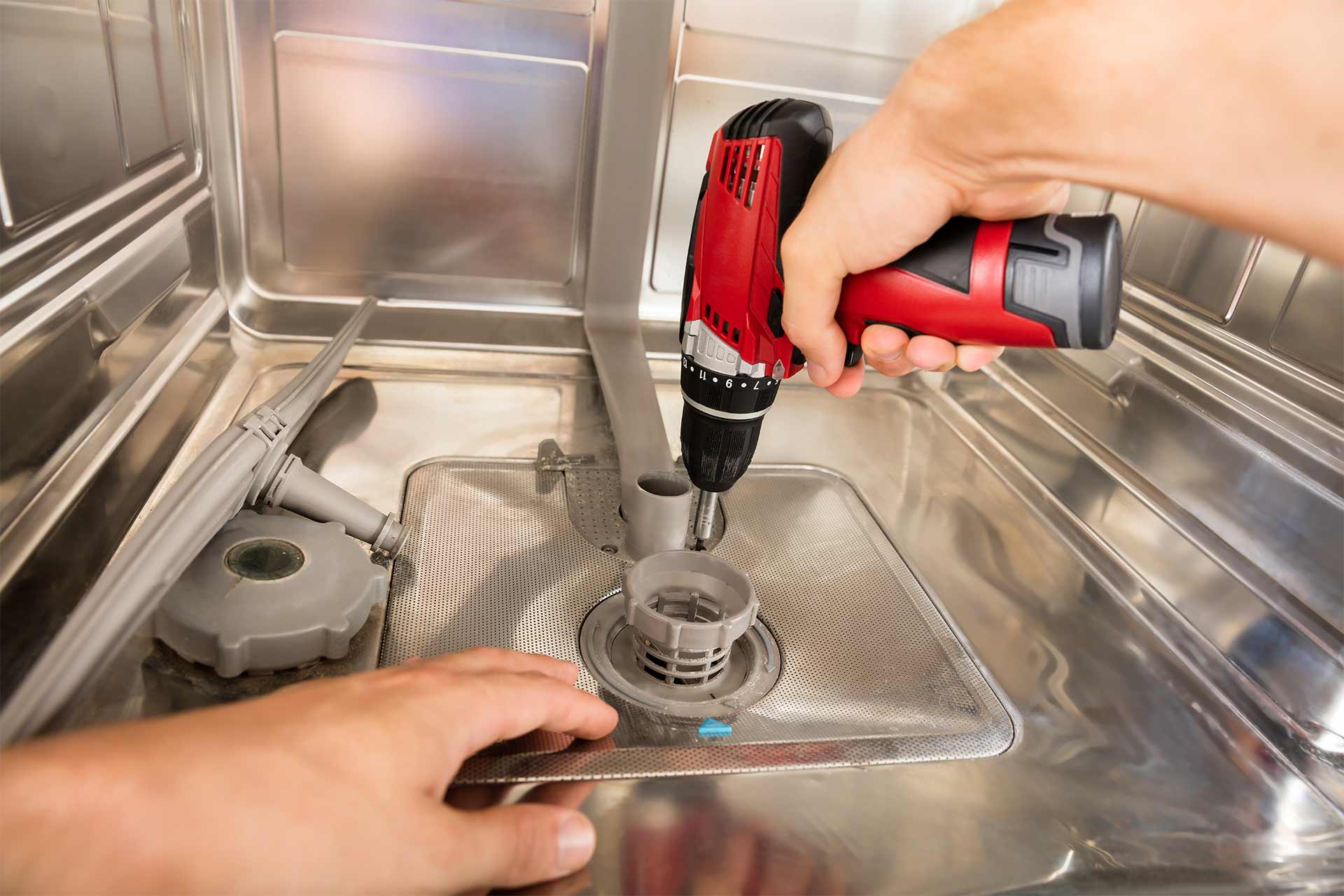 By keeping your dishwasher in good working condition you'll prolong its lifespan and avoid additional costs that can be caused by some common problems, such as water leaks.
In this guide, we've put together the average dishwasher repair costs to give you an idea of how much the repair could cost you. For accurate prices for your dishwasher, we recommend you contact a local dishwasher repair expert.
Appliance repair is more possible than ever now that the UK has introduced the right to repair scheme. Find out more about the right to repair here.
How much does dishwasher repair cost?
Most tradespeople will charge an initial call-out fee to come and inspect your dishwasher. This fee will usually cover their first hour of their visit, with any additional time being charged at an hourly rate – plus the cost of any parts needed.
| Item | Range - low | Range - high | Average cost |
| --- | --- | --- | --- |
| Supply and fit new pump | £80 | £130 | £105 |
| Supply and fit new motor | £150 | £250 | £200 |
| Supply and fit new heating element | £95 | £185 | £140 |
| Call-out fee | £60 | £150 | £105 |
The average call-out cost for a dishwasher repair is around £105. The hourly charge will often be lower, but you'll need to confirm exact rates with your tradesperson in advance.
Average dishwasher repair costs vary depending on the problem that needs fixing. To supply and fit a new dishwasher pump will cost about £105.
If it's a problem with the motor then you're looking at an average dishwasher motor repair cost of about £200.
In general, the main factors that will affect the total price of your dishwasher repair are:
Age and condition of the dishwasher
Make and model
Cost of any additional parts needed
Where you live
Dishwasher repair costs aren't cheap, so it's often worth considering the option of replacing your dishwasher with a newer model.
See the tradespeople we've checked and recommend for your job
Common dishwasher problems
There are a number of things that can go wrong with a dishwasher. Among the most common problems are:
Dishes don't get clean properly
Water doesn't drain from the dishwasher
Water leaking
Dishwasher makes a strange noise
Dishwasher won't start
Dishwasher door doesn't close properly
Whatever the problem is, it's worth dealing with as soon as you realise that something is wrong. Speak to your local dishwasher repair experts to get their advice and ask them to explain what the problem and solutions are.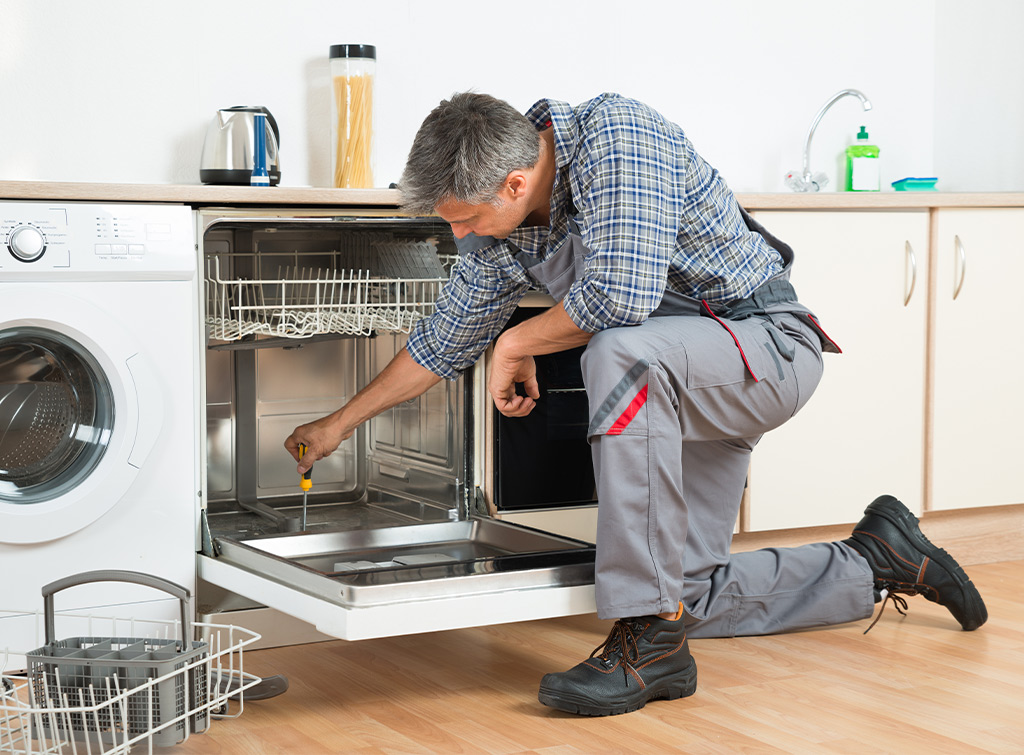 Should I repair or replace my dishwasher?
If something goes wrong with your dishwasher, you'll need to decide whether it's more economical to repair it or replace it with a new model.
New dishwasher models offer increasingly improved energy efficiency, and the price tags seem to be getting lower each year. That said, it's important to understand the cost implications of both options.
Depending on the problem, the cost of repairing your dishwasher could be more than buying a new replacement. To understand which option will be best for you, speak to your local dishwasher repair experts to get estimated costs for a repair.
If your dishwasher is more than eight years old then it's most likely that you'll be better off buying a replacement, instead of repairing it.
It's a lot harder to find spare parts for older appliances, and they're much less efficient in terms of energy usage and running costs.
Repairing a built-in dishwasher
If you have a built-in dishwasher in your kitchen, it could be cheaper to repair it instead of replacing it. Repairing a built-in dishwasher will cost more and involve more work to remove and replace the appliance.
Replacing a built-in dishwasher could also potentially damage kitchen units, which will add a further cost to fix. In order to decide what's the most cost-effective option for you, speak to an experienced local dishwasher expert for advice.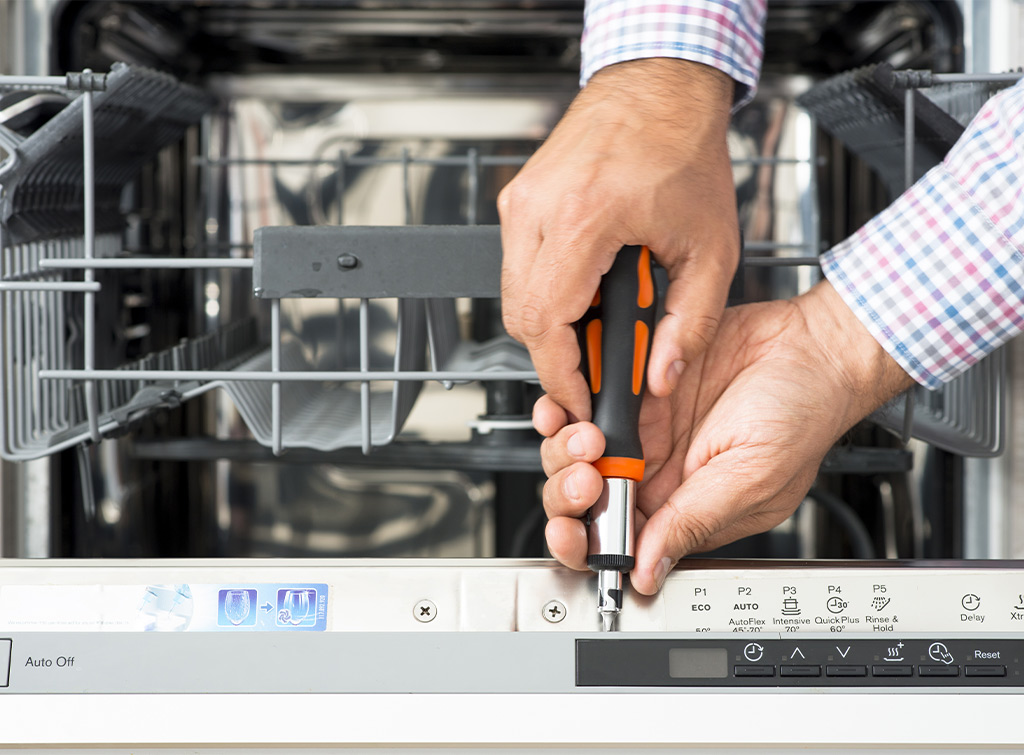 Will my dishwasher warranty cover the cost of repair?
In most cases, yes. If you have a valid warranty when your dishwasher breaks, contact the manufacturer (or retailer) to organise the repairs – which shouldn't cost you anything (unless there are special clauses in the warranty).
Additional dishwasher repair costs
In addition to the initial call-out fee and any additional time spent on the repair job, you'll also need to pay for the cost of any parts needed. This is the single biggest additional cost for your dishwasher repair.
It's sensible to speak to your dishwasher repair expert in advance to get estimated costs from them for any parts that could be needed for the job.
Useful dishwasher repair checklist
Identify the problem(s) with your dishwasher.
Check if you have a valid warranty for your dishwasher, if so contact the manufacturer (or retailer) to organise the repair.
If not, contact local dishwasher repair experts for advice and prices.
If hiring a professional, always shop around for fair and competitive dishwasher repair prices.
Always hire a tradesperson with relevant experience and the appropriate qualifications/accreditations.
See the tradespeople we've checked and recommend for your job