What the new 'right to repair' laws in the UK mean for you
Thanks to modern technology, there's an appliance to simplify the most difficult and time-consuming chores. From dishwashers to tumble dryers, we're buying more appliances than ever before. Unfortunately, these machines are not built to stand the test of time and many manufacturers don't make parts available for repairs… until now! Enter the new 'right to…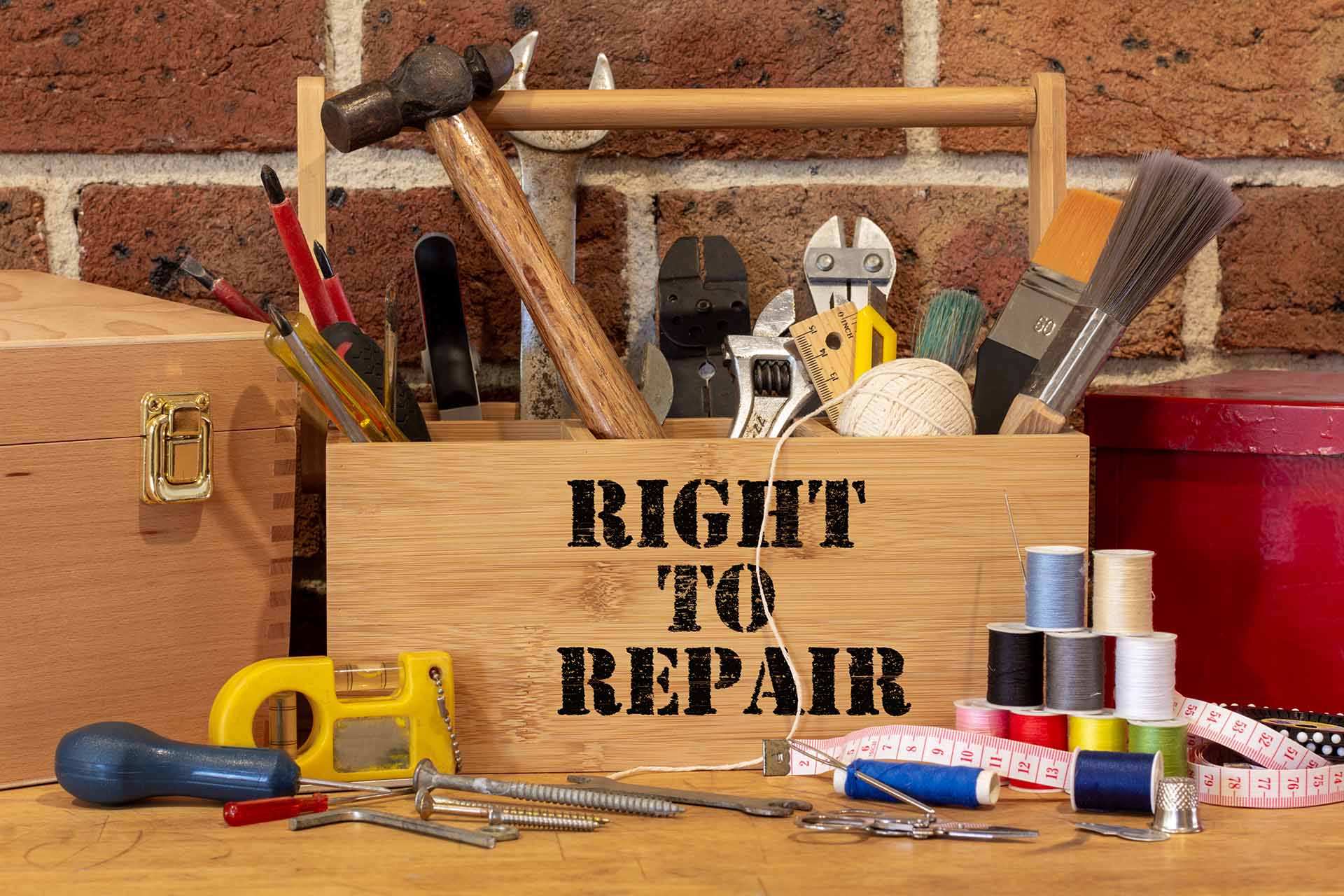 Thanks to modern technology, there's an appliance to simplify the most difficult and time-consuming chores. From dishwashers to tumble dryers, we're buying more appliances than ever before. Unfortunately, these machines are not built to stand the test of time and many manufacturers don't make parts available for repairs… until now!
Enter the new 'right to repair' law in the UK – introduced for easier appliance repairs and to extend a product's life.
Appliance repair is actually one of our most in-demand categories. In fact, there have been almost 700k searches for tradespeople in this category within the past 12 months*. This highlights the importance of the new right to repair law – it's a really good thing to help millions of homeowners.
The right to repair sets out to help you, and most importantly, the planet.
What is 'right to repair' in the UK?
The clue is in the name – you have the right to repair your appliances when it's faulty. It's a change from assuming that once one of your appliances break the only solution is to replace it.
Under the new UK Right to repair scheme, manufacturers will be required to supply replacement parts for their products. Spare parts will be available within two years of an appliance going on sale and may remain available up until seven or even 10 years after the product is discontinued.
The ability to repair means your appliance's lifespan could increase by up to 10 years.
Some parts may only be available for professional repairers, but others will be available to everyone. Seemingly the parts available to anyone will be for simple repair jobs so that you can fix it yourself. It's the first time that manufacturers will need to make spare parts for their appliances.
The appliances currently include washing machines, tumble dryers, dishwashers, fridges, freezers, and TVs.
Many people have got too comfortable with discovering a fault with their appliance and deciding (or being advised) to replace it rather than attempt to repair it. Now consumers can repair faults themselves, or hire a tradesperson to fix it for them.
The right to repair is a great move for consumers, tradespeople and our planet!
What does the right to repair scheme hope to achieve?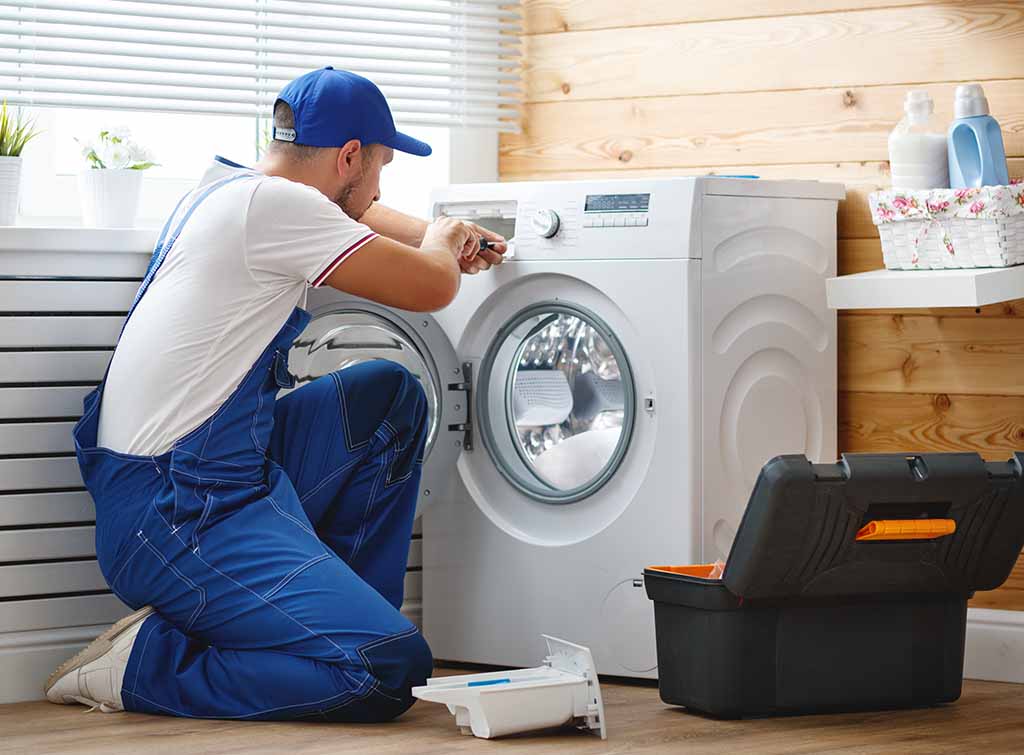 The right to repair scheme was designed by the Government to ensure manufacturers produce parts for any appliance they sell. The law aims to reduce waste by giving consumers the chance to repair their appliances, meaning less will be discarded.
In fact, according to the BBC, the UK's right to repair rules are 'estimated to reduce the 1.5 million tonnes of electrical waste' generated every year. This will not only help us save money but most importantly, it will help to improve the environment.
This should save consumers around £75 a year according to a news article by the BBC. It'll also allow you to choose a third party to complete the repair. This repair may likely be at a lower rate than the manufacturer, many of whom have often only done repairs under one size fits all pricing, meaning some smaller jobs cost more than they should.
Plus, the right to repair scheme aims to raise energy ratings on appliances. This should help consumers to be more aware of how efficient a new machine is, leading to greater energy savings.
How will the right to repair regulations affect you?
Whether you're a consumer or tradesperson, it affects you. Below is a brief summary of what these changes mean for both groups:
Consumers: Lower energy bills, reduced chance of needing to replace appliances when they're faulty and cheaper repairs.
Tradespeople: Better access to different appliance parts, you'll be able to repair most machines by sourcing parts from the manufacturer, increase your appliance repair workload.
What products are covered under right to repair?
The rules on right to repair for electronics
When it comes to electronics, we're used to buying replacements every few years. This is an expense many families can't afford, which is why the new UK right to repair electronic laws are being introduced.
Some of the electronics covered by the scheme include:
Washing machines
Tumble dryers
Dishwashers
Fridges
Freezers
TVs and other electronic displays
Business appliances also covered by the new laws include:
Vending machines
Lighting
Electric motors
Welding equipment
Power transformers
All these appliances will now be designed to last up to 10 years longer, meaning less electronic waste and a reduced impact on our environment.
Does the right to repair scheme include smartphones?
UK phones are not included in this, yet. And neither are laptops. There is a chance that this could change in the future.
The law will however cover other electronic displays and TVs. With parts made available for between 7 and 10 years, this can greatly reduce the need for replacement electronics.
What is the 7 – 10 year parts availability law?
Thanks to the right to repair scheme, manufacturers are required to make spare parts available to fix damaged machines for at least 7 – 10 years after the appliance is discontinued. This gives consumers plenty of time to repair their machine when wear and tear issues pop up and further extend the life of their appliance.
FAQs
Does the UK have a right to repair law?
Yes, the UK does have a right to repair law. It was set in motion on 8th July 2021. Scroll up to the top of this blog to learn more.
Which country has implemented the right to repair law?
In July 2021 the UK implemented the right to repair law.
How long are appliance manufacturers required to provide parts?
Spare parts for the repairs need to be supplied for between 7 and 10 years after the appliance is discontinued.
Help, my appliance is broken!
Depending on when you purchased your appliance, you may be covered by the right to repair scheme. Unfortunately, although the new laws came into play in July 2021, manufacturers have up to 2 years to implement the changes. This means your appliance may not be covered under the scheme just yet.
It's worth checking with your manufacturer whether or not parts are available to repair your machine. However, remember that if your appliance is not covered by the right to repair laws you may need to pay your manufacturer to fix the machine themselves. This can be costly and if your appliance is in poor condition, it may be worth investing in a replacement.
Another excellent option is to speak to a professional about repairing your appliance. If parts are available this will likely be cheaper than going through the manufacturer.
Finding a tradesperson in your area couldn't be easier, just use our handy search feature to scour our database of trustworthy members today. Or post your job and we'll find appliance repairers who your neighbours recommend.
How much does appliance repair cost?
If you're looking to have an appliance repaired, and the parts are readily available, it's always worth hiring a competent tradesperson to revive your damaged machine. But you may be wondering how much this will cost.
Appliance repair costs range depending on the appliance you're looking to repair. Other factors will include the severity of the issue of your appliance, as well as the cost of parts and the time required for the repair to work.
Below are some of the common appliance repair jobs and their ballpark costs:
Always speak to at least three professionals to get an accurate cost quote.
See the tradespeople we've checked and recommend for your job
*checkatrade.com category search data (31.08.20 – 31.08.21)