Last updated on July 19th, 2022
Driveway gate cost guide
Whether replacing a current gate or installing a new one, read on to learn more about types, placement and driveway gate costs.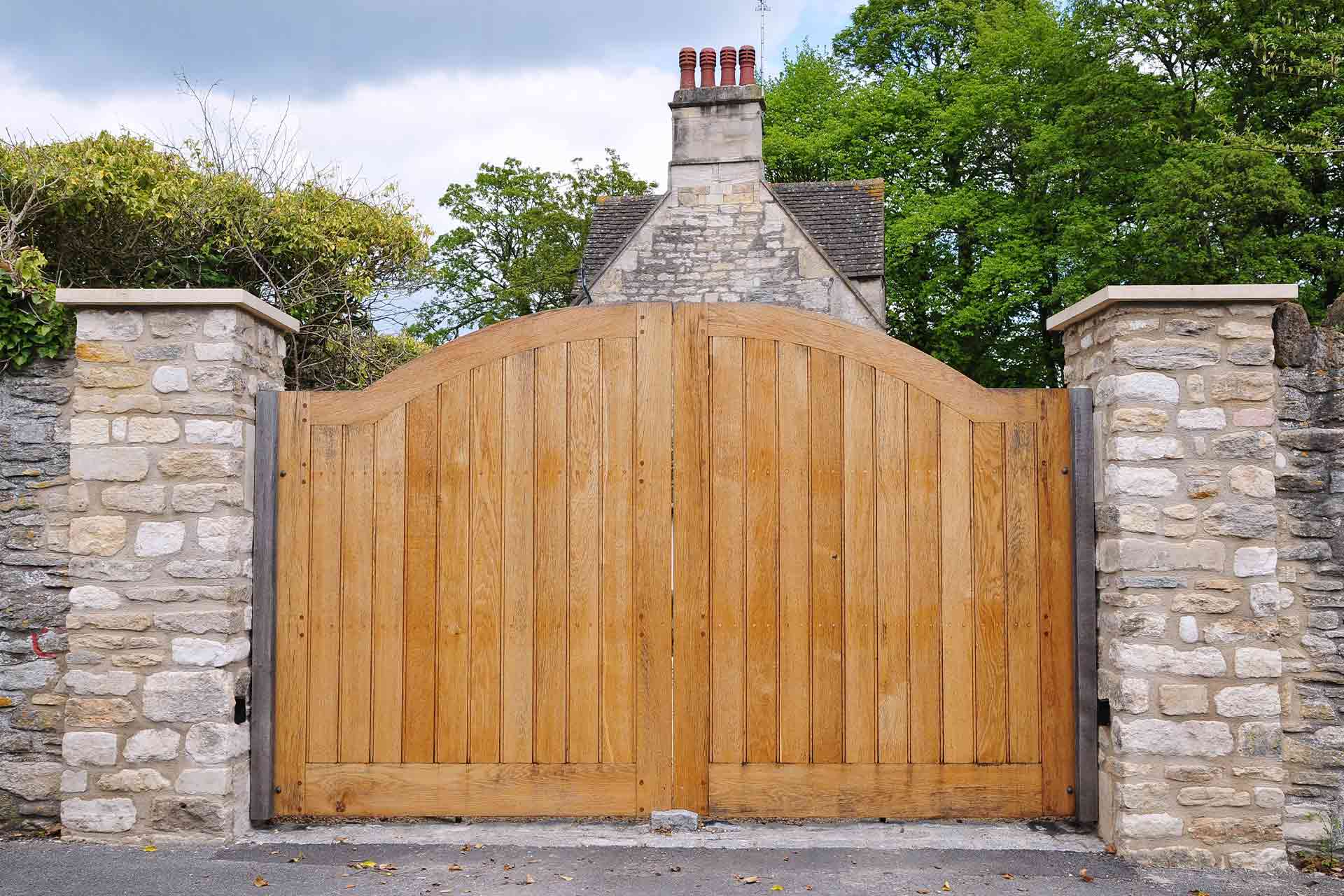 Why install a driveway gate?
Driveway gates are usually the first thing people notice when visiting your home. They can infuse style and personality into the entrance of your property. And, as well as creating a unique feature, gates can offer excellent privacy, perfect if you spend a lot of time in your front garden.
Another great reason to invest in a beautiful driveway gate is security. Not only will your property be shielded from the street, but it will also make it much harder for burglars and intruders to gain entry.
Plus, whilst gates offer protection from those entering your property, they can also prevent children and pets from escaping from your front garden. Alternatively, you may be looking to replace an old broken driveway gate.
How much do driveway gates cost?
When choosing a driveway gate an important thing to consider is your budget. Each type, style and size of gate will be priced differently, and it may be worth paying a little extra if it secures you the gate of your dreams. There is no point cutting costs now only to realise that your new gate doesn't offer you the functions and features you need.
| Cost provided item | Average UK cost |
| --- | --- |
| Driveway gate cost | £1,650 |
| Cost of wooden driveway gates (materials) | £1,000 |
| Cost of wooden driveway gates (labour) | £650 |
| Gate automation kit | £300 |
| Intercom gate controls | £300 |
There are a number of factors that affect wooden gate costs, but the average driveway gate price is £1,650.
Common types of driveway gates
No matter your needs, there is a wide range of gates to choose from. Each type of gate comes with its own benefits and features, so it's important to spend time researching and choosing the gate that best meets your requirements.
Different types of driveway gates vary in price. Some are more expensive than others and some gates will be more complex to install than others; which adds to the labour cost to install your new driveway gate.
Some of the most common types of gate to choose from are:
Estate gates.
Sliding gates.
Courtyard gates.
Electronic gates – To learn more about electric gates please explore our electric gate installation guide.
Wrought iron gates.
Field gates.
See the tradespeople we've checked and recommend for your job
Placing and positioning
Before choosing a gate, it is essential to consider where and how your new driveway gate will be positioned.
Firstly, ask yourself how you will access your home and whether you need space to manoeuvre any cars.
Next, where will you and your guests park any vehicles? Be careful that if you choose a swinging gate there is no risk of it hitting a car.
When deciding on the type of gate you prefer, think about the space you will have when the gate would be open e.g. is there space to the sides of your entrance for a sliding gate rather than a traditional gate?
Finally, consider your type of driveway, its size and whether it is on a slope as this could affect the operation of your new gate.
Calculating driveway gate prices
Not all gates are created equal and, in general, the more you invest into your driveway gate, the better quality it will be. Driveway gate prices can be affected by a variety of factors, as shown below:
Type of gate: The cost of your gate will be affected by the type that you choose. For example, a field gate is only made up of a few wooden planks, whereas an estate gate is much fancier and secure, and therefore more expensive.
Size of the gate: The size and amount of materials needed will affect driveway gate prices. The larger the gate, the more materials used and the greater the price.
Quality and security of gate: Better quality and more secure gates will be more costly than simple, low-quality options.
Condition of current walls/fencing/hedges and posts: Driveway gates need to be installed on secure posts in order to prevent them from collapsing and scraping your drive. If you already have strong walls and posts in place, the installation will be much more affordable than if you start from scratch.
Accessibility: More difficult areas to access will be charged at a premium.
Location: Is the ground flat or sloped? What type of driveway is in place? Do any drains need to be worked around? The answers to these questions will impact your driveway gates cost.
Features: Are you looking to install an automated gate or an intercom system? These features will incur extra charges, with a gate automation kit being charged at around £300 and intercom gate controls at an average price of £300.
Cost of wooden driveway gates
Wooden gates can create a beautiful entrance to your home, with many styles and types of wood to choose from. Depending on the materials and amount of panels, they can be one of the cheapest type of driveway gates, falling at the lower end of our range of costs.
While wood can offer excellent, affordable privacy, it does require frequent maintenance to keep it looking its best.
The average cost of wooden driveway gates is £1,000 for materials and £650 for labour, with a total cost of £1,650.
Can I install a driveway gate myself?
Generally, it is not a good idea to attempt to install a driveway gate yourself as this is not an easy DIY job. Before you make a decision please consider the following:
Gates are very heavy and will need specialist installation equipment. It is also nearly impossible to fit a gate alone and professionals work in pairs.
Depending on your chosen style of gate, fitting this can be complex and extremely challenging.
If driveway gates are not set up well, they can creak or even scrape your driveway.
It is not wise to work with electronics without the assistance of an electrician, so installing electric or automated gates yourself can be dangerous.
Any fitting that is not completed safely could cause injury and/or damage.
If you are looking to upgrade your gate as a DIY job, automation kits are available but you would still need to have experience and a certain skill level. Automation kits cost around £300.
To avoid any future headaches, we would recommend hiring a professional. To find a local, reputable, tradesperson in your area and get a personalised driveway gate installation quote use our free search feature.
FAQs
How do I choose the gate that's right for me?
If you are unsure which gate to choose, ask yourself the following questions:
Where will it be going and what size space does my driveway have?
What is the style and colour of my home and how will a gate compliment this?
Do I want to include extra features such as an electronic gate, an automatic gate or a coded entry gate?
How secure do I want my gate to be?
How much privacy do I need?
Do I have children or pets? If so, a gate with large gaps may not be the right choice.
How do I maintain a driveway gate?
Depending on the material of your driveway gate, proper care is essential to ensure it stays looking and functioning great.
Following the harsh weather of winter, spring is the perfect time to inspect your driveway gate for any areas of damage or wear and tear. Below is a guide to assist you with the correct care for different gate types:
Wooden gate: Use varnish, paint or sealant every year.
Hinges: Regularly oil and keep clean.
Automatic gates: Keep components clean and protected from pests.
Metal: Wash regularly and protect from rust.
Useful driveway gate checklist
A new driveway gate can greatly enhance the aesthetics, privacy and security of your home.
There are many different types of gates, including estate gates, courtyard gates and wrought iron gates.
It is crucial to carefully decide where to position your gate.
The average driveway gate price is £1,650.
You should regularly maintain your new gate to keep it looking brand new.
See the tradespeople we've checked and recommend for your job