Introduction to electric gates
Electric gates, also known as automatic gates, are a fantastic way to add a touch of class to any home or business. This status symbol can improve the security, privacy and accessibility of any location.
Thankfully, electric gates need not be costly, as we've found in our extensive research. Whether you want to know the costs for parts, installation, maintenance or day-to-day running of electric gates, we have crunched the numbers for you.
| Electric gates costs | Unit | Cost + VAT (average) |
| --- | --- | --- |
| Swing gates 3m aluminium | Supply only | £1500+ |
| Sliding gates 3m aluminium | Supply only | £2000+ |
| Bifold gates 3m aluminium | Supply only | £3000+ |
| Swing gates 3m aluminium | Installation | £500+ |
| Sliding gates 3m aluminium | Installation | £600+ |
| Bifold gates 3m aluminium | Installation | £1000+ |
| Automation and motors | Supply and fit | £500+ |
| Intercom | Supply and fit | £450+ |
| Additional groundworks | Installation | £500+ |
| Electric or other services to the gates | Installation | £600+ |
| Maintenance costs | Per year | £150 - £300 |
Electric gates cost breakdown
If you're thinking about getting electric gates, it's best to get an idea on price ahead of time. We recognise the importance of keeping within budget, so we've spoken to the online estimators at My Build Estimate – a professional estimating company monitored by the Royal Institute of Chartered Surveyors (RICS). We've summarised the costs to give you an at a glance look at the typical costs of automatic gate installation.
In total, you can expect to spend anywhere from £1,500 to £3000+ for the raw materials and £500 to £1,000+ for the installation.
There are also quite a few additional costs you should take into account when budgeting your project, we have listed them in our table of costs. Below, we've gone into detail on the factors that affect the costs of electric gates including installation, maintenance and parts.
What is the cost of an electric gate?
In terms of the parts required the largest cost is the gate itself. How much this costs will come down to four factors:
1) The method of opening: Swing gates require two gates, whereas sliding gates can only require one which makes them a cheaper option.
2) The size: The higher and wider the gate, the more it will cost. If your entrance is an unusual size this can increase the cost as well.
3) The design: Ornate and intricate designs cost more than standard designs. There are also many designer brands and bespoke options that have a premium price. The type of finish and colour further adds to the cost.
4) The material:
PVC: The lightest and cheapest option, that is easy to maintain but not very durable or secure.
Softwood: A cheap option but high maintenance, with low durability and security.
Hardwood: A mid-priced option that's more durable and secure than softwood with lower maintenance.
Steel/aluminium: A mid-priced option that's very durable and low maintenance, with good security and privacy.
Wrought Iron: The most expensive option, offering good security (but less privacy than wood). It can be prone to rust so it needs a lot of maintenance.
Depending on your answers to the questions above you can pay between £700 and £3,000+ for the gate itself.
Find an electric gate installer near you
Types of gate automation
Next, you'll need to choose a motor type and how you'd like the gate to open. Here are some of the most common approaches:
Methods of opening:
Swing gates: With swing gates there are usually one or two 'wings' that open inward or outward (think of any country mansion on any TV show and you get the idea). They tend to be cheaper than sliding gates as they have a simpler automation system. They are however not well suited to sloped driveways.
Sliding gates: With sliding gates homeowners can have one gate that slides across the entire opening, or two gates that slide across and meet in the middle. This option is more complex to install as it can require groundworks for a track and drainage which pushes the cost up. You must also have sufficient space for the gates to slide away from the opening.
Motor types:
Articulated arm gate motors: Powered by a gear kit near to the gate, this is a simple and low-cost approach to electric gate movement. It involves attaching a swinging arm to the gate.
Ram and swing arm openers: For this method a piston is mounted to the gate which is attached to a motor on the pillar. As the piston is pulled or pushed by the motor the gate opens or closes.
Underground system: Below ground automation is the most discrete and secure option but also the most expensive, with considerable groundworks required for installation and resolving any future issues.
Round-the-corner sliders: If space is an issue then a curved track can be fitted with a gate that's split into sections. This is the perfect choice for those locations where a standard sliding gate would not fit.
In-post gate motors: The motor itself can be hidden inside specially crafted posts. This is by no means a cheap option but is a good solution to having the secrecy and security of an underground system without the extensive groundworks.
We recommend paying for a good quality motor as this is where the most problems occur and can lead to expensive call-out fees and a lot of frustration as well. You can expect to pay anywhere from £500+ upwards for the motor.
The final cost of materials is the intercom and access system. Depending on how many access points you want throughout the house, this will vary the cost. For example, do you want a portable remote control for access, Smartphone access, controllers by the gate, intercoms in the house, or in other locations? There any lots of great technological solutions that can be tailored to your location and requirements.
We recommend you budget around £250-£1,200 for the intercom.
Find an electric gate installer near you
What does installation involve and how long does it take?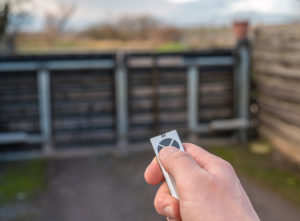 Before installing automated gates you need to investigate whether planning permission is required. If your gate is higher than two metres, or higher than one metre and close to a highway or a footpath adjacent to a highway, then you will need planning permission. Planning portal is an excellent resource with more information on this topic.
Installation initially involves conducting groundworks to ensure a solid foundation for the gate and to fit any automation methods or drainage as required. At this stage a certified electricity supply can be run to the gates or a remote power solution can be installed.
Next, pillars are installed into a deep concrete foundation on which to support the gate. Lastly, the automation mechanism is installed to attach the gate panels to the pillars and to provide the means of opening.
The time it takes to install an electric gate will vary on the sourcing time of the materials, the extent of the groundworks and the availability of your contractors.
Electric gate installation costs in the region of £1,000 to £3,000 depending on the supplier and extent of the works.
How much do electric gates cost to run?
Running costs for automated gates are thankfully very low. When on standby, gates typically only use around 100 watts per day, which peaks to around 700 watts when opening for a few seconds. In total you shouldn't expect to spend more than £15 a year for the running costs in a home. A very small price to pay for the convenience.
You do need to consider maintenance costs including annual system checks, remedial works and replacement parts, as well as any treatments for the gates such as anti-rust or reapplying any paint. One way to reduce costs here is to review the guarantee from gate manufacturers and to take out an electric gate maintenance plan.
Need an electric gates quote?
To find a local, reputable, tradesperson in your area and get a quote for new electric gates, use our free search feature.
Key takeaways for electric gates
Electric gates cost less if using lower quality gates, budget motors and only a single intercom.
Consider the size of the space. Larger spaces cost more and certain gates can't be used on sloping driveways.
Planning permission is needed for gates above 2m, or above 1m and close to a highway or a footpath adjacent to a highway.
Installation costs will increase if extensive groundworks are required. To save money choose visible motors and openers.
Running costs are only a very small ongoing fee.
Find an electric gate installer near you
Tell us what you think
What others think of this cost guide:
Need More Information?
Related posts