How much does a ground source heat pump cost?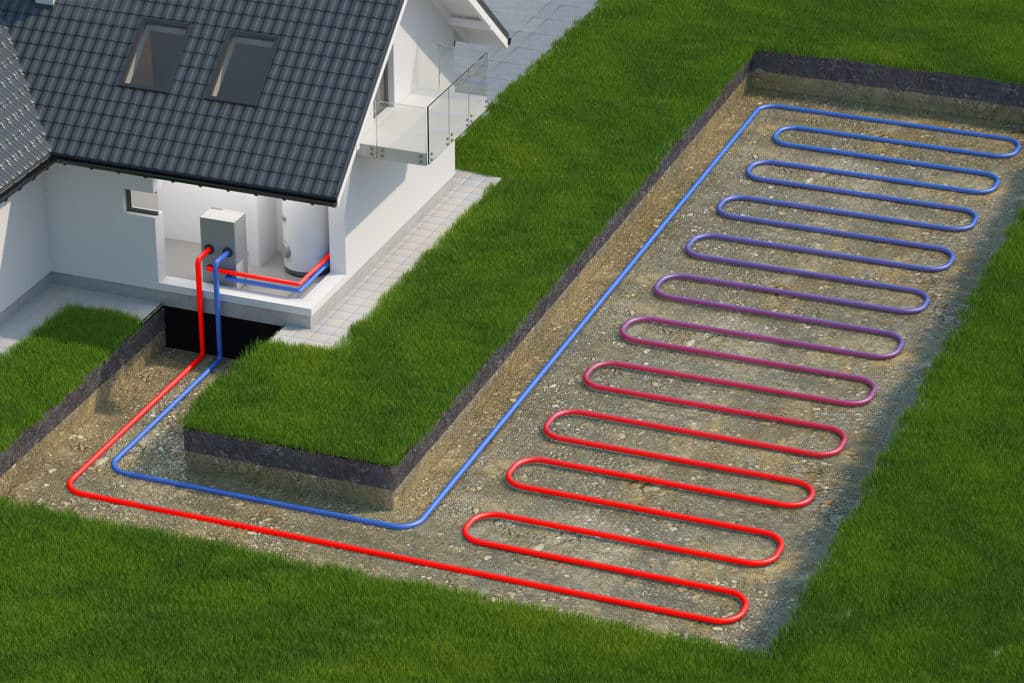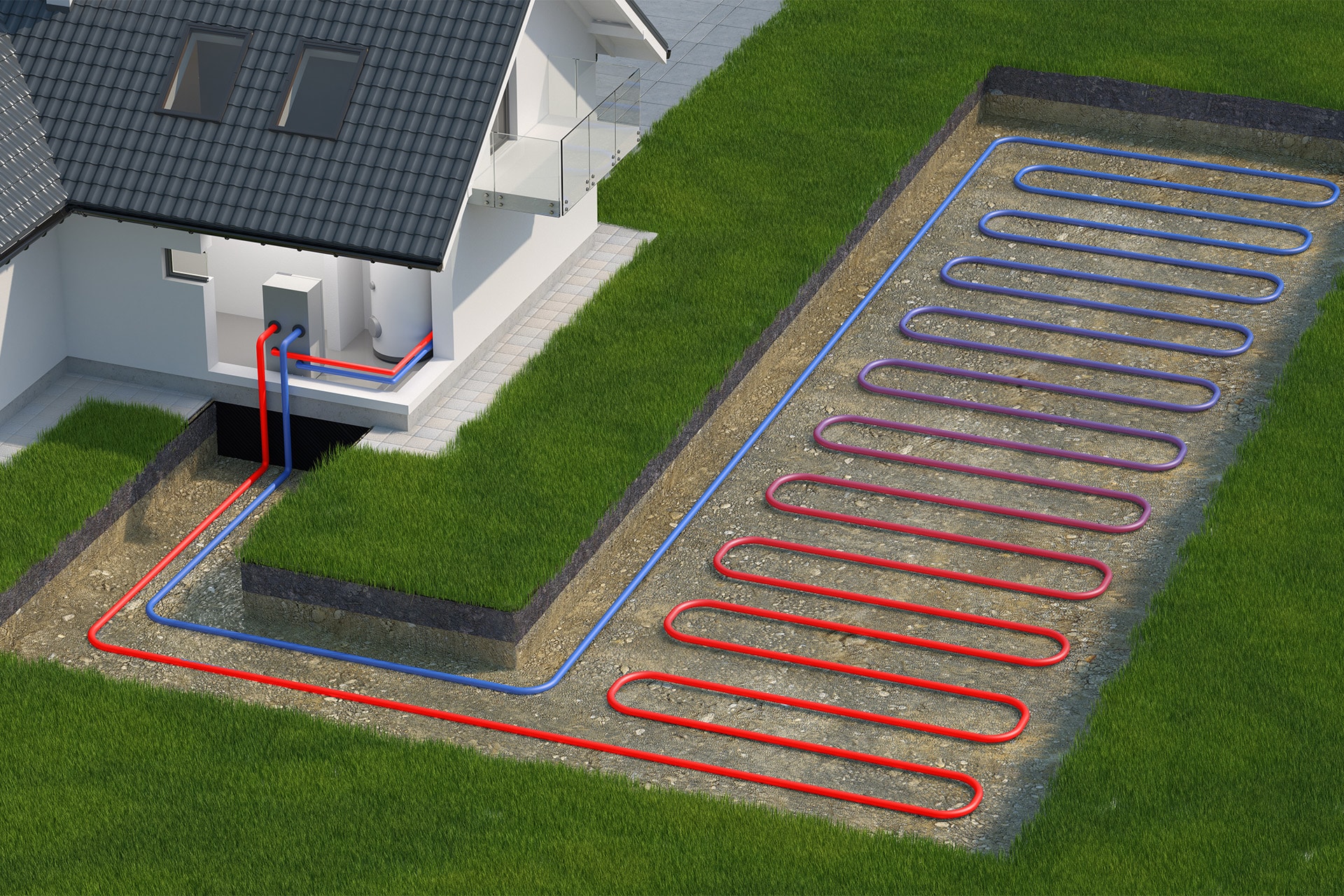 With the growing popularity of green energy solutions in the UK, many homeowners are looking for alternative heating options for their homes – such as ground source heat pumps. And with the new heat pump grants announced by the government for April 2022, these pumps are expected to become more viable and popular in the UK. The grant applies to air source heat pumps too.
Ground source heat pumps absorb solar energy from the ground and transfer it to water, which in turn heats your home and hot water. The GSHP system involves installing a system of loops in the ground that sit either horizontally or vertically in the ground.
Ground source heat pumps need some electricity to run, but the heat energy they absorb from the ground is constantly renewed. This means they generate far more energy than they use.
Ground source heat pumps are some of the greenest options for heating your home, but the initial cost of installing one can be high. However, you don't necessarily need to bear all of the financial burden. The UK Government has implemented incentives to encourage the use of renewable energies in heating, including the new Clean Heat Grant initiative, which includes the new heat pump grant. This grant, if you apply and qualify, can offer you up to £6,000 to install a new air or ground source heat pump.
In this price guide, we look at the average ground source heat pump installation costs as well as the savings they can provide in your heating bills.
| Item | Range - Low | Range - High | Average |
| --- | --- | --- | --- |
| Ground source heat pump supply & install (typically 4-12kW) | £6,000 | £11,000 | £8,000 |
| Options | | | |
| (a) Horizontal ground loop (space dependent) | £6,000 | £12,000 | £9,000 |
| (b) Vertical bore holes | £10,000 | £20,000 | £15,000 |
| Options | | | |
| (a) Upgrade to larger radiators (assume 10 in property) | £1,000 | £3,000 | £2,000 |
| (b) Underfloor heating | £5,000 | £15,000 | £10,000 |
| Insulation upgrades | | | |
| Upgraded insulation – wall (assuming cavity wall insulation) | £500 | £1,000 | £750 |
| Upgraded insulation – roof (assuming blanket roll) | £500 | £1,000 | £750 |
| Upgraded insulation - floor | £1,000 | £5,000 (if floors are damaged and coverings need replacing) | £2,000 |
How much does it cost to install a ground source heat pump?
The initial cost of a ground source heat pump is made up of the cost of the equipment (about 50% of the total cost) and the cost of the installation. The most significant chunk of the installation cost comes from the groundwork or drilling required to lay the heat exchange pipework.
The initial cost of installing a ground source heat pump is relatively expensive when compared to standard boiler installation. An average ground source heat pump installation cost for a typical, non-commercial house falls within the bracket of £12,000 – £31,000. This is a reasonably safe estimate of the minimum and maximum costs, and the bracket covers various different-size pumps and houses plus groundwork requirements. The Energy Saving Trust places the price of a typical GSHP system between £14,000 – £19,000, while some manufacturers estimate a £8,000 starting point for smaller pumps.
The total cost of your ground source heat pump will vary depending on the type and complexity of the pump system, the size, insulation, and heat distribution system of your house, and the amount and type of groundwork required for the installation. For example, an average 2-bedroom house might need a 4 kW heat pump, while a 4-bed home is best fitted with an 8 kW pump.
Another factor affecting the cost is the way your heat exchange pipework will be laid down. If you have space on your property, the pipework can be buried horizontally in shallow trenches. For smaller properties, the pipework usually needs to be buried in vertical boreholes. The groundwork for the boreholes is usually about twice as expensive as that for trenches.
Even though the cost of installing a ground source heat pump might seem off-putting at first, there are government schemes in place to offset some of the costs.
Different types of ground source heat pumps
There are two types of ground source heat pumps available – vertical ground source heat pump and horizontal ground source heat pump. Since one is vertical and the other horizontal, the cost of installing them varies.
Cost of vertical ground source heat pumps
The cost of vertical ground source heat pumps is higher to install as they require a deeper borehole. As a rough estimate, you'd be spending around £25 – £40 per metre to dig, and your overall cost will be about £4,000 – £6,000 per borehole. Since each borehole can generate 4kW, a 12kW system will require three boreholes, which is around £15,000 on average. When you add in the cost of the ground source heat pump and its installation, you're looking at approximately £30,000.
Cost of horizontal ground source heat pumps
Unlike their vertical counterparts, horizontal ground source installation costs are much lower. You'd be spending around £17,000 for the installation in all.
Find a heat pump expert near me
What is the domestic RHI scheme?
The Renewable Heat Incentive (RHI) is a government scheme to support the installation and use of greener energy solutions. For domestic projects, it offers eligible homes a subsidy that's paid every quarter over seven years.
The amount you'll be paid consists of a tariff specific to your heating system (the current tariff for ground source heat pumps is 21.16p per kWh of heat delivered) and the amount of heat your system produces in a year.
If you meet the criteria, then the UK government will pay out a potentially significant proportion of the cost of your energy installation. And with ground source heat pumps installation on the list, you could claim back a good chunk of your initial outlay cost.
Please note that the domestic RHI scheme is due to close on 31st March 2022.
What is The Green Homes Grant?
The Green Homes Grant is a new government scheme that provides homeowners and landlords with vouchers of up to £10,000 to make their houses more energy-efficient while supporting local trade and businesses. Installations of ground source heat pumps fall within the scope of the grant, as do improvements on insulation often done to reap the full benefits of a GSHP.
The Grant is available in England only and applies for any new work carried out before 31st of March, 2021. You can combine the Grant with the RHI scheme but won't receive the full benefits of the latter.
Visit the Government GHG webpage to see if your project is eligible and for instructions on applying for the Grant.
Please note that applications to the Green Homes Grant are shut.
Calculate savings from installing a GSHP
One of the significant advantages of installing a ground source heat pump is the savings on your ongoing energy bills. It's estimated that you can save up to £790 – £1,425 per year on your heating bill when you replace an old electric system with a GSHP (Source: Energy Savings Trust. Based on November 2021 energy prices).
Energy savings will depend on several key factors, including your existing heating system, the size of your property, and your new ground source heat pump system. Switching from an old (G-rated) gas boiler to a heat pump will provide the smallest savings but will still be around £500 per year. Swapping your old oil boiler for a GSHP will save you around £500 – £600 per year, while switching from coal to a heat pump can save up to £485. The most significant savings can be gained from switching from electric heaters (about £800 – £1,500) or old LPG boilers (about £900–£1,100). Newer A-rated heating systems are more cost-efficient and thus provide smaller savings, but a swap to a GSHP will still give a significantly smaller environmental footprint.
If you get a horizontal GSHP installed, you will see returns on your investment sooner than for a vertical GSHP because of the difference in their installation costs.
Benefits of installing a ground source heat pump
There are a range of benefits of having a ground source heat pump installed in your home, such as:
A green energy solution that minimises impact on the environment
Minimal use of electricity to operate
Reduced energy bills
Eligible for financial support with the RHI scheme
Very low maintenance
The main disadvantages of having a GSHP installed are the initial cost, which can be pretty expensive, and the disruption of digging for the installation. But once it's installed, you have a long-lasting, renewable source of green energy for your home.
Useful ground source heat pump installation checklist
Always speak to your local ground source heat pump experts for their advice.
Review other green energy options, such as air source heat pumps, as the GSHP might not be best suited for your home.
Your house will need to be well insulated to get the greatest benefits of a heat pump.
As a general rule, radiators for a heat pump system will need to be two and a half times larger than normal (say a gas combi boiler) to provide the same heat output.
Shop around for fair and competitive prices.
Always hire experienced tradespeople to install your ground source heat pump and ensure they're accredited to the Microgeneration Certification Scheme (MCS).
Find a heat pump expert near me
Good jobs, guaranteed
Get covered when you book with Checkatrade.