Last updated on October 4th, 2022
Solar battery storage system cost guide
Solar batteries store the energy generated by your solar panels during sunlight hours and make them readily available for use during non-production hours. It's a great way to make your solar photovoltaic (PV) system more efficient and cost-effective.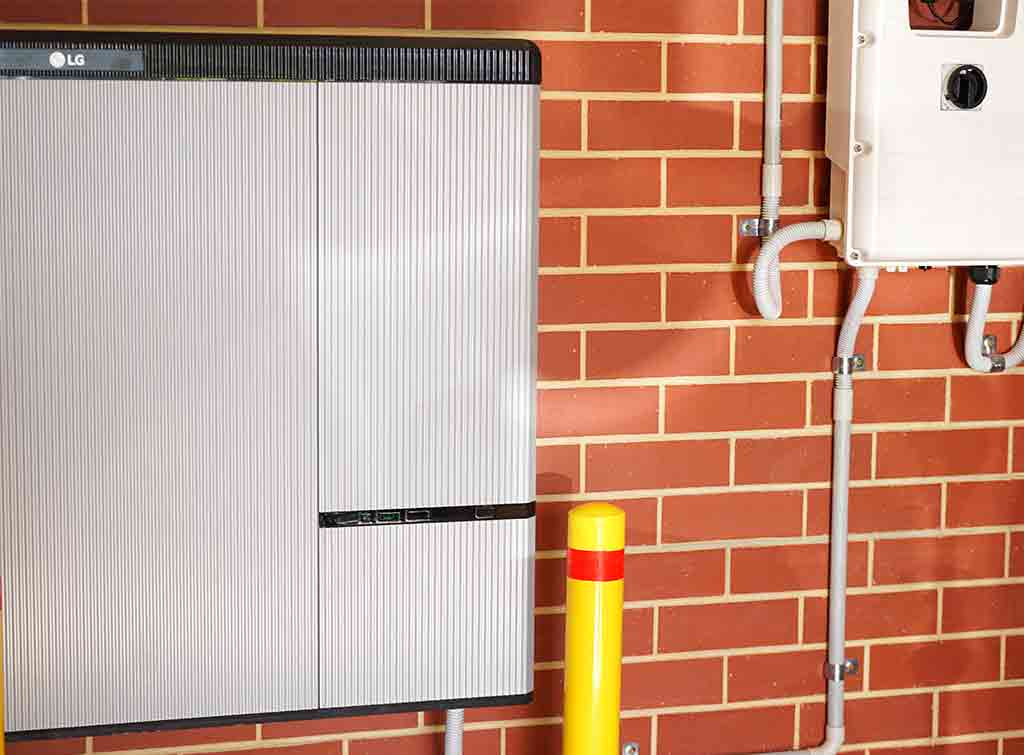 If you already have an existing solar PV array (several solar panels connected together), adding a solar battery into the mix should be relatively straightforward. But if you have neither panels nor a battery, the two systems can be installed together.
Solar battery storage system cost
In the cost table, we have estimated battery costs based on typical battery output as follows: battery power 7kW peak / 5kW continuous for each battery.
Let's take a look at the average solar panel battery storage cost, covering different system types and installation prices.
| Solar battery | Size | Average cost |
| --- | --- | --- |
| Standard battery (10 -15 year life) | 4kWh | £5,000 |
| Standard inverter (12 year life) | 4kW | £800 |
| Solar PV | 4kW | £6,200 |
| Full cost for initial install (battery, inverter and PV) | 4kW | £12,000 |
Solar PV battery storage costs will depend on a few factors. These include the chemical materials that make up the battery, the storage and usable capacity of the battery, and its life cycle.
You can expect an average system to last around 10 – 15 years. This could mean that you'll have to replace the battery and/or inverter 2-3 times over the lifespan of your solar panels, which usually last around 20-30 years.
What battery size is right for me?
The typical home battery storage system size is around 4kWh, although capacities up to up to 16kWh are available.
There are also other 'stackable' or bespoke systems if more capacity is required.
Storage capacity
Storage capacity refers to the total amount of energy your solar battery can store, but you can't totally discharge the battery without damaging it, so all systems have a depth of discharge (DoD) limit. This typically ranges from 80%-95%, meaning that there is a lower usable capacity than the quoted maximum storage capacity. The larger the storage capacity, the higher the price.
The typical house uses about 10 kWh (or 10 units) of electricity a day, but the size of your battery should be determined by how much spare electricity your PV array exports to the grid on a typical day.
Storing all the export saves the most money on your bill, but because there is a peak in production in the summer, if you size the battery to match that, then much of its capacity can't be used in the winter. Having a year's worth of daily export data for your home is probably the best way to size your battery, but in any event, it's best to ask an experienced renewable/solar expert to help you do the calculations.
If you have an electric vehicle, you may not need a home battery! The battery in most EVs are huge compared to home batteries – up to 100kWh.
If your EV spends a lot of daylight hours at home then it'll happily store your excess solar energy – just so long as you then drive it to use it up. (Unfortunately, it is currently very rare for an EV to be able to provide electricity back to your house, but in the future, this will become much more common as vehicle to grid technology (V2G)).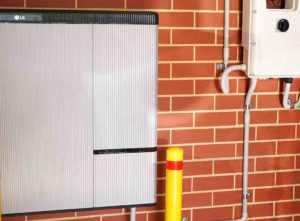 See the tradespeople we've checked and recommend for your job
Benefits of solar storage
An electric battery will help you make the most of your renewable electricity. By ensuring that you use more of the electricity you generate, the less you have to buy from the grid.
If you have a low-cost off-peak tariff like Economy 7 or Octopus Go, it may also be possible to charge your battery during off-peak hours at a fraction of the cost of buying during the daytime, meaning that you can benefit from cheaper electricity even in the winter when your PV array produces very little export electricity.
Electric batteries are not massively complicated, but the circuitry and controls can be quite sophisticated. They can be sensitive, and the timing and degree of charging will need to be optimised from the start to preserve the battery's life. Without this care, it could quickly diminish.
Many energy storage systems offer smart operation. This allows you to keep track of your energy use online and decide when to charge your storage unit and when to draw energy from it.
Batteries now have management systems enabling a multitude of potential applications, such as:
Storing excess generation from the homeowner's solar system.
Buying cheap electricity at night and storing it for use during the day.
Interacting with the grid to provide grid balancing services and wholesale electricity trading.
It makes sense to use as much solar electricity on-site as possible. An appropriately sized storage system will increase the proportion of solar electricity used on-site from around 35% to 75%.
DC & AC Systems
Solar panels and batteries both produce direct current (DC) and require a device called an Inverter to change that to alternating current (AC), which is what your house needs.
You can connect your house battery to the DC side of your inverter or the AC side.
To connect to the DC side, your inverter must have the charging function built-in. It will probably be described as a "hybrid" inverter, and you will end up with what is called a "DC coupled battery". The battery will be positioned before the renewable generation meter, which means that it must not be charged from the AC grid (even though the hybrid inverter may be capable of doing so).
If your existing inverter doesn't have this feature, then you might be faced with a large bill to upgrade it. You may be better off installing another inverter/charger that is connected to your house's AC supply, giving you what is called an "AC coupled battery". In this case, you will be able to charge your battery from the grid and use cheap off-peak electricity to charge it.
The conversion from DC to AC and from AC to DC is not 100% efficient, so DC coupled batteries are more efficient. A "round trip" on an AC coupled battery can waste up to 10% of the energy used.
Because of the need for a separate inverter/charger, AC battery systems are more expensive than DC ones, but this should be weighed up against the advantage of being able to charge them with cheap off-peak electricity.
DC system summary
A more efficient battery storage system which reduces conversion losses.
More suitable for new builds where a hybrid inverter can be specified.
No benefit from low rate electricity charging.
AC system summary
More expensive system.
A less efficient method of storing electricity due to higher losses.
More suitable for retrofit.
Can be charged using cheap off-peak electricity.
Solar battery installation
At the very least, your battery will need a dedicated circuit and isolator switch, so you will need a qualified electrician to install this for you. In addition, the batteries themselves can be very heavy and may require ventilation, so it is recommended that a properly qualified professional install the system for you. Many battery and inverter manufacturers insist on this in order to validate their guarantees.
The Microgeneration Certification Scheme's (MCS) battery storage standard outlines the installation requirements for MCS-certified installers who supply, design and install electrical battery storage systems.
Some systems can be installed in out-buildings or even outdoors, but if you're interested in installing an outdoor battery, you must make sure that it achieves the high protection class IP65 for water ingress.
For indoor installations, you also have to consider the noise level from the system when you decide where to place it. Some inverters have cooling fans where the typical noise level is 30 to 50 decibels (similar to the noise level of a fridge-freezer). The noise they produce might affect your sleep if the home battery system is installed in your bedroom.
See the tradespeople we've checked and recommend for your job
What's the economic benefit of battery storage?
A home will benefit from a battery storage depending on:
Whether the home has excess solar electricity.
The choice of electricity tariff.
Income is available from exporting it to the grid.
Whether the homeowner drives or expects to drive an electric car which could benefit from a cheap rate of electricity at night, thus leveraging the 'off-peak tariff'.
The size of the property and electrical load – there are economies of scale with larger solar and battery systems.
For larger properties, battery storage generally makes sound economic sense.
For smaller properties, the factors set out above will determine economic viability.
Payback for battery storage
Every installation must be assessed separately. The following case study provides a theoretical example of what savings could be achieved. This is based on information for a particular system and place and does not represent a 'typical' saving. In this example, we look at the economic benefits of installing a 4kWh battery storage unit with a 2kW inverter/charger and 90% efficiency. We have assumed that the household uses 10kWh a day, has a 4kWp solar PV system, and nobody is in during the morning.
Before installing the electric battery, the system operates in the following way:
Yearly PV electricity generation 3,400 kWh
PV electricity used on-site 800 kWh
Electricity export to the grid (without battery storage) 2,600 kWh
After installing the electric battery, the results are as follows:
Yearly PV generation 3,400 kWh
PV electricity used on-site 800 kWh
Electricity stored in the battery system 950 kWh
Electricity export to the grid (with battery storage) 1,650 kWh
Assuming a standard 28.1p/kWh electricity tariff, for this situation, the battery storage system would reduce the electricity bills by about £267 a year. This figure is based on simulation results and cannot be used as evidence for the actual economic benefits of a battery storage system. Any changes to the assumptions used here would lead to different results.
The payback time for installing a battery-storage system depends not only on the yearly savings of the units but also on the cost of the system over its lifetime, including any costs for replacing the batteries. Assuming that in the above situation, the cost of the 4kWh energy system is £5,000, in a simple payback model, the customer will repay their investment in just under 19 years (assuming that a battery replacement is not needed).
Note: The prices used are based on the April 2022 price cap.
Your motivation for installing a battery may not be purely financial. For instance, you may want to be protected from power cuts, in which case, make sure you buy a system that can do this and accept that you'll have to allocate a part of the storage for backup (typically, this part of the battery won't be used to save on your electricity bills so payback will be worse).
If your motivation is environmental, then think twice. Having a battery doesn't make you a greener household. Green electricity you export to the grid always gets used by someone else and replaces fossil fuels. All a battery does is allow you to keep some for yourself and save on electricity bills. And don't forget that there's the carbon footprint of making the batteries in the first place, so from a purely environmental point of view, home batteries may not add up.
FAQs
Do I have to have solar panels to install a battery?
Actually, you don't need solar panels. You can charge a home battery using the electricity you buy from the grid.
If you have a time-of-use electricity tariff, you can save money by charging your battery when electricity is cheaper. Then, use the power from the battery in your home, so you're not buying from the grid at pricy peak times.
Can a battery system power the home during a power cut?
Most systems cannot power the home in the event of a power cut in order to protect the electricity company employees from being electrocuted whilst trying to fix the fault. For those that can (e.g. Tesla Powerwall), it is worth remembering that you will need to reserve a proportion of the storage to be used in the event of an outage, which means it will hardly ever get used – and that could seriously affect the payback of the battery.
Why can't I use a hybrid inverter charger to charge a DC coupled battery from the mains?
In theory, you could do this (if supported by your equipment), but in most systems, you would be pushing electric current the reverse way through a solar generation meter. This may not damage the meter, but it would mean that when the electricity stored from the grid is used by the home, the meter wouldn't be able to tell if it came from the battery or the solar array. This means that your solar production figures would be inflated, and if you have an older array that has a feed-in tariff associated with it, you would be fraudulently claiming excess payments.
See the tradespeople we've checked and recommend for your job