In the UK, most homes are connected to mains gas and have gas boilers to run their hot water and central heating. Hydrogen is a low-carbon alternative to natural gas, which could reach homes through the current gas network. In this way, it could enable us to reduce our carbon footprint without having to invest in changing our current infrastructure.
It's not yet possible to buy or install a hydrogen boiler. However, manufacturers such as Bosch and Baxi have already developed working prototypes. So, we've taken a look at what the hydrogen boiler cost is likely to be once they become available to the masses!
Hydrogen boiler price
| Item | Cost - low | Cost - high | Average cost |
| --- | --- | --- | --- |
| Combi boiler | £500 | £2,000 | £1,250 |
| System boiler | £500 | £2,500 | £1,500 |
| Conventional boiler | £500 | £2,750 | £1,625 |
| Boiler installation | £500 | £1,000 | £750 |
No-one knows yet how much a hydrogen boiler would cost. But by the time they're rolled out, it's likely that the pricing could be pretty similar to the price of buying a natural gas boiler.
Typically, a gas boiler will cost somewhere between £400 to £3,000, without taking into account the cost of installation.
Hydrogen boiler fitting cost
Hydrogen boilers aren't hugely dissimilar to natural gas boilers. In fact, it would be pretty simple to make most natural gas boilers burn a different fuel such as hydrogen. So, they're likely to cost around the same amount to fit.
If the whole gas network is converted to hydrogen, then Gas Safe registered engineers would presumably need to be trained to install them – just like they're currently trained to install both natural gas and LPG boilers.
Of course, the fitting cost would also vary depending on whether or not you're fitting it in the same spot as your old gas boiler.
Hydrogen boiler running cost
While you could theoretically buy and install a hydrogen boiler without too much difficulty, the main obstacle would be getting hold of the hydrogen to run it on.
At the moment, producing hydrogen in large enough quantities to meet demand is expensive. And it isn't yet known how it could be safely transported through our current grid network. For that reason, it's likely to be at least 20 years before we would be able to switch to a pure hydrogen gas network, if ever.
That said, hydrogen is extremely efficient. 1kg of hydrogen contains the same amount of energy as 2.8kg of petrol. So, who knows – perhaps it could even end up being more cost-effective!
Find a qualified central heating engineer near you
FAQs
How does a hydrogen boiler work?
Hydrogen boilers would work in the same way as natural gas boilers do. The only real difference is that they'd be able to run on pure hydrogen as well as natural gas.
So, they'd be installed in the same way and would even look very similar. In fact, many of the internal parts would be identical. Only a few parts (like the flame detector and burner) would need to be replaced to suit hydrogen.
Can gas boilers run on hydrogen?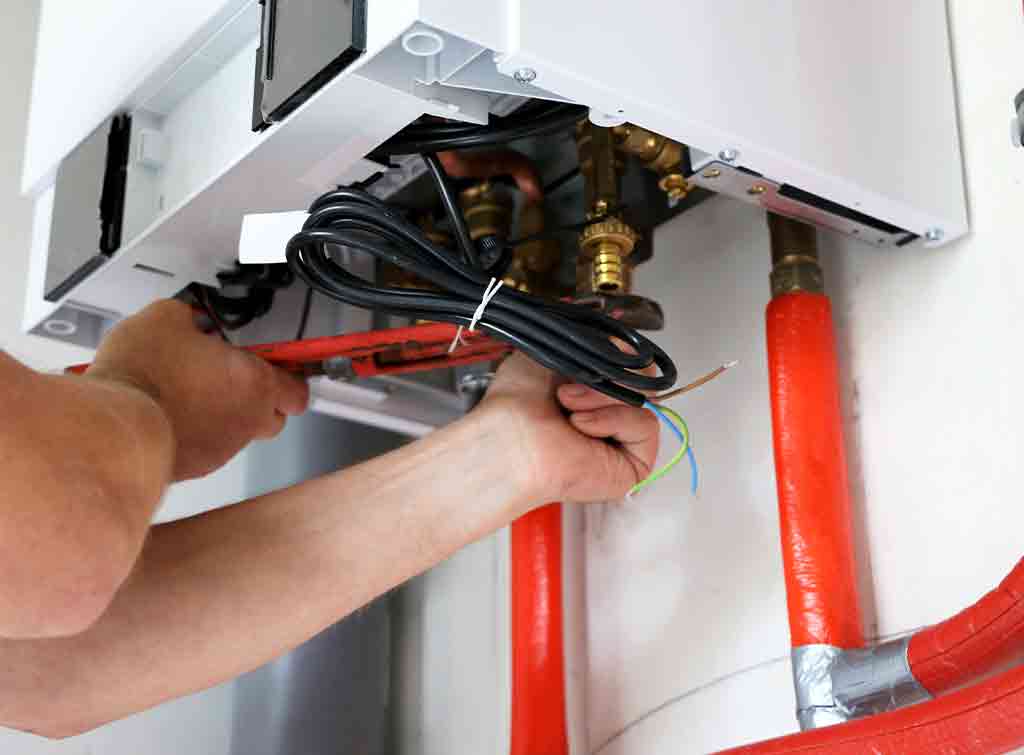 A hydrogen-ready boiler is a boiler that will work on natural gas but can also be switched over to 100% hydrogen when the time comes. Bosch and Baxi are both working on prototypes of these boilers, but they're not yet ready to buy.
What's so good about hydrogen boilers?
When hydrogen is burned, it only produces water and heat. So, there are no carbon emissions! This makes it a lot better for the environment.
While it's not the only carbon-neutral energy source, the great thing about hydrogen is that homeowners could continue heating their homes with the familiarity of a boiler. In fact, we could even use the same pipes, fittings and boilers if we switched to hydrogen from natural gas. So, we wouldn't need to invest a lot in changing our infrastructure.
Find a qualified central heating engineer near you
Tell us what you think
What others think of this cost guide:
Need More Information?
Related posts