Last updated on October 18th, 2022
Internal doors cost guide
If you're moving into a new home or considering a renovation, then you might need to buy some new internal doors. Find out how much to budget.

How much does an internal door cost?
| Product / Service | Unit | Cost per door |
| --- | --- | --- |
| Internal door | Per door | £25 – £150 |
| Internal door fitting | Labour to fit | £40 – £70 |
| Internal door replacement | Removal and fitting labour | £45 - £85 |
Internal doors usually cost between £25-£150+. Bespoke doors will cost far more. The price depends on the material and style of the internal door you've chosen.
Hardwood doors tend to be the most expensive. If you're buying multiple doors, look for a supplier that offers a package deal. Some suppliers now sell doors in bundles, and they're often available at a cheaper rate than the standalone unit.
How much to hang a door?
The cost to hang an internal door is anywhere between£50-£75 per door. This includes fitting the internal door from start to finish, including hinges, hanging the door, putting on the door handles, and ensuring it works perfectly.
With many doors coming in sets, some installers will offer deals that lower the installation cost per unit.
The style of the door makes a big difference to the door hanging cost. For example, a sliding door costs far more to fit than a swinging door as the installation is more complicated.
Cost to replace interior doors in the UK
This will range from £40-£90 per door. The average cost in the UK will be around £60 per door.
This cost will include removing the old doors and hanging the new ones.
Will complications with the installation push up the cost?
The installation cost of your internal door will also change should the door itself require extra attention, and therefore more labour time. This could be painting or shaving the bottom of the door to ensure it doesn't drag on your flooring. The shaving of the door is a common job when your floor is a thick carpet with decent underlay.
It's essential to shop around when you're looking to have an internal door fitted. We always recommend that you request at least three quotes from door suppliers and fitters. This means you can compare their quotes and their outline of work.
See the tradespeople we've checked and recommend for your job
Internal door material options
There are several different door options on offer in the UK market. While all doors function the same, they can vary in style and finish. You can also buy internal doors in a range of different materials.
Finding the right material is often the biggest consideration when choosing a door, so it's important to know what's the best choice for you. The most commonly used materials on internal doors are as follows:
Hardwood
The premium choice, hardwoods like timber are known for their style and performance. The material has high-quality levels of performance but is the most expensive option.
Softwood
Normally woods like pine, cedar and fir. Not as expensive as hardwood options but have similar levels of workability.
MDF
An engineered wood product which is affordable, durable and resistant to warping. As the material has no wood grain texture, it's easy to paint.
Solid-core
Offer similar performance levels as solid wood but at a fraction of the price. Made from plywood or a moulded composite but filled with wood fibre to mimic the feeling of solid wood.
Hollow-core
The most budget-friendly wood option. Manufactured from less expensive woods with hollow cores. Hollow-core doors don't provide much acoustic protection and aren't very durable.
Metal
Highly functional and sturdy. Metal doors are a cheaper option that has grown in popularity in recent years.
uPVC
Made from fully recyclable materials and often used to replace wooden doors.
For most homeowners, the difference is purely aesthetic, as the material you choose will affect what finishes are available.
What's the cheapest internal door option?
If you're on a tight budget, then you may want to go for a style and rail frame with MDF panels. This would offer some of the cheapest internal doors on the market.
Internal door finish options
Depending on the material of the unit, doors can be finished in one of two styles; painted and stained.
Staining a door requires a high-quality material, so look to only use on wood. If you feel this is out of your price range, other options are available. Nowadays, engineered wood core products with real wood veneers are of high enough quality to be stained. Staining a door is simple, but using an established brand of varnish and a good brush is essential.
Unlike staining, doors of all materials can be painted, making it more cost-effective. There are two types of painted door; MDF and moulded.
Moulded doors are usually cheaper and often made from wood by-products that have been pressed together. Moulded doors are often hollow, so they're not suited to areas where you'd require soundproofing. Most of the time, moulded doors are avoided on bedrooms and bathrooms.
See the tradespeople we've checked and recommend for your job
Internal door styles
As well as choosing the material and finish, you'll have to choose between various styles of door. The main three varieties are:
Swinging doors
The classic approach, a swinging door operates on a double hinge and will often swing both ways.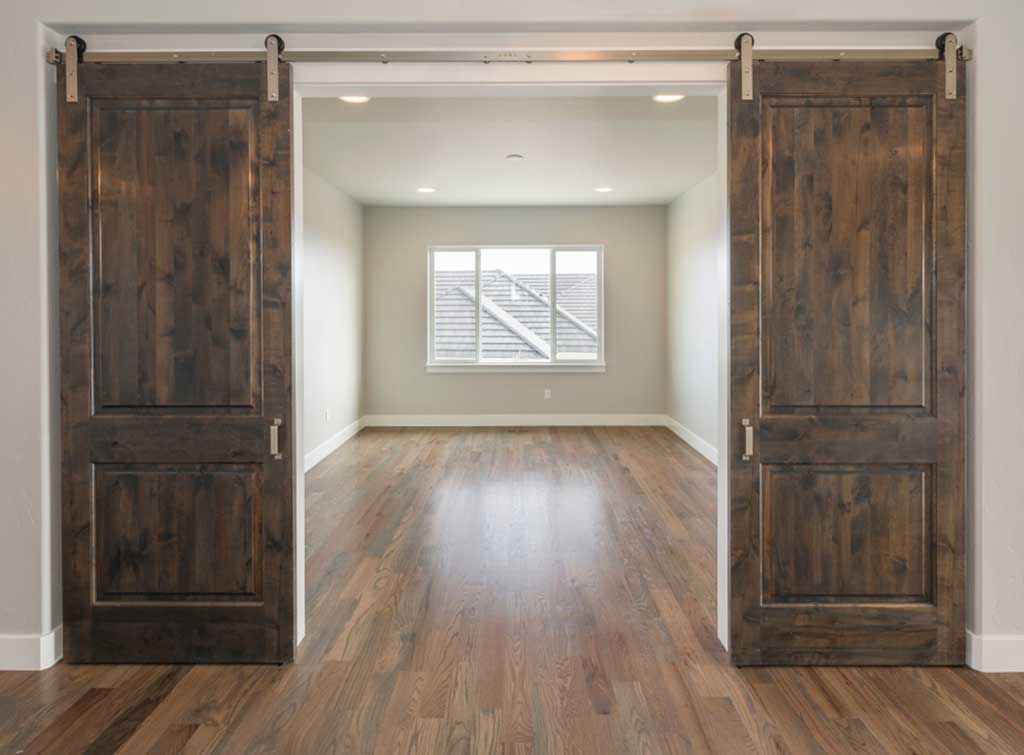 Sliding doors
Sliding doors are superb for tight spaces, as they don't need any extra room to open the door. Many people think sliding doors look elegant; however, they can be challenging to install.
Folding doors
Sometimes known as bi-fold doors, folding doors are very functional but typically used to divide the inside and the outside environment. They are very stylish and fashionable in high-end properties and restaurants.
Panel doors
A door made up of panels. Some panels are flat, but they can also be raised to create a bevelled edge in the centre of the door.
Flush doors
They are known for their smooth back and front. These doors are very contemporary and are finished in several styles.
Glazed doors
Doors with glazing panels that let light through. Can be used to bring natural light into a room, so great for dark rooms and hallways.
Do internal doors need to be fire doors?
Fire doors are designed to provide better protection against fire than standard doors. Most domestic fire doors offer 30 minutes of protection against fire and smoke, but there are versions that give even more extended protection.
Not all internal doors need to be fire doors, but you usually need at least one installed in a property. Building regulations require fire doors in the following areas of a property:
A two-storey house that has a door leading from an integral garage into a house
New build or renovated domestic properties, which have three or more storeys must have fire doors to every habitable room off the stairwell.
Fitting an internal fire door isn't the same as installing a typical door. The process is more complex and will often require someone with specific training to complete. Fire doors must be fitted following the latest Building Regulations. Failure to comply puts the building and the occupants inside of it at serious risk. If installed incorrectly, fire doors will not perform as expected, giving those inside less time to escape.
Find out more about fire door installation costs.
See the tradespeople we've checked and recommend for your job