Last updated on March 31st, 2022
Lowering basement floor cost guide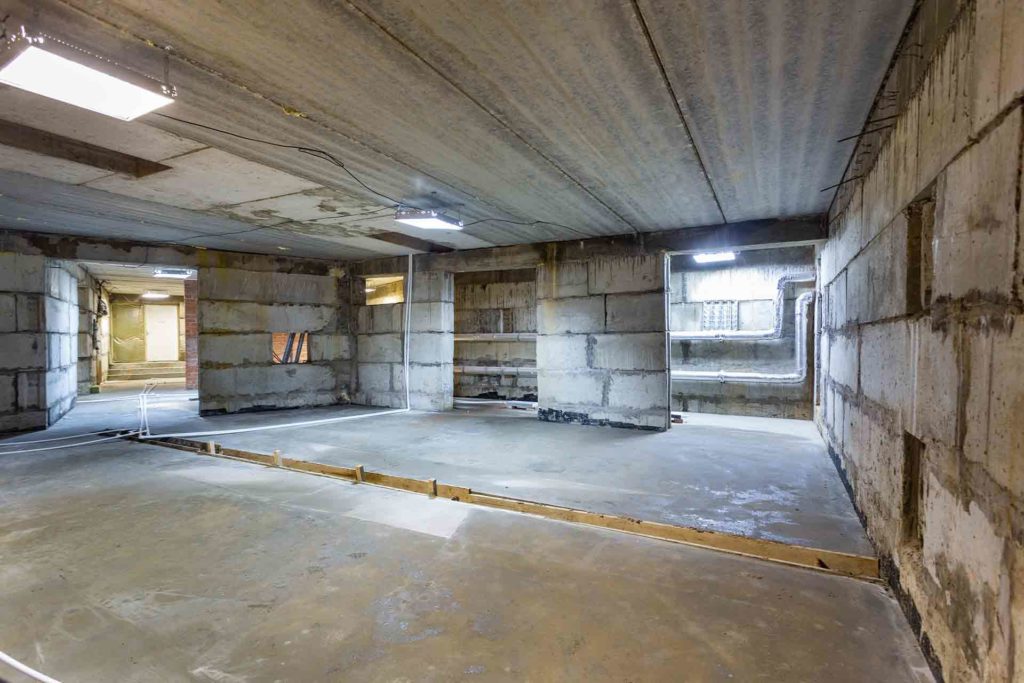 In this article, we'll cover:
Lowering the floor in your basement can turn a storage area into a fully liveable room. However, a renovation project of this nature requires some careful planning. Considering the work involved, it's best to call on the services structural designers and builders rather than attempt it yourself. But how much does it cost to lower a basement floor? To help you put together a budget, we've created the following guide outlining the average lowering basement floor cost.
Use our FREE search tool to find tradespeople in your area.
Lowering basement floor cost
| Cost provided service | Unit | Average cost |
| --- | --- | --- |
| Structural survey | Per survey | £450 |
| Structural designer | Per hour | £100-£200 |
| Principal designer | Per hour | £50-£150 |
| Builder | Per SqFt (3m x 6m basement lowered by 1m) | £125-£200 |
The cost of lowering the basement floor can be broken down into several different areas. For a start, your budget should allow for a structural survey to determine whether your basement is suitable for conversion. This will usually be dependent on your property type. The price of a survey will usually start at around £450.
If the report confirms that your property is suitable for lowering the basement floor, you'll need to bring in a structural designer at £100 – £200 per hour and a principal designer at a cost of £50 – £150 per hour. Together, they'll plan, manage and monitor the preconstruction phase.
From here, you'll need a team of builders to help execute on the plan to lower the basement. On average, this will cost between £125 – £200 per SqFt, based on a 3m x 6m basement lowered by 1m with reasonable access to the site.
Factors that influence the costs of lowering a basement floor
Lowering a basement floor can be fairly complex, and there are many factors that can increase the cost of a project. For example, prices will increase the deeper you need your flooring lowered, or if you require landscaping prior to the project starting. Furthermore, if you require several people to be on-site at all times, costs will certainly increase. Then there's accessibility: how accessible is the basement from your existing property? What work will be needed to allow external access? These factors will all play into the final cost to lower your basement floor.
Find a structural designer near you
FAQs
How are basement floors lowered?
There are two primary ways in which you can lower the floor of your basement: underpinning and benching. Both methods will require structural changes to be made to the foundations of the building, so you'll need to call in the help of a structural engineer. As part of the process, adjustments to the walls and footings will be made to give you more usable space and ensure its fully waterproofed.
Will lowering my basement add value to my property?
It depends. In some cases, digging out a basement can boost your property value. With generous space, your basement will finally feel like a livable space that you can spend time in. Sometimes, it's the only way to actually increase the space in your home. However, the works would need to be carried out by a competent contractor. In the event of an accident, the house owner would be liable, so the assistance of a principal designer is essential. To determine whether lowering your basement will be a worthwhile investment, you'll need to get a structural survey.
What is the best flooring for a basement?
Once you have lowered your basement, you will have to choose what flooring you want to lay down (unless you would prefer to keep concrete). Vinyl is a popular choice, as is Marmoleum, carpet and ceramic tiles.
Do I need to check with my neighbours before lowering the basement floor?
When carrying out any basement conversion work, it's a good idea to consider how the work may affect neighbouring properties. If you live in a semi-detached home, you'll likely share a party wall. In this case, you should make them aware of the work you intend to carry out and seek a party wall agreement so that your work doesn't affect their property.
Can I lower a basement floor by myself?
As lowering a basement floor is a sizable job to complete, and requires expertise as to not damage the foundations of your property. The house insurance wouldn't cover structural work by unqualified persons, so it's not worth the risk. For this job, we recommended contacting a professional tradesperson for a full quote.
Find a structural designer near you
Good jobs, guaranteed
Get covered when you book with Checkatrade.