Last updated on March 31st, 2022
Murphy bed installation cost
Murphy beds, or wall beds, help you save space in your room. Here's a detailed breakdown of Murphy bed installation costs for your bedroom.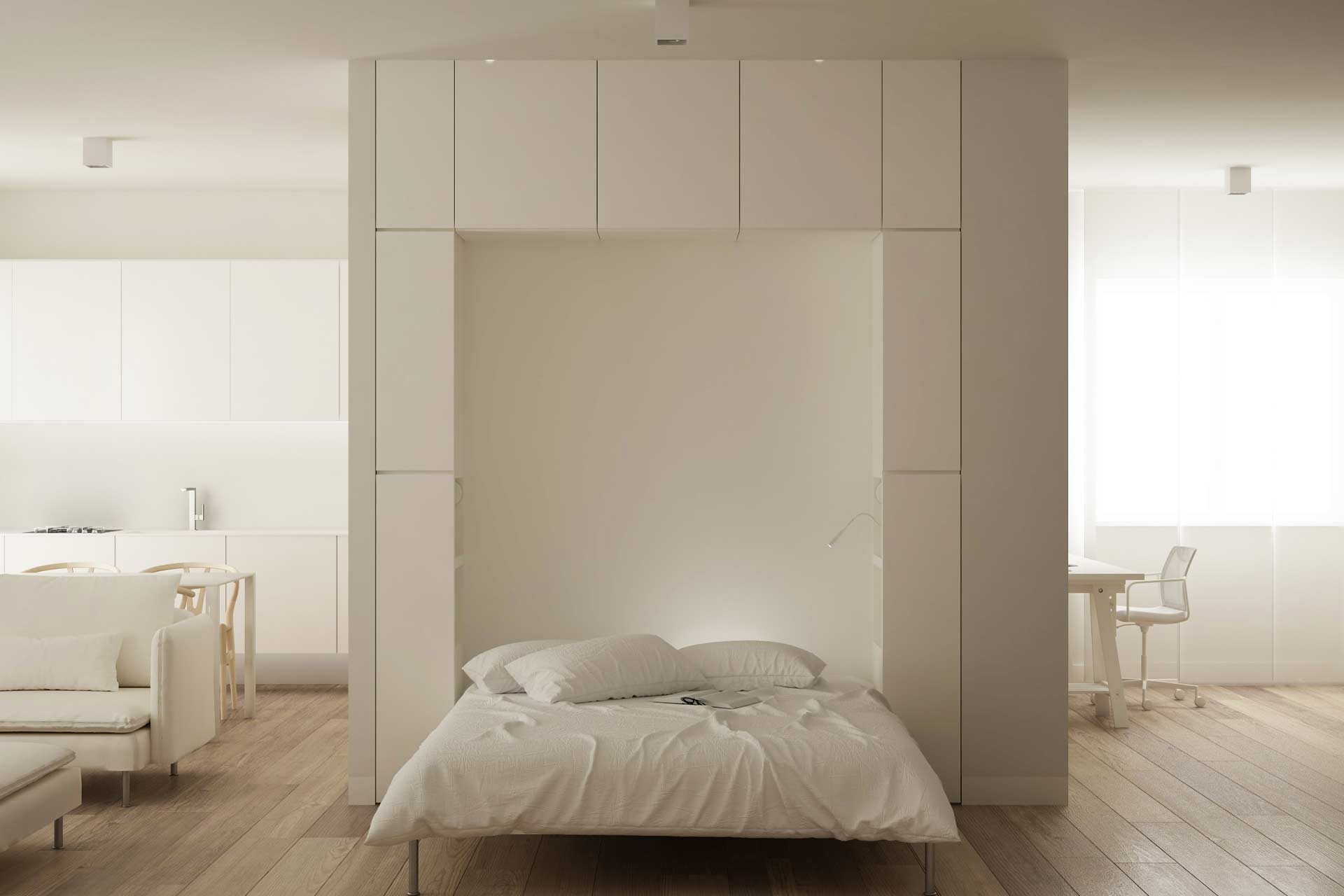 Murphy beds, also known as wall beds or folding panel beds, are a great way to save space in a small room. It's a great way to get multi-use out of a spare room. By day it can be an office or a yoga room, and by night, a guest can catch a good night's sleep.
If you're looking to get a Murphy bed installed in your home, then read on to find out what sort of costs you could be looking at.
How much does it cost to install a Murphy bed?
| Cost provided item | Unit | Range - Low | Range - High | Average cost |
| --- | --- | --- | --- | --- |
| Murphy bed (pre-made) | Bed only | £500 | £1,500 | £1,000 |
| Foldaway mechanism kit | For one bed | £125 | £140 | £130 |
| Installation cost | For one bed | £200 | £400 | £300 |
To get an accurate estimate, you would need to factor in the Murphy bed cost and its installation cost.
How much does a Murphy bed cost?
You can buy a Murphy bed for £500 – £1,500, at an average of around £1,000. For a double bed, you will be spending around £750.
This is not including the cost of the mattress, which ranges between £170 – £200.
If you're planning on getting a carpenter to build a custom made one for you, you'd be paying for the materials and labour cost. The hourly rates for carpenters range between £20 – £40. For a budget Murphy bed, you could look to have it built from MDF, or, if you're looking for something a bit plusher, you could opt for hardwood. In addition, you would need to factor in the cost of a foldaway mechanism kit, which costs between £125 – £140.
What does it cost to install a Murphy bed?
A Murphy bed installation cost will range between £200 – £400 and can take between four and eight hours to install.
See the tradespeople we've checked and recommend for your job
What are the factors affecting your Murphy bed installation cost?
The factors that affect your Murphy bed installation cost are:
The materials used: If your bed is made of hardwood, you will spend more than on a metal frame.
The size of the bed: A single bed is considerably cheaper than a double king-size.
The accessories: If you're buying it with a cabinet and mattress, you'll have to pay extra for those.
The folding mechanism: A simple folding mechanism will cost you a lot less than more complicated ones that use hydraulic pistons or gyroscopic shelves for stability.
Murphy bed costs and installation quotes
There are several companies that sell Murphy beds, and while they claim the beds are easy to install, we recommend getting a professional to do it for you. For one, if you make a mistake and damage the mechanism, you will not be able to send the bed back. For another, if you aren't skilled at DIY, you might injure yourself.
To get reliable quotes, we always suggest asking more than three reputable tradespeople in your area. This way, you'll be able to get the best prices instead of settling for the first quote you get.
For added convenience, try out our request a quote feature. Just enter the details of what you need and we'll send the job description to tradespeople near you.
FAQs
Do I need special mattresses for my Murphy bed?
Most Murphy beds require mattresses of a specific thickness, usually 15 to 18 cms. If your mattress is thicker than that, you might need new mattresses.
Are Murphy beds hard to install?
Murphy beds need some amount of skill to install, so you could do it if you are used to doing home improvement projects. However, you might want to get experts in to do a flawless job in a shorter amount of time.
How long does it take to install a Murphy bed?
Installing a pre-made bed can take between four to eight hours. The time can vary based on the complexity of the job, like whether you want shelving on the underside of the bed or a cabinet in which the bed can 'hide'.
Why are Murphy beds so expensive?
The cost of Murphy beds includes not just the bed and the mattress but also the installation cost. Plus, there's also the cost of the foldaway mechanism. These add up, making the total installation cost higher than that of a regular bed.
See the tradespeople we've checked and recommend for your job