Last updated on March 31st, 2022
Nail in Tyre Puncture Repair Cost Guide
Getting a puncture or flat tyre is never fun. And, if it's a nail that pierced through your tyre, it needs fixing quick smart. In this guide, we look at the average nail in tyre repair cost in the UK.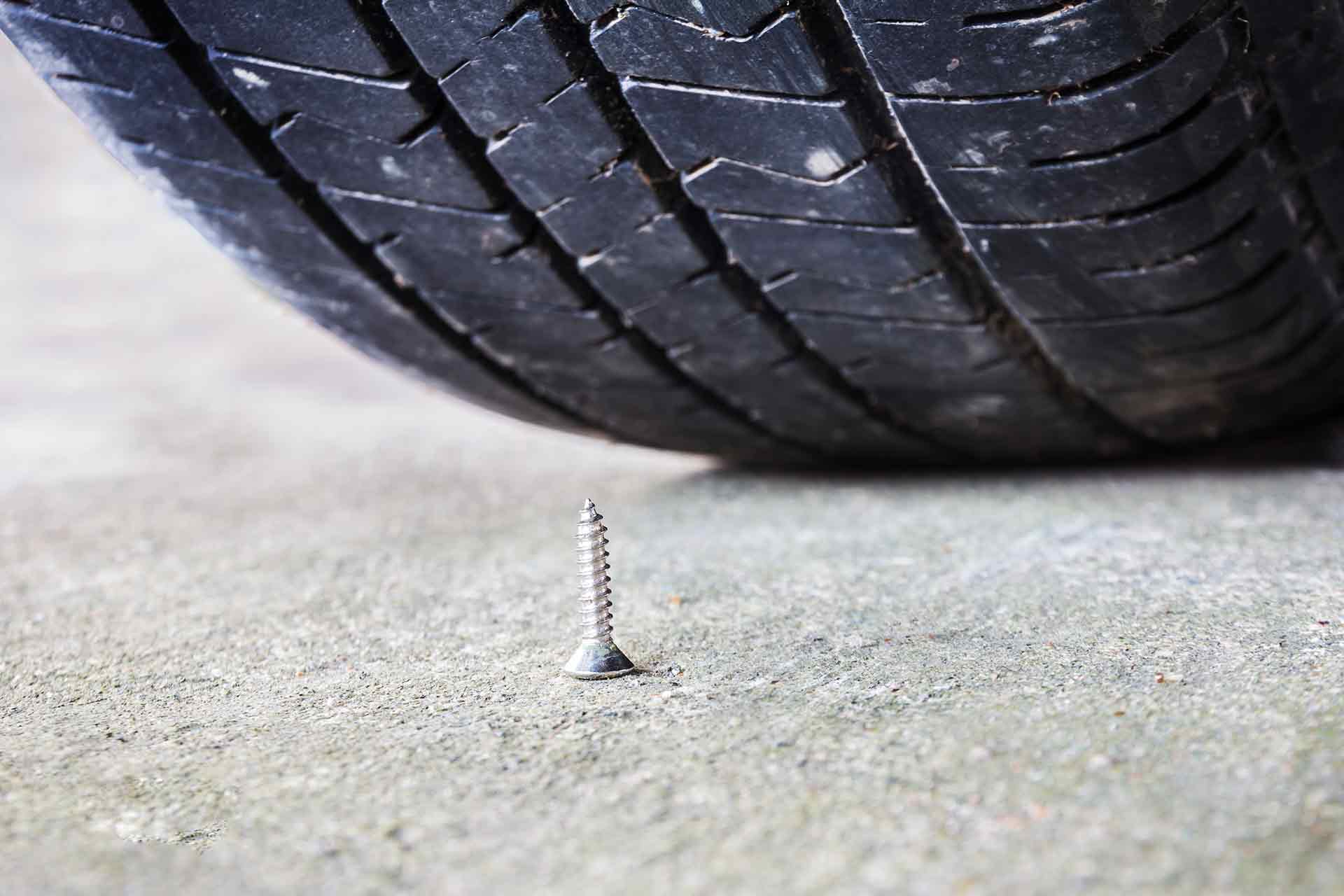 If you notice a nail puncture in your tyre while you're driving, you may be able to fit the spare to get you home. But you'll want to get your tyre repaired as soon as possible. In many cases tyre repair is possible but, if the puncture is bad or in the wrong place, you'll need a brand new tyre.
| Item | Range - Low | Range - High | Average cost |
| --- | --- | --- | --- |
| Tyre repair | £25 | £45 | £35 |
How much does tyre puncture repair cost?
The average cost for tyre repair is generally around £25-£45 per tyre. Most tyre repair specialists will have a flat rate for repairing car tyres, and some will even offer a mobile service to come out to you to do the repair.
If the puncture damage is beyond repair, then the repair cost of getting a nail in your tyre will most likely increase, as you'll need to pay for a brand new tyre. Whatever the damage, we always recommend shopping around for the best price for the repair.
See the tradespeople we've checked and recommend for your job
Can my tyre be repaired?
Usually, yes. For most nail punctures in car tyres, the damage can be repaired fairly easily with a standard repair. As soon as you notice the puncture get it fixed. Don't drive on it with the puncture, otherwise, it could make the damage even worse.
When will I need a new tyre?
There are some instances when the damage from the nail in the tyre can't be repaired and will cost the price of a new tyre. Due to safety guidelines, you need to make sure that your tyres are in good working condition – and that can mean replacing a damaged tyre with a nail in it.
You will most likely need a new tyre if:
The damaged area is larger than 6mm (according to British standard BSAU159)
The sidewall of the tyre is damaged
The general tyre tread is worn down
The tyre has been excessively damaged by driving on it while flat.
What do I do if I notice a nail in my tyre?
Firstly, don't remove the nail. It could be plugging a hole in your tyre and will be stopping the air escaping quickly. Instead, contact your local tyre repair specialist. If they have a mobile service then they can come and repair your tyre without you having to drive anywhere.
If you do need to drive your car to get to the tyre repair centre, ideally you need to change the tyre for your spare. This will avoid the risk of driving with a flat tyre or causing further damage to the tyre itself.
Useful nail in tyre checklist
As soon as you notice a puncture, stop driving your car and inspect the damage.
Contact your local tyre repair specialists for advice and accurate quotes.
Shop around for fair and competitive tyre repair costs – this should fall between £25-£45.
Always hire a tradesperson with relevant experience.
See the tradespeople we've checked and recommend for your job