Last updated on April 14th, 2022
How much does it cost to change a tyre?
Need your tyres changed on your car? Find out how much you can expect to pay and what your best options are in our tyre change cost guide.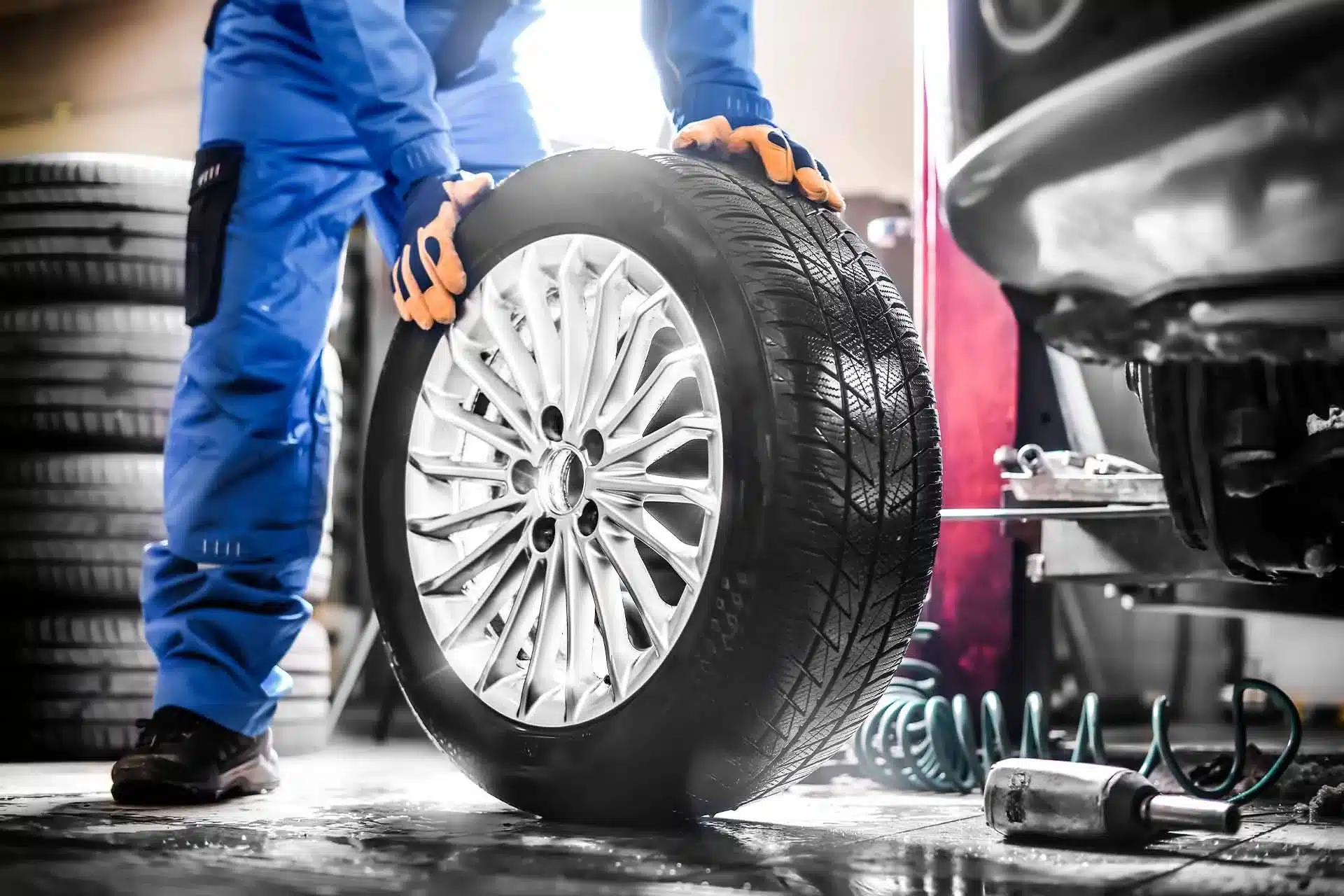 It's recommended that every driver changes their tyres after 20,000 miles of normal driving. A tyre change involves demounting the tyres from the rim then replacing them with new tyres and is best left to a professional.
It's also good to have your wheels aligned once your new tyres have been installed to avoid wheel misalignment.
| Cost provided item | Unit | Range - Low | Range - High | Average cost |
| --- | --- | --- | --- | --- |
| Tyre change costs | Budget car tyres (per tyre) | £45 | £70 | £50 |
| Tyre change costs | Mid-range tyres (per tyre) | £75 | £120 | £100 |
| Tyre change costs | Premium tyres (per tyre) | £220 | £1,200 | £700 |
| Cost to replace winter tyres | 4 tyres | £600 | £800 | £700 |
| Wheel balancing | Per tyre | £7 | £15 | £10 |
We've pulled together all the costs you need to know if you need a tyre changed.
How much does it cost to change a tyre?
The total cost of changing a tyre will depend on the type of tyre you need and the size you require. On a per-tyre basis, the typical cost to change a basic tyre is £50 (for the tyre and labour).
Take a look at our cost table for further cost estimates.
How much does it cost to replace a tyre?
Typically, the smaller the wheel, the less you'll pay. Because a smaller tyre contains fewer materials, it has a lower speed and load rating.
Changing low-end tyres could cost between £45 – £70 per tyre while high-end tyres can cost between £220 – £1,200 per tyre.
See the tradespeople we've checked and recommend for your job
How much does it cost to change winter tyres?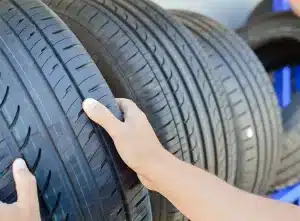 You can expect to pay about £700 to replace four winter tyres.
Tyre change and balance cost
On average, you'll pay a total of approximately £100 per tyre to have a tyre changed plus £10 for balancing (per wheel). This cost is based on mid-range tyres.
So, you're looking at around £110 per wheel.
Budget vs premium tyres
Budget tyres are cheap because they use a basic tread pattern and cheaper materials.
Branded tyre companies, on the other hand, have much larger research and development budgets to use the latest technology and materials to create more advanced tyres.
Branded tyres tend to have a better grip and enhanced fuel economy.
See the tradespeople we've checked and recommend for your job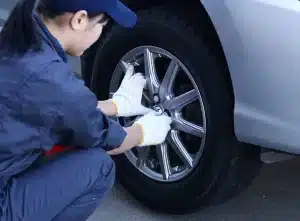 FAQs
Are budget tyres safe?
Yes, they're perfectly safe, but they may be noisier, wear out quicker and not perform as well in more treacherous conditions.
Is it okay to replace just one tyre?
It's best to change tyres in pairs rather than replacing just one. Having different ages and types of tyres on the same axle of your car means it will be unbalanced.
This could cause an unequal level of grip and rolling resistance, which impacts how the tyre stops, grips, and steers.
Is it better to repair or replace a tyre?
It depends on where the damage is. For example, if you spot a nail puncture in your tyre, you can get this fixed for around £35.
If the damage is towards the edge and near the sidewall, this is dangerous and you should have your tyre replaced.
Are puncture repaired tyres safe?
Yes, as long as they've been professionally repaired by a mechanic, as they will assess them. Your local tyre expert will only give the option to repair the tyres if it's safe to do so.
Is it better to get part-worn or new tyres?
Part-worn tyres are generally a false economy, as you pay more than half the price of a new tyre but will get less than half of the tyre's life remaining. It's best to ask a mechanic their expert opinion.
How long should a part-worn tyre last?
It will depend on how much tread is left. The newer the tyre, the closer to the original retail price you'll pay. The cheaper it is, the chances are it has a shorter lifespan. On average, part-worn front tyres should be able to manage 20,000 or so miles before replacing, while rear part-worn tyres may cover twice as much.
Will part worn tyres pass an MOT?
Yes, providing the tread depth is above the legal MOT limit of 1.6 mm.
Is it better to buy premium tyres?
Even though premium tyres are more expensive, you get multiple benefits, including better grip in all conditions and increased fuel economy.
The increased fuel economy can make a premium tyre cheaper than a budget tyre if you consider the fuel savings over the tyre's lifespan.
What is the difference between budget and branded tyres?
The main difference between budget and branded tyres is the material used to manufacture them. Branded tyres are usually more hard-wearing than budget tyres, with lengthier tread depths and enhanced wear when out on the roads.
See the tradespeople we've checked and recommend for your job