Last updated on June 19th, 2022
Parquet flooring cost guide
Parquet flooring gives any room a regal feel, making it a popular choice for homeowners with properties ranging from country houses to city flats. Installing parquet flooring can be transformational to your living space, creating a timeless aesthetic that is both classic and contemporary. But how much does parquet flooring cost?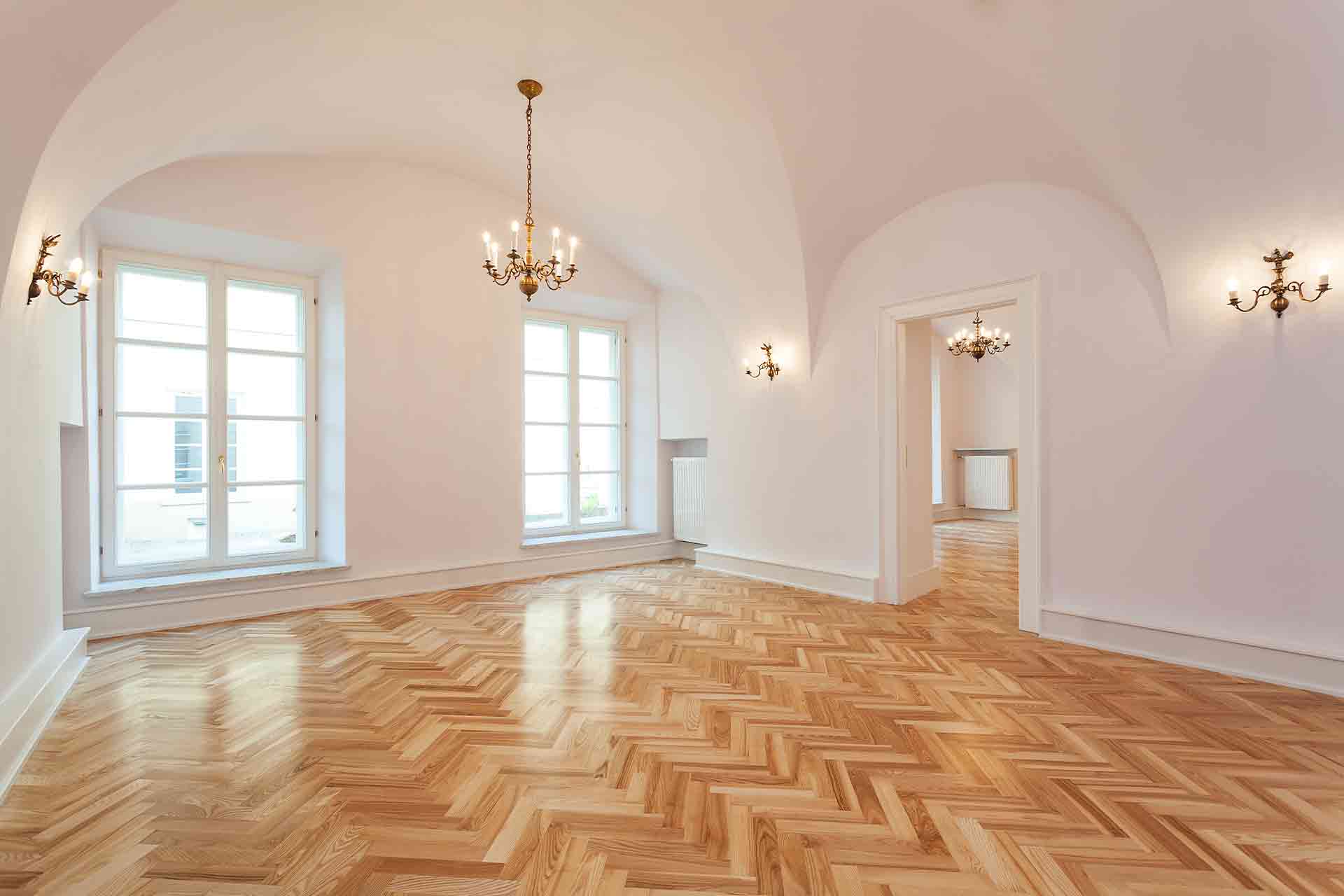 Installation of hardwood floors benefits from the skills of a qualified wooden flooring expert. Use our search tool to find local professionals in your area or read on for a summary of costs for parquet flooring.
Cost of parquet flooring
The average cost of parquet flooring is £50 per m2. Based on an average UK living room size of 17m2, installing parquet flooring will cost around £850.   If you are working with a tradesperson, you can expect to pay £100-£200 per day in labour costs. Inevitably, costs will vary, with the main factors affecting the cost including:
Size of room
| Type of parquet floor | Unit | Price - Range low | Price -Range high | Average cost (+VAT) |
| --- | --- | --- | --- | --- |
| Beech | Per m2 | £35 | £70 | £52.50 |
| Maple | Per m2 | £27 | £60 | £43.50 |
| Oak | Per m2 | £32 | £80 | £56 |
| Luxury vinyl tile | Per m2 | £55 | £100 | £77.50 |
| Laminate | Per m2 | £20 | £35 | £27.50 |
As with any flooring project, the number of floorboards required and the length of time it will take to install them are the defining factors of the total cost. Homeowners with larger living rooms of around 40m2+ can expect costs of around £2,000.
Shape of room
Even for a wooden flooring specialist, a standard square-shaped living room will be much easier to work with than an awkwardly shaped room. The complexity of the room shape will influence the price tag – for example, those with indents and unconventional corners will require more technical installation abilities as the flooring will need to be cut to a custom size.
Existing condition
Before getting a quote, inspect the condition of your current flooring. Is it level, or have beams expanded causing bumps on the surface? If any further work is required to prepare the surface, this will increase the total cost.
If there are any quick fixes you or a qualified tradesperson can make before installation, this will bring down the costs to lay the flooring.
See the tradespeople we've checked and recommend for your job
Parquet flooring cost per m2
| Type of flooring | Unit | Price - Range low | Price - Range high | Average cost. (+VAT) |
| --- | --- | --- | --- | --- |
| Engineered wood flooring | Per m2 | £75 | £100 | £87.50 |
| Luxury Vinyl Tile | | £55 | £100 | £77.50 |
| Laminate parquet | | £20 | £35 | £27.50 |
It's reasonable to expect to pay between £30 and £80 per m2 for parquet floor.  Taking that rough guide as a basis, a 16m2 hallway would cost between £800 to install, while a kitchen of around 20m2 will cost in the region of £1,000-£1,200.
Of course, not all parquet floors are made equal. From the DIY laminate option through to high end engineered wood flooring, the type you choose will have a bearing on the price-tag. There's no doubt that engineered parquet flooring wins in aesthetic, but both laminate and LVT can still offer a competitive look and feel for lower rates. View our table for the average costs for either option.
FAQs
How much does it cost to lay parquet flooring?
The cost to lay parquet flooring will ultimately depend on the size of the space you have in mind. On average, you can expect the quote you recieve to be in the region of £800-£2000, with prices usually higher in London.
Is parquet flooring expensive?
Parquet flooring does come with an upfront investment. However, the luxurious feel it will add to your living room, bedroom, kitchen or hallways will undoubtedly add value to your property.
What's more, maintenance costs are much lower than that of carpets as these require regular cleaning.
Can I install parquet floor myself?
Installing laminate parquet flooring is a task that most homeowners will feel comfortable tackling alone. That said, those less familiar with laying new floors may still prefer to hire a professional to achieve the best appearance. Engineered parquet floors are more complex to install. For this type of wooden flooring, we recommend getting in touch with a specialist.
See the tradespeople we've checked and recommend for your job