Last updated on September 6th, 2022
Quartz worktop price calculator
Quartz is an environmentally friendly choice for your worktop and is extremely durable. If you're considering getting a quartz worktop for your kitchen, keep reading to find out how much it will cost.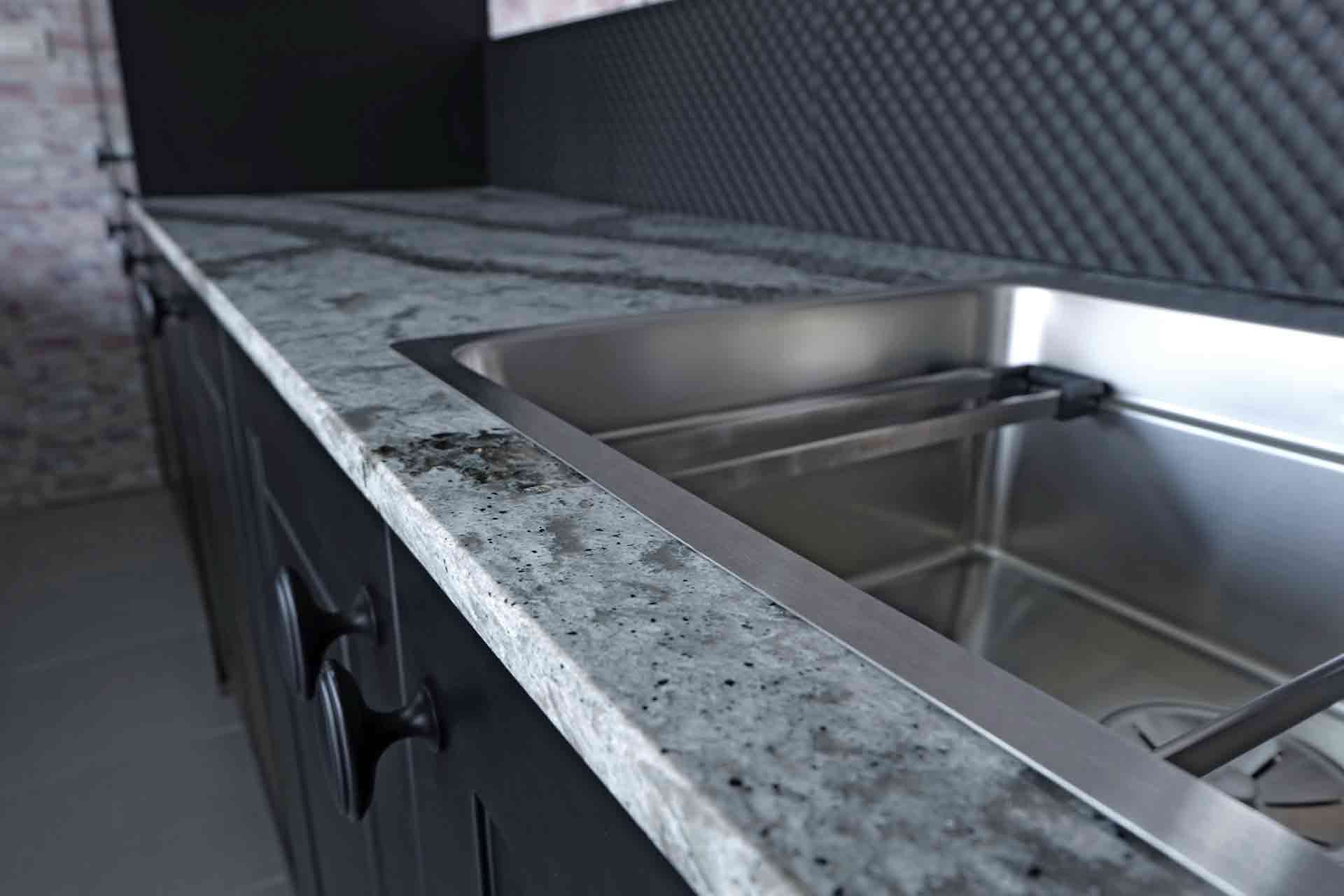 Choosing a worktop for your kitchen is a big decision. Getting the material, colour and style right can transform your kitchen into a slick and stylish space.
Quartz is one of the most common choices for British kitchens, so we've put together this quartz worktop price calculator for you.
How much do quartz worktops cost?
| Cost provided item | Unit | Average UK cost |
| --- | --- | --- |
| Standard quartz countertop 600mm depth (supply only) | 5m length | £800 |
| Quartz countertop including installation | Per m2 | £375 |
| Quartz worktop - supply and install | 3m length | £1,125 |
| Quartz worktop - supply and install | 6m length | £2,250 |
| Quartz worktop - supply and install | 9m length | £3,375 |
| Unpolished cutouts -sink/hob | Per cutout | £180 |
| Polished cutouts - undermounted sink | Per cutout | £185 |
| Drainer grooves | Per cutout | £150 |
| Curved corners | Per corner | £15 |
| Rounded edges | Per edge | £14 |
The cost of a quartz worktop can vary quite considerably, depending on a number of factors. For an average kitchen you're looking at a quartz worktop cost in the region of £800.
On top of the worktop cost you also need to factor in the price of labour. Expect to pay around £375 per m2 for a quartz worktop including installation.
Quartz worktop price calculator
Based on the cost of £375 per m2 for supply and install, you're looking at the following total prices for different sized quartz worktops supplied and installed:
Small kitchen (3m) = £1,125
Medium kitchen (6m) = £2,250
Large kitchen (9m) = £3,375
To find a total cost for your quartz worktop, measure the space in your kitchen where your worktops will go and use our calculator to work out the total price.
Quartz worktop installation cost
On average, the cost of professional worktop installation is typically somewhere between 20% and 50% of the material costs. It's useful to know this when choosing the type of quartz worktop you want, as it will usually directly impact the cost of installation.
Factors affecting the cost of a quartz worktop
There are a number of factors that will influence how much you have to pay for your new quartz worktop, including:
Length of worktop
Quality (or 'grade') of quartz
Layout of worktop
Complexity of installation
Removal of old worktop
Where you live
Like many materials for your home, you can find options to suit most budgets. The more affordable quartz is known as basic or standard grade. Then you have premium grade quartz which is more expensive.
Finally, the designer grade quartz which is the high end quality quartz for homeowners with the biggest budgets. If you're looking for more information about replacing your worktops, check out our guide to replacing kitchen worktops.
Cutouts and finishes
In addition to quality, the shape and finish of your quartz worktop will affect the overall cost of the installation. You should expect to pay the following average costs for these finishes:
An unpolished sink or hob cutout – £180
Polished undermounted sink cutout – £185
Drainer grooves – £150
Curved corner – £15
Rounded edge – £14
See the tradespeople we've checked and recommend for your job
What is a quartz worktop?
Quartz worktops are a form of engineered stone that are made from ground-up particles of quartz stone bound together with plastic resins to create a non-porous, durable material.
Interestingly, a quartz worktop is not made of 100% quartz, with the exact proportion depending on the worktop you choose. Most will be between 90-99% quartz.
One of the big benefits of quartz over a natural stone is that the engineering process stabilises the material to make it much sturdier and more reliable to work with. Natural stones can tend to be a little unpredictable due to impurities and imperfections.
Why choose quartz worktops?
With a variety of worktops available, you might be torn between quartz, granite, marble, wood or a number of other materials. Below are a number of the great reasons to choose quartz for your kitchen worktop.
Low maintenance
A quartz worktop is really easy to maintain and only requires your usual standard of daily cleaning. There are no special treatments, lotions or potions needed to keep it looking its best. Top tip – for extra shine you can use a simple window cleaner product.
Stain resistant
Quality quartz worktops are non-porous, which means they're extremely resistant to stains. And thanks to the way quartz is made you won't need to keep resealing them like marble or granite worktops.
Scratch resistant
Quartz is naturally scratch resistant, so there's no worry of marking the worktop and damaging its appearance with daily use. Although it doesn't mark easy, make sure you don't expose your quartz worktop to extreme heat to avoid damage.
Durable
As an engineered stone surface, quartz offers top notch durability and is a very sturdy surface to have in your kitchen. Quartz is also much less prone to being chipped or cracked, unlike granite or marble worktops.
Custom options
Quartz is one of the most customisable materials for a worktop. You can get quartz made in a wide range of colours and patterns to suit the specific design of your kitchen and complement the style of your home.
Hygienic
Thanks to its non-porous properties, quartz is excellent for hygiene in the kitchen as there's nowhere for germs and bacteria to collect and grow. That makes quartz a perfect choice for a surface you'll be using for food preparation.
Long lasting colour
Quartz doesn't fade over time so it will keep its colour for years to come. Regular use won't affect the colours or patterns, so you can use your worktop to your heart's content without worrying about it looking prematurely aged.
Useful quartz worktop checklist
Measure your kitchen worktop to calculate the total length of quartz you'll need. If working from designs, use them to work out the worktop measurements.
Research your options for different types of quartz worktop to suit your kitchen's interior design.
Speak to your local quartz worktop specialists for their professional advice and accurate quotes.
Shop around for fair and competitive quartz worktop prices.
Always hire a tradesperson with relevant experience and ask to see examples of their work.
See the tradespeople we've checked and recommend for your job