Last updated on August 15th, 2022
Replacing kitchen worktops cost guide
Get clued-up on the cost of refreshing an old, dated kitchen with our replacing kitchen worktops cost guide.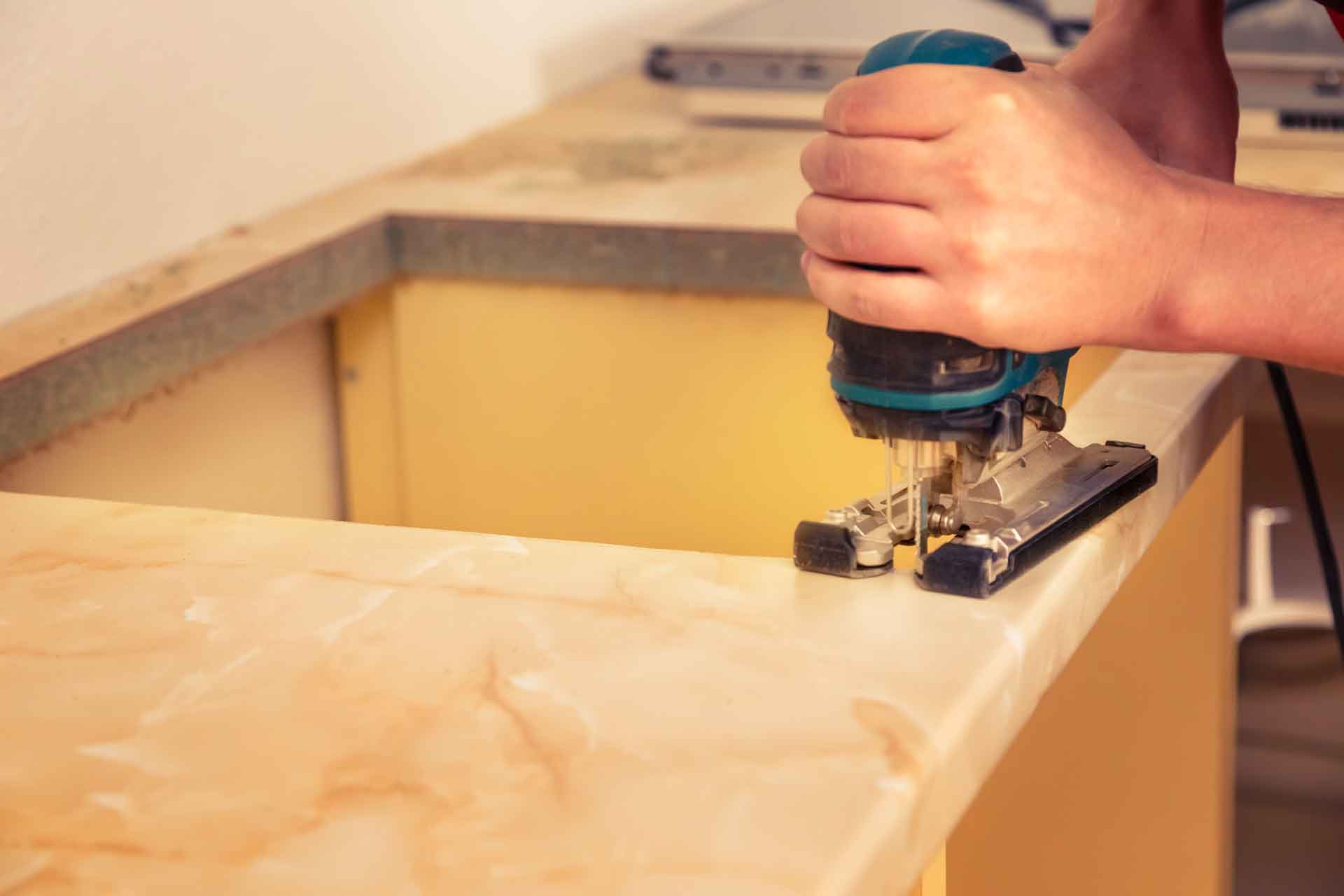 Why replace kitchen worktops?
A great way to instantly update the look and feel of a dated kitchen is to replace your worktops.
Doing this improves the kitchen aesthetics and can be an excellent way to introduce new worktop features such as heat resistance or hygiene.
With the wide range of materials, styles and colours for sale, buying a new kitchen worktop has never been so exciting! Plus, if chosen well, new kitchen worktops can even add value to your home.
Alternatively, you may be replacing worktops due to damage or staining. Whatever your reasons, the following guide is designed to take the stress out of the process with information, considerations and essential replacing kitchen worktop costs.
How much does replacing kitchen worktops cost?
Cost provided item
Cost + VAT
(Range low - high)
Average UK cost
Kitchen worktops - Laminate (5m length)
£200 - £800
£500
Kitchen worktops - Quartz (5m length)
£500 - £1,100
£800
Kitchen worktops - Wood
£300 - £900
£600
Kitchen worktops - Granite (5m length)
£550 - £1,150
£850
Labour - Laminate (per m2)
£40 - £60
£50
Labour - Granite (per m2)
£120 - £180
£150
Labour - Quartz (per m2)
£80 - £130
£110
Kitchen doors
£95 - £145
£120
Unpolished cutouts (Quartz/Granite)
-
£180
Polished cutouts (Quartz/Granite)
-
£185
Drainer grooves (Quartz/Granite)
-
£150
Curved corners (Quartz/Granite)
-
£15
Round edges (Quartz/Granite)
-
£14
The cost of replacing kitchen worktops can be broken down into two parts; the cost for the worktop and the cost of labour.
As you can see from our cost table the material chosen for the worktops has a massive impact on the overall cost of the job.
Firstly, looking at the price of labour for each type of material, we can see that the average cost to install kitchen worktops is £100 per m2.
Next, we need to add in the replacement kitchen worktop prices, as follows:
Laminate – £500
Quartz – £800
Wood – £600
Granite – £850
As an example of a total cost, the price to replace a 5m2 quartz worktop would be £110 per m2 for labour + £850 for a 5m2 worktop = £1,400.
Common materials used for kitchen worktops
Laminate: Extremely popular, laminate kitchen worktops are affordable and available in a wide variety of styles and colours. They can start to peel if not properly cared for but are generally easy to maintain.
Granite: Durable and hygienic, granite worktops look fantastic in any home. While they do require maintenance, they are heat resistant and hard-wearing.
Wood: These worktops are naturally anti-bacterial and inexpensive. They require frequent maintenance but give a natural, classical finish.
Quartz: Quartz worktops are environmentally friendly and durable, especially against moisture and staining. They are difficult to install and can be sensitive to heat.
See the tradespeople we've checked and recommend for your job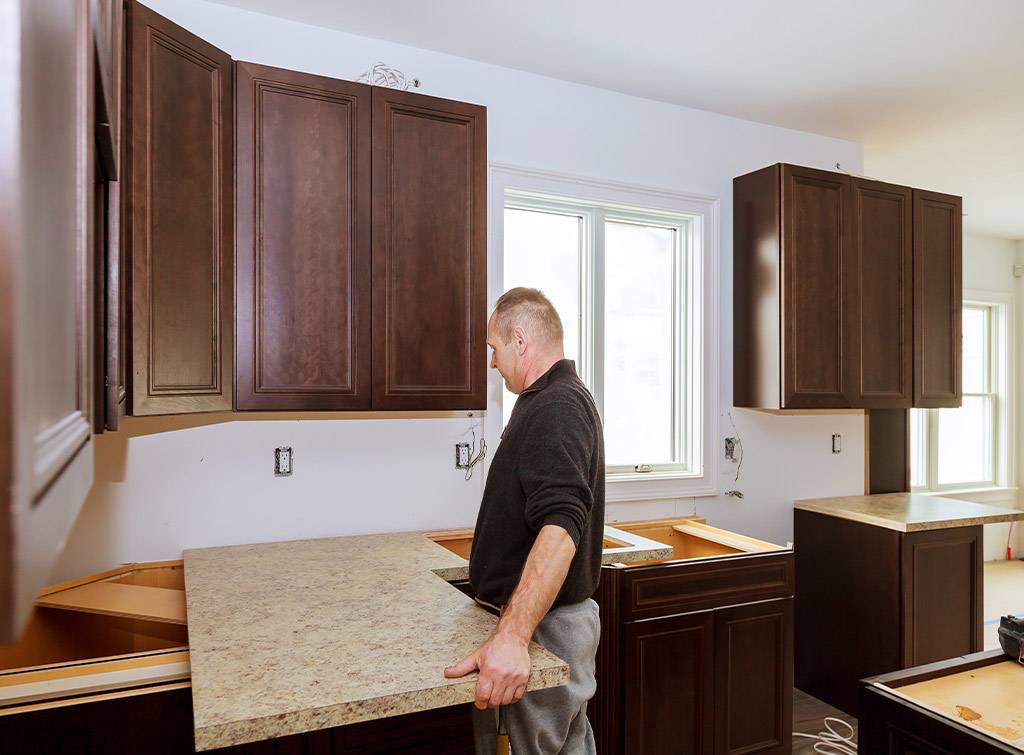 How long does it take to replace a kitchen worktop?
Strongly dependent on the type and size of worktop you choose, the labour time to replace a kitchen worktop will vary from job to job.
On average the time to replace a kitchen worktop is 1 – 2 days.
Factors affecting replacement kitchen worktop prices
The cost of replacing kitchen worktops is difficult to accurately calculate without a personalised quote.
However, the following factors should be taken into account when budgeting for replacement worktops:
Material: As mentioned above, the material used strongly impacts the overall cost.
Size of worktop: The larger the worktop the higher the cost of materials and the longer it will take to install, particularly for heavy worktops. This means the labour cost will be higher also.
Curved corners: Whether or not your worktop has mitered corners will alter the price of your replacement. Expect to pay on average £15 per corner for quartz and granite.
Built-in ovens or hobs: You should expect to pay more if the tradesperson will need to move ovens or hobs during the installation.
Location: Every part of the country will have different labour costs, for example, London is a particularly costly area.
Custom: Whether you are buying pre-made worktops, or ordering custom ones, will alter the price of your replacement.
The experience level of professional: Every professional will have different levels of training and experience. If you hire a highly qualified tradesperson you should expect to pay more, but this will be reflected in the quality of the job.
Extra ways to improve your kitchen
Replacement worktops are not the only way to upgrade your kitchen, any of the following will improve the look and feel of the room:
Edging strips
New kitchen units
New kitchen sink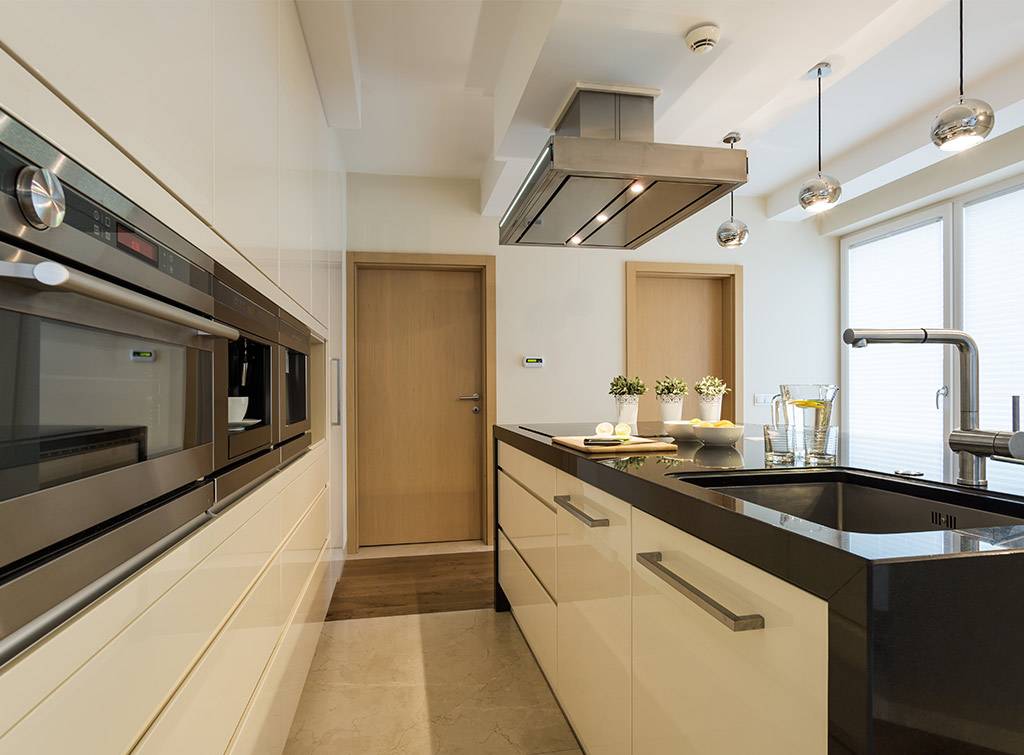 Importance of carefully maintaining your new kitchen worktop
With replacement kitchen worktop prices being relatively high, it is essential that you look into and carry out the proper maintenance to keep them looking great.
Each material requires different maintenance including options that need to be sealed, oiled or wiped down regularly.
Another way to protect your beautiful worktops is to use a layer of vinyl adhesive.
Cost of replacement kitchen doors and worktops
In addition to replacing your worktop, installing new kitchen doors can transform your kitchen from outdated and worn, to stylish and sparkling.
The cost of replacement kitchen doors and worktops is made up of labour, the worktop and finally kitchen doors. You can expect to pay on average £120 for kitchen doors.
FAQs
How do I know I need new kitchen worktops?
Signs you need to replace your worktops sooner rather than later are staining, cracks, burns and unstable worktops.
Do I need to hire a Gas Safe engineer?
This depends on whether you need to move built-in ovens or hobs. Even if you are simply moving them and putting them back straight after installing your new worktops, it is wise to hire a Gas Safe engineer.
What are the benefits of new kitchen worktops?
A wide variety of worktops are now available that are made from different materials, each of which has its own benefits. You can choose from heatproof, stainproof, anti-bacterial and extra-durable options.
Another benefit to installing new worktops is the ability to change the entire look and feel of your kitchen, this can even raise your homes' value.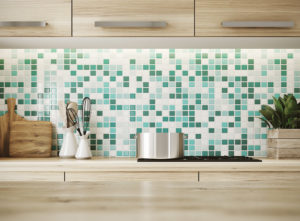 Can I replace kitchen worktops myself?
There are a number of factors to consider when deciding to install kitchen worktops yourself including your level of ability, the type of worktop and the weight of the worktop.
Replacing worktops can be difficult due to their large size and weight, and if mitred corners are part of your plan, these are notoriously hard to achieve.
You should also consider the amount you have paid for your worktops. Even the tiniest miscalculation when measuring and cutting can mean your worktops are ruined and your money wasted. It's important not to forget to hire a gas safe engineer if you are moving ovens and hobs.
We would recommend hiring a professional. To find a local, reputable, tradesperson in your area and get a personalised kitchen worktop replacement quote, use our free search feature.
Useful kitchen worktop replacement checklist
Replacing your kitchen worktops can instantly refresh the look and feel of your space.
There is a wide choice of worktop materials, such as granite, quartz, wood and laminate.
It generally takes 1 – 2 days to replace kitchen worktops.
The size, material and style of kitchen worktops will affect the replacement cost.
Accurate measuring and cutting are essential if installing kitchen worktops yourself.
See the tradespeople we've checked and recommend for your job