Last updated on March 31st, 2022
Recycled glass worktops cost guide
Recycled glass worktops cost less than most other worktops, even better, they're environmentally friendly!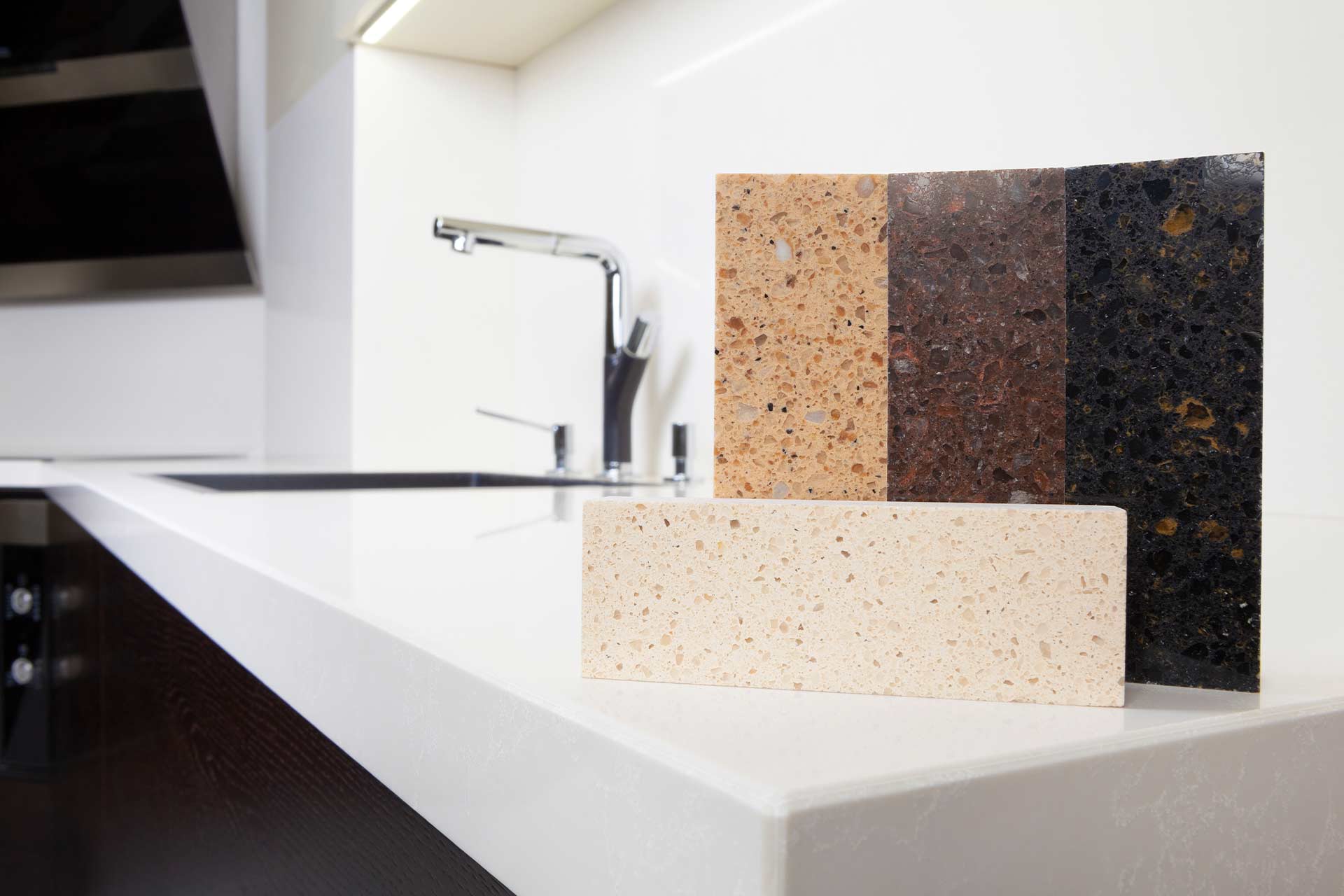 Recycled glass worktops are a great way to give your kitchen a stylish look at an affordable price. You might be new to the idea and may be concerned about how much these recycled glass worktops cost. Don't worry, we've got you covered.
What are recycled glass worktops?
Recycled glass worktops or countertops are made out of broken bits of used glass. These shards are encased in either resin or cement to create a durable material.
Even better, these worktops are eco-friendly too, it's a form of recycling. The material is recycled glass, which can be reused when your kitchen worktop reaches the end of its life. And in most cases, the acrylic and cement bases can also be reused.
See the tradespeople we've checked and recommend for your job
What do recycled glass worktops cost?
| Cost provided item | Unit | Range - Low | Range - High |
| --- | --- | --- | --- |
| Material cost | Per square foot | £50 | £150 |
| Installation cost | Per square foot | £50 | £120 |
| Edging strip | Per metre | £5 | £10 |
You can get recycled glass worktops in a wide variety of colours and designs. The caveat is that different colours may have different prices.
What is the recycled glass worktops price per square foot in the UK?
In general, you can find yourself spending between £50 and £150 per square foot of material.
Installation rates can be in the range of £50 to £120 per square foot.
When considering your recycled glass worktop prices in the UK, remember to consider the cost of the material as well as the installation and any other finishing costs. There may even be costs to dispose of your old worktops.
The cost also depends on the material, colour, design, and number of cutouts for features like sinks and utilities. The price of acrylic recycled glass countertops is different from cement ones. Certain colours and patterns may cost more also.
How are recycled glass countertops installed?
We have a comprehensive guide for fitting kitchen worktops if you have the equipment and know-how. However, you will get better results if you hire a professional kitchen fitter to do it.
Hit in your postcode below to find recommended worktop fitters near you.
See the tradespeople we've checked and recommend for your job
FAQs
Are recycled glass worktops expensive?
Recycled glass worktop prices in most cases are not as expensive as some of the other popular worktop materials, like granite, slate, or marble.
Do I need to maintain recycled glass worktops?
Recycled glass worktops don't require much care overall. If they have a cement base, you will need to seal them twice a year. The layer of sealant closes the surface pores of the worktop, which could potentially absorb liquids that you spill on it and get stained.
How long will a recycled glass worktop last?
If properly cared for, recycled glass worktops could last 50 years.
See the tradespeople we've checked and recommend for your job