How to fit a kitchen worktop
Can I fit my own kitchen worktop? You can, if you have experience and confidence in your DIY skills. You'll also need the right tools to get the job done. Keep reading for a step-by-step guide to fitting a kitchen worktop.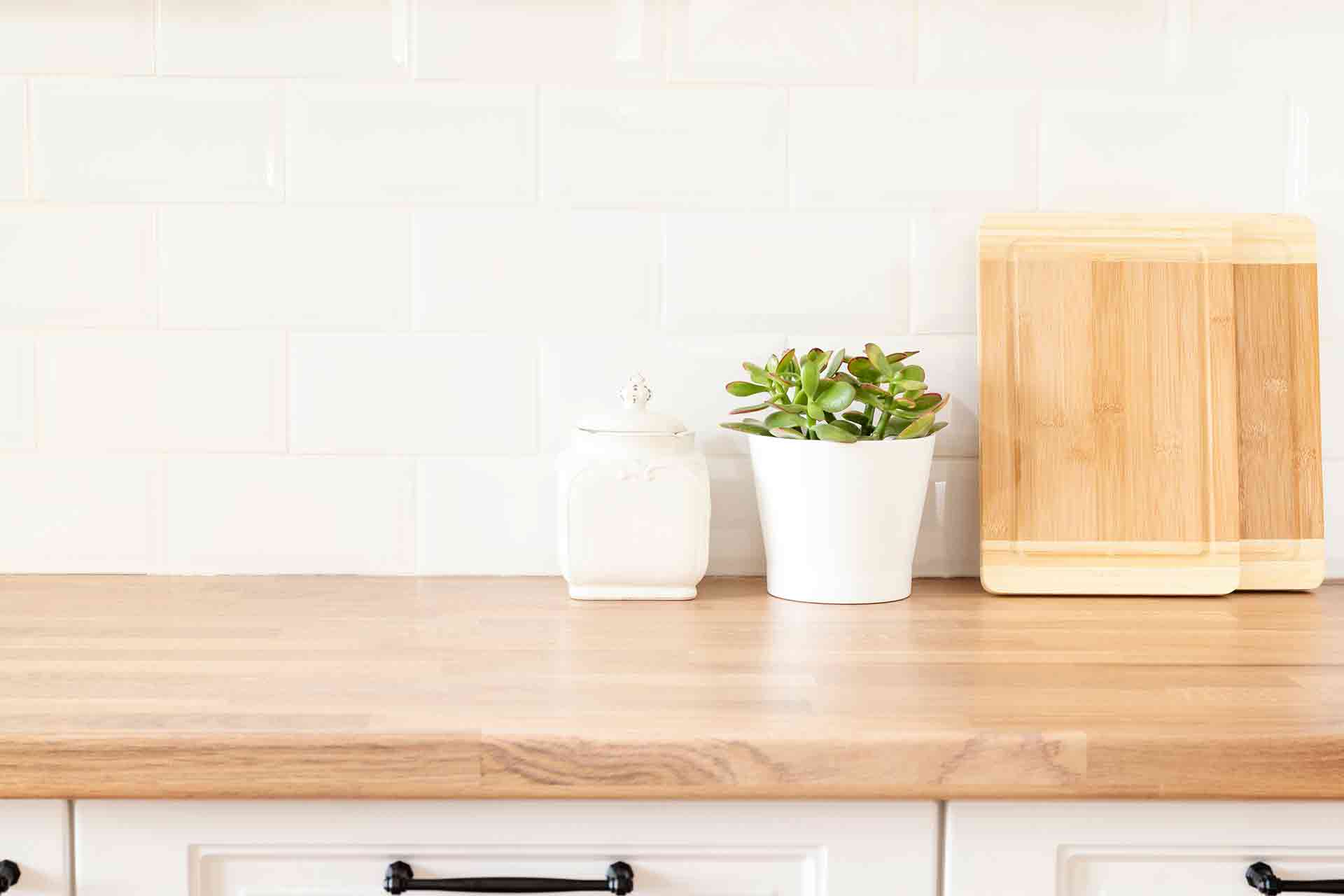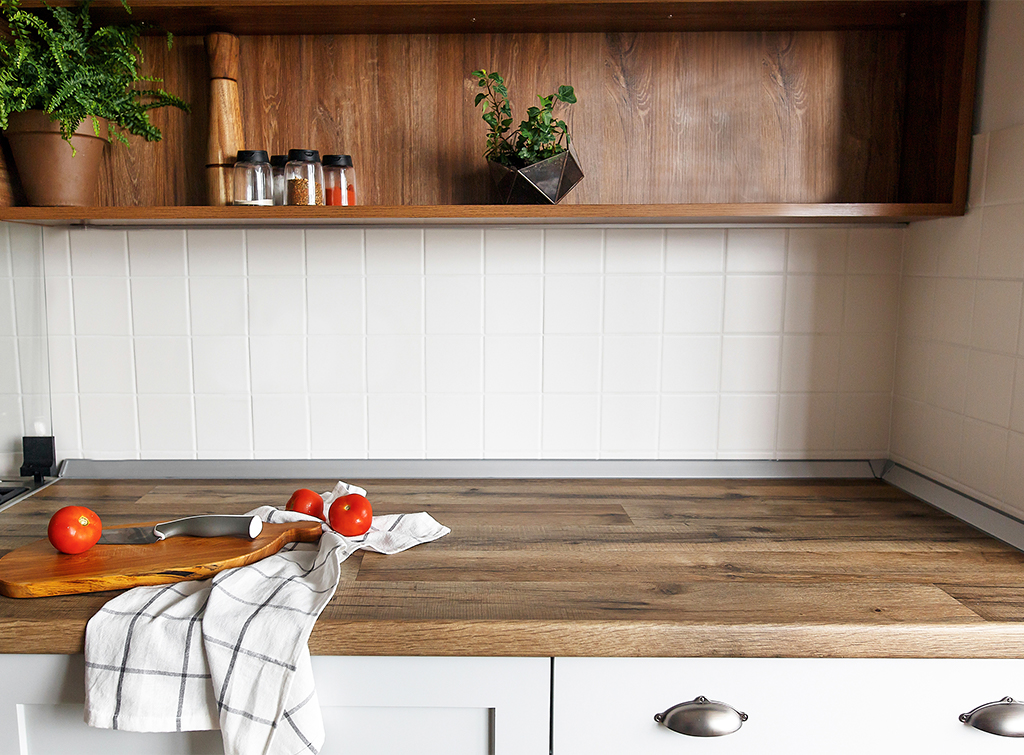 If you're looking for a way to instantly refresh your kitchen, changing the countertop is a great option. With the wide range of colours, styles and materials on offer, it's no wonder many people are asking 'can I fit my own kitchen worktop?'
This guide is perfect for anyone wondering just that, with DIY steps to follow, tips on joining worktops together and average costs.
If you're keen to improve your home, it can be tempting to save money by taking on any installations as a DIY project. Depending on the type of job, this can be a fun and rewarding experience.
Before you make any decisions on whether you'll fit your own worktop, consider the following points:
Experience: If you're a DIY beginner with no experience, fitting a kitchen worktop may be too complex. You'll need some basic skills involving proper measuring, using a drill and a jigsaw.
Time: Be honest about whether you have the time to take on this job. It will definitely take longer to do the project yourself than to hire a professional.
Quality: Unless you're skilled in DIY, the quality of your finished countertop will likely not be the same as if an expert completed the installation.
Tools: If you already own the necessary tools, great, if not you'll need to buy or hire them.
Learning: Taking on any DIY project is a great way to learn a new skill.
Some worktops, such as granite or stone, will need to be cut and fitted by a professional.
See the tradespeople we've checked and recommend for your job
DIY kitchen worktop
The first stage of any project is proper preparation. Take the time to collect all the following tools and materials to prevent any emergency DIY shop trips:
Sandpaper
Tape measure
Spirit level
New worktop
Pencil
Saw or jigsaw
Aluminium joining strips (if you need to join any pieces of worktop together)
Drill
5 inch screws
Laminate strips
Adhesive
Silicone sealant (for when joining worktops together)
Once you're ready to take on the job of DIY kitchen worktop installation, you'll need to prepare the area. Start by ripping out your old worktop and cleaning, sanding and dusting the area.
Before you get started:
Plan how much worktop you'll need and where your joints will be
Aim for joints to be supported by the unit frames beneath
If joining two pieces of worktop, make sure the joint is at least 100mm from a sink or appliance cut out
A cut out for a hob should be at least 50mm from the front edge, and 60mm from the back
Use the factory-cut edge on the visible end of the worktop as they'll be neat and perfectly square
Measure twice, cut once to avoid mistakes
Practise cutting on a spare piece or offcut first
Have your tools at the ready and follow the below steps:
Firstly, carefully measure how large your new worktop will need to be.
Top tip: If you buy a worktop in the exact size you need, you can cut out the difficult steps of measuring, marking and cutting.
Mark where you need to cut and trim your worktop to size with a saw or jigsaw.
Next, cut holes for any sink or cooker.
Use sandpaper to file any rough countertop ends down.
You can then move your worktop into position. If you're using more than one piece of worktop, join them together as described in our 'how do you join kitchen worktops together?' section.
Drill holes in your countertop from underneath, making sure you don't drill deep enough to make holes in the top of your worktop.
For each support, you'll need to drill 3 holes, in either end and in the middle.
Next, use 1.5 inch screws to attach your worktop to the supports.
Cut coordinating strips of laminate to the length of the rough edges of the worktop.
Then, use adhesive to glue these strips to your countertop.
Finish by smoothing any rough areas of laminate.

How do you join kitchen worktops together?
If your worktop will have joins (where two edges meet) you'll need to use one of two methods. The first is to use joining strips and the second is mitering. Mitering is much more complicated and requires extra tools so we'll look into using joining strips instead.
Just use the following guidelines if you're wondering 'how do you join kitchen worktops together?':
Position the centre piece of your worktop onto the supports.
Measure the depth of your worktop and cut the joining strip to the correct length using a hacksaw.
Next, using wood screws, screw the joining strip to one end of your worktop.
Top tip: Use silicone sealant along the strip to ensure your countertops are completely waterproof.
You can then slide the next piece of worktop into the joining strip. You can also use silicone sealant for a great fit.
See the tradespeople we've checked and recommend for your job
Fitting a laminate kitchen worktop
Measure the worktop lengths required. Make your cuts and use sandpaper to smooth any rough edges, in a square and straight direction
Place the worktops on your base units
Check the overhang is the same along all lengths. For a standard 600mm worktop, the front overhang is normally 10mm, with 20mm at the ends
Check where the fastenings are
Use a clamp to secure the worktop to the base unit below
Prepare your drill with a drill bit less than the depth of the worktop. Take great care not to drill right through the worktop! Drill three holes in the front support strut and three in the back, equally spaced at either end and in the middle
Check with your particular worktop/unit, but generally, 5mm diameter wood screws are ideally suited to secure the unit to the worktop from the underside. Do not overtighten the screws.
The exposed cut edges will need to be finished with an edging strip. Use tape to lightly stick the edging strip to the end of the worktop. Use a pencil to create a template. Remove the edging strip and cut around your template
Run a strip of masking tape along the top edge of your worktop to protect it from the adhesive
Apply contact adhesive onto the template you created in step 7 and fix in place
Remove the masking tape and gently sand/file any protruding edges if necessary
Help, I'm confused!
Professional kitchen worktop fitting comes with the added benefit of guaranteed quality and durability, plus it will save you time and energy.
If the above instructions seem a little too complicated, getting your countertops fitted by an expert is a good decision.
So, why not use our handy search engine to connect with a range of trusted professionals in your local area.
How much does it cost to install kitchen worktops?
If you're leaning towards professional installation, you'll want to know 'how much does it cost to install kitchen worktops?'. The amount you pay for the actual worktops will depend on the material you choose, starting at £500 for laminate worktops and going up to £2,730 for quartz worktops.
You'll also need to add installation costs of £225 for laminate and £1,150 for quartz. For more information and prices, please see our replacing kitchen worktops cost guide. Also take a look at our how to fit cheap kitchen worktops guide for more tips.
Find out the approximate costs of hiring a professional to fit your kitchen worktop in our handy cost guide.