Last updated on March 31st, 2022
Rubber roofing cost guide
Protect your flat or sloped roof with our rubber roofing cost guide. We look further into this excellent roofing solution with answers to FAQs and up-to-date prices.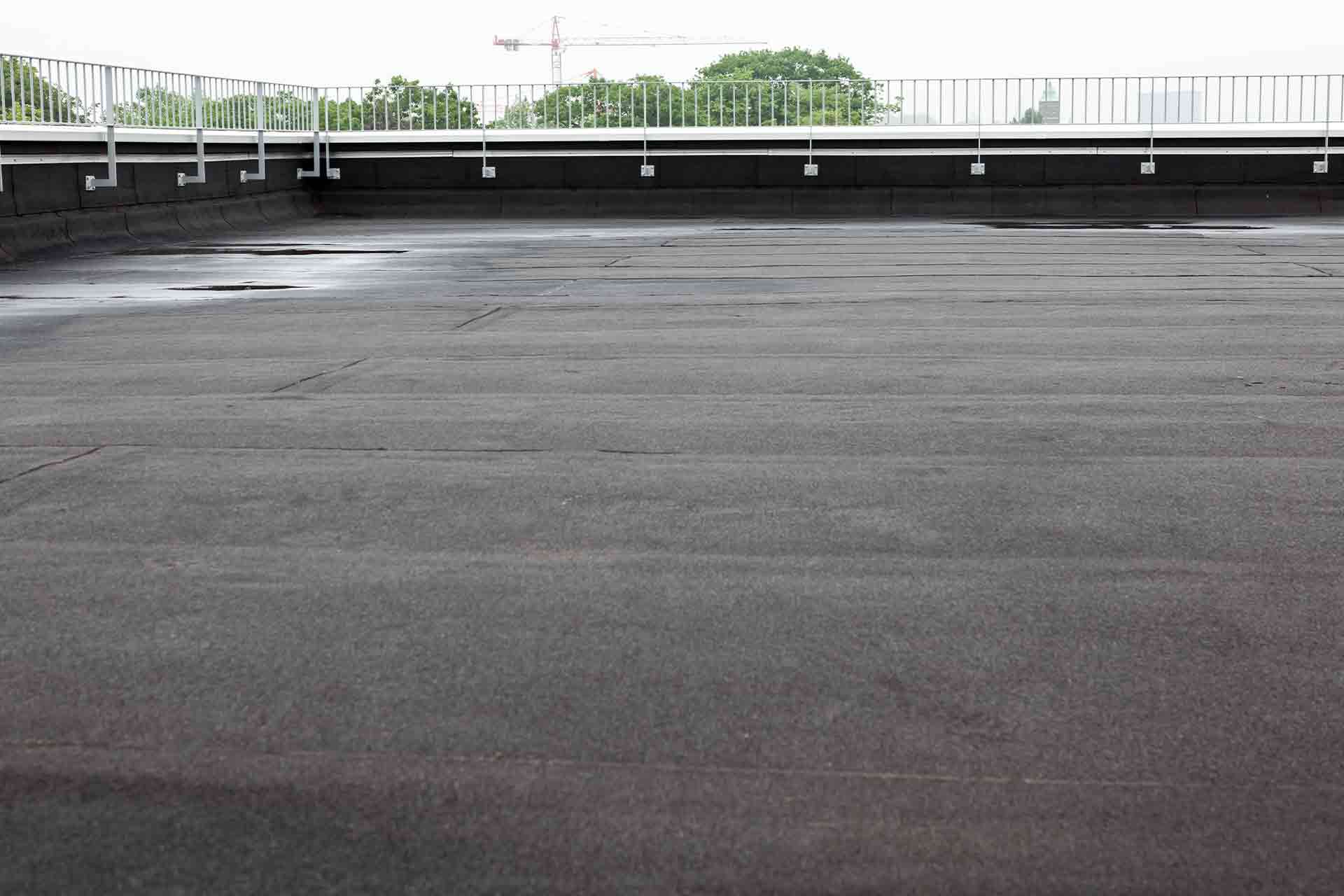 Why install rubber roofing?
Residential roofs can be created in many different styles and textures; however, function is far more important than appearance. Roofs are often overlooked but they protect our homes from the elements, wild animals and other threats. This makes them an integral part of any building.
Rubber roofs may not be the most attractive option, but they more than make up for this in the wealth of benefits they bring. Commonly used on flat roofs, rubber roofs are low maintenance and can last more than 50 years if well cared for. As an alternative to felt, rubber roofs are watertight, moss and algae proof, plus can easily be patch repaired.
Another major benefit of choosing a rubber roof is that when compared to other options, its production is remarkably environmentally friendly. In fact, when you are finished with your rubber roof, it can even be recycled! Add to this the fire and lightning proof nature of rubber roofs, and it's clear why these roofs are a wise choice for any home.
Read on to discover more about the average rubber roofing cost in the UK and much more.
How much does rubber roofing cost?
Type of job
Cost + VAT
(Range low - high)
Average cost
Rubber roofing cost (materials)
£600 - £1,000
£800
Rubber roofing cost (labour)
£200 - £450
£325
EPDM rubber roofing cost
£60 - £80 per square metre
£70 per square metre
Rubber roofing cost per square foot
£6 - £8 per square foot
£7 per square foot
Cost of rubber roofing membrane
£220
Rubber roof replacement cost (double garage)
£1,100
A rubber roof can be an affordable choice that more than pays for itself through its functionality and durability. To calculate the average cost you will pay for a rubber roof, we need to look at two separate amounts.
Firstly, the average price of the materials (£800) and secondly the average price of labour (£325). This makes the average cost of rubber roofing £1,125.
What is rubber roofing?
Rubber roofing is comprised of a roll of rubber that can be used on flat or low sloping roofs. The term 'rubber roofing' covers EPDM roofing (Ethylene Propylene Diene Monomer) which is a single-ply rubber membrane.
This type of roofing is lightweight, easy to maintain and durable, although, rubber can shrink or crack in cold weather. Frustratingly, flat or sloped roofs also have low drainage which can lead to potential leaks, as we'll cover next.
See the tradespeople we've checked and recommend for your job
Repair or replace?
Unfortunately, no matter how well you care for your rubber roof, it may still get torn or cracked and let in small leaks. This needs to be repaired ASAP as you don't want moisture and draughts to enter your home. This can compromise structural integrity, as well as causing mould and rot.
When your roof becomes damaged, the question is whether to repair or replace the whole thing. In general, it is easy to patch small tears or holes if you are confident in your DIY skill level.
When the damage becomes more extensive, it is usually not worth getting a tradesperson to repair the roof. At this stage, the cost of rubber roofing repairs will be only slightly lower than that of a whole new roof.
Factors affecting rubber roofing costs
Most rubber roofs are unique as they are cut to fit your exact roof, whatever the shape. As such, it can be difficult to estimate the rubber roofing cost accurately. To budget for rubber roof installation, it is a good idea to take the following into account:
Size of roof: The larger your roof, the greater the price of installation will be.
Type of rubber roof: With several different options such as EPDM, the cost of rubber roofing will vary between each type.
Ease of access: If your roof is an odd shape, or difficult to access, this will push up the price.
Height of roof: Higher roofs come with added danger and risk of injury so will therefore be more expensive to work on.
Location: The labour cost that your tradesperson charges will be higher in places like London and the South East due to higher living costs.
Adding roof slope to aid drainage: It is possible to alter the slope of a roof to help rainwater drain off, although this will be charged at a premium.
Adding insulation: It is wise to ensure your roof is properly insulated to make your home more energy-efficient.
Any repairs to timber required: If the timber of your roof is damaged from moisture or flying debris, it is necessary to fix this before adding your rubber roof.
Cost per type of rubber roofing
Rubber roofing cost per square foot
As mentioned above, the size of your rubber roof affects the price you will pay. The higher square footage your roof is, the more materials and longer labour times required for installation. For smaller roofs, it may help to ask for a quote per square foot.
The average rubber roofing cost per square foot is £7.
EPDM rubber roofing cost
This type of rubber roofing can be a great choice with its durability and other features. It may be a little more costly than other types of roofing but is more than worth the cost.
The average EPDM rubber roofing cost is £70 per square metre.
Cost of rubber roofing membrane
Creating a watertight roof is essential, not only for the structure of your home but also to protect any possessions under your roof. This is where roofing membranes come into play. The average cost of a rubber roofing membrane is £220.
Rubber roof replacement cost
If you already have a rubber roof that has seen better days, it may be time to replace it. Don't forget, small tears can likely be patched but if the damage is more extensive, a replacement may be the way forward.
The average rubber roof replacement cost is £1,100 for a double garage.
Can I install a rubber roof myself?
Anyone who is skilled at DIY can take on a job like rubber roofing, but make no mistake, this is not a simple, quick job. Hiring a professional will guarantee a quality job and bring their years of experience to the roof installation. If considering tackling this as a DIY job, first consider the following:
If the roof is rotting or water damaged it is dangerous to walk on and you could fall through, making the issue worse and injuring yourself.
It is always risky to work at heights and with ladders.
It is far easier to do patch repairs, on small tears or holes, than to replace a whole roof.
If you do not correctly install or repair a rubber roof, water damage could occur and degrade the structure and contents of the building.
Taking the above points into account, we would recommend hiring a professional. To find a local, reputable, tradesperson in your area and get a personalised rubber roof installation quote use our free search feature.
FAQs
How should I maintain my rubber roof?
The great thing about working with large sheets of rubber is that there is no maintenance needed. But you should still do a regular inspection every six months to check for damage. Should you find small tears or cracks, these can be patch repaired with kits available online.
What is the lifespan of a rubber roof?
Not only do rubber roofs need no maintenance they are very durable too. If you regularly inspect your rubber roof and patch any small areas of damage, it could even last for over 50 years.
Useful rubber roofing checklist
Rubber roofing is an excellent way of finishing a flat or sloped roof, plus it is durable and watertight.
Average rubber roofing costs are more than made up for by the lifespan and functionality you can expect from this type of roof.
EPDM stands for Ethylene Propylene Diene Monomer and is a type of rubber roofing made from a single-ply rubber membrane.
Factors such as the size and type of roof will impact the cost of rubber roofing.
It is not recommended you take on rubber roof installation yourself, although, tiny tears and holes can easily be patched as a DIY.