Last updated on March 31st, 2022
Safe installation cost guide
It is essential to spend time fully researching the different types of safes in order to select the right one to fully meet your requirements. Our safe installation cost guide includes the average professional fees of installing different types of safes and factors that affect the installation costs.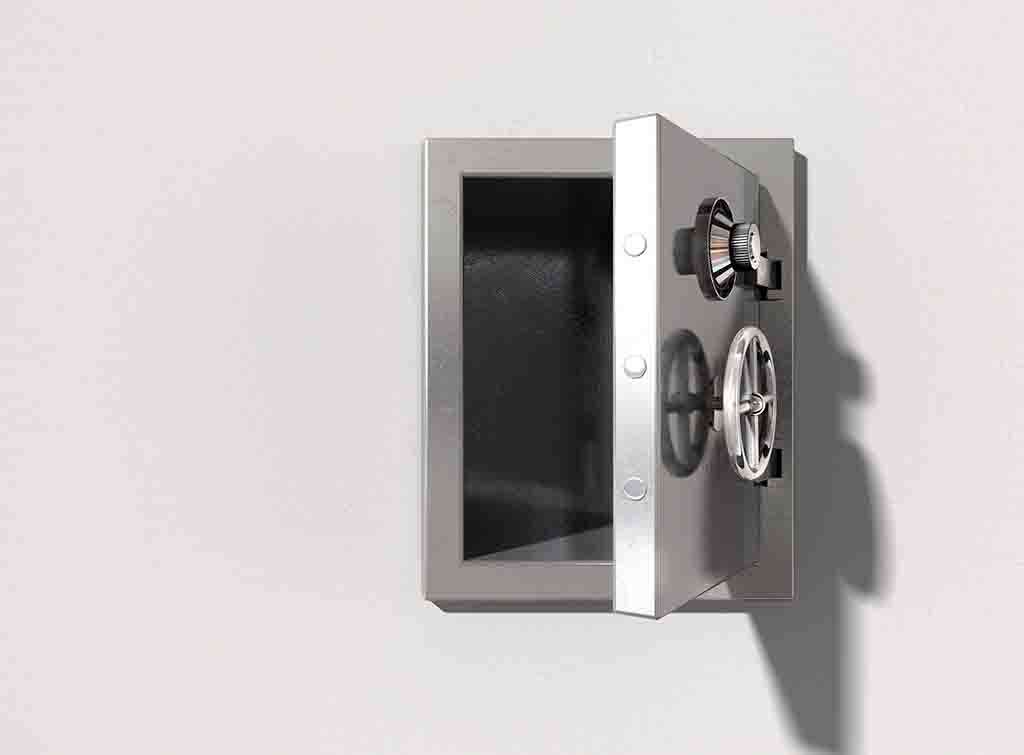 Why should I get a safe?
Most safe installations are done to protect a physical or digital item from theft, fire or for insurance purposes. You may, for example, have valuable jewellery, large amounts of money, important documents or even memory sticks containing confidential information that you want to protect.
The type of safe you require affects the cost of installation. It is essential to spend time fully researching the different types of safes in order to select the right one.
Our safe installation cost guide includes the average professional fees of installing different types of safes and factors that affect installation costs.
How much does it cost to install a safe?
| Type of safe | Small safe cost + VAT | Large safe cost + VAT | Installation cost + VAT |
| --- | --- | --- | --- |
| Free standing safe | £150 | £2,000 | Included |
| Bolt-down safe | £150 | £2,000 | £45 |
| Fireproof safe | £40 | £18,750 | £45 - £489 |
| Wall safe | £60 | £1,700 | £326 - £489 |
| Floor safe | £126 | £1,700 | £326 - £489 |
| Sitebox rental (per week) | £13.20 | £56.33 | Included |
The cost of installing a safe depends on the type of safe, its size and security level. For free-standing safes, which are so-called as they are not attached to anything, installation is typically included in the delivery costs. In this case, you could expect to pay anything from £150 for the installation of a small safe to £2,000 for a large safe.
Commercial safes can cost considerably more than this. Timescales to install a safe depending on the type of safe and location.
Different types of safe
Bolt down safe installation cost
There are two types of bolt down safes: those bolted to your floor and those bolted to your wall, some are even bolted to both locations. They are more secure than free-standing safes as they sit flush against a wall meaning less leverage for thieves. Some insurers also insist that a safe be bolted down, in order for your insurance to be valid.
Bolt down safes cost the same to purchase as free-standing safes – £150 to £2,000. Installation is fairly simple and should take a handyman around 1-2 hours at a cost of £45, although this will cost more for very large safes due to the extra labour needed.
See the tradespeople we've checked and recommend for your job

Wall safe installation cost
Often depicted on television, wall safes are designed to be built in a wall and can be hidden behind a painting or wardrobe door. As they are harder to find, this makes them even more secure than free-standing and bolt down safes.
When you are protecting extremely important items, a wall safe is perfect as a secure storage solution. The cost to install a wall safe can vary depending on the size of your safe and other factors – usually between £60 – £1,700.
For floor and wall safe installation costs we spoke to the online estimators at My Build Estimate – a professional estimating company monitored by the Royal Institution of Chartered Surveyors (RICS). They estimated it would cost between £326 – £489 for the installation.
Floor safe installation cost
Even harder to locate are safes that can be built into the floor of your home. Hidden under flooring or inside cupboards, floor safes are also difficult to remove. Like wall safes, they are a little more challenging to install and the cost will reflect this.
A floor safe can be embedded in concrete under your flooring for extra security. This is a project that is easier to do when the flooring is originally being laid during building/renovation.
For expensive items or priceless mementoes, a floor safe is an excellent choice due to it being well hidden and very difficult for thieves to access. To buy a floor safe you're looking at around £126 – £1,700. The price to install a floor safe will include the cost of cutting into the floor and, as stated above, can range from £326 – £489.
Site box installation cost
Designed to be used on worksites, site boxes are extremely heavy to prevent theft of expensive tools and equipment. They are often delivered to the site with a forklift truck and cannot be moved by hand. Site box prices vary widely due to different weights and sizes.
These boxes are often hired rather than purchased, making them ideal for short term jobs. Usually, site boxes will be delivered at the start of the building project and collected once they are no longer required. As such, any site box costs for installation will be included in the hire price.
Site box prices range from £13.20 to £56.33 a week.
Fireproof safe installation costs
Fireproof safes really do come in all shapes and sizes, from small boxes that store a stack of A4, to giant fridge-sized containers. Aside from their size, the key thing you want to look out for is their fire rating, where it'll tell you how long they can keep your items safe (e.g. "60 minutes for paper and digital media").
Due to the wide range of sizes and fire protection ratings, fireproof safes cost from £40 to a whopping £18,750! Installation costs will depend on the location as above, so can vary from £45 – £489.
See the tradespeople we've checked and recommend for your job
Where to install a safe in your home
This will depend on available spaces in your home and the type of safe you require. The value of the items you are protecting, plus the amount of money you wish to spend on installation, should also be considered.
If for example, you are protecting something worth thousands of pounds or with high sentimental value, you may wish to buy a more expensive safe that is more secure, such as a floor safe.
Or, you may opt to choose a position that can be quickly accessed for convenience. Such as if you have a home office, you may want to have a wall safe or bolt-down safe located in there to quickly store funds and confidential data. Ultimately, you should decide between convenience and security when choosing where to locate a safe.
Factors affecting the cost of safe installation
The cost of safe installation varies widely depending on the difficulty of the installation, the location of the installation, and the time taken. Below are some of the main cost factors that affect this:
Size of the safe
The larger the safe, the higher the cost of installation. This is due to a number of reasons, including weight (heavier safes are harder to carry and install and may need extra workers) and preparation (if you choose a wall or floor safe, a larger hole and supporting area is required so will take longer to prepare).
Resistance to fire and burglary
There are many optional features available when choosing a new safe, resistance to fire is one of them. This may mean the installation is more complex and time-consuming to ensure the area around the safe is fire resistant. Safes that need in-floor and in-wall installations are more secure against burglary but also take more time to install and the cost will reflect this. It's also possible to purchase a waterproof safe.
Safe grades
Safes are categorised by different grades, starting with grade 0 (the least secure and resistant) and finishing with grade VI (the most secure and able to withstand attack). The higher the grade level, the more expensive the safe. For added security, you may also choose a digital safe and fingerprint recognition.
See the tradespeople we've checked and recommend for your job

Can I install a safe myself?
Whether you can install a safe on your own is a complex decision. The main issue will be the size and weight of the safe so it will depend on your strength and whether you have assistance.
Secondly, the type of safe you require is a factor. Bolt down safes are easier to install as they need to be bolted to an existing strong wall or floor. On the opposite side of the scale are wall and floor safes, these are much harder to install as you will need to create spaces for them to fill.
Finally, unless a safe is installed by a professional you cannot guarantee the level of security of the safe. Poor DIY installations may lead to gaps around the safe, instability of the wall or floor surrounding the safe and generally poor aesthetics. If your safe is not professionally installed this may also lead to issues with insurance providers.
To find a local, reputable, tradesperson in your area and get a personalised cost to install a safe use our free search feature.
Key takeaways for safe installation
Choose the right safe to fit your requirements. Ask yourself how secure you want the safe to be, where you want it to go and how large you need it to be.
Consider the cost of the safe, for example, the price of site boxes is higher than that of small jewellery safes due to the size and weight.
Choose the correct grade of safe for the value of your items, grade 0 safes are designed to protect contents of around £60,000 and grade VI safes are designed for around £1,500,000.
Consider what you are protecting your valuables from, e.g. fire, water or theft.
When choosing whether to install the safe yourself be realistic. Safes are expensive and their contents can be priceless, do you want to risk the security of the safe to save money in the short run?
Decide on what additional features you want your safe to have, e.g. fingerprint recognition, removable shelves or backup keypad.
See the tradespeople we've checked and recommend for your job