Last updated on May 30th, 2022
Screed floor cost guide
Why screed a floor? Used since 1984, screed is a great solution to a number of flooring issues. Not only does it create an even surface but it can also be used to cover certain systems, such as underfloor heating, as it allows heat to spread though itself.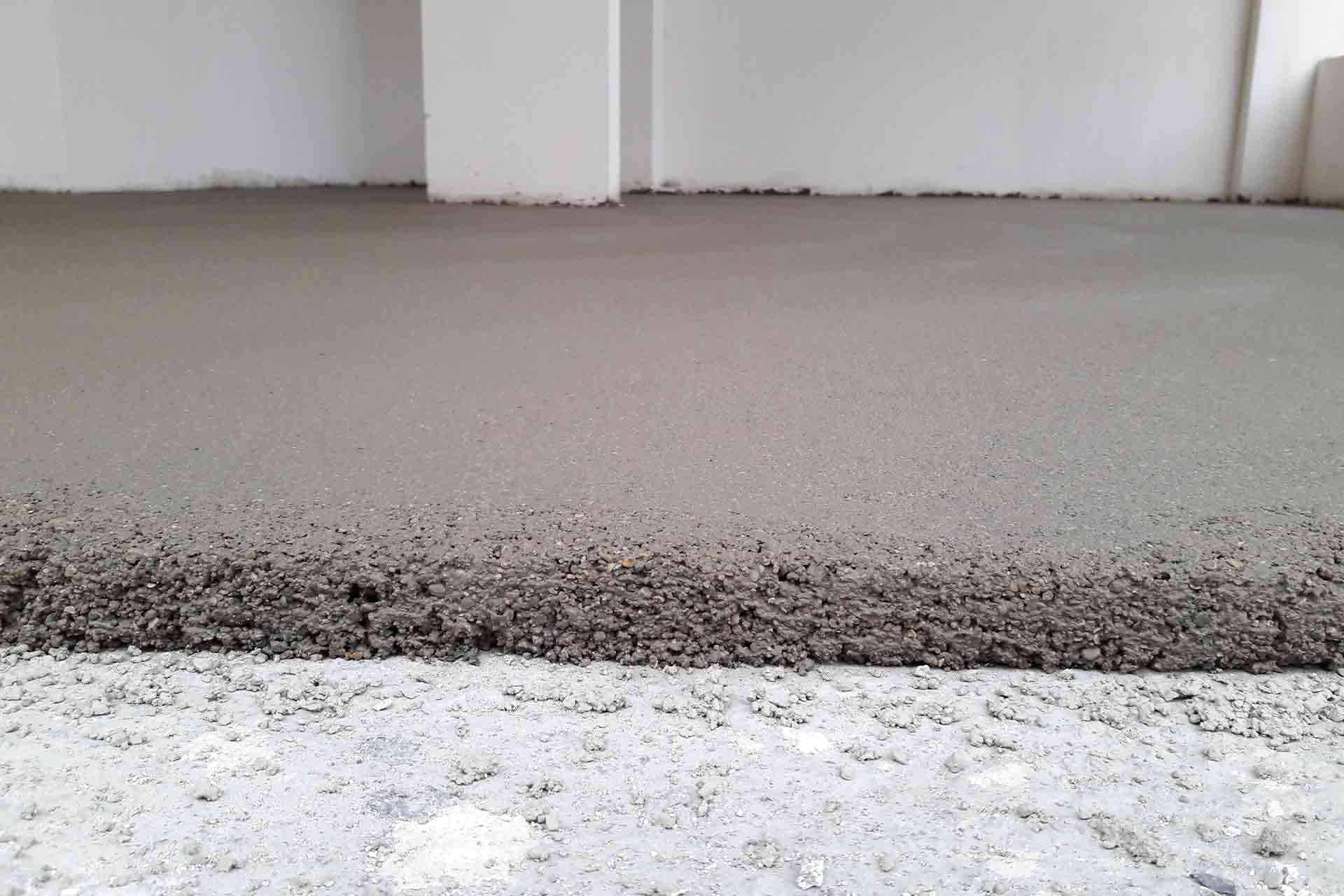 It is well worth investing in screed if you are installing a new floor as it eliminates any concerns regarding damp, due to its waterproof nature, and it's a great way of adding insulation to save on energy bills. You'll also not need to worry about using heavy furniture, as screed sets into a solid, strong foundation for your room.
Depending on a range of factors, the average screed floor cost can be quite affordable and due to its versatility and variety of benefits, using screed is always a wise choice. Continue reading to discover more about screed plus costs and considerations.
What is screed?
As we have previously discovered, screed has numerous benefits including creating an even, strong surface for flooring, but what is screed? Comprised of a mixture of cement, water and sand, the term 'screed' applies to a thin layer of material that sits on top of your homes' concrete floor.
Screed is applied before flooring to ensure a level and supportive surface for walking and for furniture to rest on.
See the tradespeople we've checked and recommend for your job
How much does a screed floor cost?
Floor screed calculator
Cost + VAT
(Range low - high)

Average cost
Floor screed cost (75mm thick)
£18 - £20 per m2
£19 per m2
Screed with mesh reinforcement
£28 - £30 per m2
£29 per m2
Liquid screed cost
£19 - £24 per m2
£21.50 per m2
Fast drying screed cost
£18 - £22 per m2
£20 per m2
Labour costs
£12 - £16 per m2
£14 per m2
To help determine the cost of a screed floor let's look at the average prices people pay. For traditional screed, the usual total will fall within the range £18 - £20 per metre squared. When taking into account an average labour cost of £12 - £16 per metre squared, we have an average screed floor cost of £33 per metre squared.
Different types of floor screeding
While many new types of screed are always being created, there are three that are commonly used in residential settings. Below is a brief summary of these three types:
Sand and cement screed: Traditionally used, sand and cement screed is not runny but is semi-dry, making it easy to work with. Also commonly used with underfloor heating.
Liquid or flowing screed: Becoming more and more popular, liquid screed is self-levelling, making creating an even, level surface much easier. It is also great for use with underfloor heating and can be more than 10 times quicker to lay than the traditional type of screed.
Fast drying screed: Screed can take a while to dry, making it difficult for busy families to access their homes during this time. Fast drying screed vastly reduces this time and can dry in as little as 12 hours.
Factors affecting floor screed cost per m2
In order to correctly budget for your new floor screed project, you will need to consider a variety of factors, as follows:
Type of screed: Each type of screed will be priced differently as illustrated in the above table. Usually, liquid screed will be more expensive than its' traditional or fast drying counterparts.
Thickness of screed: Depending on the type of screed, its intended use and other factors, you may need a thicker or thinner layer. This will affect the total cost. The thicker the screed you require, the greater the price will be.
Size of area to be covered: Larger areas will need more screed and mean increased labour times, adding to the floor screed cost.
Furniture: If you are unable to move your furniture out and back into the room where you are laying screed on your own, you will need to pay an additional fee for a tradesperson to help with this.
Location: Where you live in the country will impact the price you will pay for floor screed. Places like London have greater living costs and will mean higher labour costs.
Drying time: Certain types of screed have longer drying times which can affect the amount you will pay.
See the tradespeople we've checked and recommend for your job
How much are floor screed costs per m2?
It is very common to be quoted a price for floor screed based on how many square metres your room is. This screed floor cost will vary depending on the above factors, the most impactful of these is the type of screed.
Comparing the cost of traditional and fast drying screed, we can see that the prices are similar although fast drying screed is slightly more expensive due to its added benefits.
The average floor screed cost per m2 is £19.
Liquid screed cost
Not to be forgotten, liquid screed is an excellent and increasingly popular choice due to its ability to self-level and other benefits. It is a more expensive option, but the results and speed it can be laid are difficult to argue against.
The average liquid screed cost is £21.50 per metre squared.
Screed floor cost calculator
The cost to screed a floor will vary and will depend on the size of the room and the type of floor. The approximate hourly cost for screening a floor is £30 - £40 per hour, with an average day rate of £250.
Can I screed my floor myself?
Whilst it is possible to screed a floor yourself, it is no easy feat. It is vital you consider the below points before making the decision whether to tackle screeding yourself or hire a professional:
It is extremely difficult to mix cement and sand properly, smoothly and evenly.
It takes a lot of experience to create a flat, level surface and if not done well leaves you with a bumpy, uneven floor that is a tripping hazard and means wobbly tables or chairs. Once the screed is laid it can also be tricky to remove and redo.
You will probably need to remove and reinstall your skirting boards which can be difficult to do without damaging them.
A professional can explain the different types of screed and help you choose the best type for your needs.
Due to this we would recommend hiring a professional. To find a local, reputable, tradesperson in your area and get a personalised floor screed laying quote use our free search feature.
See the tradespeople we've checked and recommend for your job
Useful floor screed checklist
Screed creates a level, smooth surface to best support your new flooring and heavy furniture.
There are three common types of screed used residentially: sand and cement, liquid and fast drying.
The size of the area, type of screed and thickness of screed all determine the total floor screed cost per m2
It is not wise to screed your floor yourself unless you have experience and training in this area.