Last updated on August 25th, 2022
Static caravan decking prices
Adding decking to your static caravan is a great way to extend your living space and enhance the appearance of your holiday home. To help you budget, we've put together the average static caravan decking prices.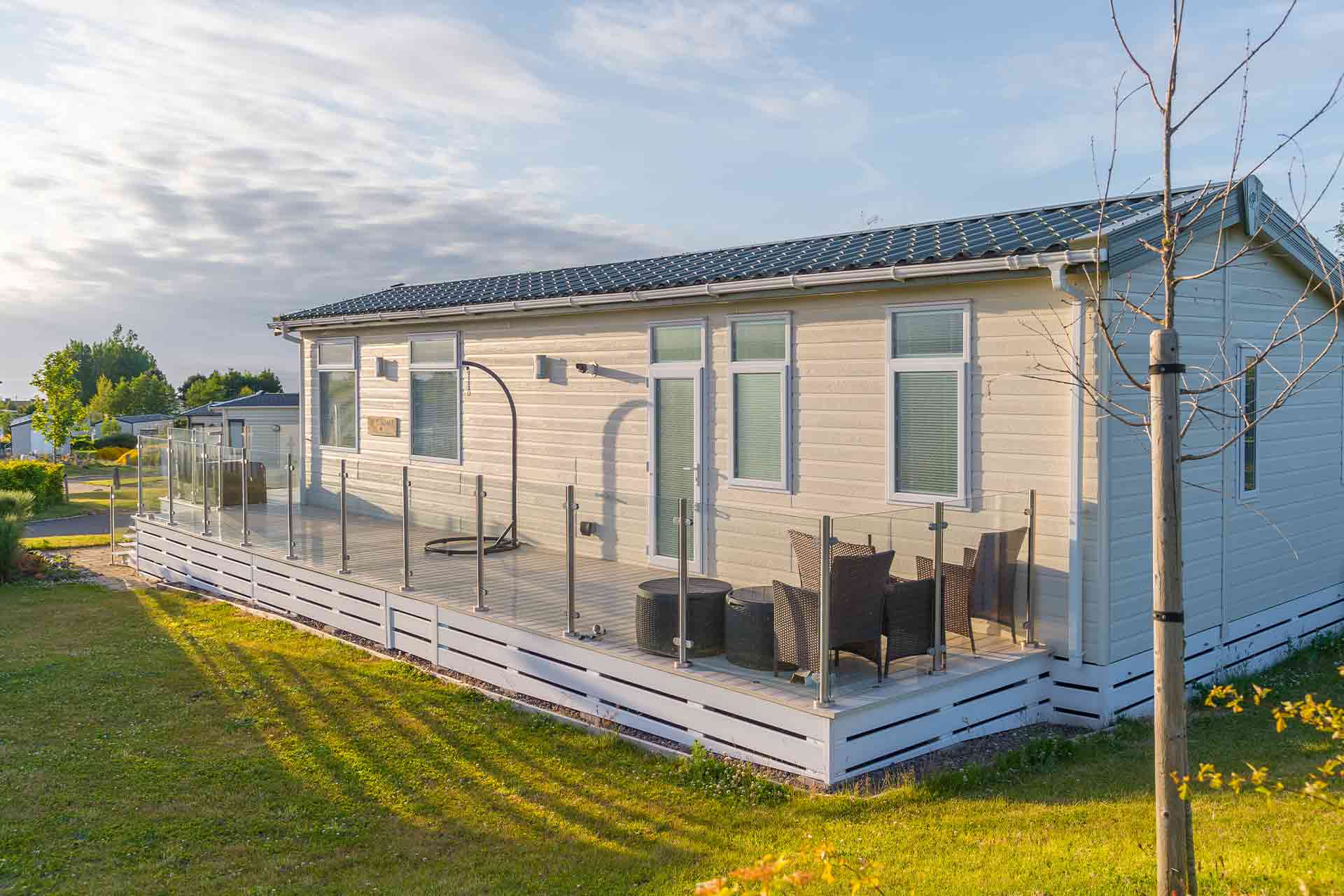 What is the cost of static caravan decking?
Adding decking to your static caravan can make all the difference to your holiday experience. On those long summer evenings, the space to lounge outside is a game-changer – but what kind of costs are involved with the project?
| Material | Unit | Average UK cost |
| --- | --- | --- |
| Aluminium | Per m2 | £200 |
| Timber - Hardwood | Per m2 | £92.50 |
| Timber - Softwood | Per m2 | £40 |
| uPVC | Per m2 | £12 |
| Composite | Per m2 | £70 |
According to our experts, the average static caravan decking price per project is around £6,000. This is based on softwood timber for a 10m x 15m project.
That said, the cost of static caravan decking can range depending on:
The size of the decking
The material used
Location
uPVC is the easiest to install and also the most affordable material, but it does come with a drawback of being difficult to repair and vulnerable to sun damage. See our table to the right for a guide to material costs for static caravan decking.
Additional costs will also add to your total if you wish to add other features such as railings, stairs, roofing, lights or benches. Such elements can add character and charm to your deck, but make sure to factor-in the costs for each feature to your total budget.
Check out our guide to decking ideas to get inspiration for your project.
Cost of static caravan decking installation
Labour costs for installation of static caravan decking will depend on how big you need the decking area to be.
For example, a decking size of 4m x 8m in softwood timber will likely cost around £1,280 on average, excluding labour.
For a 6m x 10m decking, softwood prices sit at around £2,400, again excluding labour.
Costs will increase to reflect the size of the space required, with a 10m x 15m decking costing in the region of £6,000, while a vast area of 20m x 30m will cost roughly £24,000.
FAQs
Do I need permission to add caravan decking?
Not necessarily, but it's always best to check. Before hiring a professional or making a plan for your decking project, read your agreement with the holiday park company. Within the terms and conditions, the agreement should state the process for making changes to the property.
In many cases, you will need written permission from the park owner. They may also have specific guidelines or restrictions about the type of decking allowed to ensure the caravan is still uniform with the general style of the park.
What is the best material for static caravan decking?
Cheaper than aluminium and winning in visual appeal, timber decking compliments the rural setting of your static caravan.
Aluminium is the more durable option but requires more of an upfront investment. That said, the risk of fire is greatly reduced through metal decking, and it comes in a range of shapes and sizes – some designed to replicate that rustic wooden finish.
Priced at approximately £12 per m2, uPVC decking is by far the most cost-effective. It also has the advantage of being lightweight, easy to install and easy to maintain.
How far apart should static caravans be?
Although there are variations depending on the materials of your static caravan, most holiday parks apply a 6-metre rule as the minimum space between static caravans. Your decking shouldn't block any roads or footpaths to ensure clear access in case of fire, and covered walkways are not permitted in this 6 metre gap.
Can I install caravan decking myself?
If you're operating on a tighter budget and wish to bring down the cost of static caravan decking, DIY could be a good solution.
The process of adding decking to your static caravan has plenty of pitfalls for the inexperienced. Hiring a professional can often be the best option to ensure the decking is installed correctly. They will also be able to assist in building custom features that can bring the decking to life.

See the tradespeople we've checked and recommend for your job