Last updated on March 31st, 2022
Tado installation cost guide
Take back control of your heating with a high-tech smart thermostat. Energy efficient & adaptive, discover your new thermostat with our Tado installation cost guide.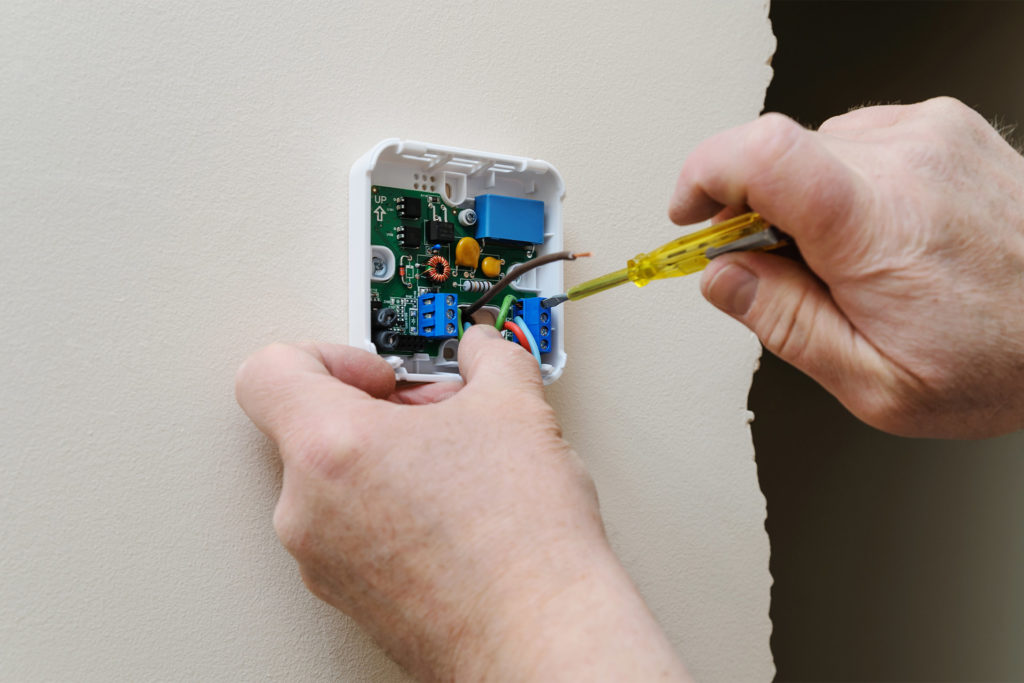 Why install a Homeserve Tado thermostat?
Thermostats can be spotted in most homes as a method to control central heating. Unfortunately, these older models are usually not great at effectively heating homes to a specific temperature.
Now becoming increasingly popular, smart thermostats solve this issue and come with a wide range of features and functions.
In this guide we will be focussing on Tado smart thermostats, however, there are a number of other options from brands such as Hive and Nest. In order to learn more about these, in particular Hive, please read our Hive installation cost guide.
With Tado smart thermostats you can not only upgrade your old system but also save on energy bills and gain better control over your central heating. Read on to discover Tado installation costs and other helpful information.
Tado installation cost
| Typical cost | Average cost |
| --- | --- |
| Installation when buying Tado | £50 |
| Installation after buying Tado | £99 |
| Tado smart thermostat | £119.99 |
| Electrician hourly rate | £40 |
Whether you choose to pay a Tado installation engineer to install the device as a package when purchasing your Homeserve Tado thermostat or you prefer to hire an electrician to do the work, this will impact the total cost of installation.
It is a wise decision and much cheaper to pay upfront for installation when you buy your Tado smart thermostat with an installation cost of £50 vs one of £90 if you pay separately. On the other hand, hiring an electrician could prove more cost-effective, depending on the time required to install the Tado smart thermostat, with electrician hourly rates being on average £40.
Benefits of a Homeserve Tado thermostat
Most smart thermostats offer a range of benefits, however, the Tado thermostat, in particular, has the following features:
Improves energy efficiency.
Can be controlled remotely from any smart device.
Adaptable to your environment.
Adaptable to your presence.
Cheaper than some other brands, such as Hive.
Cost of Tado smart thermostat
Of course, in addition to the Tado installation cost, you will need to purchase the thermostat itself. On average the cost of a Tado smart thermostat is £119.99.
Can I install a Homeserve Tado thermostat myself?
Choosing to upgrade to a smart thermostat is usually a streamlined and simple process. When paying for a Tado installation engineer you can be sure of a stress-free, quick and easy job.
Despite this, some people choose to install their thermostat themselves.
While Tado has an intuitive online installation assistant to help you along the way, you should ensure your skill level and physical ability is sufficient before choosing to complete installation yourself. There is also a high potential for damage and injury if not done correctly.
To find a local, reputable, tradesperson in your area and get a personalised Tado installation cost use our free search feature.
Tado installation cost calculator
Thankfully the majority of Tado installations are pretty straightforward and will be charged at a fixed rate. That said, you'll need to factor in the need for any additional electrical work to be done.
If the Tado installation engineer needs to carry out preparation work before installing the Tado thermostat, that will increase the price you pay.
We always recommend asking for a breakdown of costs when you get quotes for your Tado installation, so that you know exactly what you'll be paying upfront.
Tado installation quotes
We always recommend obtaining at least three quotes from our trusted tradespeople. Our request a quote feature is perfect for getting quotes for your new Tado smart thermostat – you post details about the job you want doing and we'll send it out to local tradespeople in your area. Try it out!
Tado installation hourly rates
The average hourly rate for a Tado installation engineer or an electrician to install a Tado thermostat is around £45 per hour – depending on the individual tradesperson, their experience, and where you live.
It's worth confirming any hourly rate with tradespeople you contact before hiring them, in case that affects your decision of who to hire.
Key takeaways for Tado installation costs
Choosing to pay upfront for an installation package is likely the most cost-effective option, depending on the rate of local electricians.
Benefits of the Tado thermostat include energy efficiency and remote control.
Other smart thermostat brands exist such as Hive and Nest.
For a quick and easy process, hire a professional to install your Tado smart thermostat.