Last updated on October 14th, 2022
Toilet installation cost guide
A toilet is a necessity in any home. If yours has broken and you need a new one, or you're looking to upgrade your current throne, find out how much to budget.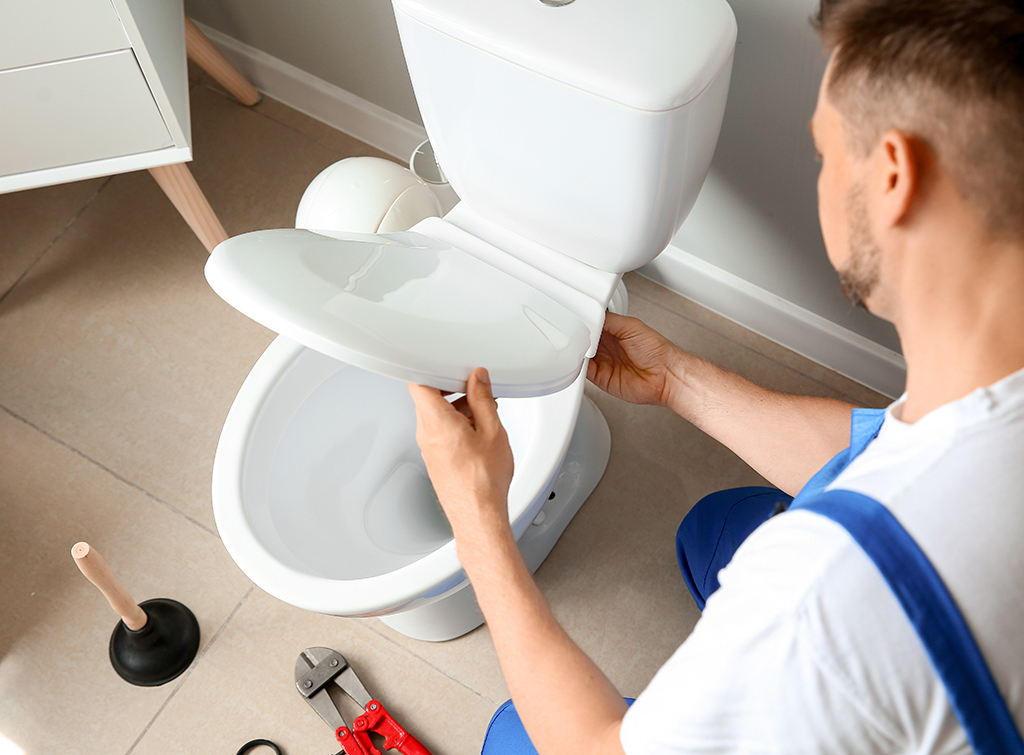 When budgeting for your toilet installation, there are some key things to consider, including what type of toilet you are fitting, the current plumbing within your bathroom and the cistern type you are using.
This guide will give you a ballpark cost to replace your toilet and install a new one. We've focused on the key factors that will affect the cost of your new toilet installation.
We recognise the importance of keeping within budget, so we've spoken to the online estimators at My Build Estimate – a professional estimating company monitored by the Royal Institution of Chartered Surveyors (RICS).
Looking for the cost of fitting a cloakroom?
Toilet installation hourly rates
| Toilet installation cost | Supply only | Install only |
| --- | --- | --- |
| Close coupled toilet | £100+ | £100+ |
| Hidden or wall hung cistern | £250+ | £300+ |
| Low level cistern | £125+ | £150+ |
| High level cistern | £200+ | £200+ |
| Specialist hands free toilet | £500+ | £400+ |
| Removing and disposing the existing toilet | - | £75+ |
| Adjust the water waste | - | £100+ |
| Build & tile the frame (hidden cistern) | - | £350+ |
| Labour costs | Range - Low | Range - High |
| Plumber hourly rate | £40 | £60 |
| Plumber day rate | £320 | £480 |
The average toilet installation hourly rate for a plumber to carry out the work is around £40-60 per hour. If it's a big job you might be charged a day rate, which is usually in the region of £320-£480 per day.
Getting a toilet installation quote
When doing your research and getting toilet installation quotes from local plumbers, it's important to speak to a number of different tradespeople to make sure you're being quoted fair and competitive costs.
It's also useful to ask for a detailed breakdown of all the costs, labour and materials so that you can easily compare them and see where costs differ.
We recommend obtaining three quotes from our trusted tradespeople. Our 'post a job feature is perfect for this – simply post details about your job and we will send it to three tradespeople near you. Try it out!
Calculating toilet installation costs
The initial costs you will need to factor in will be the cost of a new toilet pan and cistern and the consumables you may need to complete the job.
A straightforward replacement of a like for like toilet can take between 2 – 4 hours and cost from £100. But there may be additional costs you will need to factor in.
Installing a new toilet is a job that we recommend you leave to the professionals. Dealing with running water in a pressurised system and navigating waste systems without the right knowledge and experience can pose a health and safety risk.
See the tradespeople we've checked and recommend for your job
Key toilet installation cost considerations
Current plumbing
The majority of homes are fitted with gravity-feed toilets. If you are replacing an existing toilet, it's highly likely that your toilet will be this type. When installing an identical toilet in the same position as the old one, the water supply and waste pipe can simply be hooked up, and the toilet fitted quickly.
Using a different type of toilet or cistern, or moving the position of the toilet within the room will take longer and cost more.
Room access
The size and ease of access to your bathroom will affect the time it takes to complete the job. Working in tight spaces like a cloakroom toilet or loft conversion can increase the time it takes to complete the job.
The cost of a downstairs toilet installation may be lower than installing a toilet in a loft room, for example, as access is more straightforward.
Type of toilet and cistern
Your choice of toilet and cistern will have a direct impact on the time it takes to fit them and the overall cost. Your selection of a floor standing or wall-standing toilet or close-coupled or low- or high-level cistern will affect the time it takes to complete the job.
Project materials
As well as the new toilet that you are installing, you will also need to supply a new flexible hose that links your toilet to the water feed pipe. Depending on the type of toilet that you are fitting, you may need to budget for the cost to box in pipes and other cosmetic work required.
If you are fitting a different size or type of toilet to the one that is already fitted, you may need to pay for retiling of the bathroom or the affected area.
Removal of the old toilet
This job demands care and attention. Most toilets are porcelain and can break easily if they are mistreated. Toilets and cisterns also need to be emptied of water and waste before they are removed, otherwise, this water will leak out; causing damage to paintwork and flooring throughout the house.
The number of toilets being installed
The number of toilets that you need to install will have an impact on the timescales for the job and the costs incurred. Replacing more than one toilet at the same time will be cheaper than replacing them individually. In this guide, the costs and timescales supplied are for replacing one toilet.
Your property's age and condition
If your current plumbing is in a poor state of repair, is old or leaks, then you should expect to pay more. Common jobs that may also need to be completed before installing your new toilet include repairs to soil pipes and water pipes.
Some older homes may still be fitted with lead pipes – these must be replaced. If you are replacing your toilet, it makes financial sense to tackle any jobs that could, in the future, affect the performance of your toilet.
Access to plumbing
Any challenges with accessing your plumbing could increase the cost of your toilet installation. Common issues include working in narrow or tight spaces – this is a specific problem in cloakroom toilets, toilets in loft conversions and in en-suites.
If the water supply or soil pipe is inaccessible in your current bathroom (because the area has been boxed-in or tiled-over for example), your plumber may need to find ways to access them, including removing tiles, which can increase toilet fitting costs if they need to be replaced.
Whether isolation valves are fitted
Your toilet should have an isolation valve fitted to it, which enables your plumber to stop water from continuing to be supplied to the toilet. If an isolation valve hasn't been fitted, the plumber will need to cut off water to your entire property, which is inconvenient and can increase costs.
Floor-standing vs wall hung toilets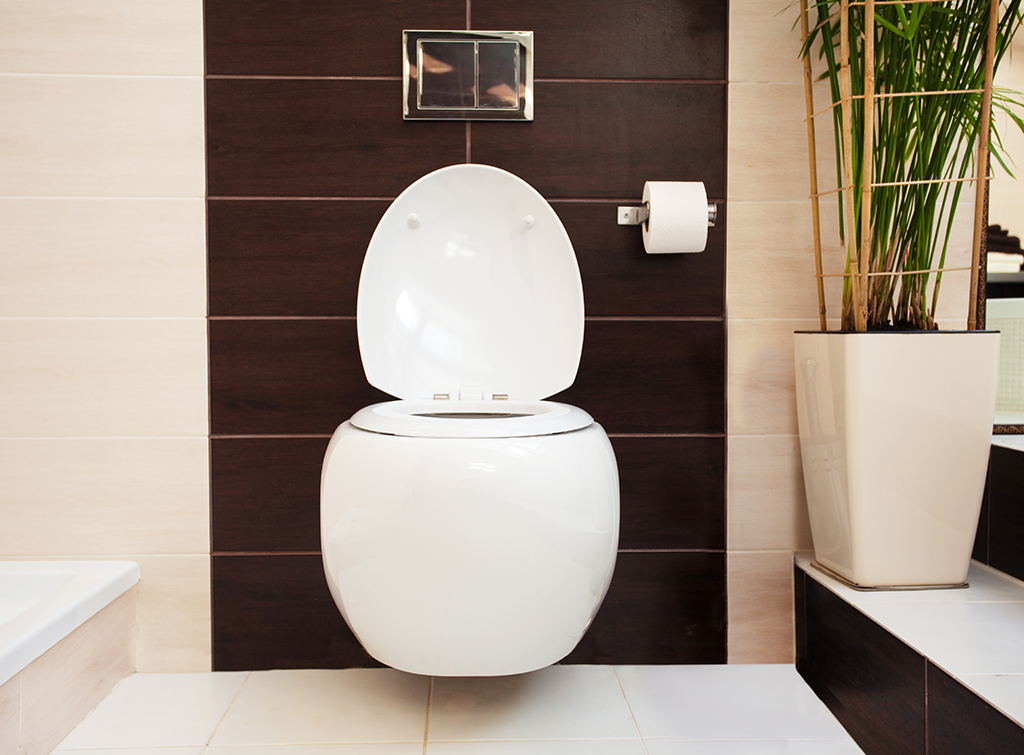 If you are installing a new toilet in a new bathroom, then the choice of which toilet to choose is yours. If you are replacing an existing toilet, it's likely to be most cost-effective to replace an existing floor-standing toilet with another floor-standing toilet or a wall-hung toilet with another.
Fitting a new wall-hung toilet in an existing bathroom can come with some complications. Unless you are directly replacing a toilet with an identical replacement, you may need to secure new fixings to the wall and adapt the current soil pipe and water supply. This can increase costs and take more time.
There may be additional costs to make good the surrounding area. Drilling new holes into tiling has the potential to cause damage which could be expensive to repair. The replacement parts and repair bills for floor-standing toilets and gravity-feed toilets are the same.
Sealed cisterns vs exposed cisterns
Some customers prefer to hide their cistern away, in so-called sealed cistern systems. The cistern itself can be mounted behind a wall, leaving only the pan exposed and accessible. Fitting a sealed cistern is more costly, with a suitable space created behind the cistern to house it.
If the cistern breaks and needs to be repaired, gaining access to it can be complicated. The bathroom fitter should make allowances for maintenance, either by fitting a maintenance panel or access tiles. If the cistern isn't accessible they may need to cut through tiles or remove sections of your bathroom wall. Repairing and replacing any tiles or touching up paintwork can be expensive.
See the tradespeople we've checked and recommend for your job
Bathroom preparation before a toilet installation
Before your new toilet can be fitted, the area will need to be prepared. This includes ensuring the area is ready for the plumber to complete their work. The time it takes to prepare your bathroom can affect the installation cost of your new toilet. If you are looking to minimise the costs of installing a new toilet, you can complete many of these tasks yourself.
Essential bathroom preparation tasks include:
Removing the old toilet and cistern
Removing a toilet is a process that must be done with care; porcelain toilets are fragile and liable to break if mishandled. Your plumber will fit a soil pipe cover to protect the pipe and ensure no nasty smells escape into your house.
Recycling your old toilet and cistern
If you want your plumber to dispose of the toilet for you, there will be a cost involved in this. Traders need to have a commercial waste license, which is something that they must pay for.
Cleaning the area
It's essential to clean the area where your new toilet will be situated, removing any dirt, grime or debris. If your new toilet or cistern is directly replacing an old one, you may be able to use the existing screw holes to bolt it to the floor. If you do need to drill new holes in the floor or wall, take care – check if there's anything underneath the area you're drilling into.
Tiling the surrounding area
If you are installing a new toilet as part of a bathroom replacement, once the toilet has been removed, you will need to wait for any flooring to be fitted and finished before the new toilet can be set in place.
Floor levelling
Your toilet must be situated on a level surface to work correctly. If the surface slopes upwards or downwards, not only will your toilet not sit flush to the floor, it may not work properly. During the preparation, you must ensure that the surface is level before your plumber comes to fit it.
Once these tasks have been completed, your plumber will be ready to begin the process of installing your new toilet.
What's involved with installing a new toilet?
The toilet installation process includes the following steps:
Removing and disposing of the old toilet.
Preparing the area, including removing and replacing any tiles and flooring.
Measuring up the area in advance of the installation process.
Remove the soil cover on your new toilet and add the wax ring.
Connect your toilet to the soil pipe.
Secure the toilet to the floor (if it's a floor-standing toilet) or to the wall if it's a wall-hung toilet.
Install the cistern tank.
Connect the water pipe to the cistern.
Turn on the water.
Turn on the water to the rest of the property (if this has been turned off).
Finish the area.
Toilet pre and post-installation checklist
Measure up your bathroom.
Take a note of the existing type of toilet pan and cistern system that you have fitted.
Look at how the toilet and cistern are secured to the wall and/or floor.
Look at the current state of the plumbing.
Decide on what type of toilet and cistern type you want to fit in your bathroom.
Speak to an expert to understand the implications of your toilet choice.
Decide who will safely remove and dispose of your existing toilet and cistern.
If you are using a plumber, ensure that they are qualified and registered with the appropriate professional bodies.
Once the toilet is fitted check for any leaks or damage before signing off the work or using the toilet.
See the tradespeople we've checked and recommend for your job