Fitting tiles to your bathroom and kitchen is a practical choice that can make a room more attractive and durable.
Tile fitting costs are affected by several factors, such as the tiler cost, the complexity of the job and your choice of tiles. As well as being functional, tiles can be fun – adding some personality to your property.
In this tiling cost guide, we'll explore the typical tile labour costs and the average floor tiling cost per m2 that you can expect to pay. As well as floor tiling costs, kitchen tiling costs and for the household, we explore the cost of tiling a bathroom per square metre.
The costs included here are the tile labour costs, typically charged per hour or per day. They do not include any preparation that may be required, the tiles and any materials and any other additional expenses you may incur.
Our prices in this guide were provided by the online estimators at My Build Estimate – a professional estimating company monitored by the Royal Institution of Chartered Surveyors (RICS).
| Cost of tiling | Unit | Average cost |
| --- | --- | --- |
| Tiling | Per-hour | £35 |
| Tiling | Per-day | £200 |
| Tile a medium-sized bathroom (walls and floors) | Per-job | £850 |
| Tile a kitchen | Per-job | £650 |
Tiler cost quotes are usually broken down into the cost based on the area being tiled. Typically, tile fitting costs are provided at a price per square metre (m2).
The total tile fitting cost you will pay includes two elements: the tile labour cost and the cost of the tiles and materials.
What factors affect the cost of a tiling project?
Some of the factors that will affect your tile fitting quote include:
Style and design of tiling ­
Plain tiles are going to be simpler to fit than elaborate patterned tiles, so expect to pay a little more if you want pattern tile fitting.
The costs of tiling per square metre can increase if you want the pattern to continue around obstacles. Mosaic tiles used in bathrooms are fiddly to fit and are more expensive.
Type of tiles
The style, size and quality of the tiles you choose will affect your total tiling costs. If you are using a particularly expensive tile, then expect your tiler will more than likely take a little more time so as to treat them carefully and avoid breakages.
M2 size of area being tiled
The size of the area being tiled may have some bearing on cost, but more important is how easy it is to lay tiles. If your tiler has to cope with challenging conditions, uneven walls, sloping surfaces, tight spaces, this can cost more.
Most of the time you'll be quoted a cost per m2 for tiling, so it's important to know the area you need to be tiled.
Experience of the tiler
The more experienced the tiler, the more the tiler may cost.
Location
Floor tiling costs per m2 vary across the UK, with the cost of tilers in cities such as London higher than the rest of the country.
Paying your tiler per-metre or per-day
Your tiler may provide a quote in days, rather than metres squares. Expert tradespeople may be able to lay more tiles per day than others, which may mean the average tiling costs per square metre may be lower.
Average tiling costs per square metre
Here are some average tiling costs per square metre for common household tiling jobs.
Cost to tile a kitchen or bathroom floor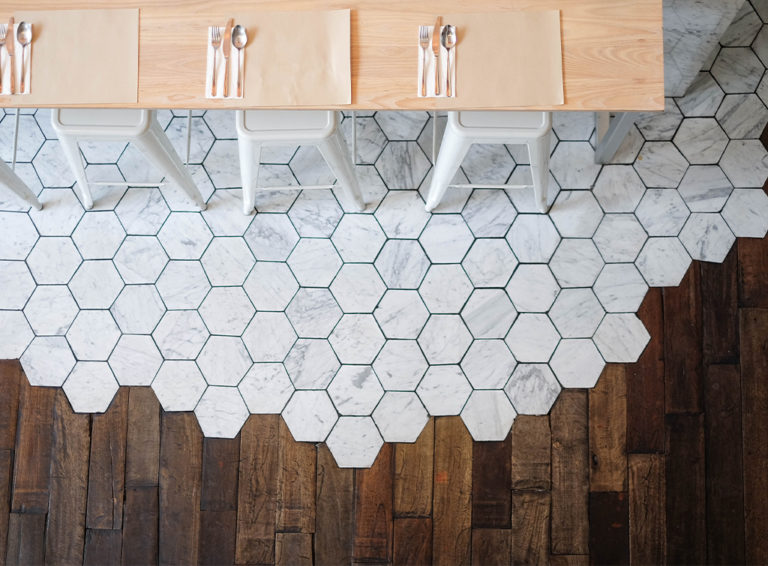 Bathroom tiling costs are generally the same as kitchen tiling costs when it comes to flooring, with the average floor tiling cost per m2 being £35.
Floor tiles are often more expensive than wall tiles as they need to be hard-wearing to cope with feet, furniture and the trials and tribulations of daily life.
As outlined above, expect to pay higher bathroom tiling costs for complex patterned floor tiles, or if you expect your tiler to maintain a pattern around units or other obstacles.
Cost to tile a bathroom
The average cost to fully tile the walls and floors of a bathroom is £850.
Before tiling your bathroom, your tile fitted will expect all works to have been completed, including all preparation of walls and surfaces.
Tiling a bathroom floor, including tiling around toilets and tiling around baths, should be straightforward, but costs will vary according to your choice of tile. Mosaic tiles popular in bathrooms can be fiddly to fit, and so expect the tiling costs per m2 to reflect this.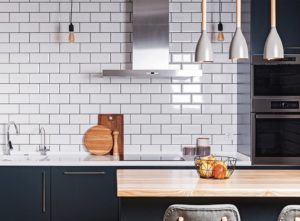 If you simply want your tiler to tile around a bath, this will cost around £200 – £300.
Kitchen tiling cost
The average kitchen tiling cost is £35 per square metre. The total kitchen tiling cost depends on a range of factors, such as the size of your kitchen, the type of tiles you have chosen and your location.
If you are planning on tiling a kitchen floor, be prepared to spend around £650.
Smaller jobs such as tiling a backsplash may be quoted on a job-by-job basis rather than by the metre.
Other tiling costs to consider
The costs in this guide are only for tiling. Additional costs you should budget for include:
Materials (such as grouting + adhesives) – while not expensive, your tiler will ask you to pay for grouting and adhesives required for the job.
Wall prep (plastering) – your tiler will expect all surfaces to be prepared and ready for tiles before they turn up. Uneven or unfinished surfaces aren't suitable for tiles and may result in delays in completing the job.
Removing old tiles – if you have existing tiles in place, they will need to be removed, along with all remaining adhesive and grout.
Tiling area – If you have a very small area (less than 10m2) then the price per m2 is likely to go up.
Underfloor heating – tiling on top of underfloor heating can be challenging, so be prepared to pay more if you ask your tiler to do so.
The costs in this guide are based on fitting standard tiles. Other types of tiling will be more expensive, with average costs per square metre below:
Mosaic tiling – average £75 per m2
Victorian patterned tiles – average £100 per m2
Stone tiling – average £75 per m2
Marble tiles – average £75 per m2
Should I tile a floor myself?
If money is tight or you love a challenge, you may be considering laying your own tiles. While you will need to invest in some special equipment, laying your own tiles can be cheaper than paying a professional, but it's a highly skilled job.
Professional tilers spend years perfecting the ability to lay tiles uniformly, maintaining straight lines and patterns. If you take pride in your home or are looking to sell it in the near future, we recommend using the services of a professional for the best finish.
If you are searching for a tiling quote or are interested in the cost of tiling per square metre in your area, you can find the largest collection of trusted tradespeople at Checkatrade.
Top tips from a Checkatrade professional
Getting it right the first time
Choose the colour of the tiles wisely
Select the size of tiles with care
Pick grout colour with levels of traffic in mind
Consider rectified tiles, the finish is superior
Don't buy adhesives and grout until you have spoken to your tiler
Tile colour selection
Sometimes dark tiles can make the room look smaller.
The size of tiles is important
Not too big a tile in a small room, or not too small a tile in a large room.
Grout selection is key
Picking a grout colour is very important. White or a light colour is probably not a good idea on floors, even if the tiles are that colour, because the high traffic areas, ie kitchen sink, cooker etc will get dirty a lot quicker than the low traffic areas, and it will show.
Machine cut tiles are precise
Rectified tiles are cut instead of moulded, this means that the calibre (size) of the tile is very precise, so a tile fixer can fix using a smaller grout joint, normally 2mm.
Adhesives and grout selection can be a minefield
Try to avoid buying the adhesives and grouts without asking the tile fixer first. A lot depends on the type of tile and the substrate they are being fixed to.
And always have plenty of tea bags in the cupboard, tile fixers are renowned for drinking lots of tea!
Tiling cost key takeaways
The average tiling cost per square metre is £35.
The total cost you pay for tiling will be affected by the type of tiles you choose, the size of the room you're having tiles and your location.
The average bathroom will cost £700 to tile.
Expect to pay around £35 per metre to tile a kitchen floor. If the area you want to be tiled is less than 10m2, expect to pay more.
Tiling may look simple, but it's a challenging job that shouldn't be attempted by novice DIY-ers
Tell us what you think
What others think of this article:
Need More Information?
Related posts