Tree planting cost guide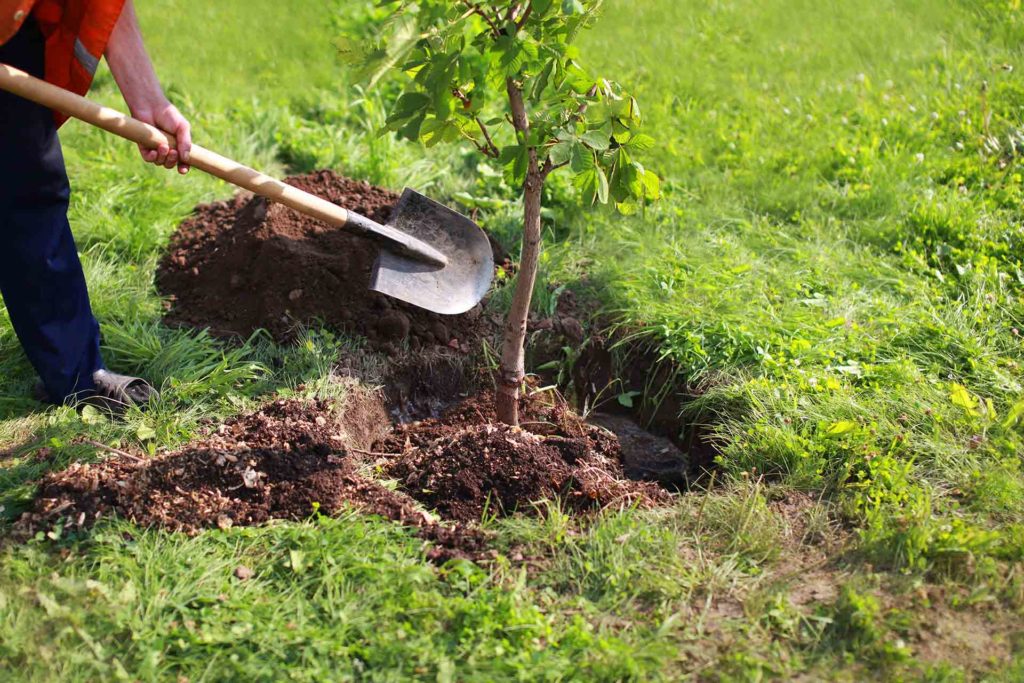 Thinking of planting a new tree in your garden, or perhaps an orchard or a small forest of new trees? This can be a great way to add more greenery and natural beauty to your garden, as well as some privacy. It can provide a habitat for birds and other wildlife, help to combat air pollution and be good for the environment overall.
In this guide, we'll look at the average tree planting cost, so that you can plan your exciting garden project.
How much does tree planting cost for saplings?
Let's start small, with the average cost of planting a sapling in your garden. The price of course depends on which species of tree you choose, and whether you can plant it yourself. But as you'd expect, planting a sapling is much cheaper than planting a mature tree.
On average, the cost of a sapling is between £22 and £55. You will need to wait a long time for the tree to mature into its full size.
Can't wait that long? Choose a faster growing species like bamboo. The typical bamboo plant price is around £45.
On average, a gardener will charge a day rate of £200, or between £15 – £45 per hour. A landscape gardener will charge on average £230 per day. Check out our gardener prices cost guide for more information.
| | Low cost | High cost | Average cost |
| --- | --- | --- | --- |
| Supply and plant a small tree | £200 | £300 | £250 |
| Cost to plant a large tree | £220 | £950 | £600 |
Tree planting cost for small trees
A small tree is a good compromise between shelling out for a mature tree and waiting decades for a sapling to develop.
How much does it cost to plant a mature tree?
If you'd love a fully developed tree in your garden, you'll need to bring in a professional arborist to plant it. It's just too large a job to safely tackle yourself. Besides, it requires skill and knowledge to correctly plant a mature tree so that it thrives.
The average tree planting cost for mature trees is anywhere up to £1,000, but it depends on the species and the difficulty of the terrain to be dug.
Tree transplanting cost
Tree relocation, or tree transplanting is useful if you're redesigning your garden and don't to lose any cherished trees, or if you want to move a tree with you when you move home. Depending on the scenario, and type of tree, you may require the services of a tree surgeon, which will tend to start at around £120 per hour and are often subject to minimum fees. This service should include the tree installation cost if moving trees from one place to another within the same location.
How much does a tree planting service cost?
Some arborists and landscapers offer a tree planting service. These will factor in costs such as trees, planting material, soil, transport and labour. This service should cost around £25 per hour. The overall cost of using a tree planting service depends on the size of your garden.
Find an arborist near you to plant your tree
FAQs
Do I need planning permission to plant a tree in my garden?
You shouldn't need planning consent or any other permissions to plant a tree in your own garden. However, you will need to consider the impact of branches and roots on your neighbours and their properties, if you're planting a tree close to the boundary. It's also important to be considerate when it comes to blocking out light for your neighbours.
Where's the best place to plant a tree?
It's important to plant your new tree a comfortable distance from the foundations of your house. You should also think about drainage, and the shade the tree will cast on other plants. Overall, it's best to consult expert advice on what conditions the tree needs in order to thrive.
What maintenance do trees require?
As they grow, trees require more care and attention. It's a good idea to use a professional arborist for occasional pruning, irrigation care and treatment for diseases.
Find an arborist near you to plant your tree
Good jobs, guaranteed
Get covered when you book with Checkatrade.