Last updated on July 21st, 2022
Truss roof cost guide
If you're considering building your home with a truss roof, we've put together the following guide to give you an overview of the average truss roof cost.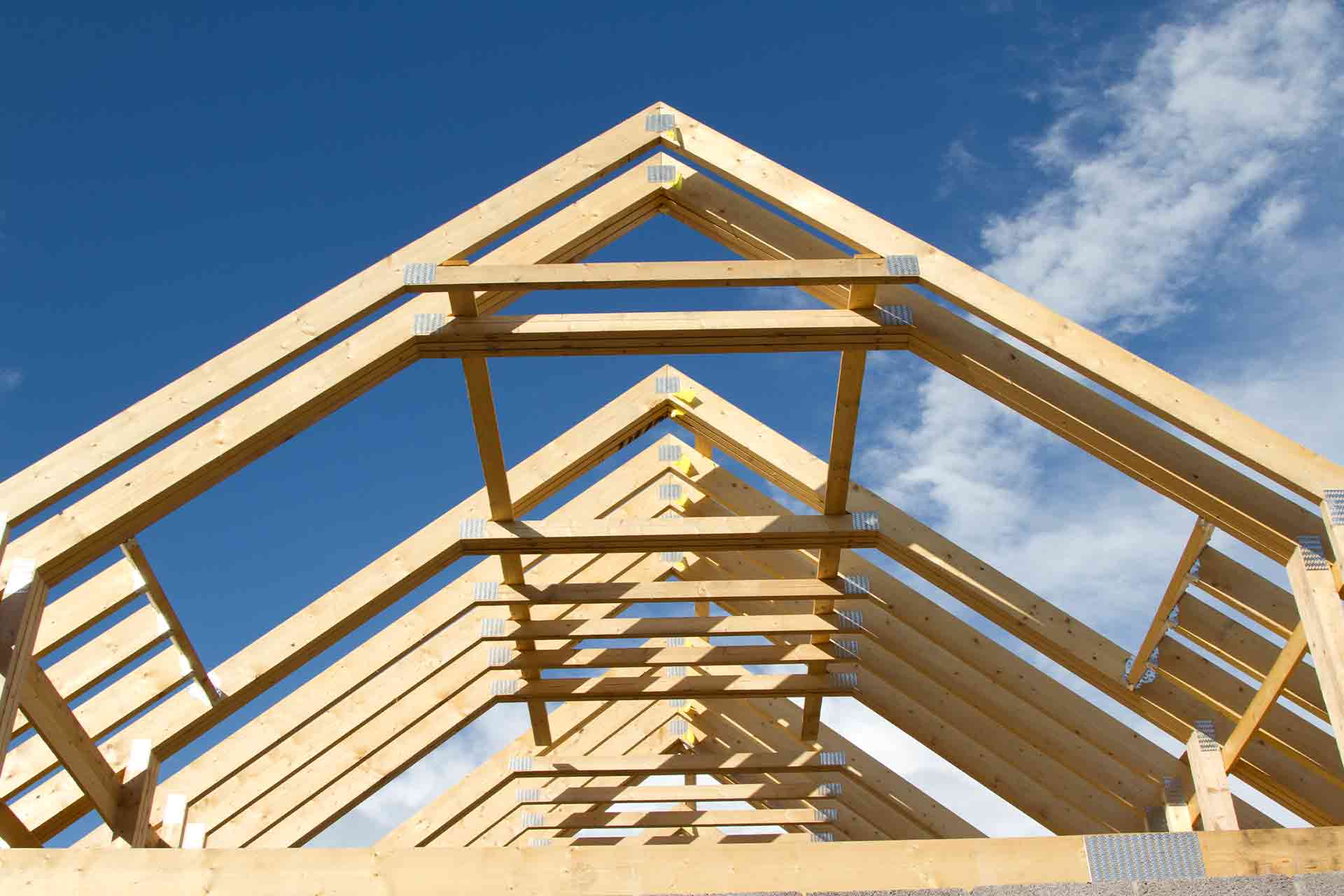 Highly versatile and exceptionally durable, roofing trusses are an increasingly popular choice for homeowners. Designed to span large distances and support the roof of a building, these triangular wooden structures help to keep the integrity of a roof.
When you're ready to get started, use our free search tool to find roofing experts in your local area.
Truss roof cost
| Materials | Unit | Average cost |
| --- | --- | --- |
| Roof trusses | Per m2 | £85 |
| Roof trusses | 55m2 build | £4,680 |
| Roof tiles - clay plain tiles | 55m2 build | £13,200 |
| Counter battens | 55m2 build | £1,600 |
| Insulated ceiling to roof trusses | 55m2 build | £3,600 |
| Closed eaves | Wall plates, fascias, soffits and guttering | £1,820 |
| Gables | Gable rafters and bargeboard | £1,135 |
| Scaffolding | Per m2 | £20 |
| Skip hire | Each | £250 |
Roof trusses, also known as trussed rafters, are a critical consideration in any new build. When it comes to costs, there's a lot to take into account.
Before they can be designed and ordered, the type of truss will need to be specified, along with the span and pitch of the roof. For a standard new build property of 55m2 in size, the cost of roof trusses would be £4,680.
Next, there's the cost of labour. Typically, professionals in this trade work in pairs for safety reasons, and charge a combined day rate of approximately £400. The truss roofing will take approximately seven days to install, coming to a total cost of around £2,800. In total, we recommend budgeting around £7,480 at least, but keep in mind that the larger the span of the roof, the higher the cost.
| Tradespeople required | Unit | Average UK Cost |
| --- | --- | --- |
| 2 x Roofers / Carpenters | 7 Days | £2,800 |
| 2 x Roofers / Carpenters | Per day | £400 |
While you can attempt the build yourself with a truss roofing kit, the costs for all the materials plus skip hire and scaffolding will add up, and for the sake of an relatively small extra amount, it's worth getting a team of professionals to ensure correct installation.
What factors influence the roof truss cost per square foot?
Our table on the right provides a rough truss roof cost calculator. However, the total price you can expect to pay for these will depend on a myriad of factors, including:
Truss type: This relates to the shape of your roof;
Span (mm): The distance across the length of the truss;
The pitch (degrees): This relates to the angle that the beams will be from the walls up;
The quantity: The number of trusses required;
The distance: The space between the trusses and complexity of design;
The location: Prices always skew higher in big cities where the demand is greater.
Since so many factors influence the total truss roof cost, always leave room in your budget during planning.
See the tradespeople we've checked and recommend for your job
Types of truss roof
Fink roof truss: A fink roof truss is the cheapest type as it uses small timber sections that can nearly always be installed in just a day. However, it won't give you much roof or attic storage space.
Attic truss: An attic truss will give you a lot more space in the attic, as you'd expect from the name. The only problem is that these trusses are made from heavier timbers, which means they cost a lot more.
Traditional cut roof: A traditional cut roof is very similar to an attic truss and costs around the same.
Gambrel truss: A gambrel truss has a 'dutch barn' look that has more than one pitch on each side. The gambrel truss cost is usually higher due to the fact it uses more materials and labour is more expensive. Generally, gambrel roof truss prices are around 15-20% higher than those of gable roofs.
Panelised roofing: Panelised roofing is achieved by laying preinsulated sheets across roof beams. It's more expensive to buy a roof like this, but fitting costs are less as the panels have insulation in them already.
FAQs
What is the truss roof cost per square foot?
With a range of materials and design elements to choose from, it's easier to calculate the truss roof cost per square foot or square metre. We recommend working on a baseline cost of about £85 per square metre. 
Are truss roofs cheaper than rafters?
The average truss roof cost as a prefabricated package is around 30%-50% cheaper than the material and labour costs to build rafters on site.
How long do truss roofs last?
Known for their durability, timber roof trusses last as long as the home itself if they are maintained in a dry environment. Regular roofing maintenance will extend the lifespan of the trusses, preventing moisture from leaks or erosion from termites from damaging the frame.
Can I build a truss roof by myself?
Completing a truss roof project requires expert knowledge and specialist tools. This is one part of your housing project you do not want to mess up! If you have previous experience in roofing, you may attempt this project on your own, but will likely employ subcontractors to speed up the process and aid in the build.
Use our search tool below to start getting quotes for your truss roof.
See the tradespeople we've checked and recommend for your job