Last updated on March 31st, 2022
Updating your fascia and soffits cost
Few products affect a home's external envelope, quite like its guttering system. Alongside the fascia and soffits, the system can make a significant difference in the kerb appeal of a property.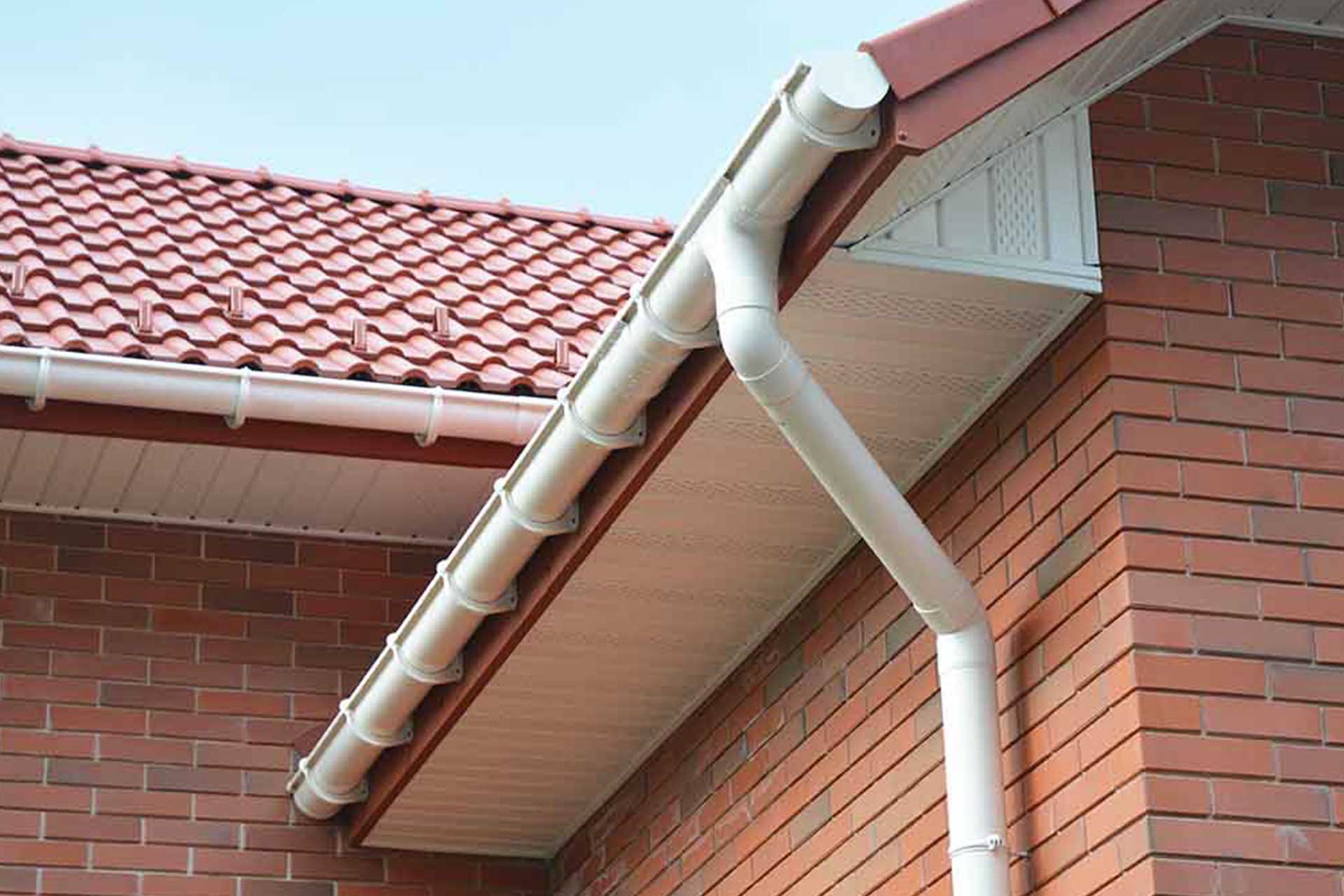 It is easy to add instant kerb appeal to a tired-looking home by replacing the roofline fascia and soffit boards, Fascia and soffit boards are typically replaced due to rotting (wooden boards), discolouring, or as part of a bigger project such as a new roof or even replacing the guttering. In this cost guide, we provide a breakdown of average prices for replacing, repairing, capping and painting soffits and fascias. We also provide a cost per metre making it easy to calculate an estimate for any job.
How much does it cost to replace fascia and soffits?
As always, the price to replace gutters and fascias depends on the size of your home. Usually, the value of the fascias and soffits are only a small component of the total price. In fact, scaffolding represents typically around a third of the cost of the overall job.
Cost provided item
Unit
Price range - Low
Price range - High
Average UK cost
Replace fascias and
soffits
Per lm
£85
£115
£100
Replace bargeboards
Per lm
£100
£130
£115
Replacement tiles and waste
Per lm
£12
£25
£18.50
Replacement guttering
Per lm
£30
£45
£37.50
Hire access scaffolding
Per m²
£18
£26
£22
uPVC replacement for old fascias and soffits - small semi-detached property (excl scaffolding costs)
Ea
-
-
£1,540
Capping old fascias and soffits with a uPVC cover - large semi-detached property

Ea
-
-
£3,000
Capping old fascias and soffits with a uPVC cover
Per lm
-
-
£85
How much to paint fascia and soffit?
It depends on the size of your home and whereabouts in the country you're based, but the average price is somewhere around £825. The amount will also depend on the condition of your fascia and soffits and how long the contractor needs to spend preparing the boards before painting.
Why replace fascias and soffits?
Fascias bear the brunt of the weather and any leaks from your gutters will drip across the fascia boards, making them vulnerable to weather-related deterioration. It is often a practical and economic solution to replace wooden fascias with UPVC fascia board because UPVC requires very minimal maintenance and is weatherproof and therefore durable. Soffits are less vulnerable to weathering due to their more protected positioning, however, if fascias are being replaced it is often sensible to replace them at the same time. If the existing gutters on your home are more than 10 years old, it may make financial sense to replace them with new ones whilst undertaking your fascia and soffit replacement project.
Some homeowners may be tempted to avoid maintaining their fascia and soffit boards in the belief they can save money, but this is often not the case. Rotten timbers around the roofline will eventually lead to rotten roofs which are much more expensive to replace. If your timber roofline is still in decent condition, you can actually save money by simply capping the timber fascia and soffit boards with uPVC roofline products. Capping or over-capping simply means fitting a PVC fascia board on top of the original timber, this not only looks much better, but it also protects the timber and is much cheaper than completely replacing all the timber with plastic products. The capping average cost is £50 per metre.
When should I replace my guttering system?
There are several signs that homeowners should look out for when assessing whether it's time to replace their guttering system. It's important to remember, most gutters don't need regular replacement. In fact, aluminium models will last around 20 years without requiring an update. However, if you see any of the following indicators, then it could be time for a change:
Cracks or holes
Broken fasteners
Nails or screws coming loose
Separation of guttering profiles
Peeling exterior paint
Pooling water
See the tradespeople we've checked and recommend for your job
How long does it take to replace your guttering system?
Most roofline tradespeople will work on guttering replacements in teams, so work progresses relatively quickly. The majority of jobs can be completed in half a day, in general, if you are having fascia and soffit boards replaced you're looking at around 1-2 days worth of work. If your property has a lot of curved edges, or if it's an unusually large home, then the installation process might take longer.
How much will it cost to replace my guttering?
A typical replacement cost of guttering on a semi-detached property is around £600 to £800. However, if you want to take the task on for yourself, then it'll be much cheaper. Material costs will normally be around £200, with a further £50 needed to remove the waste once completed. The cost to replace an existing piece of UPVC guttering averages around £33 per metre. However, if the gutter is manufactured from cast iron, then this will be more and often costs around £57. Again, we'd always recommend bringing in an expert to get the job finished correctly as it's not a straightforward task.
See the tradespeople we've checked and recommend for your job
How do you replace fascia boards?
Replacing fascia boards is a relatively tricky DIY task, and it's best to leave the job to an expert tradesperson. If you want to take on the responsibility for yourself, then it's essential to remove the existing timber fascia boards instead of just capping over them. Always check the exposed rafter for rot and if it's visible, then it's crucial to replace the component.

Fix the fascia boards with two nails to prevent them from buckling. It's important to remember that the boards must hold the weight of the roof tiles, the guttering, rainwater and any snow that may form during winter. Ensure that all windows can be fully opened and that the new boards aren't causing an obstruction.

See the tradespeople we've checked and recommend for your job
Soffit and fascia FAQ
What are soffits?
Soffits are the underside element below a fascia, which itself is situated where the roof and exterior house walls meet.
What is the fascia on a house?
A fascia is a board mounted at the point where the roof meets the outer walls of the house. It is used to give a finished appearance to the roof where it meets the wall.
What do asbestos soffits look like?
Old fascia and soffit boards may contain asbestos, if you suspect this may be the case, do not go near the boards until you have them checked by a professional for safety. Once they are painted, asbestos soffits will probably appear like any other ply boards. For more information read our cost guide on asbestos removal.
How to clean fascia and soffit?
Fascia and soffits can be cleaned with common household goods such as laundry detergent or dishwashing liquid. Fill a bucket with warm water, set up a ladder and simply use a large sponge to wipe away the dirt on the surfaces. Rinse the soapy water off with a hose when the scrubbing has been completed.