Last updated on October 14th, 2022
Gutter replacement cost guide
Damaged gutters can lead to a whole list of serious problems for your home. In this guide we look at the average gutter replacement cost for gutters in poor condition.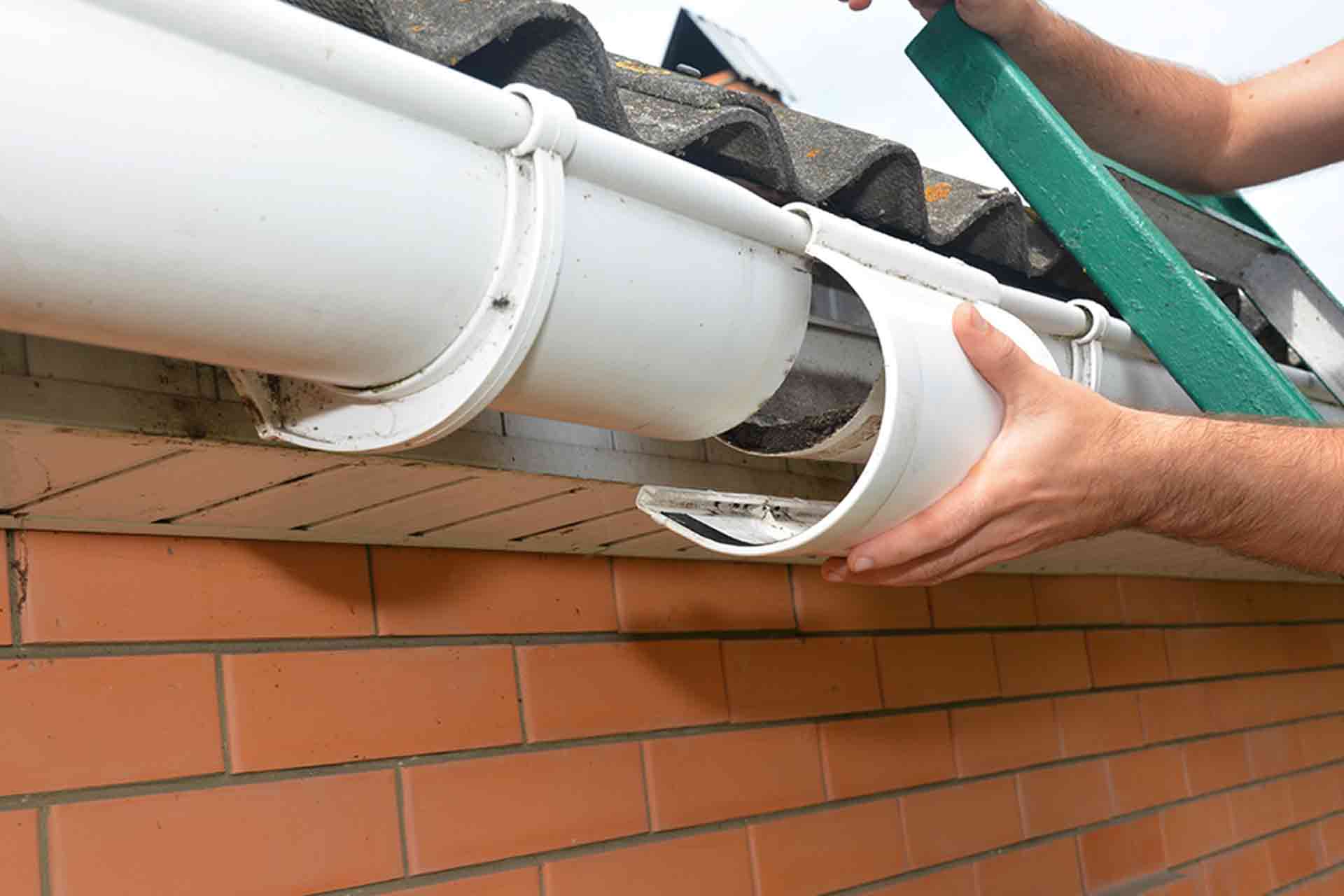 Leaks from gutters can damage brickwork, cause penetrating damp and other nightmares for homeowners. Bad weather, strong winds and heavy rain can often cause damage to gutters, so it's important to keep an eye on your guttering system.
If you notice any issues, it's best to get them fixed as soon as you can to avoid any secondary problems.
How much does gutter replacement cost?
The average cost of gutter replacement for 15-20 metres of guttering with three rainwater downpipes is around £900 – for supply and installation. That will depend on a number of factors, but mainly the amount of guttering needed and the type of guttering material you use.
| Gutter job (supply and fit) | Range - Low | Range - High | Average cost |
| --- | --- | --- | --- |
| Average gutter replacement cost (15-20m guttering + 3 downpipes) | £800 | £1,000 | £900 |
| Leaf guard on existing gutter (per m) | £25 | £30 | £27.50 |
| Replace a gutter support bracket | £18 | £20 | £19 |
| Fit uPVC stop end | £17.50 | £22.50 | £20 |
| Gutter realignment (per m) | £15 | £25 | £20 |
| uPVC gutter replacement inc fixings (per m) | £40 | £50 | £45 |
| Cast iron gutter replacement inc fixings (per m) | £75 | £85 | £80 |
| Aluminium gutter replacement inc fixings (per m) | £50 | £60 | £55 |
| Replacement uPVC down pipe inc fixings (per m) | £35 | £45 | £40 |
| Replacement cast iron down pipe inc fixings (per m) | £95 | £115 | £105 |
| Replacement aluminium down pipe inc fixings (per m) | £50 | £60 | £55 |
Also, you might be able to repair your existing guttering instead of replacing, depending on the extent of the damage. In which case, the costs would generally be lower to repair than replace. This is something to discuss with your local guttering experts.
Average rain gutter replacement costs
The costs for your rain gutter replacement work will depend on the job that needs doing. Individual units can often be fixed without having to replace the whole guttering system of the property. Therefore, it's important to understand the extent and location of any gutter damage.
For example, replacing a gutter support bracket costs £19. Taking off and replacing uPVC gutters with all fixings will cost around £45 per metre.
The cost of replacing a gutter down pipe will depend on the new gutter material. To replace with a new uPVC gutter is about £40 per metre. If you want a new cast iron down pipe the cost will be nearer £105 per metre.
For other costs, such as concrete gutter replacement, roof and gutter replacement, or soffit and gutter replacement, a local gutter expert can help with costs.
See the tradespeople we've checked and recommend for your job
Gutter replacement labour costs
Often the main cost of replacing gutters is the labour. Parts, especially uPVC guttering, are fairly cheap but it's the time it takes a guttering specialist to fit them that adds up. A guttering expert will charge around £30 per hour.
How much to replace guttering per metre
The material you choose for your replacement guttering will massively affect the cost of the job. Plastic gutters are by far the cheapest at an average cost of £45 per metre including fitting. It's no surprise that most people opt for plastic for their gutters.
If you want metal guttering then you'll pay more. For example, cast iron guttering costs about £80 per metre and aluminium will cost around £55 per metre.
Factors affecting the cost of gutter replacement

There are a number of factors that will influence how much you pay for gutter replacement, including:
Length of guttering
Type of units being replaced
Gutter material
Time to carry out work
Extent of damage
Type of property
Where you live
If you live in a semi-detached or terraced house, you may need to repair a shared guttering system that will involve getting a like-for-like material. This will affect your cost and you may need to speak to your neighbours if the gutter problem is in their section of the guttering.
Common issues with guttering
Some of the most common problems that homeowners encounter with their guttering systems are:
Blockages – caused by leaves and debris in the gutters.
Sagging – due to plastic eroding and warping over time.
Loose sections – usually due to weather damage or poor installation.
Missing sections – most commonly brackets tend to break due to wear and tear and cause pipes to get dislodged and eventually fall apart.
Holes or leaky sections – usually caused by wear and tear or weather damage.
Can I replace guttering myself?
Due to the height of most guttering, we recommend getting a professional to fix or replace your gutters. You'll need safe access to the gutter at height, with scaffolding being the ideal option to avoid dodgy ladders or the risk of falling.
Unless you're experienced and confident working at height we suggest speaking to your local guttering experts to come and quote for the job. You also want to make sure that all guttering is installed properly to avoid any future leaks or unnecessary damage.
Useful gutter replacement checklist
If you notice any damage to your guttering system, speak to a local expert as soon as possible to avoid any further damage to your property.
If you live in a terraced or semi-detached house and the gutter problem affects, or is affected by, a neighbour's gutters, make sure you speak to them to agree on the gutter work before you hire anyone.
Shop around with local tradespeople to get fair and competitive prices for gutter replacement.
Always hire a tradesperson with relevant gutter experience and ask for references from previous clients.
When hiring a local gutter specialist, always ask for the details of what is and isn't included in their quote.
See the tradespeople we've checked and recommend for your job