Last updated on March 31st, 2022
Urinal installation cost guide
Urinals certainly aren't common in homes across the UK, but they are a common feature of bathrooms in bars, restaurants, offices and other public toilets. If you're responsible for installing a urinal, we've put together this urinal installation cost guide for you.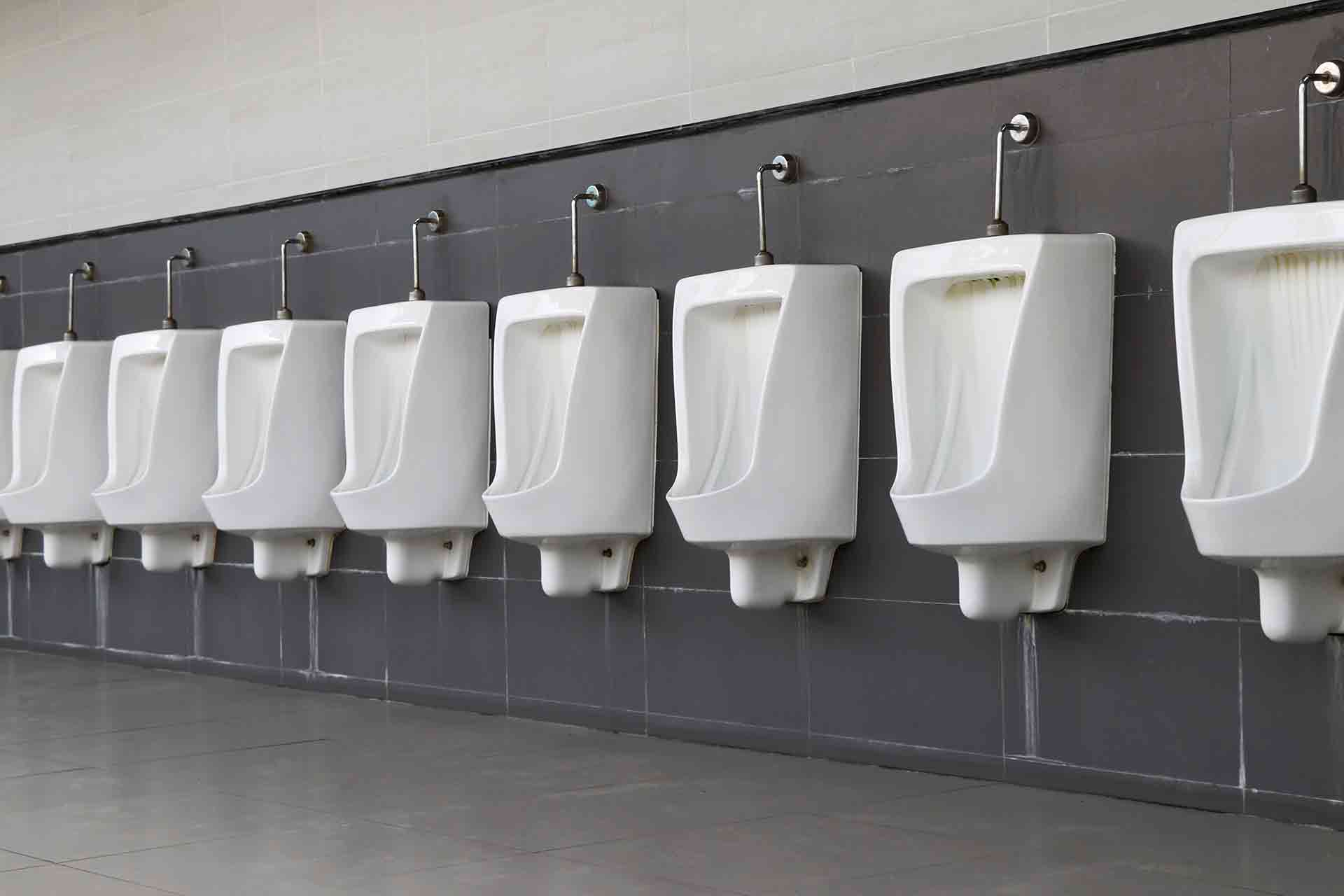 Urinals certainly aren't common in homes across the UK, but they are a common feature of bathrooms in bars, restaurants, offices and other public toilets. However, it may be a funky feature for your bathroom, and even a real space saver in any small ensuite or cloakroom.
We look at the different types of urinal and the costs associated with installing them. From single and double ceramic bowls to metal trough urinals. The prices quoted in this article are meant to act as a guide, for accurate quotes we recommend contacting your local urinal specialists.
If you're looking for information on domestic toilet installation rather than a urinal, check out our toilet installation cost guide.
| Item | Range - Low | Range - High | Average cost |
| --- | --- | --- | --- |
| Single ceramic urinal bowl | £100 | £300 | £200 |
| Double ceramic urinal bowl set | £300 | £600 | £450 |
| Metal trough urinal | £250 | £1,300 | £650 |
| Plumber hourly rate | £40 | £60 | £50 |
| Plumber daily rate | £320 | £375 | £350 |
How much does it cost to install a urinal?
The cost for a single ceramic urinal bowl is about £200 per bowl for the materials, and on top of that you have the installation labour cost. For a double ceramic urinal bowl set, the cost is around £450 per set. If you're opting for a metal trough urinal instead, the average cost is around £650 per trough.
Urinal installation labour costs
To install a urinal, a plumber will usually charge an hourly rate of about £50 per hour. For urinal installations that take a little longer, the average plumber day rate will cost around £350 per day.
See the tradespeople we've checked and recommend for your job
Factors affecting the cost of urinal installation
There are a number of factors that will affect the price you pay for urinal installation. Each installation project is different so it's important to discuss the details of what you need with your local urinal installation specialists.
Some of the key factors that will affect the cost are:
Type of urinal
Quantity of urinals needed
Quality of materials used
Complexity of the installation
Time it takes to complete the installation
Any prep work needed
Location
Which type of urinal do I need?
There are effectively two different types of urinal: bowl or trough.
Trough urinals
Most trough urinals are made from stainless steel, although you can also get ceramic troughs, which are generally more expensive to buy and install. Installing a trough urinal will typically cost less than bowl urinals because one unit will accommodate multiple people at the same time, where you would need multiple bowls.
Another cost saving for trough urinal installation is that they only need a single waste pipe for the whole trough – making it quicker and cheap to install. The main downsides of a trough urinal is that many find them less attractive visually, and they offer less privacy than individual bowl urinals.
Summary… Trough urinals are most appropriate for high-traffic venues that will often have multiple people using the urinal at the same time. They're also well-suited to large bathrooms where installing individual bowl urinals could be very expensive.
Bowl urinals
Bowl urinals are extremely popular, particularly in smaller or awkward spaces where a trough urinal wouldn't fit. Bowls tend to offer far more privacy than a trough, however they are less cost-effective as they effectively require the same installation effort as a 4-person trough urinal but only give the capacity for one person.
Bowl urinals are also recommended by the Department for Education and Skills as part of their Toilets in Schools Guidance due to the additional privacy they offer, compared to a trough urinal.
Summary… Bowl urinals are the better choice for small venues, such as cafés or small restaurants, or bathrooms with limited or awkward space. They're also a better choice if you're looking to offer a greater degree of privacy.
Types of urinal system
There are three common types of urinal system, which will affect the cost you pay for both the materials and installation. They are:
Cistern supply urinals
These are the most common type of urinal system in the UK, and they're either installed as exposed or concealed. With exposed systems the cistern is mounted on the wall, whereas a concealed installation involves hiding the cistern unit behind the wall.
In general, the concealed urinal installation will cost more due to the more complex job involved to install the unit behind a wall.
Mains supply urinals
Mains water flushing urinals are gaining popularity in the UK, mainly due to the fact that you don't need to install a cistern and related pipework. The mains flush is controlled by a button or sensor and is much easier, and less expensive to install.
Waterless urinals
Waterless urinals are the most environmentally-friendly system, as they don't use water in a flush system. Instead, they consist of a replaceable cartridge which emits a fragrance to prevent odours from rising from the drain of the urinal.
Why don't homes have urinals?
There are a number of reasons that could explain the lack of domestic urinals, such as:
Lack of space. Most bathrooms simply don't have the space to have a toilet unit and a urinal.
Added expense. It's an unnecessary cost to install a urinal unit in addition to a traditional toilet.
Extra cleaning. Let's face it, no one really likes cleaning a toilet, let alone having to clean a urinal too.
It's a bit weird. We've grown to associate urinals with public toilets and not something designed for the home.
That said, if you wanted to make a statement in your bathroom and you have the space, there's nothing stopping you installing a urinal in your home.
Useful urinal installation checklist
Consider the space you're working with and decide whether a bowl, multiple bowls or trough urinal would be best.
Speak to your local urinal specialists for their professional advice and accurate quotes for supply and installation.
Shop around for fair and competitive urinal installation costs.
Always hire a tradesperson with experience and check reviews and ratings from previous customers.
See the tradespeople we've checked and recommend for your job