Last updated on September 6th, 2022
Wallpaper removal cost guide
Ready to banish that wallpaper? Read on for the average wallpaper removal cost, methods of removal and helpful considerations.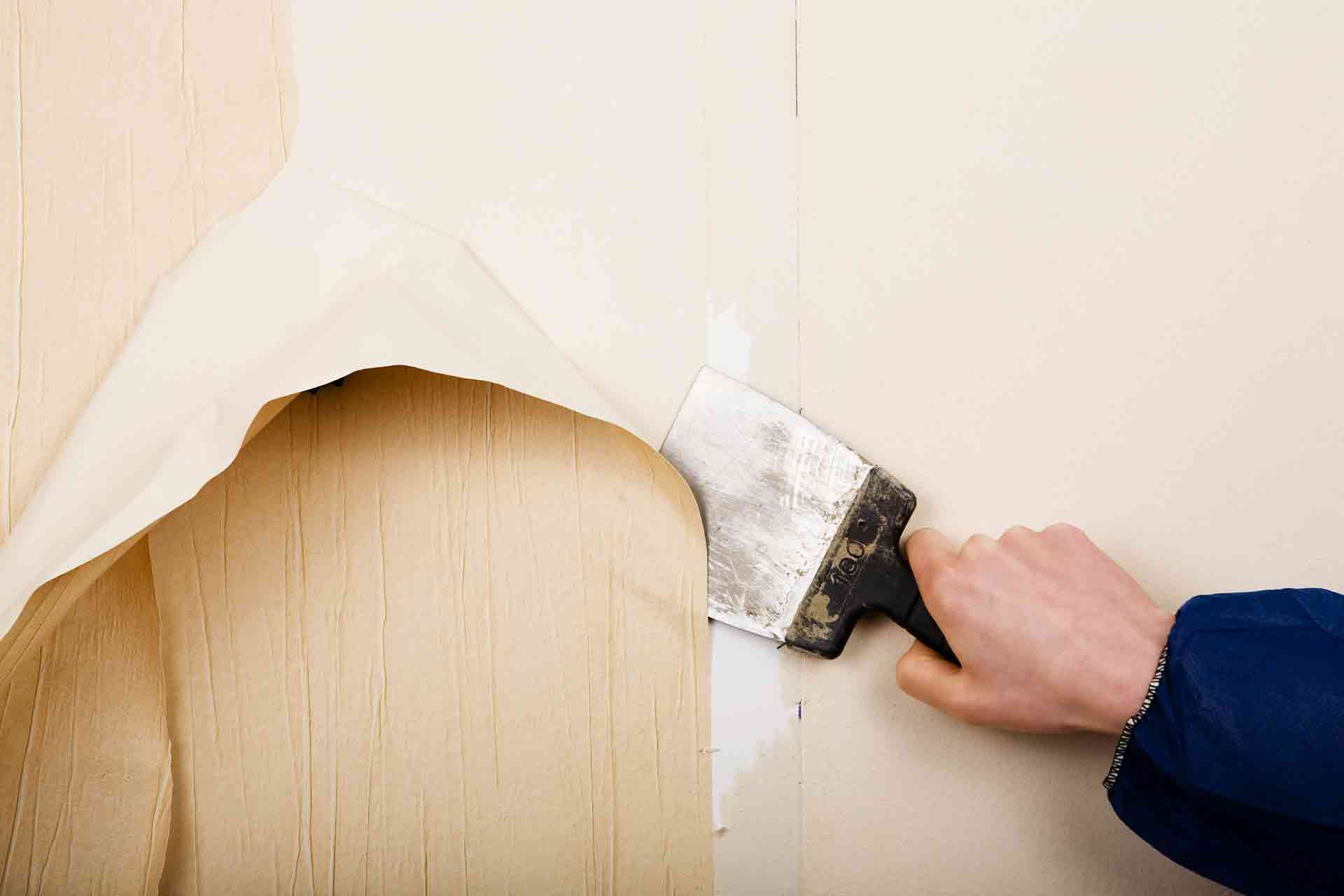 Why should I remove my wallpaper?
Although wallpaper is making a comeback, the styles have greatly changed. This has left many homes with dated, unattractive walls. The best solution is to remove the old wallpaper and either apply paint or new paper to instantly update any room.
Another reason to remove wallpaper is during home renovations. You may be transforming your entire home, in which case, removing ugly or damaged wallpaper is essential to create a flat, even surface for decoration.
Furthermore, if the walls under your wallpaper are in a poor condition, it's a wise decision to remove the wallpaper and tackle any issues before re-decorating. You can even cover your repaired walls with moisture-resistant wallpaper to prevent damp!
How much does wallpaper removal cost?
| Cost provided item | Unit | Average UK cost + VAT |
| --- | --- | --- |
| Wallpaper removal | Per room | £350 |
| Painting | Per room | £400 |
| Remove wallpaper and paint | Per room | £750 |
| Woodchip wallpaper removal | Per person per day | £220 |
It can be very difficult and time-consuming to remove stubborn wallpaper, so hiring a professional can save you a lot of time and effort. The average cost to remove wallpaper is £350 per room.
Common wallpaper removal methods
There are three common ways to remove old wallpaper. While none of these methods is easy, some are less time consuming than others but can be more costly. Below is a brief summary of these methods:
Steaming: This method uses an electric steamer to dampen the wallpaper and break down the adhesive. It's always worth scoring the wallpaper before beginning to increase the effectiveness of steaming. This is typically the most expensive method of wallpaper removal.
Soaking and scraping: After perforating the wallpaper, your professional will soak it. Once the glue begins to dissolve, the wallpaper can be scraped off. This can be very time consuming and is difficult physically but is quite affordable.
Chemical stripping: This process can be a little more expensive than soaking and scraping but is effective. Liquid chemicals are used to degrade the wallpaper adhesive so it can then be stripped off.
Factors affecting the cost to remove wallpaper
No two wallpaper jobs will be exactly the same due to a number of variables. This can make it difficult to know exactly how much to budget for the job. Thankfully, considering the following factors can help you to estimate your wallpaper removal cost:
Number of layers: Before beginning, it can be impossible to know how many layers of different wallpapers are covering your walls. The more layers that need removing, the longer the job will take and the more it will cost.
Size of room: Larger rooms will be more expensive than smaller rooms due to the extra labour time.
Layout of the room: If your room is not just a simple square shape, it can be trickier to remove any wallpaper. The more walls, nooks and crannies to be dealt with, the greater the cost to remove wallpaper.
Number of rooms: If you have wallpaper to be removed throughout your home, it will be more costly than a single room.
Type of wallpaper: Some wallpapers, such as strippable, are much easier to remove. The quicker and easier it is to remove your wallpaper, the cheaper the job will be.
Condition of the current walls: Damaged walls will need to be repaired following wallpaper removal. This can add to the total wallpaper removal costs.
Method of removal: Steaming can be more expensive than other methods of removal, with soaking and scraping being the most affordable.
Moving furniture: If you need assistance from a tradesperson to move any furniture out of the way, this will mean additional costs.
Mould treatments: If removing your wallpaper reveals mouldy and damp walls, then you should have them treated to resolve the issue. View our mould removal cost guide for more details.
See the tradespeople we've checked and recommend for your job
Other common wallpaper removal jobs
Wallpaper removal cost per room
If you've got multiple rooms with wallpaper you will want to know the average cost to remove wallpaper on a per room basis. Taking into account the method you wish to use, the average wallpaper removal cost per room is £350.
This may reduce slightly if you have multiple rooms done at once.
Cost to remove wallpaper and paint a room
You need to decide how to decorate your room once the wallpaper has been removed. If the removal process was very difficult, you may also need to patch repair the plaster before continuing. Paint should only be applied onto a flat, even surface.
The average cost to remove wallpaper and paint a room is £750. You can find lots more costs in our guide to painter and decorator prices.
Woodchip wallpaper removal cost
Woodchip wallpaper can be time-consuming to remove but as long as you hire a skilled professional, this should not be too difficult a job.
The average woodchip wallpaper removal cost is £220 per person per day.
Can I remove wallpaper myself?
Although it's possible to remove wallpaper yourself, you need to consider whether you have the time and energy to complete this job. Wallpaper removal is very time consuming and physically hard work.
If you are less able-bodied, wallpaper removal may be too arduous for you. It also may be hard to reach high or awkward walls without professional help. Always bear in mind that if the job is not done correctly you may cause damage to the plaster and moisture can settle into the walls
As hiring a professional ensures a high-quality job, we would recommend this option. To find a local, reputable, tradesperson in your area and get a personalised wallpaper removal quote use our free search feature.
FAQs
Is wallpaper removal essential?
Wallpapering or painting over old wallpaper is not recommended. It's always better to remove existing wallpaper in order to achieve a smooth and even base for decoration. Also, consider that your new wallpaper may peel off if it is applied to old wallpaper.
What are the popular types of wallpaper?
If you're looking to replace your existing wallpaper with new wallpaper, there are loads of styles you can choose from. These include:
Vinyl
Foil
Woodchip
Flock
Strippable
Printed
Mylar
Useful wallpaper removal checklist
Wallpaper removal can be tricky but is worth the effort to achieve a smooth even surface for decorating.
The average wallpaper removal costs reflect how time-consuming and arduous the process is.
Wallpaper can be removed via steaming, chemical stripping and scraping.
Hiring a professional to remove wallpaper is a smart choice, saving you time and energy.
See the tradespeople we've checked and recommend for your job