Last updated on August 15th, 2022
What is the average cost to repair a washing machine in 2023?
In this guide, we'll look at the national average washing machine repair cost for several common problems.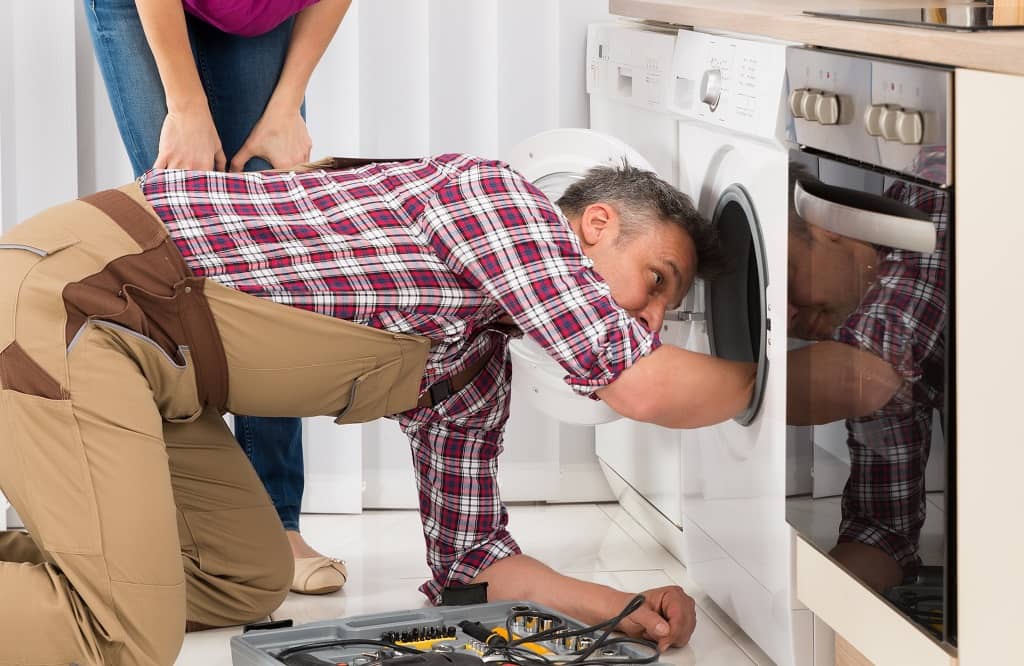 When your washing machine breaks, it can be a complete nightmare. Laundry can quickly pile up, so you'll want to get your washing machine fixed sooner rather than later.
It's often hard to know what the problem is without the help of a professional. And, if it's outside of the machine's warranty period, the repair will come with an unexpected expense you hadn't planned for.
A washing machine technician can easily fix many common issues. That said, there are some occasions when you want to consider replacing the machine instead of paying out for the cost of washing machine repair.
Appliance repair is more possible than ever now that the UK has introduced the right to repair scheme. Find out more about the right to repair here.
How much does washing machine repair cost?
| Cost provided item | Price range - Low | Price range - High | Average UK cost |
| --- | --- | --- | --- |
| New door seal | £93 | £107 | £100 |
| New motor brushes | £70 | £110 | £90 |
| New motor | £205 | £295 | £250 |
| New pump | £91 | £109 | £100 |
| Drum repair | £105 | £255 | £180 |
The cost of washing machine repair depends on the problem and the make and model of the machine itself. In general, washing machine specialists charge a standard callout fee and then will charge for parts and additional labour on top of that once they know what needs fixing.
The total cost of the repair work will also vary around the country. As a guide, here are some of the common washing machine repairs costs.
To supply and fit a new door seal costs about £100. If it's the drum that's in bad shape, that can be a bigger job. The average washing machine drum repair cost is around £180.
To supply and fit new motor brushes on your washing machine, the cost will be about £90 on average.
If the motor itself needs to be fixed, then you're looking at an average washing machine motor repair cost in the region of £250 – which might warrant you replacing the machine with a newer, more energy-efficient model instead of repairing it.
Another common problem with a washing machine is a faulty pump which can cause many issues. On average, the average washing machine pump repair cost is around £100.
Other washing machine repairs costs include circuit board repair, transmission repair, timer repair and belt repair. For detailed information and accurate prices for the repair work, speak to your local washing machine specialists.
Washing machine circuit board repair cost
If it turns out there's a problem with the electrics of your washing machine, you could need circuit board repair. The average cost to replace a washing machine circuit board is around £130.
Washing machine repair hourly rates.
When you call in someone to repair your washing machine, you will be paying a callout fee in addition to the repair cost and labour charges. This fee is usually in the range of £50-£130. On top of that, you will be paying the cost to repair or replace any broken parts. That would include the cost of the part.
Finally, you will pay for the technician's time, usually between £60-£80 per hour.
Washing machine repair quotes
If your washing machine is acting up and you're looking for washing machine repair quotes, try our 'Request a quote' tool. Simply fill the form and explain the problem you're facing with your washing machine.
We'll do all the legwork for you and send it to tradespeople in your area. Then, you can pick from the quotes you receive.
We recommend comparing prices from at least three companies before you make your decision. It will also help if you check the reviews to see what your neighbours think of them. That way, you can get reliable service at a price that you're happy with.
See the tradespeople we've checked and recommend for your job
Washing machine repair cost calculator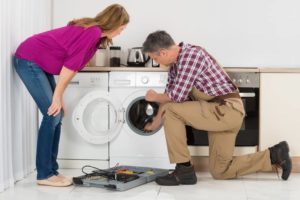 The price of your washing machine repair will depend on some key factors:
Age of the machine: The average age of a washing machine is around 8 – 10 years. So, if your machine is older than that, it might be cheaper to replace than to repair it.
Make and model: Certain brands have more expensive parts or are more sophisticated in build. These may cost more to repair, hiking up your washing machine repair cost.
Type of problem: The more complex the problem your washing machine has, the more it will cost to repair. It will also depend on which part it is that needs work.
Type and quality of parts needed: Official manufacturer parts cost more than generic equivalents. So, if you're replacing washing machine parts, the type of replacement you want would affect your cost.
Cost of labour: The technician who comes out to repair your washing machine will charge you a call-out fee as well as their hourly rates. Therefore, your washing machine repair cost will depend on how long it takes them to fix the problem.
Any emergency callout fee: If you need a technician urgently, you may have to pay an emergency callout fee. This will make your final bill higher.
Where you live: The callout fee and hourly repair costs depend quite a bit on where you live. London, for example, will have much higher rates than a town that's not as big or busy.
Common washing machine problems
Drainage
If you notice that your washing machine's drum is full of water at the end of the cycle, then there's a problem with the machine's drainage. It could be caused by a blockage in the drain pump, or the drain hose may have something stuck in it.
Spinning
Sometimes a washing machine won't spin. The load will end the wash cycle, but then it won't start spinning. This could be an issue with the balance sensor, the drum draining, the drive belt, or even a problem with the motor. It's therefore worth getting your local washing machine specialist to take a look.
Excessive shaking
Nearly all washing machines will shake or vibrate to some degree. However, if your machine is bouncing, vibrating excessively or making a lot of unusual noise, then that could be a problem. A common solution is making sure the machine is on even ground, as that can cause it to wobble and shake unnecessarily. If that fails, time to call a professional.
Bad odour
Have you noticed that your clothes or sheets smell funny after a wash? This could be caused by dirt or a limescale build-up in your washing machine that needs cleaning. You can often fix this problem yourself with a thorough clean of all accessible parts of the machine, regularly putting on a hot maintenance wash and leaving the door open after each wash.
Should I repair or replace my washing machine?
This will depend on the age, make and model of your machine – and the cost of the repairs needed. If the repair is minor and fairly inexpensive, then we would always recommend getting it repaired. However, if your washing machine is old and the repairs will cost hundreds of pounds, then it might be time to say goodbye and buy yourself a new machine.
New machines are now much more affordable than in the past, and their energy efficiency is much better than old machines.
Useful washing machine repair checklist
If you notice an issue with your washing machine, first speak to a local specialist to see if you can fix the problem yourself.
Before hiring a professional tradesperson to fix your washing machine, check if it is still covered by the manufacturer's warranty or retailer's guarantee. If so, speak to them first to organise the repair.
For problems that need professional repair, contact several local specialists to get fair and competitive prices for your washing machine repair.
If you need an emergency repair, be prepared to pay an additional fee for a speedier service.
Always hire a tradesperson with relevant experience and relevant qualifications or accreditations.
See the tradespeople we've checked and recommend for your job