Last updated on March 31st, 2022
Wedding marquee hire cost guide
Thinking about having an outdoor wedding? Here's our wedding marquee hire cost guide to help you with your planning!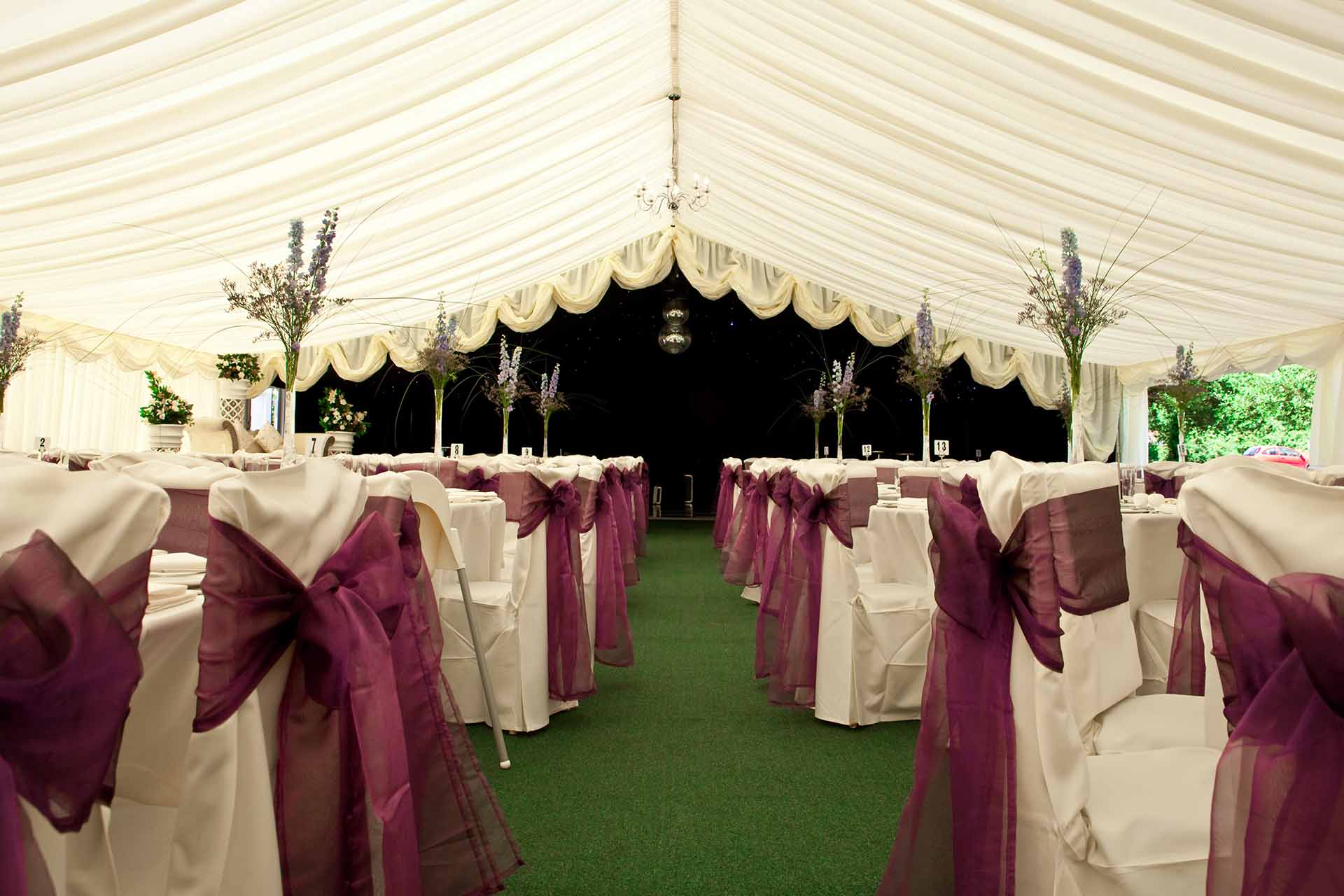 If you've got a large outdoor space and you want to save on expensive venue costs, a marquee wedding might be just the thing for you. Even if you just want a beautiful outdoor wedding, hiring a marquee can be a simple and gorgeous solution.
If you or your family have a house with grounds large enough to accommodate a garden wedding, you will save a considerable amount of your wedding budget. The cost to hire a wedding venue for the day will widely vary from a few thousand to tens of thousands of pounds for a day. This is why using your own space and hiring a marquee, catering and staff is usually the more affordable solution.
In this cost guide, we've covered the hire costs for a marquee for your big day. We've also covered the costs for other aspects of your wedding that you may be considering.
Wedding marquee hire cost
| Cost provided item | Unit | Range - Low | Range - High |
| --- | --- | --- | --- |
| Wedding marquee hire cost | Per event | £650 | £3,000 |
| Marquee lighting costs | Full venue | £165 | £400 |
| Dance floor cost | Per dance floor | £100 | £2,000 |
| Heating cost | For the event | £150 | £650 |
| Generator hire | Per generator | £480 | £840 |
| Toilet hire cost | For the event | £140 | £1,100 |
Depending on the size of the marquee you need (which, in turn, would depend on the number of guests you have), you can expect to pay between £650 – £3,000 to hire a marquee. The price may also go up or down depending on the season.
Marquee weddings are more popular in spring and autumn. That's because in the summer and winter months you'd need extra heating or cooling to keep your guests comfortable.
A small 4m marquee starts at around £650 – £815+ to hire.
The hire cost for a 10m marquee for the day is between £1,400 – £2,000.
A large 15m marquee will cost around £2,700 – £3,000 for the day.
See the tradespeople we've checked and recommend for your job
Marquee lining cost
Marquees are held up with supporting bars and framework, which might be best to conceal to make it look nicer. You can pay for an unlined marquee to save money, but for around £485 more you could get a lined 12m marquee.
If you're looking for a custom lining, however, your lining cost will be higher.
Marquee wedding lighting cost
If you want your party to go on late into the evening, you might not be able to rely on natural light. Marquee lighting costs for your wedding aren't very high, ranging between £165 – £400.
Other wedding costs to consider
The below costs we do not necessarily have tradespeople for. When you find a marquee hire company near you, you can ask them if they provide the below services and options.
Dance floor cost
Dance floors make for a happening party, and cost anywhere between £100 – £2,000, depending on how many people you want on it.
Marquee wedding furniture cost
Furniture cost for your marquee wedding can be a mathematical exercise, depending on how many people are attending. Chairs can cost between £4 – £12+ per chair to rent. Round tables range between £8 – £10+ each. Trestle tables for the catering area cost starts from £5 each.
Since you'll also require linen for these, budget around £1 per napkin, £10 – £15 per round table cloth, and around £4 – £5 per trestle table cloth.
Heating cost
Since evenings can be a bit chilly even in summer, you may want to invest in heating solutions for that time of the day. These could cost you between £150 – £650 depending on your needs.
Generator
If your marquee wedding venue doesn't have its own power, you will need to invest in a generator to power things up. The cost to hire one for the day would range from around £480 – £840.
Cost of alcohol
If you don't want to deal with the legal hassle of a bar license, your best course of action would be to pay the bar staff and caterers upfront for the alcohol. The alcohol cost for a wedding party of 100 people would roughly be around £2,000+.
Catering and bar staff costs
The catering cost for your marquee wedding can range from around £60 – £100 per person, with canapes costing about £6 – £10 per person. The plates, cutlery, and glasses may cost you between £850 – £1,000 depending on the type of table settings and service you want. Finally, the serving staff will cost you around £20 – £30 per hour.
Toilet hire cost
Toilet hire is something we can help you with!
For an event of around 150 people, you'd need at least three portable toilets hired. If you hire two regular and one disabled toilet, you'd pay around £140. If you decide to go for luxury toilets, you'd spend around £550 – £1,100, depending on the time of the year.
Wedding insurance cost
Wedding insurance protects you from things going wrong at the last minute. For as little as £15 – £60, you can get covered for up to £70,000.