Last updated on August 15th, 2022
Wheelie bin cleaning prices
Whether you need your domestic landfill, recycling, green or other wheelie bin cleaning, or have commercial waste containers, this guide will take you through the average wheelie bin cleaning prices you can expect to pay for a professional job.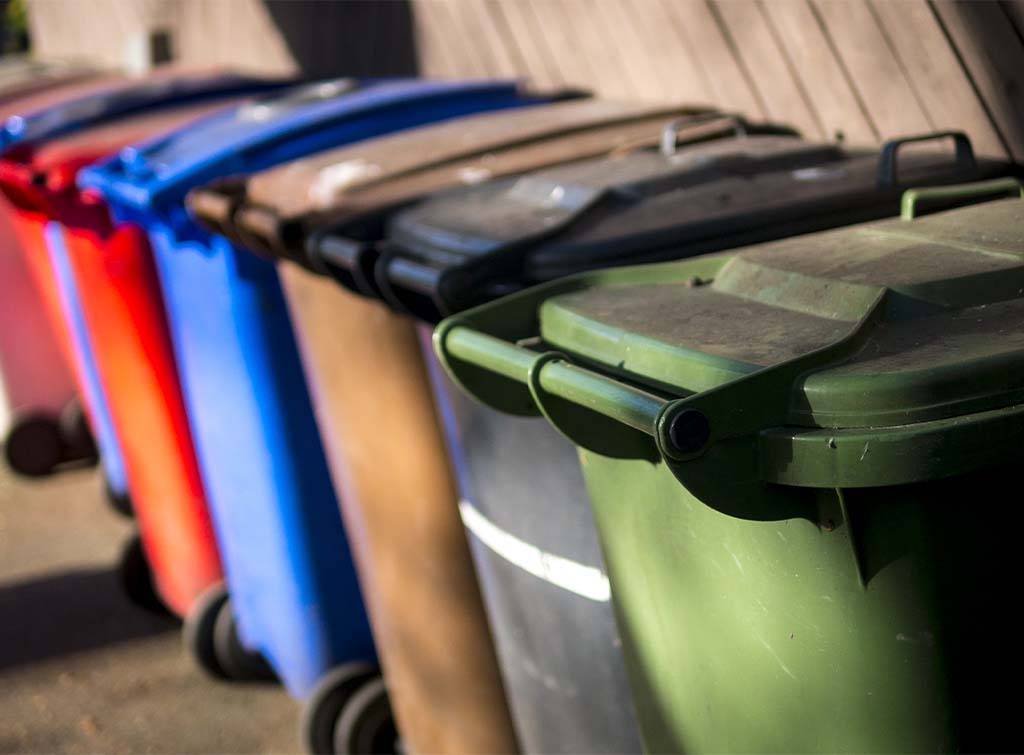 How much does wheelie bin cleaning cost?
There are lots of companies dedicated to bin cleaning available across the UK that will wash, sanitise and deodorise your bin. By killing 99.9% of all known germs with biodegradable chemicals, they keep your bin safe and smelling great.
Domestic wheelie bin cleaning prices are between £3.99 for regular monthly cleaning and £12.50 for one-off cleaning.
Commercial wheelie bin cleaning prices range from £8.50 - £47.50 depending on the size of the bin and cleaning duration.
See the tradespeople we've checked and recommend for your job
Benefits of having your wheelie bin professionally cleaned
By having your bin professionally cleaned you can stop it from becoming a health hazard. You'll prevent the spread of diseases, as well as reducing the chance of vermin and pests entering your bins. This is especially critical for areas where bins are only collected every two weeks and the rubbish has a long time to fester between collections.
Getting wheelie bins cleaned to a high standard removes stains, smells and excess waste. This includes dirt from not just your own rubbish, but any contamination that occurs through contact with other bins or the truck during routine collections.
It's important to note that some items cannot be removed such as flue, paint and tar.  The cleaning process also won't fix the damage done to the bin such as through staining or burning.
The depth of cleaning ranges from hand cleaning – essential for first time cleans – to dedicated trucks that in some cases can clean the bin in less than 30 seconds!
Using a professional cleaner also helps the environment too. Most suppliers bring their own water, that is recycled, filtered and sanitized, ready for the next job. In some cases, this can save as much as 100 litres of tap water from being wasted.
How often should I have my wheelie bin cleaned?
One-off cleans are ideal if you move into a new property and the bin is in dire need of cleaning, or you are moving and want to leave the bin spotless for the next residents. Some services will even dispose of the waste in the bin for an additional cost.
One downside is that one-off cleans take longer and can be hard to fit in with busy schedules, so you may be waiting a while for an available slot. You'll pay a lot more if you only book adhoc cleaning sessions and it's something that's easy to forget or put off.
For more consistent cleaning, choose a regular service, ideally every four weeks. This ensures your wheelie bin is kept clean and odour free and you'll save the most money this way. Prices for regular cleaning are around 60% cheaper than one-off cleanings. It removes the hassle of arranging cleaning each time and by setting up a direct debit it's one less thing to worry about.
Domestic wheelie bin cleaning prices
| Cost per item | Unit | Average cost |
| --- | --- | --- |
| Average domestic wheelie bin | One off clean | £9.99 |
| Large domestic wheelie bin | One off clean | £12.50 |
| 1 bin cleaned every four weeks, on contract | Per clean | £3.99 |
One-off
To get your wheelie bin cleaned at home as part of a one-off clean, prices are typically:
Average domestic wheelie bin (180-240 ltrs) – £9.99 per bin.
Large domestic wheelie bin (360 ltrs) – £12.50 per bin.
This will vary based on your local supplier and demand in the area.
Regular cleaning
If you opt to have your bin cleaned every four weeks, this is significantly cheaper. You can expect to pay:
One bin cleaned every four weeks, on contract – £3.99 per bin.
Some suppliers charge for 3-12 months upfront, or rely on a fixed-term contract, offering ever greater discounts than paying one month at a time. This can take the cost per bin down to as little as £3.00. So be sure to check the offers your local supplier has and where possible pay for the cleaning in advance.
The above costs are for standard cleaning, however, you can choose to pay for deep cleaning (which costs about twice that of a regular clean) and decontamination cleaning (costs around 150% more). These are far less common but ideal when your bin needs a serious clean or specialist care.
See the tradespeople we've checked and recommend for your job
Commercial bin cleaning prices
Cost per item
Frequency
Cost +VAT
(Range low-high)
Average cost
120 – 240L bin
Once every 4 weeks
£8.50 - £13.50
£11
120 – 240L bin
One off
£13.50 - £19.50
£16.50
600L bin
Once every 4 weeks
£17.50 - £22.50
£20
600L bin
One off
£22.50 - £27.50
£25
1,100L bin
Once every 4 weeks
£20.00 - £37.50
£28.75
1,100L bin
One off
£27.50 - £47.50
£37.50
Full range from - to
£8.50 - £47.50
For retail locations, offices, hospitals, schools and any other business, commercial bin cleaning is the ideal way to keep your site safe and clean. You'll be helping improve the presentation of your business, whilst preventing pests and foul odours.
Using a professional bin cleaning service is a great environmentally-friendly choice for any business too, especially one with a lot of bins. Contractors must be able to provide indemnity insurance and evidence that wastewater is disposed of in a legal fashion at specific authorised locations to meet water drainage requirements.
The cost to clean commercial waste containers and wheelie bins depends on the number of bins, their sizes, ease of access, what the bins are used for and how regularly you sign up to have them cleaned.
To help you calculate the commercial wheelie bin cleaning prices you can expect to pay we've compiled a handy table. This gives you average costs for a range of sizes from 120 – 1,100 litres, as well as different schedules from one-off cleans to cleaning every four weeks.
Wheelie bin cleaning cost quote
We always recommend obtaining at least three quotes from our trusted tradespeople. Our request a quote feature is perfect for getting quotes – you post details about the job you want doing and we'll send it out to local tradespeople in your area. Try it out!
Wheelie bin cleaning hourly rates
Due to the nature of wheelie bin cleaning, you'll rarely be quoted an hourly rate. Instead, it's much more common to be given a cleaning price per wheelie bin, which is around £9.99 per bin.
Call in the professionals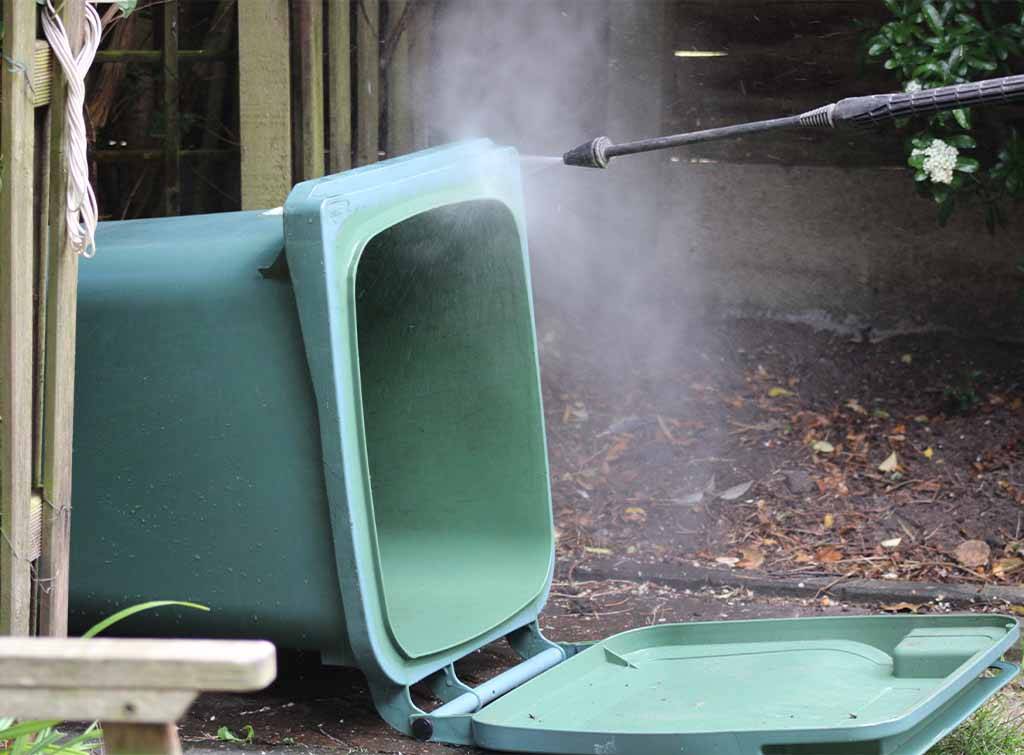 You may be considering cleaning your wheelie bin yourself, however, it's important to remember that hiring a professional can save you time and hassle. Some specialists even offer free SMS reminders to put your bin out before they arrive. Or, can be scheduled to occur after the council have emptied the bin. You don't even need to be home when the bin is emptied.
They are an essential service when bins have been contaminated with biological waste, or bags have leaked, to remove your own risk of being exposed to germs whilst cleaning the bin.
Depending on the professional you choose they may be able to provide other services, including waste disposal and recycling and even window cleaning.
How to choose a professional to clean your wheelie bin
To find a local, reputable, tradesperson in your area and get a personalised cost to clean your bin, use our free search feature.
Key takeaways for wheelie bin cleaning
To get the best wheelie bin cleaning prices, book a regular slot or bulk buy in advance.
For commercial bin cleaning, ensure they have the necessary insurance and wastewater disposal processes.
Bin cleaning costs are based on the number of bins, locations, sizes and ease of access.
Using a professional saves time and hassle, whilst costing very little each month.
See the tradespeople we've checked and recommend for your job