Are solar panels worth it?
If you're wondering: are solar panels worth it on my property? Use our guide to find out costs, payback timescales and everything you need to know.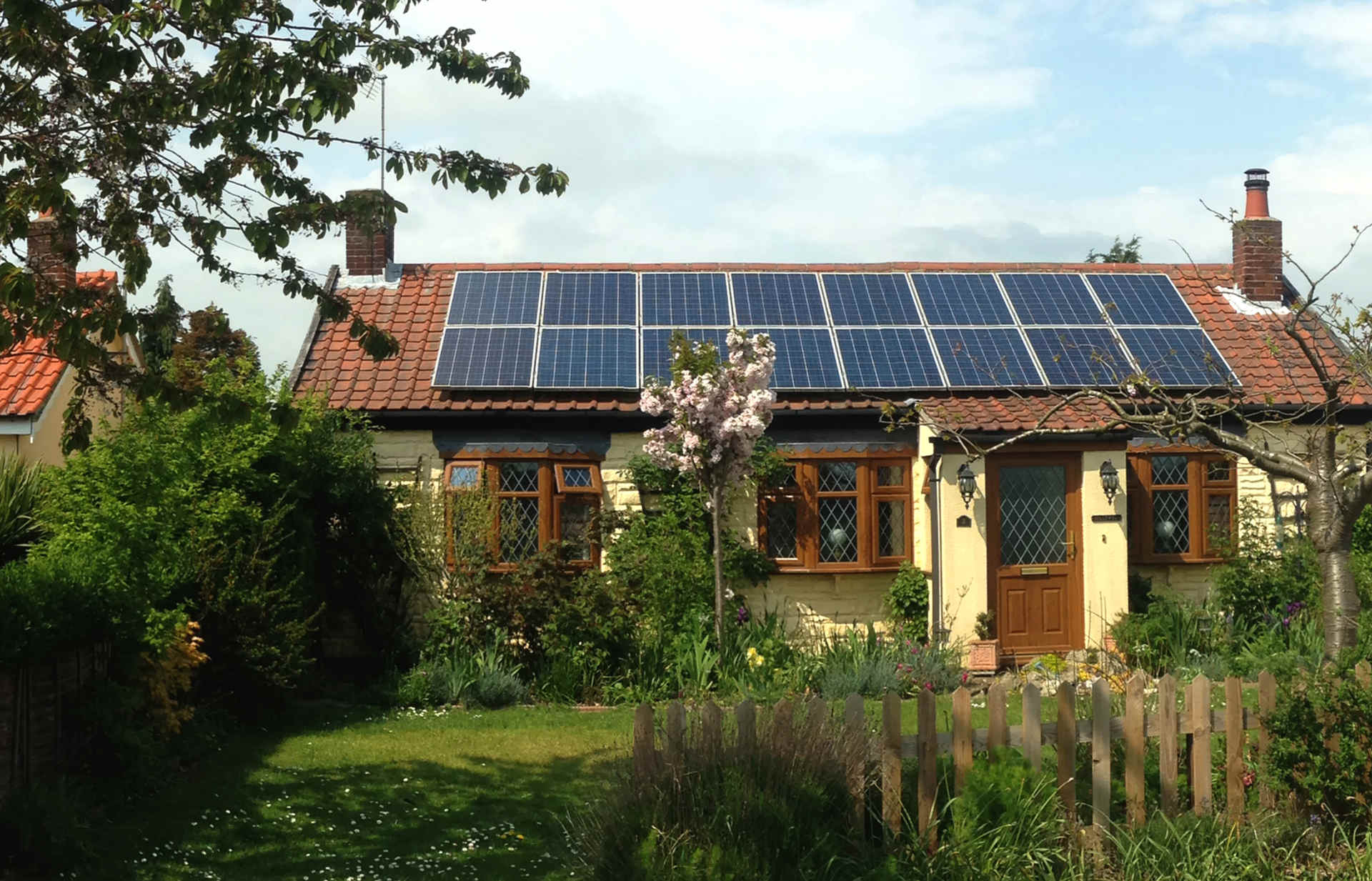 Solar panels are a great way to reduce your home's carbon footprint and power your home and can prove to be a worthwhile investment in the right circumstances. However, installing solar panels on your property is a big decision, so it's important to do your research before jumping into it. We've put together this expert guide to help you find out if solar panels are worth it for you, your home and your pocket.
What's the benefit of having solar panels?
The main benefit of switching to solar is how much money you can save on your energy bills. The average UK home uses 3,760 kWh of electricity per year and the average UK domestic solar panel system generates between 2,400 and 3,200 kWh per year. Based on this, you could save between 63% – 85% on your annual electricity bills by installing solar panels on your roof.
As well as the financial savings, there's also the carbon footprint reduction. Generating 3,000 kWh of electricity through solar panels instead of a gas-fired power station will save around a tonne of carbon dioxide from entering the atmosphere.
Plus, by creating your own power supply, you're also not at the mercy of power cuts and price rises.

Is my house right for solar panels?
There are three main factors to consider here, roof size, roof direction and roof integrity.
Is your roof big enough for solar panels?
Based on average UK weather, you'll want to install a minimum of 3 kilowatts of solar panels on your roof. Taking the average size of a solar panel, this equates to an area of 20m2.
You can work out the rough roof size of your roof by measuring the length and width in metres of your building where it meets the ground. Then multiply the two numbers to give you your total roof area in m2. But remember that you'll probably only be installing panels on one side, so halve the number for a more accurate figure.
The direction your house faces matters
As you'd expect, a south-facing roof is best for harvesting sunlight. If your solar panels are south-facing, you can expect to generate around 20% more electricity than if they were east- or west-facing.
Roof integrity is key
Although relatively light, it's crucial to make sure your roof can safely take the weight of solar panels. For this reason, it's essential to get a solar panel installation expert to come and assess your roof as a first step in your project.
Simply enter your postcode in the free search tool below to find local solar panel specialists recommended by your neighbours.
See the tradespeople we've checked and recommend for your job
How much does solar panel installation cost?
The cost of your solar panel installation will depend on a number of factors, including:
The type of panels you want
The amount of energy you want to generate
The size and type of your property
The direction in which your roof faces
The quality of components you require
Whether you want a battery or not
On average, you should expect to pay between £5,000 – £8,000 for the supply and installation of a Photovoltaic (PV) solar panel system and between £4,000 – £5,000 for a thermal solar panel system. Take a look at our guide on the cost of solar panel installation for more information and to find out about the different types of solar panels available.
Earning money from your solar panels
Solar panels can generate more power than is needed in a home, which means you could have spare electricity. As most solar panel installations don't include a battery, this electricity is sent to the national grid to be used by other properties.
The Smart Export Guarantee (SEG) scheme, launched in January 2020 in England, Scotland and Wales, means you're paid for any surplus electricity you contribute to the grid. The amount you're paid depends on the tariff set by your energy supplier, so to find out it's best to contact them.
Top tip: When your solar panels are installed, it may be worth switching suppliers to find the best SEG scheme tariff.
Maintenance costs of solar panels in the UK
Lifetime maintenance costs on solar panels are relatively low, here's a breakdown:
Service: You should set aside between £100 – £200 a year for an annual service by a solar panel specialist.
Cleaning: To keep your system efficient you should get your panels cleaned by an expert very six months, which chould cost between £4 – £15 per panel. You can find out more in our solar panel cleaning cost guide.
Inverter: With an average lifespan of around 25 years, your inverter will last a long time before needing replacing. When it does, expect to pay between £800 – £1,000.
You can find a more detailed breakdown of costs to consider in our solar panel maintenance cost guide.
Always consult a solar panel installation expert
Hopefully, you now have an understanding of the costs involved in installing solar panels and a clearer idea of whether solar panels are worth it for your property. It goes without saying that the installation of solar panels should only be completed by a professional, as it's a complex process and the health and financial risks if it goes wrong are significant.
Thankfully, it's easy to get quotes and advice from trusted local solar panel experts that are recommended by your neighbours. Simply enter your postcode in the free search tool below to get started.
See the tradespeople we've checked and recommend for your job
FAQs
Will solar panels affect the value of my home?
The general view on this is no. Most estate agents will tell you solar panels make no positive or negative difference to the value of your property. Any uplift you did see, if, for example, your buyer was particularly sustainability-minded, would unlikely be greater than the cost of installation.
What will be the payback time on my solar panels?
Based on figures from the Energy Saving Trust, it can take between 11- 27 years to see the cost of your installation repaid to you in savings and surplus electricity payments.
Your exact payback period will depend on your location in the UK, the direction your panels face and how much electricity you use. An expert will be able to provide an accurate cost-benefit analysis of solar panels based on your situation.
Can I get free solar panels?
While free solar panels were offered by companies in the past, there's no way to get free solar panels in 2021. Although the Smart Export Guarantee (SEG) scheme does mean you're paid for any surplus electricity you generate, meaning you can offset your overall cost of installation.
Do I need planning permission for solar panels?
In the UK, the installation of solar panels on a house roof is classed as permitted development, and as such you usually won't need planning permission. You will still need building regulations sign off though, particularly as they will be positioned on your property's roof structure.