Bamboo in the garden – everything you need to know
Invasive bamboo is often a nightmare for homeowners due to its prolific nature and difficulty to kill.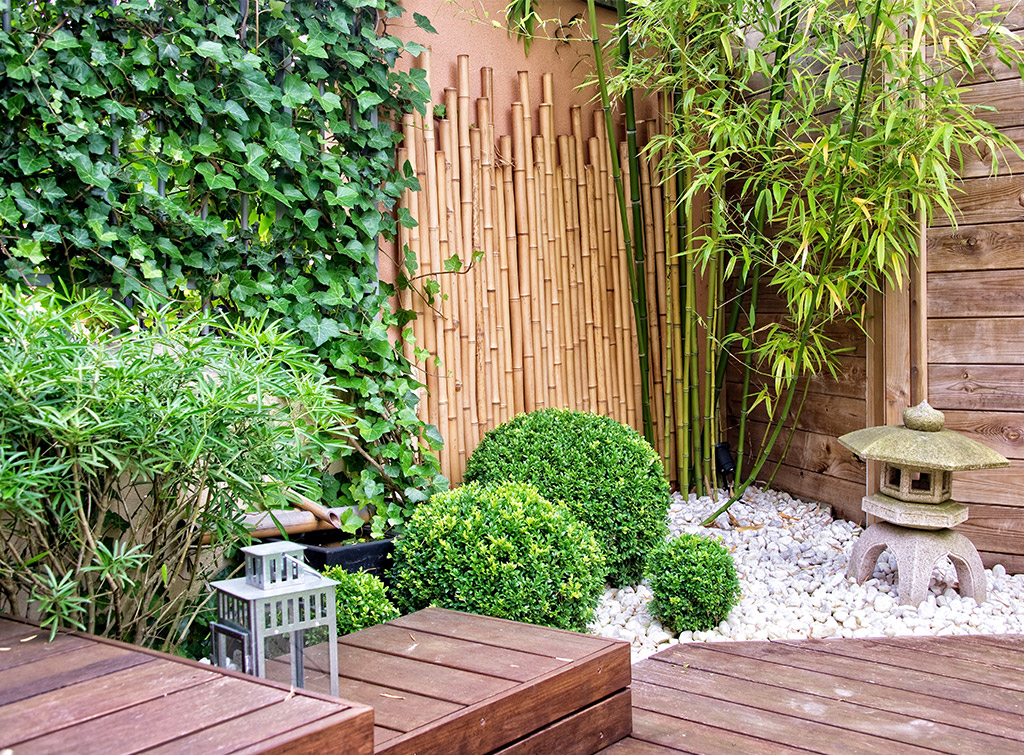 If you've turned to the internet to learn how to get rid of bamboo, you've likely realised it's not an easy job. Invasive bamboo is a nightmare for homeowners due to its prolific nature and difficulty to kill. However, it's these aspects that make bamboo a great eco-alternative to other types of wood.
Despite the headache bamboo poses, it's possible to tame. All that's required is a bamboo control system, which we're going to discuss in this article.
Read on to learn how to get rid of unwanted bamboo in your garden.
How to get rid of bamboo
What is bamboo?
To tame the bamboo, you must first understand the bamboo.
Despite their common ornamental usage, they're essentially weeds. This is more true of the types that are spread by rhizomes, which are adapted stems with creeping, root-like structures.
This means they grow quickly become invasive if not kept in check.
Why should you remove invasive bamboo?
Due to bamboo's status as a colonising weed, they shoot up anywhere they please. This includes your neighbour's garden, your flowerbeds, your patio, your conservatory, and even areas of the house if left unattended. They're strong and stubborn, and a solid barrier is merely an obstacle to overcome for bamboo.
It's worth noting that running bamboos are easier to tame than clump-forming varieties, so don't give up on the idea of bamboo just yet.
See the tradespeople we've checked and recommend for your job
How to get rid of bamboo roots
Bamboo is a hardy plant, which means its rhizomes and roots are virtually impossible to remove using common herbicides. Instead of using harmful chemicals that often cause more damage than they fix (even when minimal and targeted), prevention is better than cure.
By maintaining good practice when it comes to cultivation, garden hygiene, and the introduction of natural enemies, bamboo is an attractive asset worth adding to any garden.
Check out our 'how to make your garden more private' for ideas on how to utilise bamboo in your landscape design.
That said, if your bamboo has got out of hand, there are ways to bring it back under control. Please note that if you're hoping for complete eradication, time and patience are required.
We recommend hiring a professional to help you with this time-consuming and laborious task. However, if you'd like to try giving it a go yourself first, follow these steps.
Step one: Pick up a shovel
As previously mentioned, bamboo is immune to herbicides, which means your need to put on your garden gloves and get to work digging up the overgrown clump or clumps. Remove as many roots as possible to make regrowth as hard as possible. However, don't be fooled. Bamboo can and will return regardless.
Step two: Cultivate the patience of a saint
Once you've removed as much of the offending overgrowth as possible, the next step is to diligently kill any bamboo shoots as they dare to re-emerge. You can do this in several ways:
Frequently mow it down using the lowest setting (as often as you mow your grass)
Dig out the shoots as they emerge from the soil
Immediately spray any shoots you see with a strong herbicide or weedkiller
For an eco-friendly alternative, pour boiling water on the shoots
The key to eradicating bamboo is diligence and patience. You must never leave it to grow too long without treatment or you'll have to start over again. Don't let it win. It will take between two to three years before bamboo gets the hint and leaves forever, but stay strong.
See the tradespeople we've checked and recommend for your job
How to dig out bamboo roots
Depending on your type of soil and the size of your bamboo plants, digging them up is difficult.
In cases like this, be sure to use a sharp spade to remove overgrown clumps. Drive it deep enough to sever the rhizomes and remove the excess with a trowel or fork. You can also treat the stumps or unwanted growth with an extra-strong weedkiller.
Note: This method works best if you want to keep the parent plant thriving but inside the barriers of your home.
Prevent future spread
Whether you want to limit bamboo growth from your neighbour's garden or you'd like to maintain your own, a physical barrier might be your best bet. However, because bamboo is a floral heavyweight champion, your barrier needs to be made of concrete or metal. Wood will hold but only for a few years, so it's hardly worth the investment.
When installing your barrier, make sure you bury it a minimum of two feet (24 inches) below soil level. It should also come up around half a foot (6 inches) above soil level for maximum protection. You'll also need to make regular checks to ensure no bamboo has managed to sneak its way into places it's not wanted.
Cost of hiring a professional to remove bamboo
Most bamboo removal/maintenance projects will cost you around £120 – £280. However, this depends on the size of the area that needs cultivating, the extent of the problem, the method of removal you require, and the complexity of the job. Read our bamboo removal cost guide for further information on how much this project might set you back.
Did you find this how-to remove bamboo from the garden advice helpful? If so, there's more where this came from. Head over to our blog for more expert advice, how-tos, and inspiration.