What are the best keyless door locks?
Upgrade your home's security with our guide to the best keyless door locks. We look deeper into types of locks & how to choose the right one.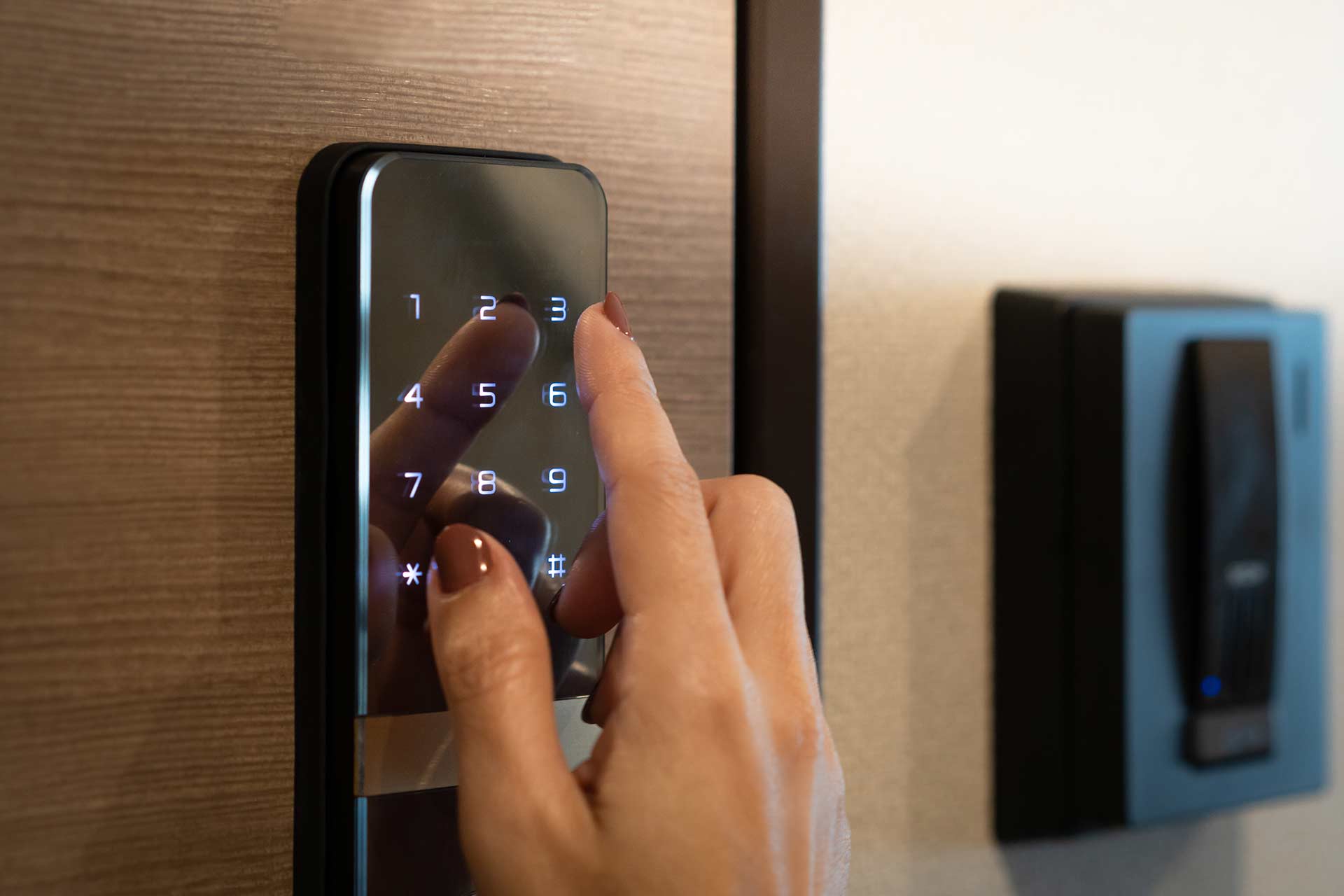 Locks are used to keep our homes secure from intruders and our families safe. That's why it's so important to take the time to do your research before deciding on a type of door lock. There are a wide range of different options, each with different levels of security so picking the best door lock can be a little confusing. Today, we'll be looking specifically at the best keyless door locks to help you decide which one is right for you.
Whether you want to upgrade your home's security, want to know more about different types of locks or are just looking for the best keyless door locks on a budget, this guide is perfect for you. So, keep reading to learn more.
What are the best keyless door locks for homes?
The term keyless door lock is fairly self-explanatory, they're locks that don't require the use of physical keys. There are many different styles of keyless door locks, all with different functions and features.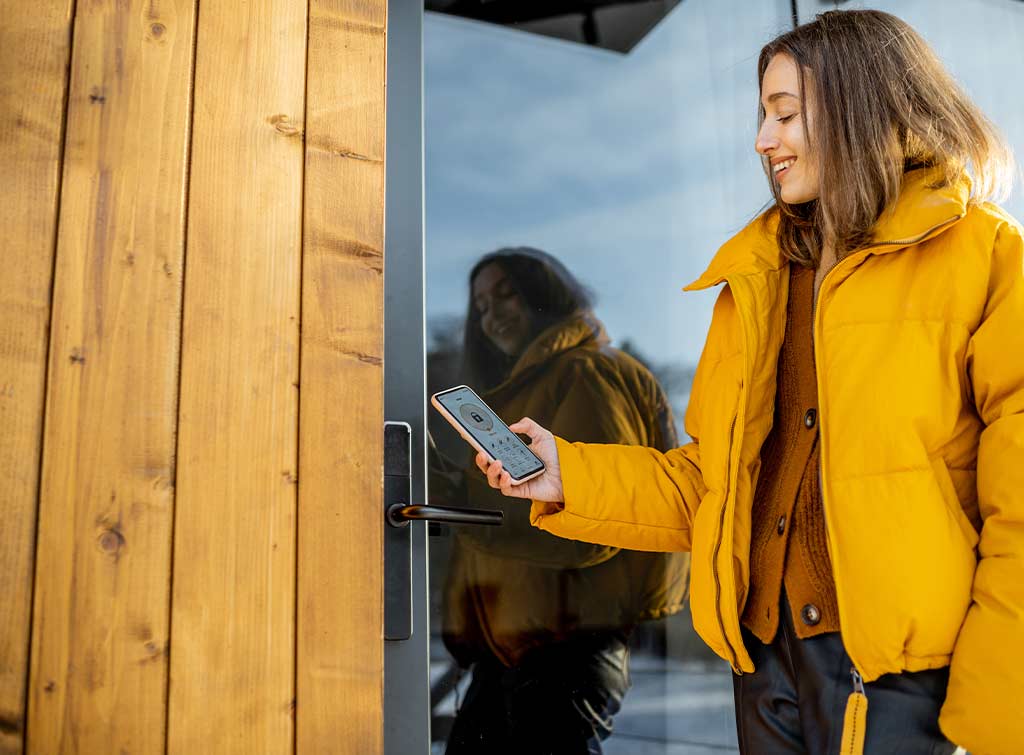 What's more, figuring out what is the best smart door lock to buy for your property will depend on your needs. For example, how secure do you want the lock to be, do you want to use a keypad or mobile app and how much are you willing to pay? So, taking the time to do a little research can really help with choosing the best lock for your home.
Types of keyless front door locks
As we mentioned above, there are many types of keyless front door locks, ranging from electronic to UPVC. They each have their benefits which we have summarised below:
UPVC keyless door locks: These locks are fitted on UPVC doors that are generally secure, low maintenance and long lasting.
Electronic keyless door locks: Requiring electricity, these locks are becoming more and more popular. The three main types of electronic keyless door locks can be accessed using a keypad, a smart card or your fingerprint.
Yale keyless locks: Yale is a popular brand for door locks, offering excellent security. Yale keyless locks can be electronic or manual depending on your requirements and can have a range of different features.
See the tradespeople we've checked and recommend for your job
Types of door lock
Now we know more about the types of keyless front door locks, let's look a little closer into the different types of door locks:
Key code door lock: Keycode door locks use specific codes to allow access to your home. Many use keypad door lock handles making it easy to enter your passcode. The main issue with this type of lock is you may forget your code or someone else might learn it and access your home.
Remote door locks: Often used in cars, remote door locks use radio waves that are transmitted from a remote to your car or door. You can also use a fob on some remote door locks.
Smart keypad lock: These locks will usually require electricity so can malfunction during power cuts. However, smart keypad locks are very convenient. Some can even be controlled using a mobile app, eliminating the need to carry a key or remember a code.
FAQs
Can keyless door locks be hacked?
There are many benefits to not needing to carry a key around with you whenever you leave the house. For one, you don't need to worry about dropping or losing your key. Plus, there's no need for bulky keyrings that can scratch your phone in your pocket, and there's no chance of someone stealing your keys.
These benefits are great, but some people worry that keyless door locks can be hacked. In truth, hacking is possible but only if the wireless network of your keyless door lock wasn't set up correctly. There are of course keyless door locks that don't use a wireless network but these are less secure.
Are keyless door locks safe?
Choosing to install a keyless door lock can be extremely convenient for homeowners due to not needing to carry around a physical key. But, are keyless door locks safe? These locks can be very secure depending on the type and quality of the lock you choose. Having said this remember to always lock your doors otherwise the lock will be useless against intruders.
What is the best keyless entry deadbolt?
With such a wide range of keyless entry deadbolts to choose from it isn't surprising many people feel out of their depth. Many come with added features like alarms and voice control making the decision even more complex. So, what is the best keyless entry deadbolt? This all depends on your personal preferences.
For example, some deadbolts are more secure but if they don't meet the rest of your requirements then this may cause issues down the line. Below are some of the things to consider when deciding what the best smart door lock to buy is:
Security level: How secure do you want your deadbolt to be?
Access: What type of access would you prefer? You can choose from options like keypad entry, mobile app entry and remote entry.
Price: Always work out your budget before making any big decisions.
Extra features: Do you want a deadbolt with extra features like wireless connectivity or an alarm?
How are keyless door locks powered?
Ever wondered how keyless door locks are powered? Well, really this depends on whether your lock is manual or electric.
Manual keyless door locks don't need a power source as they work through physical interaction.
Electric keyless door locks on the other hand need to be connected to a supply of electricity. They often use small motors to move the bolt that locks your door.
What are the best keyless options for Airbnb door locks?
Renting your home out as an Airbnb often means you may have security issues with a standard key lock. Scheduling issues may make handing over a physical key difficult or past guests may not return the key. This means your home is vulnerable to intruders and for safety, you would need to change the locks.
A better option is to install a keyless Airbnb door lock. This way you could give a code to your guests to access the property that you can change as often as you like for security. To find the best one we recommend reviewing our advice in the above sections.
Ready to install a keyless door lock?
Now you know more about keyless door locks you may wish to have one installed at your home. This is a great way of customising your locks to your requirements. While it may be possible to install a lock yourself this is not recommended as unless the lock is installed correctly your home could be left vulnerable.
Thankfully, hiring one of our trusted members ensures that the job will be done quickly and to the highest standard. Just input your postcode to see a range of professionals in your local area. You can even view customer testimonials and reviews.
How much do smart locks cost to be installed by a professional?
If you're considering having a smart lock installed at your home, you may be curious to know how much this will cost. Generally, the amount you pay will be dependent on the type, security, brand and quality of the lock you choose.
For guidance, a smart RFID door lock costs an average of £94.50 and a smart biometric door lock costs an average of £209. To learn more about smart locks, our smart lock cost guide is packed with helpful information, prices and tips.