Last updated on March 31st, 2022
Smart lock cost guide
If you're looking for a way to keep your home safe using the latest technology, a smart lock system could be the answer. Smart lock installation will transform your home security by swapping traditional keys for keyless entry. In this smart locks cost guide, we'll look at the average cost of keyless entry systems for your home.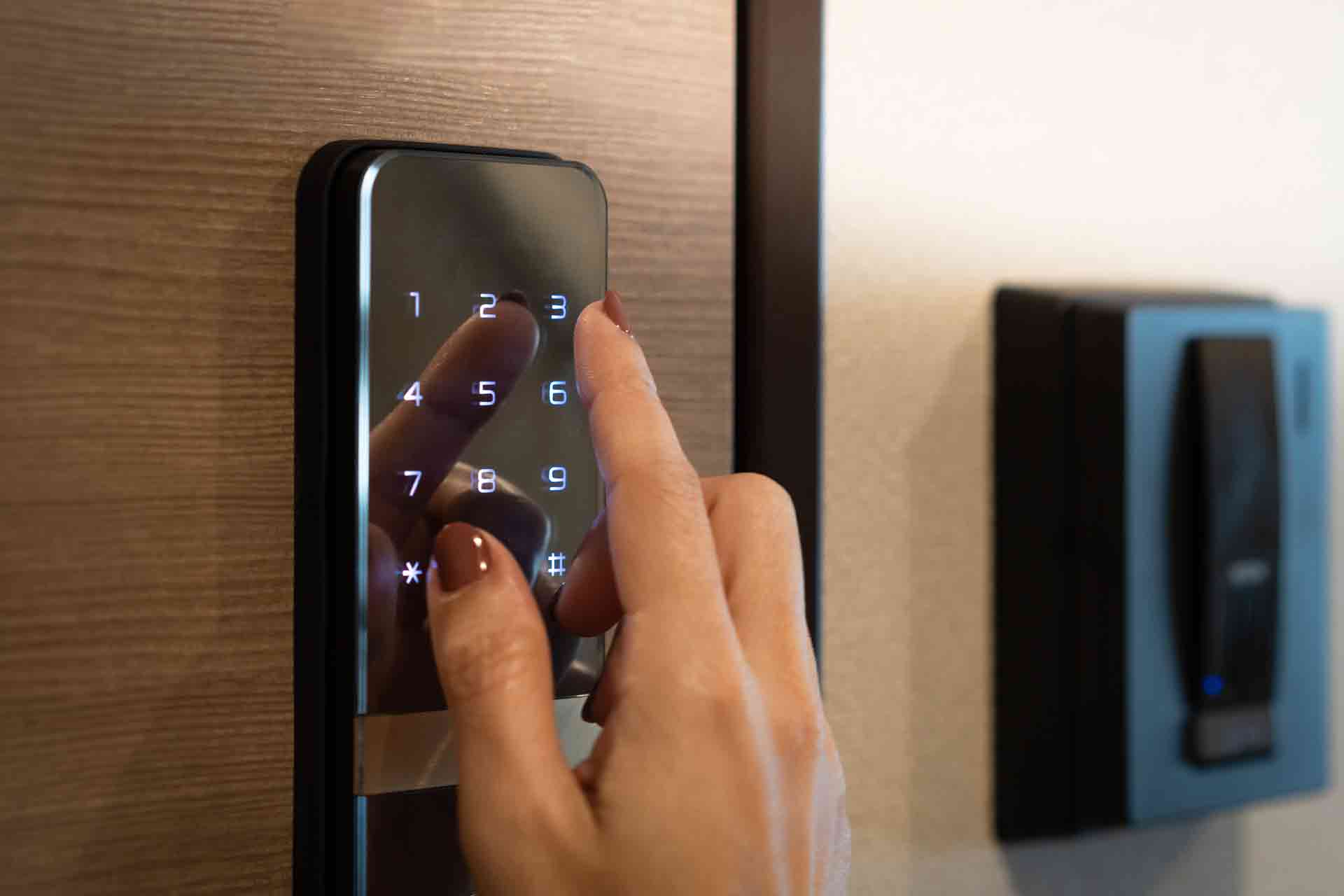 If you're looking for a way to keep your home safe using the latest technology, a smart lock system could be the answer. Smart lock installation will transform your home security by swapping traditional keys for keyless entry.
In this smart locks cost guide, we'll look at the average cost of keyless entry systems for your home.
All smart lock prices featured in this article are meant to serve as a guide. For accurate keyless entry installation costs, we recommend speaking to your local lock specialists for their professional advice and a breakdown of specific prices.
What is a smart lock system?
| Item | Lower range | Higher range | Average cost |
| --- | --- | --- | --- |
| Smart door lock installed (Yale) | £110 | £294 | £202 |
| Smart basic door keypad lock (no labour) | £63 | | |
| Smart Keypad (Nest X Yale lock with Nest Connect) | £185 | | |
| Smart RFID door lock | £89 | £100 | £94.50 |
| Smart Bluetooth door lock | £98 | £155 | £126.50 |
| Smart WIFI door lock | £185 | | |
| Smart Biometric door lock | £159 | £259 | £209 |
| Smart Z Wave door lock | £210 | £249 | £229.50 |
A smart lock system is a security setup that involves using electromechanical locks to control entry to your home. Most smart locks will connect to your home's WiFi to operate and are usually operated using a touchscreen with pin code entry, a mobile app, or an electronic key fob.
As well as being easier and more sophisticated to control than key locks, a smart lock system can also monitor activity and send you notifications when locks in your home are activated.
You can add a smart lock system to any entry point on your property, allowing you to remotely control access and even set up the lock and unlock schedules.
How much does a smart lock cost?
With so many different smart lock systems on the market, it can be difficult to know the right one and how much it will cost. You can expect to pay between £63 – £249 for a smart lock, depending on the type of technology involved in its functionality.
This average cost doesn't include professional installation by a security specialist, which is always recommended with a system that protects your property and those who live inside it.
Smart lock installation
The average cost to install a smart lock is around £202.
The price you pay for your smart lock installation will depend on a number of factors, including the sophistication of the lock itself, the number of locks, and the complexity of the physical installation.
If your old locks need removing there may be additional work required, including the services of a carpenter.
A smart lock for your doors, gates or garage can cost anywhere from a few hundred pounds up to a few thousand, depending on the brand and smart functions you choose.
Smart digital locks have a lot of different components that increase the price over mechanical alternatives, not least the need to be compatible with other products like mobiles, tablets and hubs.
Factor in a monthly subscription
If you want to use your mobile phone to control your smart lock when you're not at home, many home hubs have apps that work with the lock. You may have to pay a monthly subscription fee to access them. This is an important consideration when it comes to smart door lock cost, as it will be an ongoing payment for the life of the lock.
Although it's run on technology, you will still need to have a smart lock installed. And to ensure the security of your home isn't compromised, we would always recommend hiring a professional smart lock specialist to carry out the work.
See the tradespeople we've checked and recommend for your job
What are the main types of smart locks?
There are a variety of different smart keyless entry systems available, the main ones include:
Keypad
Wifi
RFID
Bluetooth
Fingerprint
Z-Wave
Keypad cost
Commonly, there are two types of keypad smart locks – a touchscreen or a mechanical keypad.
A touchscreen smart lock allows you to enter your code on a screen, often using the lock manufacturer's smartphone app. You can purchase a reputable unit for around £185, plus the additional installation cost.
The best touchscreen smart locks are fingerprint-resistant to keep criminals from guessing your code using a keypad with worn numbers that could be your code. Some touchscreen keypads also include biometric fingerprint entry to open your door using your finger.
The mechanical smart lock keypads use a button-press system to enter your code to lock and unlock your door. This type of system may have vulnerabilities as numbers can easily become worn over time – a tell-tale sign to potential intruders.
That said, most mechanical keypad locks tend to include a traditional keyhole to unlock and lock your door (though that potentially contradicts the idea of installing a new smart lock system). A quality mechanical lock unit can be purchased for about £63, plus the cost of installation.
There are also affordable units that just have a keypad and no wifi capabilities. With that type of lock system, you simply enter a code to gain access with no smart connection.
Digital door lock price
When you're budgeting for your new smart lock system, remember that a digital door lock price will often be higher than a traditional mechanical unit. However, digital door locks do offer many benefits that justify their higher price tag and are no longer considered only a high-end luxury installation.
There are various types of digital locks you can buy, each with differing price ranges:
RFID lock system price
The RFID lock system, also known as an IC card lock system, operates using electromagnetic waves to transmit signals between the lock and an assigned ID card. These systems work similarly to ID cards used in offices to gain access or make contactless payments.
Some RFID locks are contactless, though others require physical contact between the ID card and the lock's pad.
It's a great option for convenient home security, whether you use a card with a microchip or a key fob style access card. Prices for an RFID lock start at around £89, plus the cost of installation on top.
Wifi door lock
With the ability to connect to your wifi, these door locks enable you to remotely change access codes or check if someone has entered your home.
This type of lock is also compatible with your existing smart home system, such as Google Home, Amazon Alexa or Apple's Siri. The typical cost of a wifi smart lock with no need for an additional hub or adapter starts at about £185 per lock, excluding labour costs.
Bluetooth door lock
With many of the same features as wifi smart locks, Bluetooth door locks enable you to set codes and unlock doors remotely, as well as set auto locks and unlocks.
These units cost around £98 for a basic unit, not including installation fees.
Fingerprint door lock price
Using a touchscreen, these smart locks recognise your fingerprint to gain access. There are usually backup methods to operate the lock for when a registered fingerprint isn't available, such as a keypad, RFID or smartphone access.
The average fingerprint door lock price is around £159 for the lock only, with any installation costs being additional.
Z-Wave door lock
Z-Wave technology allows for an ultimate smart home setup, including smart locks. It uses radiofrequency to integrate with your main control system. The unit itself is affordable and programmable via your smartphone.
To take advantage of the more advanced features, such as automatic door locking and enhanced security, a hub and Alexa device are often needed. The average cost for a unit with Z-wave capability is in the region of £210.
See the tradespeople we've checked and recommend for your job
The different ways you can use a smart lock
When people think of smart locks they usually only think about their doors, but they offer a lot of added convenience and security to all of your property's entry points, including gates, side-gates, garages and back doors.
Here are just a few of the many places you can use a smart lock.
Smart lock on a front door
The front door is the number one place most people have a smart lock professionally installed. Excellent for convenience, and removing any lost key issues, a smart lock on front door entry points is an increasingly popular way to add connected tech to a home.
Smart lock on a back door
Just like with your front door, you don't want someone to be able to come in through your back door during the times that you are not home. A smart lock has both internal and external control so you can give people access from inside but keep strangers out.
You can also set up temporary back door access for workmen or guests, so long as you know they are coming.
Smart lock garage access
One of the biggest problems people have with their garage doors is forgetting to lock them. With a smart lock on your garage, you can do this from anywhere in the world!
Also, if you have a garage door system that opens with the push of a button in your car, then you can connect the smart lock to it for even more convenience.
Smart lock on gates
Just like with your garage door, you don't want to leave a side gate or front gate unlocked if it doesn't have to be.
A smart lock on a gate can be programmed to automatically lock and unlock at a certain time of the day, and can be controlled by your phone if, for example, delivery access is needed while you're not at the property.
How to install a smart lock
Although professional smart lock installation is always recommended when home security and powered connections are involved, there are smart locks out there that you can install yourself. If you intend to carry out a DIY smart lock installation, you can follow these five steps:
Turn off power – Be sure to turn off the property's power supply before your smart lock installation, especially if you have a current smart lock that you'll be removing and replacing.
Remove existing smart lock or mechanical lock – If you have an existing smart lock with a keypad, you will usually need to use the smart lock's emergency override keys to remove it. If you have a standard door lock, then simply locate the screws that hold it in place.
Attach the new smart lock – This will vary by brand and design, if your smart lock doesn't come with specific installation instructions, visit the manufacturer's website to view a comprehensive guide on how to install it. Ensure your property's electricity is turned off before connecting the smart lock.
Connect the smart lock to your mobile phone – Download a smart lock app if needed and connect to your lock through the property's WiFi, Bluetooth or main connection network.
Test the smart lock – This is important as your property's security, and the safety of its occupants, depends on the smart lock functioning correctly.
Checklist for your smart lock installation
Smart locks offer a convenient and powerful way to manage your home security, but you still need to be vigilant to ensure you keep your home safe and sound. Here are a few tips for life with a smart lock system:
Make sure your door closes properly. That might sound obvious but lots of doors (especially old doors) have problems with misalignment so you need to get any alignment issues fixed before installing a smart lock.
Ensure you have space for the lock. Smart locks tend to have large thumb turn plates that are bigger than many traditional locks, so make sure a smart lock will fit where it's going to be needed.
Use the same brand of lock throughout your home. Different manufacturers use different style pins in their locks, which means you'd need a separate key card or entry mechanism for each – save yourself the hassle and use one brand for all your home's locks.
Combine your new system with your existing deadbolt. If you have a traditional deadbolt, no need to throw it away. Buy a smart lock conversion kit and turn your deadbolt into a smart lock.
See the tradespeople we've checked and recommend for your job
FAQs for smart lock installation
Do smart locks need power?
Yes. It's potentially one of the downsides to a keyless entry system – once installed it will need power to work. Some smart locks will have a traditional key option as a backup, but for the smart lock itself, you'll need to make sure it's powered up. Many smart locks use AA or AAA batteries, or rechargeable battery packs.
Do locksmiths install smart locks?
It is possible to install a smart lock yourself, but we would always recommend using a professional locksmith to carry out the work. Checkatrade locksmiths are experienced and well-trained to help you with your smart lock installation – they'll know exactly how to install them with minimal fuss.
How much does it cost to get locks changed?
You can find out more about the cost of changing your locks in our guide to locksmith prices.
How much does keyless entry cost?
As you can see in the guide above, the cost of installing a keyless entry system, also known as a smart lock, on your property depends on a number of variables. This includes the type of smart lock you want, from RFID to Bluetooth and WiFi controlled, as well as the difficulty of installation and which entry point it is being installed on.
Beyond this, you also need to consider how smart functionality will affect your keyless entry cost, and any brand preference that you have. The best way to find out an accurate cost for your specific smart lock installation is to get a number of quotes from local home security professionals.
Do smart locks need WiFi?
That depends on the exact model of smart lock that you choose. By definition, smart locks will need to be connected to some kind of network at the time of installation. That could be WiFi, Bluetooth or Z-Wave. For the smart lock to work it will need to have constant communication with your phone and/or the rest of your smart home system.
Can smart locks be hacked?
As with any digital technology system, there is a possibility of it being hacked. That said, smart locks are generally considered a very secure and convenient option for home security. To add an additional layer of security, you could consider installing a camera system to your locks, such as Ring, so you can see whoever is using the doors to your home.
Check out our doorbell installation cost guide for more information.
See the tradespeople we've checked and recommend for your job