Can you paint laminate flooring?
Dull, lifeless laminate flooring? No problem, read our guide to find out if you can paint laminate flooring. With tips, advice and a detailed step by step guide.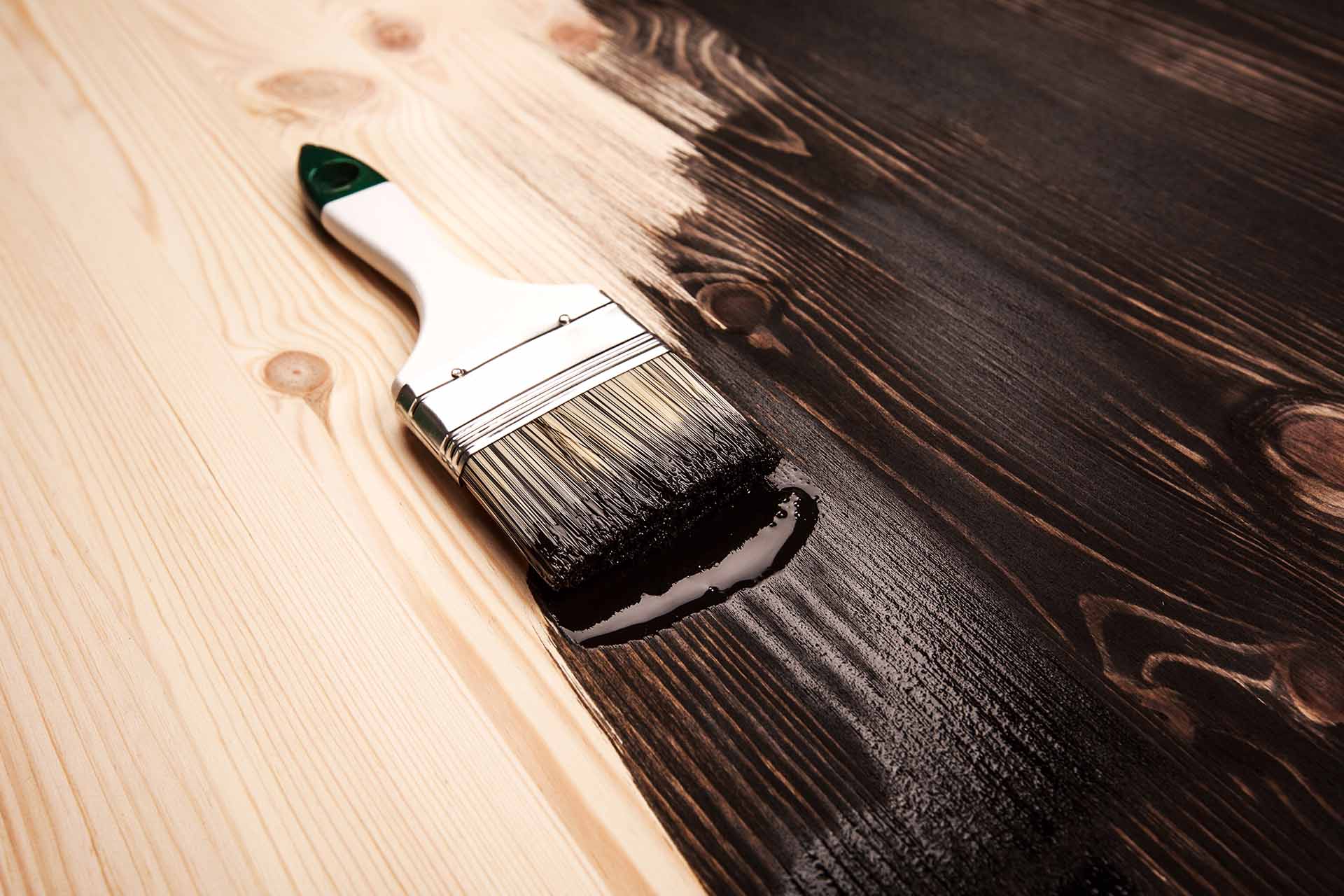 If you have laminate flooring in your home, you'll appreciate how versatile it is. However, laminate flooring tends to only last for 10 years – especially in high traffic areas of the home where it is prone to fade and wear. If you're looking to keep your flooring, you may be wondering how you can spruce it up without the hefty price tag. One option is to paint your laminate flooring – which may sound strange, but it is totally doable.
We've pulled together all you need to know about painting your laminate flooring and how you can even do it yourself.
Can you paint or stain laminate flooring?
You may be surprised to hear that you can paint or stain laminate flooring. In fact, this is the perfect way to breathe new life into your home without the cost of new flooring. Staining can help to enhance the natural appearance of the laminate by tinting the boards, although this method may not be effective for your flooring.
Painting on the other hand is a great option and will transform the appearance of your worn-down flooring. Just consider that you need to be very careful when following the below step by step instructions otherwise you risk damaging your laminate flooring. If you're a DIY beginner or are at all concerned about painting your laminate flooring, it might be wise to get a professional in to take on the job.
See the tradespeople we've checked and recommend for your job
How to paint laminate flooring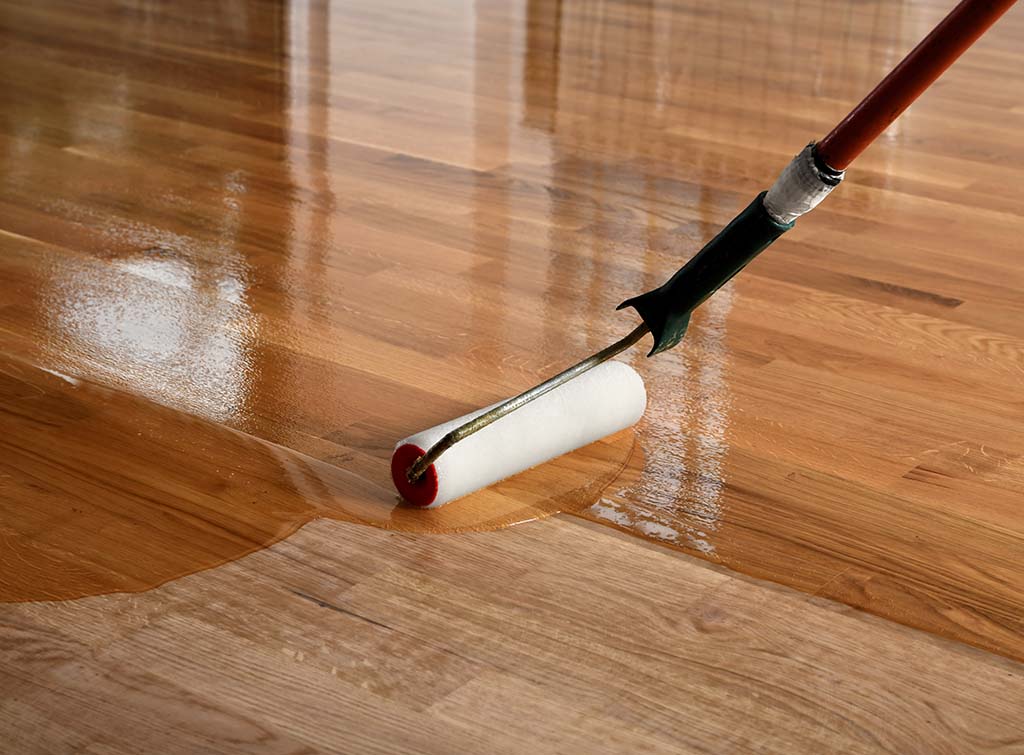 If you're thinking about doing it yourself, make sure you have all the tools and materials you will need to hand. These include:
Sugar soap
Sandpaper or an electric sander
Laminate floor patching material (for dents or damage)
Paint rollers (large and small)
Painter's tape
Small paintbrush for the edges of your flooring
Primer
Paint
Sealer
Once you've got the above, use the steps below for a flawless finish:
First, take all your furniture and possessions out of the room you'll be painting
Now is a good time to repair any damaged parts of your floor using laminate floor patching material
Sand down the entire floor to create a smooth surface for painting
Next, sweep and thoroughly clean your laminate flooring using sugar soap. Make sure the floor is fully dry before continuing
Stick painter's tape around the edges of your flooring, protecting skirting boards and any fireplaces
You can then apply a coat of primer to the entire floor
Once the primer's dried, you can apply your first coat of paint. Use the rollers to cover the main area of the floor and the small paintbrush around the edges
Allow the paint to dry, then apply another coat
For best results, apply a layer of sealer to keep your floor looking great for years to come.
Top tip: Don't paint yourself into a corner!
See the tradespeople we've checked and recommend for your job
Can you paint laminate flooring white?
Yes, you can paint your laminate floor white but if it's dark to start with this will take more coats than usual. Remember, primer is essential for getting flawless results.
Cleaning paint off laminate flooring
If you've made a mistake or accidentally spilt paint on your floor, you'll need to know the ways of cleaning paint off laminate flooring. If you notice the drips early enough you may be able to wipe these up with a damp cloth. Otherwise, you'll need to use one of the following solutions:
A mixture of dish soap, rubbing alcohol, water and vinegar
Window cleaner
Paint thinner (be careful of dangerous fumes)
Nail varnish remover
Getting flawless results every time
While it's entirely possible to paint a laminate floor yourself, it can be tricky to master the techniques needed and you may be disappointed with the results. The best way to guarantee an amazing finish is to hire a professional to do the work for you. This will help to save you time, energy, and many headaches.
Concerned about finding an expert you can trust? Using our handy search engine to find a trusted painter near you. All Checkatrade members are recommended by your neighbours and checked again by us. You can take a look at their profile page to see real customer reviews and photos of previous work.
Looking for further guidance on whether you can paint laminate flooring? Why not check out the HomeOwners Alliance website? Here you'll find informative home improvement guides and advice.

How much does laminate flooring cost to be installed by a professional?
If your laminate flooring is too badly damaged and worn, your best option is to replace the old boards. So, how much will it cost you to have new laminate flooring installed by a professional?
The laminate flooring itself will cost an average of £20 per m2 and the fitting will cost an average of £10 per m2. This means you can expect to pay an average of £30 per m2 for materials and installation. If you'd like to learn more about the price of professional laminate floor installation, take a look at our laminate flooring fitting cost guide.
Which tradesperson should you use for the job?
When it comes to painting your laminate flooring, it's vital you choose the right person for the job otherwise you won't get the perfect finish you're dreaming of. The best tradesperson to hire for laminate floor painting is a painter/decorator. Remember you can use our online search to find professionals in your local area today.