Can you paint uPVC windows?
Give your home a facelift by revitalising your uPVC windows. Learn if you can paint uPVC windows, with a step by step guide, FAQs and handy tips.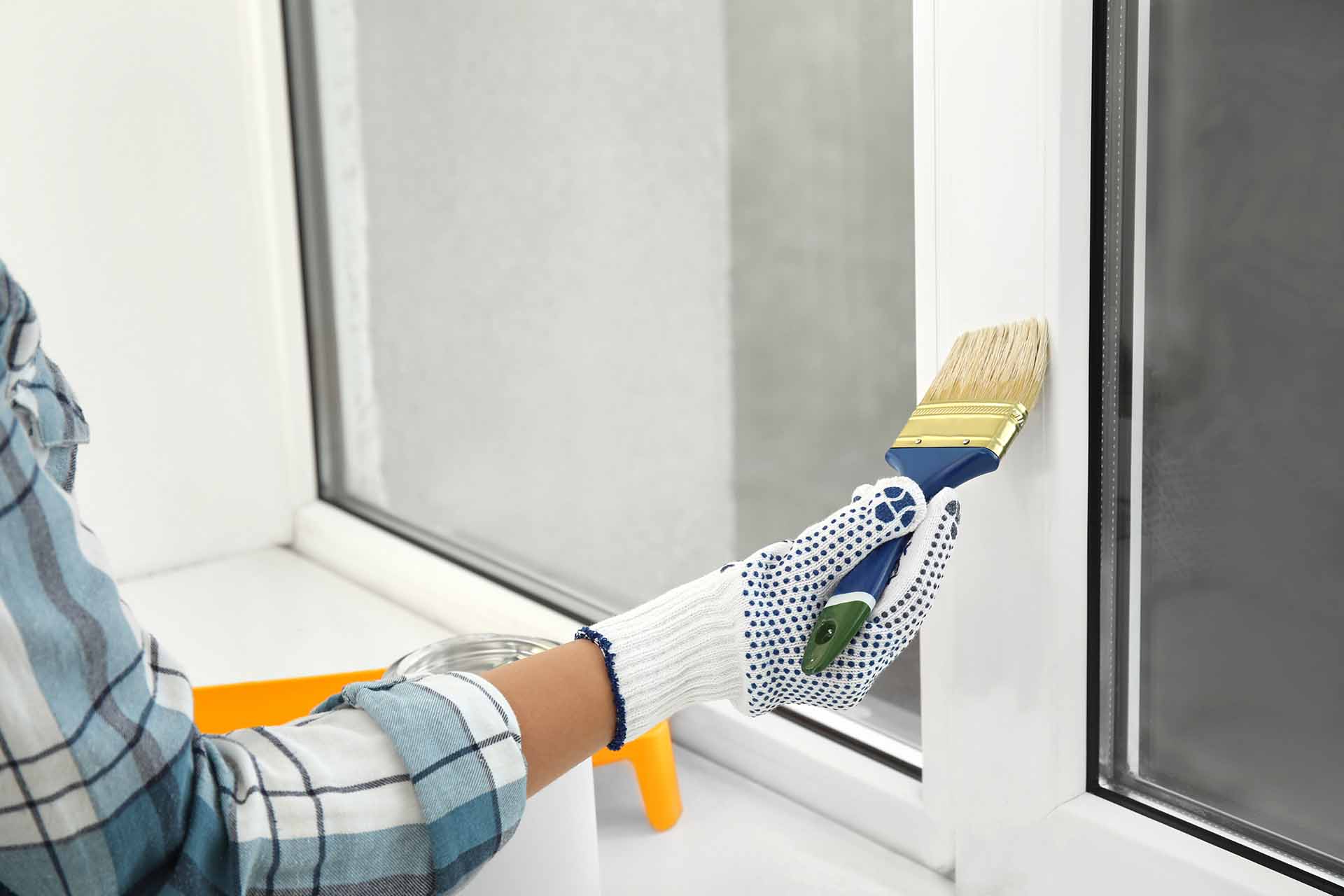 If you take a stroll around any village or town you'll likely see a large number of homes sporting uPVC windows due to their low maintenance and long life. They don't last forever, and when they begin to wear down and aren't looking their best, you may be wondering how to inject life back into them. You may even wonder if you can paint your uPVC windows.
The good news is you can paint uPVC windows. In this article, we'll explain how, as well as advice for refreshing your old windows.
Can you spray paint uPVC windows?
Yes, you can spray paint your uPVC windows.
Using spray paint is the perfect way of giving older frames a new lease of life, and this is the method recommended by many professionals.
Spray painting requires considerable skill and years of experience. You do not want uneven coverage or bubbles of excess paint on your window frames. We recommend you get a professional in for this work.
See the tradespeople we've checked and recommend for your job
Tips for painting uPVC windows
Whilst you can use paint to transform old frames, it's never advised that you try to paint new uPVC windows. This is due to the outer layer of the windows that gives them a shiny finish.
It's generally advised that you wait at least a year before painting these windows.
Once you've decided to refresh your uPVC windows it can help to have a little guidance to avoid mistakes. This is especially true if you're new to DIY and have never painted window frames before. Use the following tips for painting your uPVC windows to get great results:
Choose spray paint as this gives the best coverage and finish.
Make sure to protect the glass parts of your windows. Remember, paint splotches will restrict your views.
Preparation is the key to beautifully painted windows, so make sure to properly clean your frames before beginning.
When painting windows above the ground floor ensure you're using the right type of ladder and that it's properly supported.
How to paint uPVC windows
Start by gathering everything you need, this includes a ladder, paint, tape to protect your window glass, cloths, warm water, sandpaper, a dust mask, goggles and primer.
You can then apply tape around all your windows to prevent any paint from touching the glass or the walls of your home.
Next, take the time to do a thorough clean of your frames. Make sure to remove any debris and dust to create a dry, smooth surface for painting.
Using sandpaper, lightly sand the frames of your windows. This will ensure you have a flat, even surface that the paint will easily stick to.
Top tip: Don't forget to wipe away any dust from your sandpaper before continuing.
You can then cover your frames with a layer of primer. This will help to improve the appearance and durability of your paint.
Making sure to wear your dust mask and goggles, start spraying your windows. You'll need to apply about three even coats for the best results but make sure the paint dries between each layer.
Once you've completely covered your frames and achieved flawless results, let the paint dry before removing your tape.
Brilliant, you now know how to paint uPVC windows!
If you have any doubt about painting your windows, then do find a professional to do the job for you.
See the tradespeople we've checked and recommend for your job

FAQs
Can you paint brown or white uPVC windows?
Absolutely, you can paint any colour of uPVC windows.
You may need an extra coat if you're planning to paint dark frames a lighter colour.
What is the best paint for uPVC windows?
As more people are choosing to paint their uPVC windows, paint manufacturers have created a wide range of different paint colours, types and finishes. So, what's the best paint for uPVC windows? While we'd recommend you use spray paint, this isn't essential and below are some of the amazing paint brands you can choose from:
Bedec multi-surface paint
Zissner all coat
Selemex direct
Kolorbond original
How can I ensure I get flawless results?
Although painting uPVC windows is a project that many people will enjoy, it's very tricky to get perfect results. Whether you don't have the time, are physically unable or just want to guarantee a flawless finish, hiring a tradesperson to take on your window painting job is a decision you won't regret.
What's more, when you choose a Checkatrade member, you'll have the peace of mind that our professionals have been thoroughly checked and checked again. With their own profile pages displaying examples of past work and customer reviews you can be sure you're hiring the best worker for your job. In fact, we even check that all reviews are from real customers.
Sound good? We can also save you the time of scouring the internet for a trustworthy professional. Just input your postcode into our handy search for instant results.
How much does professional uPVC spray painting cost?
If professional spray painting sounds like the perfect solution for your old, faded uPVC windows, you may be curious as to how much this will cost. Thankfully, our uPVC spraying cost guide is a brilliant resource with average prices, factors to consider and so much more.
The average cost of uPVC spraying for a whole house is £1,350 – but do get quotes from at least three local tradespeople near you for an accurate price.
Alternatively, you may prefer to replace your damaged uPVC windows. Instead of choosing the white frames you see everywhere, why not consider grey frames? Not only do these look amazing, but they also fit perfectly with the modern design trend that is very popular right now. Explore our grey coloured uPVC windows cost guide to learn more.
Which tradespeople should you use for the job?
While window painting companies do exist, most general builders will be happy to take on your uPVC window painting job.
Remember to use our online search feature to find a local professional recommended by your neighbours.