Cleaning quartz countertops
Quartz countertops look beautiful in a kitchen or bathroom. They require a little more care and attention than a standard worktop, and a stain ruins their look. Here are the best ways to remove stains and keep your quartz countertop looking fine!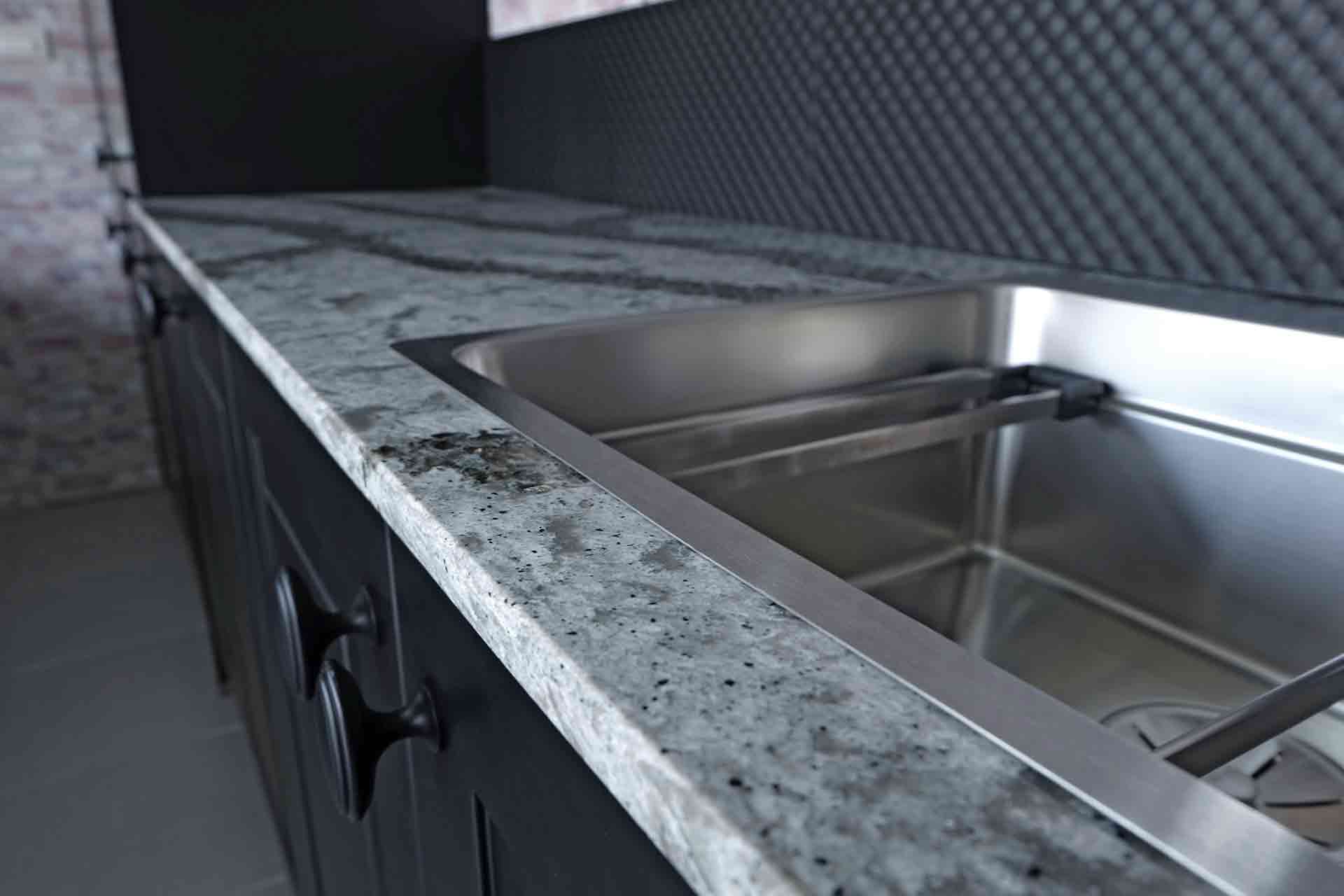 Whether you chose your quartz worktop especially or whether you inherited one by moving house, keeping them in great condition is a must.
Quartz is typically quite a tough and durable material but there are some specific do's and don'ts when it comes to knowing how to clean a quartz countertop.
If you've spotted a stain or scuff mark on your quartz worktop and you've tried scrubbing it off, don't worry, here's how best to clean your quartz worktop.
How to remove burn marks from quartz counters
Typically quartz is hard to damage as it is very durable. However, if you subject your worktop to extreme temperatures you can end up scorching or burning it.
To remove burn marks from quartz countertops you may be able to lightly scrub the surface with a very mild abrasive cleaner.
If the scorch marks don't budge, smear a paste of baking soda and water on the affected area and let it sit there for a few minutes. Wipe off the paste and lightly scrub the surface to remove the marks.
If the burn mark is severe you may require specialist heat damage repair. Quartz worktops are more expensive to replace so before attempting a DIY solution to remove burn marks from your quartz countertop, it is worth consulting a quartz specialist.
If you struggle to remove the burn marks you may need to call in a professional cleaner.
How to remove scuff marks from quartz countertops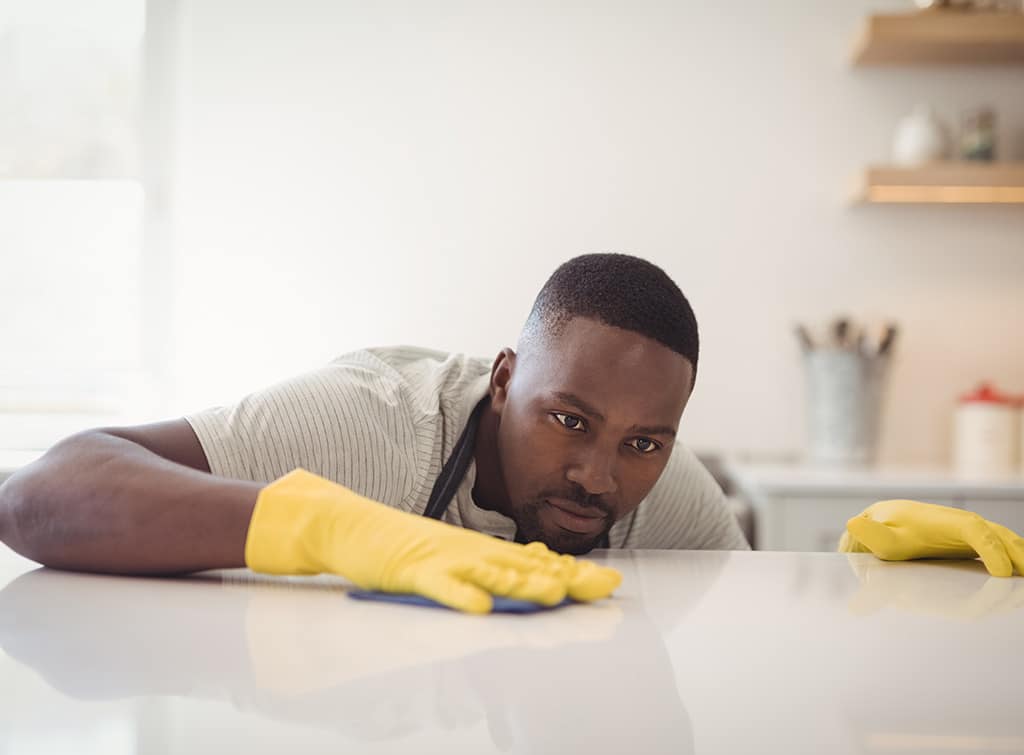 Kitchens and bathrooms are usually high traffic areas in the home, so if you have quartz countertops it is likely at some point that you might end up with the odd scuff.
If you need to remove scuff marks from quartz countertops then you can repair scratches, nicks, and pits in the quartz surface using a special epoxy resin formula that is specially designed for this purpose.
You can buy kits from DIY stores, but as a quartz countertop has a high-end price tag, you need to be confident with what you're doing to get it right.
If you struggle to remove any scuff marks you may need to call in a professional cleaner.
See the tradespeople we've checked and recommend for your job
Removing a rust stain from quartz countertops
Quartz countertops are often used in wet areas like kitchens and bathrooms. If damp metal objects like soap dishes are left to sit on a quartz surface for long periods of time you may end up with a rust stain.
To remove a fresh rust stain from a quartz countertop, try removing it with a mix of detergent and water. For large stains, or stains that have been there for a while, it is always best to seek help and advice from a professional as not all cleaning agents are safe to use on quartz or stone surfaces.
If you struggle to remove any stains you may need to call in a professional cleaner.
Cleaning white quartz countertops that are yellowing
White quartz countertops are popular for their sleek and sophisticated look but sometimes white quartz can start to discolour. If your quartz countertop is in direct sunlight, then long-term sun exposure can cause your quartz countertop to become dull.
To limit direct sun exposure you could look to protect your countertop with a worktop saver or lower a blind to reduce the direct light on the quartz surface.
It's also possible for cleaning products to cause discolouration, which is why you have to be careful and we always recommend seeking professional advice before attempting a DIY cleaning solution.
In some cases, the yellowing is a reaction that takes place due to the resins that are used in the manufacturing process or the oxidisation of iron in the stone. This can occur as a result of poor quality production or exposure to chemicals.
If you're trying to clean white quartz countertops that are yellowing we would recommend getting the opinion of a quartz specialist to find out the cause of the yellowing before doing anything else.
See the tradespeople we've checked and recommend for your job
How to polish quartz countertops
It might be part of your usual routine to give your worktops a good polish daily or weekly, but when you're polishing a quartz countertop you do need to be careful.
When polishing quartz countertops it is important to use a specially formulated stone cleaner and a soft, non-abrasive cloth. Although quartz is durable, using abrasive cleaners and cloths can scratch or erode the surface, which can lead to further damage if used repeatedly.
Make sure to buff your quartz worktop with a soft cloth or towel after cleaning to make sure no cleaning product sits on the surface.
How to shine quartz countertops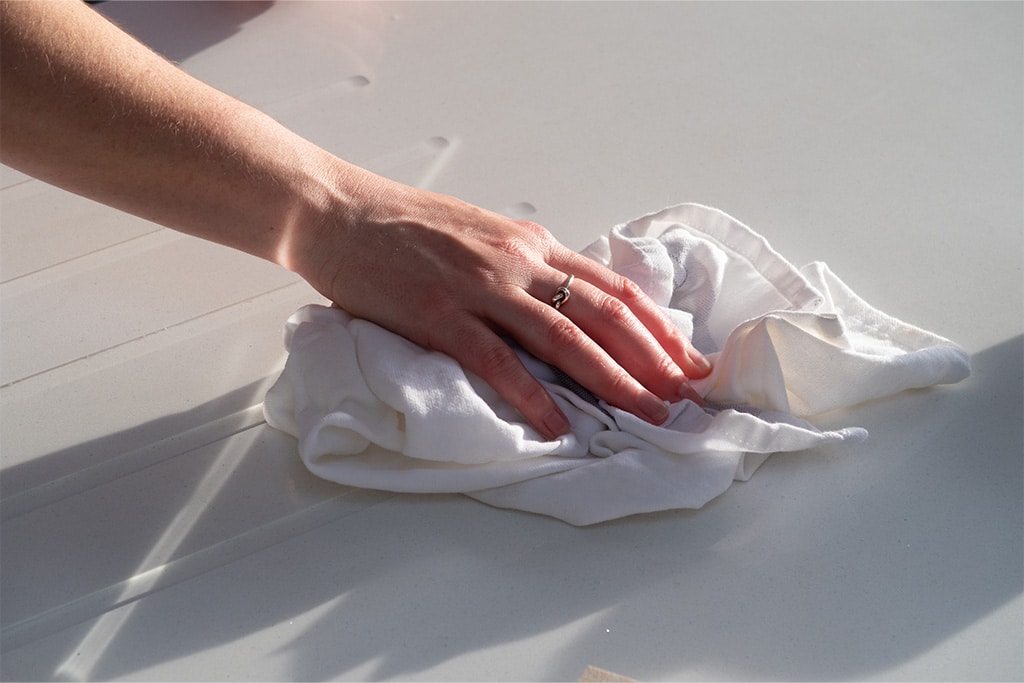 There's nothing like a sparkling clean worktop. Quartz has a wonderful reflective quality and looks stunning when it catches the light.
To really bring out the sparkle and add shine to your quartz countertops you can use a mix of water and a couple of drops of non-oil-based detergent, as oil can dull the shine.
As with polishing, it's always best to use a soft cloth to avoid scratching the quartz surface.
Looking to install a quartz worktop?
If you're considering installing quartz worktops then check out our quartz worktop cost guide.
If you're undecided or looking to replace a quartz worktop then read our other helpful guide quartz vs granite worktops.